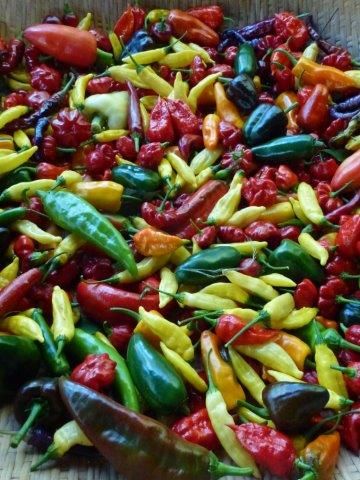 Well the garden is full of chiles as well as herbs to harvest and preserve… that's what I've been doing the past few days. And the annual flowers are blooming their hearts out–getting the last of the calendula flower heads and gathered the nasturtiums for a lovely, peppery vinegar. I also sowed some lettuce seeds, cold-weather spinach, cilantro, kale and radishes; I am not sure whether they will germinate and produce before the cold weather sets in, though I decided to take a chance. If they do germinate, I'll be covering them with floating row cover for sure.
Yesterday, I dealt with the chile harvest of which there were copious amounts since I grew over 25 varieties to celebrate Capsicum, Herb of the Year 2016. I have a lot of new favorites which I will describe in an upcoming blog when it is time to order seed. I've preserved hundreds of mature red chiles by drying them in the oven and hanging smaller ones in bunches, and there is one more full tray in the oven now. 
I am into fermentation these days; I had good success fermenting a mixture of chiles last year–they were eaten first because once the fermentation process is done, they need to be kept in the refrigerator. Last year this time, I set two quart jars (one of fish peppers and one of Tabasco) to ferment for one year so I could make my own version of Tabasco-style hot sauce. So since I needed those fermentation lid/airlock systems for this year's harvest, I had to process them so I pureed them and put them through a strainer to remove the solids. The strained liquid from a one-quart jar was 2 cups to which I added a scant 2 cups of organic apple cider vinegar which will help act as a preservative. I bottled this HOT sauce into smaller bottles with orifices, labeled them and put them in the fridge. They need to be kept in fridge because I opted not to pasteurize the sauce and lose all of the wonderful probiotics and beneficial bacteria.
I tasted the marc (mashed chiles) that were left and whewee–it was still very hot and tasty. So I decided to make my own harissa out of it by adding extra-virgin olive oil, fresh minced basil, 1 whole bulb of crushed garlic and 1 can of tomato paste. I blended it all together and added just a little sea salt (chiles were in a salt brine so not a lot of salt is needed). It is dy-no-mite! I can think of many ways to use it from sandwich spread to adding it to beans, soups, sauces, etc.
I halved 2 quarts of chiles to fill a half gallon jar, packed, prepared a salt brine, poured it over the chiles and capped it with my 'Perfect Pickler' fermentation system (it is the one I like best out of the three types that I own). These are fermenting on the counter–I find that about 2 to 4 weeks works for hot peppers.
I stemmed and halved the rest of the chiles and packed them into pint jars, adding two to three cloves of garlic per jar, for making pickled peppers. I made a hot brine using equal amounts of water and apple cider vinegar. I put the water into a large saucepan and added cumin and coriander seeds and sea salt and brought that to a boil and let simmer for about 5 minutes. Then I added the vinegar, a small amount of agave syrup and a handful of oregano, gave it a stir and brought it back to a simmer. I ladeled the brine into the jars leaving about 1/2-inch headspace. Then I wiped the rims and sealed the jars and processed them in a boiling hot water for 25 minutes. Those jars are labeled and down in the coldroom–they will make great holiday gifts–and will warm my family and friends in the cold weather.
For more on chile peppers, I'll be heading for the Ozarks next week for the annual Herb Harvest Fall Festival at the Ozark Folk Center. This is one of my favorite annual herbal gatherings. I truly believe that learning new things keeps our minds and bodies young and vital. Each year, a different area of the world is featured at the HHFF–we've been traveling around the globe for many years now. The idea is to show how countries from around the world relate to the history, past and present, to life in the Ozarks. This year, we hopped across the proverbial pond to South America–it made sense since Chiles are herb of the year and they are indigenous to South and Central America. Do you know how many other foods originated from there?! Well you can find out all about it if you attend this fun, entertaining and educational event.
I am excited to return to the OFC as I will get to share with y'all about what I have learned from researching the foods and plants of this area of the world (and yes there will be tastings). One of the best cooks I know, Marion Spear, will be discussing and showing us the fine art of making empanadas y ensalatas from this region of the world. Owners Randy and Katie Crumby of Mount Olive Smoked Pepper, a local business in nearby Mount Olive, will inform us on how they hickory smoke-dry tons of locally-grown, vine-ripened peppers. The Skillet Restaurant will be making a Lavish Herbal Feast using recipes from all over South America, and lunches on seminar days.
Folks from the Folk Center will be participating too, with Craft Director, Jeanette Larson showing us fiber types, discussing her life as shepherdess of many critters including her llamas, alpaca and angora goats; Potter Judi Munn will share her experience of being in the Peace Corp in Paraguay and show us the art of preparing yerba buena. Kathleen Connole is a gardener and botanist and she has a rare gift of being a plant historian–she researches and finds out about how plants got where they are–and reveals all kinds of fascinating facts about plant explorers and much more. Tina Marie Wilcox and I are teaming up to do a program about the 20+ types of capsicums growing in the Heritage Herb Garden–from mild to incendiary. Last though not least, herbal master and photographer extraordinaire, Steven Foster, will present two programs from his travels to South America–you are in for an unbelievable photo journey.
The Ozark Unit of the Herb Society of America will kick of the happenings on Thursday, October 6, with a reception in the Craft Village before the Lavish Herbal Feast. Seminars are Friday and Saturday, October 7 and 8. There is still time to sign up; for more info https://www.ozarkfolkcenter.com/calendar-of-events/workshops/herb-harvest-festival.aspx
Celebrate the harvest season and chile peppers!