I recently spoke with Laura Cruz, a horticulturist at Stoneleigh garden in Villanova, Pennsylvania. Laura is passionate about gardening with native plants and uses natives almost exclusively. With a strong background in design, she shares her favorite native ferns to use in her gardens.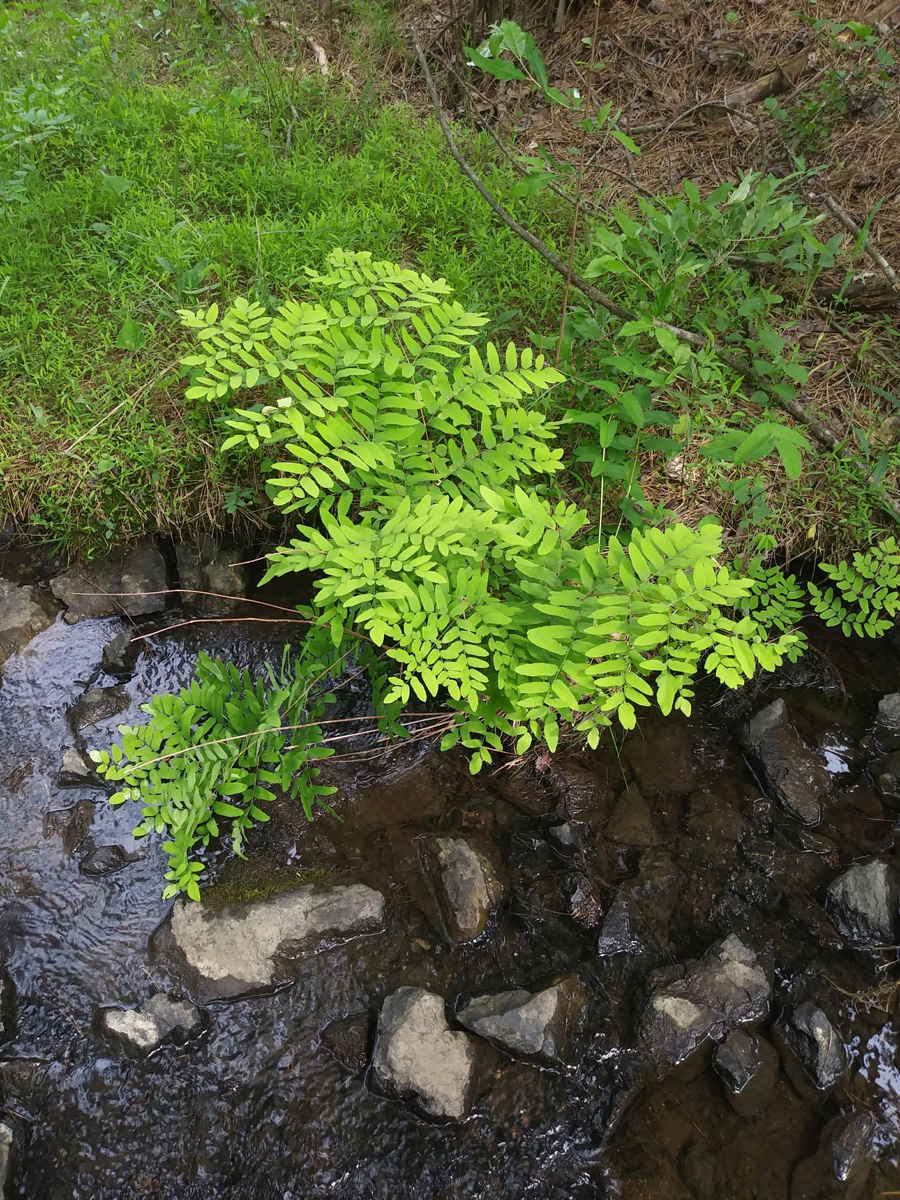 Royal fern
Osmunda regalis, Zones 3–9
Laura loves the form of this regal fern. She uses it for structure in the shade garden, as it grows to about 3 feet tall—and with constant moisture, even taller. It does best in moist, rich soil with cool shade. Its show-stopping texture almost doesn't look fernlike, since its leaflets are so separate along the rachis. Laura singles out her favorite cultivar as 'Purpurescens', a purple-tinged version of the straight species.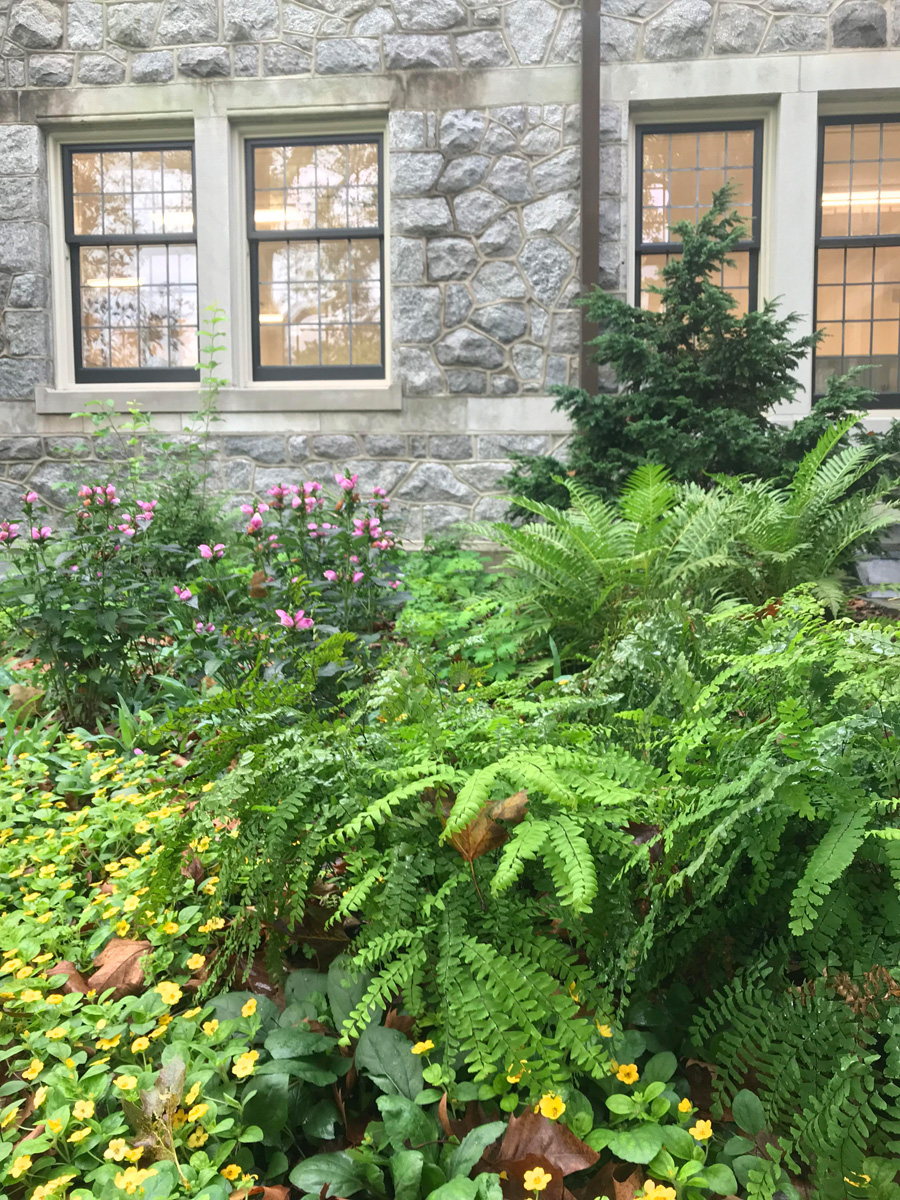 Maidenhair fern
Adiantum pedatum, Zones 3–8
"Graceful and delicate" is what Laura calls this elegant fern. Some think this plant is hard to grow, but Laura says if you just have moist soil and light to heavy shade, it can be a perfect addition to a woodland garden and will even spread in the correct location. Laura loves the grouping of pink turtlehead (Chelone lyonia, Zones 3–9) and silver sedge (Carex platyphylla, Zones 4–8) with this fern. The three different textures and colors make a beautiful combination.
Maidenhair ferns arch beautifully over this cheerful planting of green and gold (Chrysogonum virginianum, Zones 5–9), with pink turtlehead in the background. Compare the straight species of lady fern on the left to the fringy, textured 'Victoriae' cultivar on the right. Photos: Kerry Ann Moore (left), Michelle Gervais (right)
Lady fern
Athyrium filix-femina, Zones 3–9
This easy-to-grow fern is relatively tolerant of sun and dry soil, although moist, rich soil is ideal for it to thrive. Laura loves using this fern in the garden because of the myriad numbers of cultivars available in the trade. Her top three favorite cultivars are 'Lady in Red', 'Minutissimum', and 'Victoriae'. 'Lady in Red' is remarkable due to its beautiful red stripe, 'Minutissimum' is a great compact variety reaching only about 1 foot tall, and 'Victoriae' has very unusual pinnae that crisscross to form X's, and its leaflet tips are crested.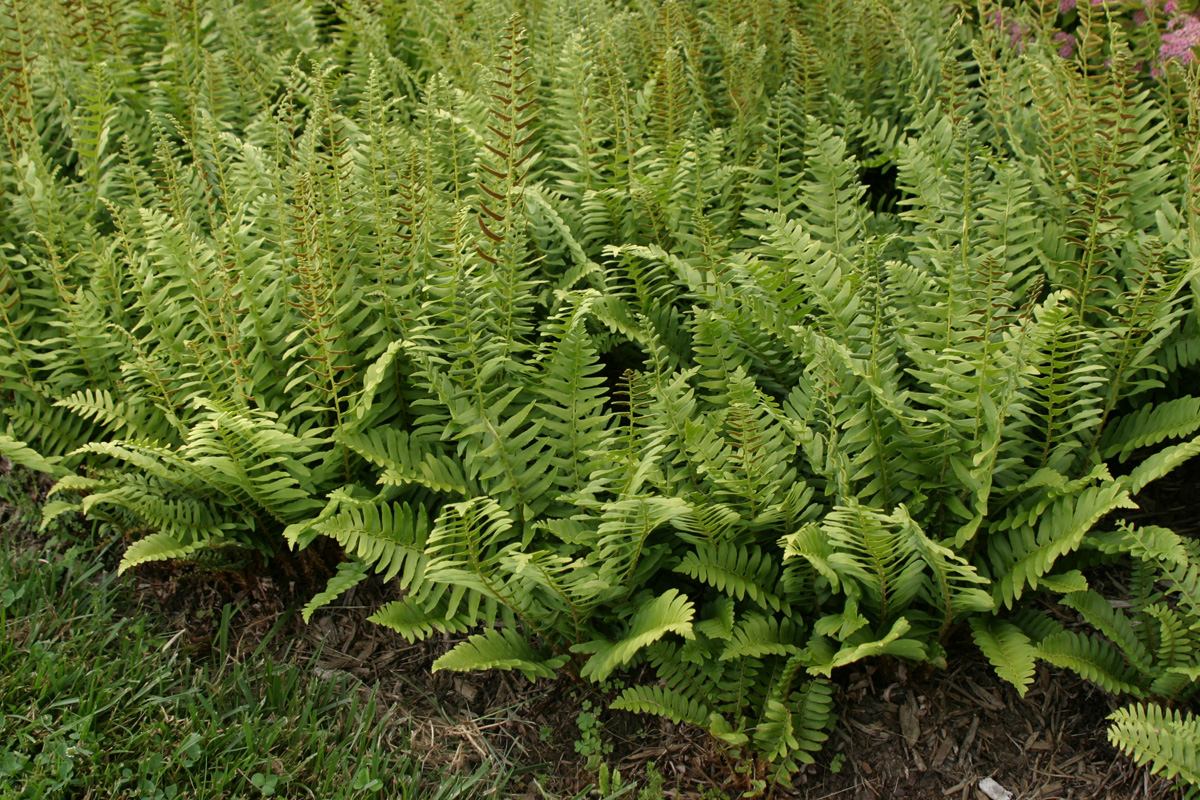 Christmas fern
Polystichum acrostichoides, Zones 3–9
This popular fern is a no-brainer for Laura when she's designing a shade garden. A tough plant that's very adaptable to many locations and conditions, it can grow in dry shade and even partial sun. It can also be used to stabilize steep slopes. While it is robust and versatile, it does not overpower the shade garden. Its unique appearance, with simple evergreen fronds, adds a rich green color when added to a planting. It is fun to muse with gardener friends about where it got its common name. Is it because it is evergreen in the winter, or because the leaflets are shaped like a boot?
When designing a shade garden, Laura never overlooks ferns. She frequently adds them to the gardens of Stoneleigh. Stoneleigh is a public garden that's part of Natural Lands, located in the suburbs of Philadelphia. The goal of the garden is to enhance original estate gardens by focusing on restoring the ecology of the land and preserving the history of the estates while using modern garden design. With its diverse use of native plants, it is an excellent resource for native plants and ecological garden design ideas in the Mid-Atlantic region.
—Michele Christiano is a horticulture assistant at Longwood Gardens in Kennett Square, Pennsylvania.