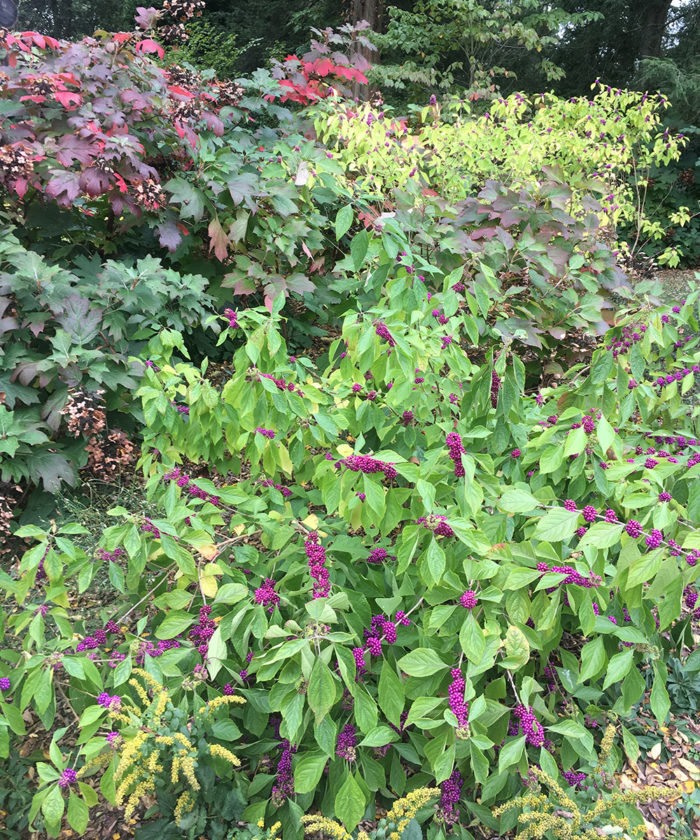 As temperatures drop, plants in the Mid-Atlantic are displaying some striking characteristics. From fall foliage to richly colored fruit, the features of native plants during this time of year are not only beautiful, but they also provide food and habitat for the animals and insects in our region. I recently interviewed a Philadelphia-based designer, Maggie Flanagan of Maglia Designs, about creating a fall garden with native plants. This is what she had to say.
What are your go-to native plants for fall interest?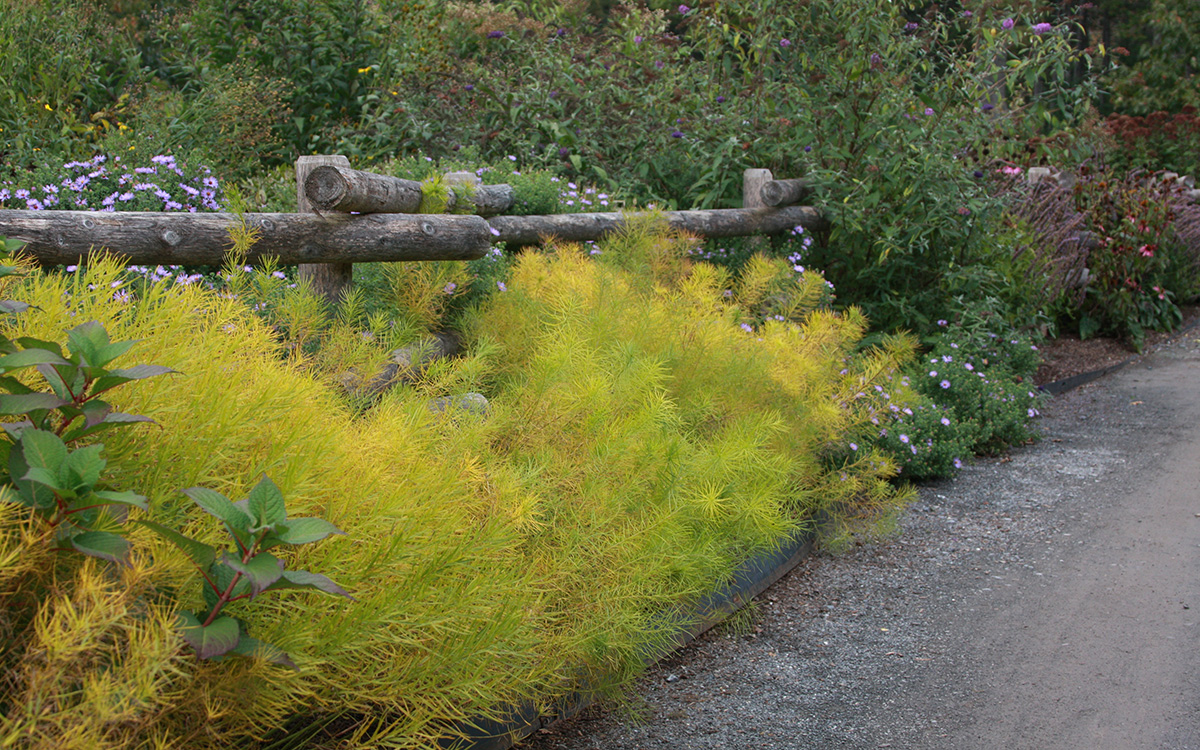 Maggie: Hubricht's bluestar (Amsonia hubrichtii, Zones 5–8) is a fall favorite. Throughout the seasons it has many wonderful colors. Hubricht's bluestar also allows me to mix textures in the garden. This perennial draws you in because of its beautiful feathery texture; I always find myself reaching out and petting its soft foliage as I walk by.
'Chocoholic' bugbane (Actaea 'Chocoholic', Zones 4–8) is one of my favorite fall native plants because I am a chocoholic and a plant addict. The purple foliage jumps out among other surrounding greens. I like planting 'Citronelle' heuchera (Heuchera 'Citronelle', Zones 4–8) next to it because the chartreuse of the heuchera contrasts with the dark purple-bronze leaves of the 'Chocoholic' bugbane. Although not native, variegated Solomon's seal (Polygonatum odoratum var. pluriflorum 'Variegatum', Zones 3–8) also makes for a pretty combination when planted together with 'Chocoholic'. I also really like to include a vertical element in my designs with 'Chocoholic' bugbane; it's the perfect early fall perennial.
How do you incorporate native plants into the garden for fall interest?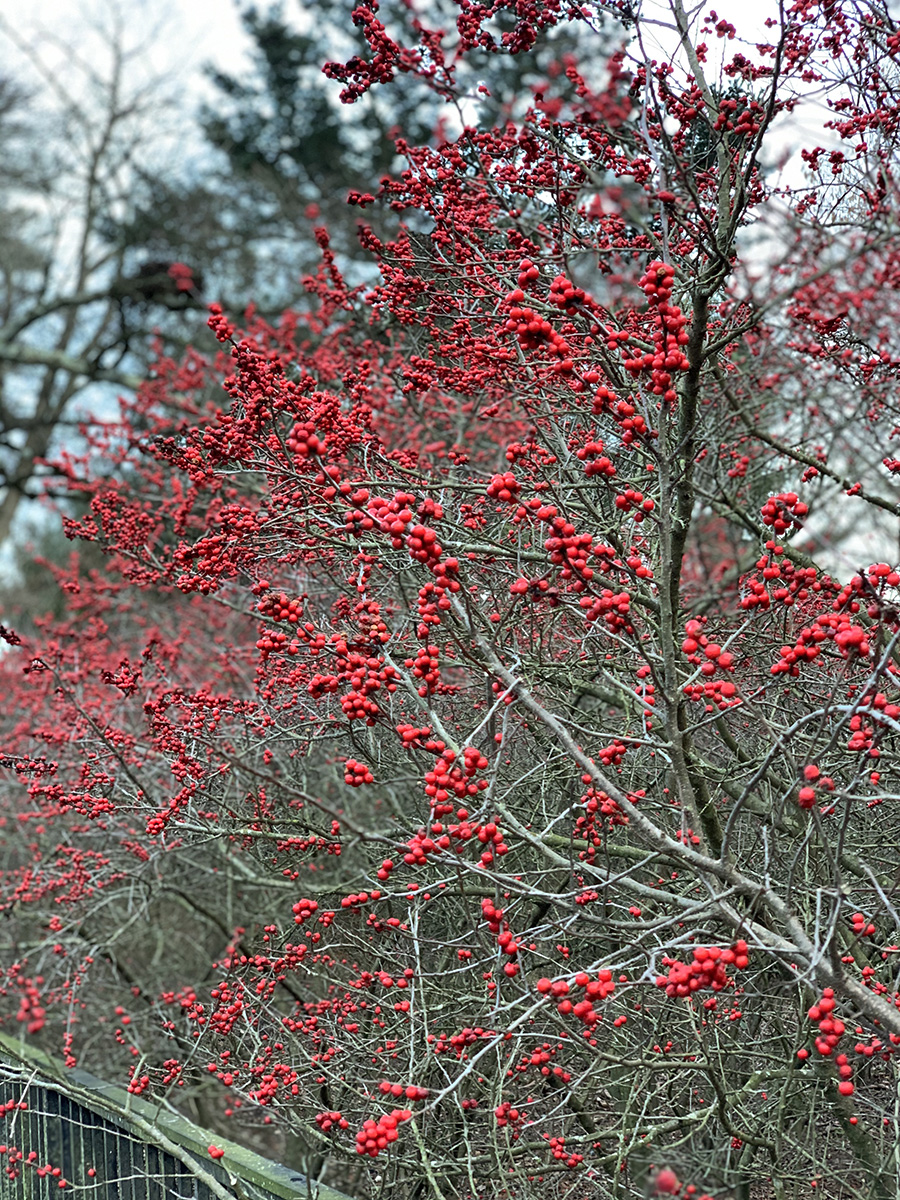 Maggie: When I design, I make sure to consider succession planting by including year-round seasonal interest to enjoy in all four seasons. In the fall, berries on native shrubs and trees start to ripen, which can be a nice focal point. Some good native selections are winterberry (Ilex verticillata and cvs., Zones 5–8) which can have red, orange, and yellow berries, viburnums (Viburnum spp. and cvs., Zones 3–9), and 'Winter King' green hawthorn (Crataegus viridus 'Winter King', Zones 4–7). If you are planting winterberry next to the facade of a white house, red winterberry would look better—with the color popping more—than yellow winterberry, which may blend in with the house color.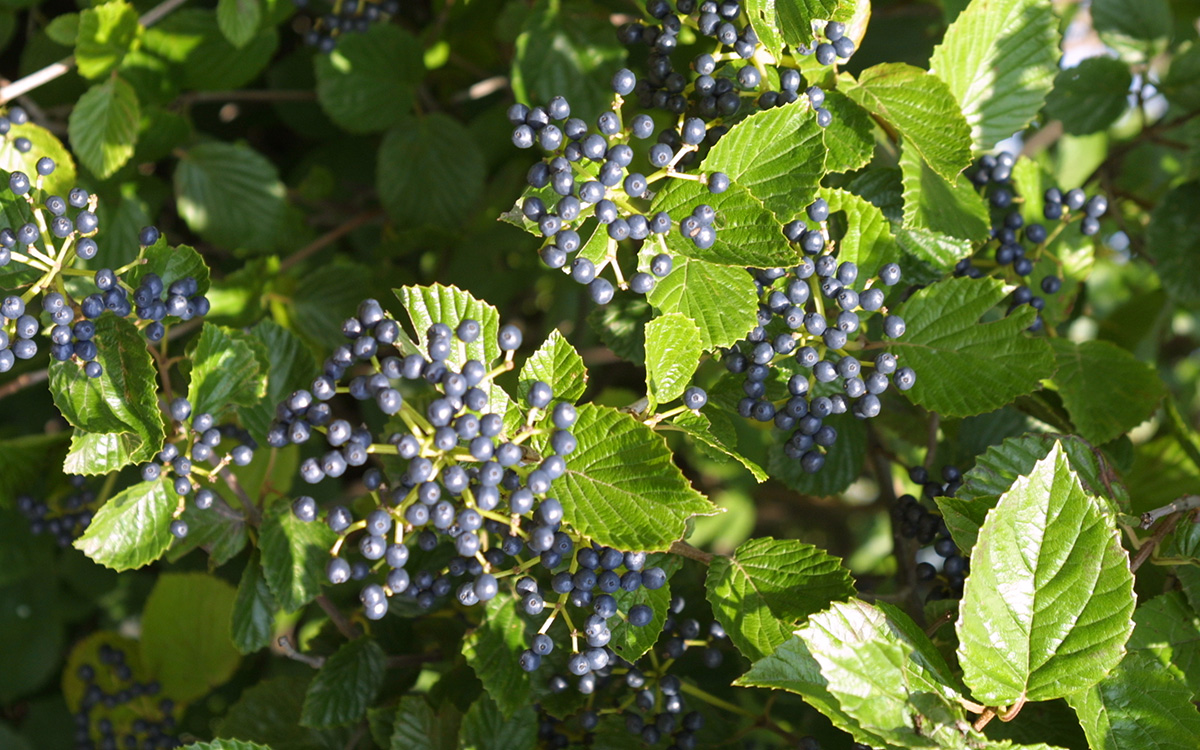 Chicago Luster® arrowwood viburnum (Viburnum dentatum 'Synnestvedt', Zones 3–9) has dark, metallic blue fruits that ripen in autumn from September to October. The shrub also has glossy, dark green leaves that turn a magnificent yellow and bright orange color. Based on these seasonal fall characteristics, I would select this cultivar for a hedge or a mass planting in a design.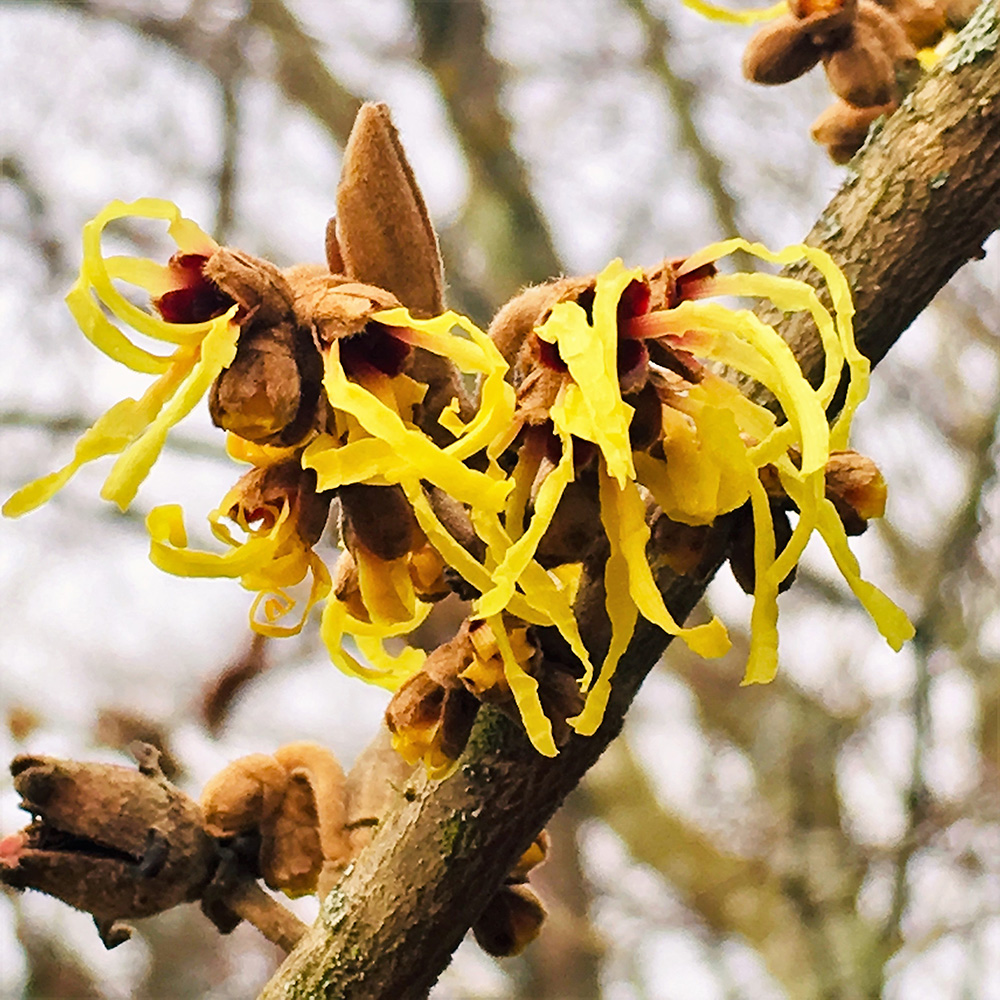 Likewise, there are selections for fall color—like shadbush (Amelanchier canadensis, Zones 3–7)—that I pick not necessarily for the fruit selection, but for the big show the foliage gives in the fall. If it's a small garden and you can't incorporate everything, select plants that have good fall foliage. Some of my favorites are oakleaf hydrangea (Hydrangea quercifolia, Zones 4–8), Virginia sweetspire (Itea virginica, Zones 5–9), and summersweet (Clethra alnifolia, Zones 3–9), all of which have fantastic fall foliage. Another popular choice is witch hazel (Hamamelis virginiana, Zones 3–8), which provides a pleasing architectural element as an understory shrub or along the edge of the woods.
What elements of design do you consider for late fall after many plants are finished for the season?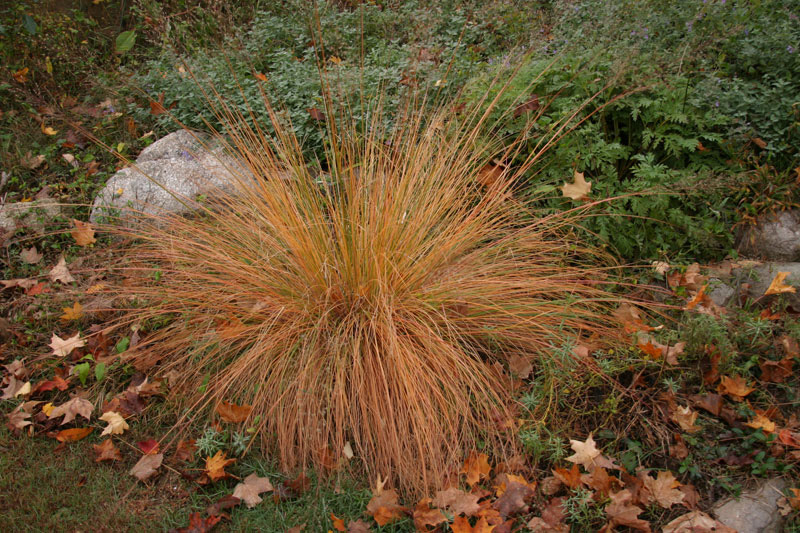 Maggie: The fall-turning-to-winter bleakness can be beautiful if you incorporate structure from hearty perennials like native grasses. Grasses have a range of colors, from dark blues to reds to oranges, and their seed heads can be in the range of golden to pink. Grasses look especially beautiful when they blow softly in the wind or when there are droplets from rain or morning dew.
For other design tips for fall, check out these articles:
—Michele Christiano is a horticulture assistant at Longwood Gardens in Kennett Square, Pennsylvania.