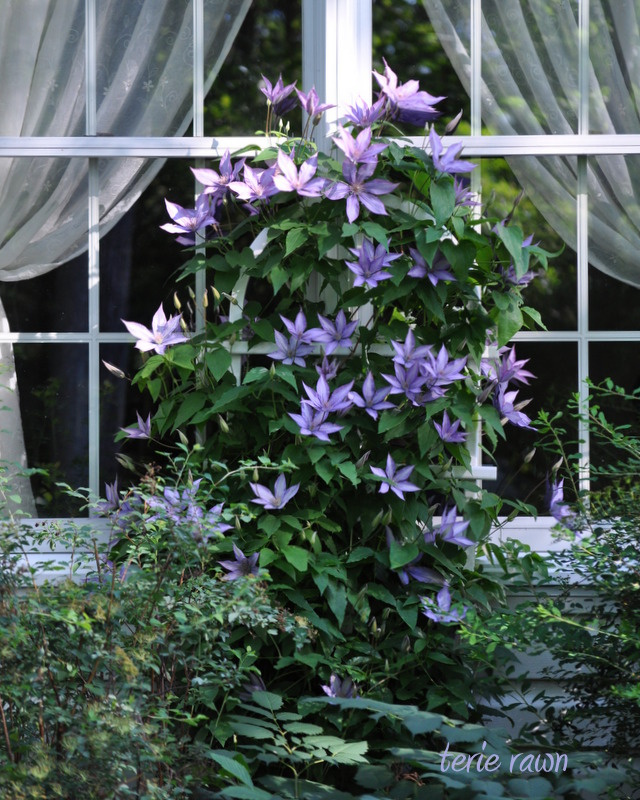 A couple of weeks ago, when I posted the latest installment of photos from Terie Rawn's awesome garden in Newfield, New York, a couple of you were enthralled by the clematis she had growing on one of her trees. Inspired by that, Terie sent in a few more photos of that clematis, as well as some photos of another clematis that she grows on her house. She thought you might enjoy them.
She says, "Bouncing garden ideas off one another keeps me on my toes and playing in the great outdoors year after year. I love that the work is never done, causing me to dream and plan through the winter months so that by spring I am refreshed and ready for new projects. Thank you to all who keep sending in your pictures. Hurray for inspiration!"  Thank you, indeed, to all of you who have sent in inspiring photos over the past year. Keep 'em coming!!
Have a garden you'd like to share? Please email 5-10 photos (and a brief story about your garden) to [email protected], or tag your photos on Instagram or Twitter with #FineGardening!
Whether you've never shared before or you've been featured multiple times, we want to see your garden! You don't have to be a professional garden photographer – check out our garden photography tips!
Do you receive the GPOD by email yet? Sign up here!