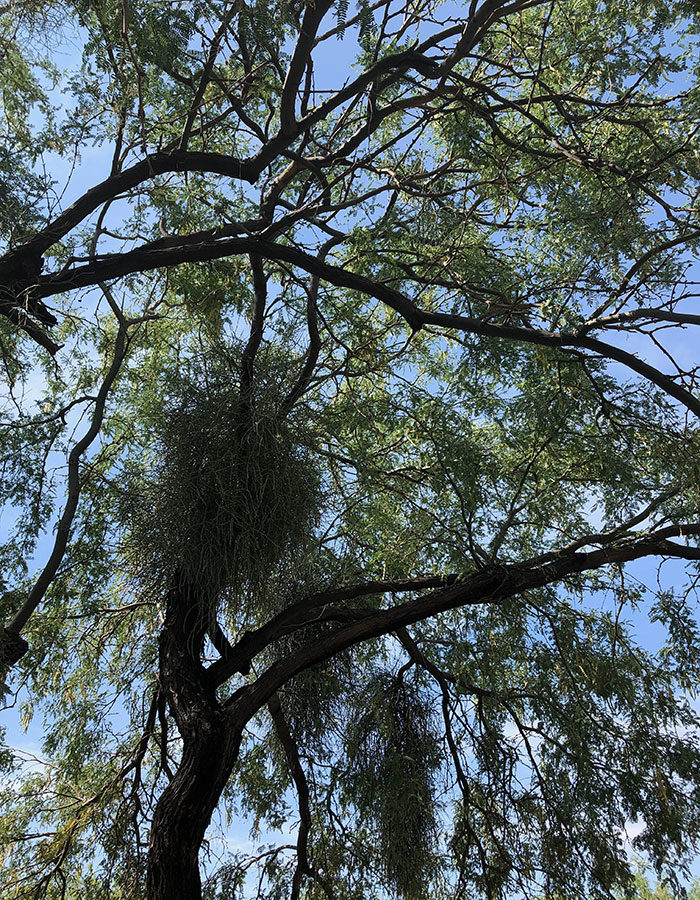 Most of us associate mistletoe with the Christmas tradition, but contrary to the feeling of yuletide cheer it brings us, mistletoe is actually a parasite that steals nutrients and water from its host plant. Over time it can weaken the host's strength and livelihood. Mistletoe can grow on over 100 species of trees across the globe, although we see it on only about a dozen varieties here in the Southwest.
In the desert there are certain trees that are more susceptible to mistletoe infestation. Trees such as mesquite (Prosopis spp., Zones 6–11), palo verde (Parkinsonia spp., Zones 8–11), desert ironwood (Olneya tesota, Zones 9–11), pine (Pinus spp., Zones 2–9), and juniper (Junipernus spp., Zones 4–9) are all targets. Walking through Sabino Canyon within Coronado National Forest last week, we could see just how mistletoe affects certain species of trees. Evidence suggests that the main cause for desert mistletoe growing on certain trees and not others has to do with the hormone levels within the host tree. According to the blog In Defense of Plants, researchers have found that when they take seeds from mistletoe growing on an acacia (Acacia spp., Zones 6–11) and attempt to transplant them to a palo verde, they experienced dramatically less germination than when transplanting the seeds to another acacia tree.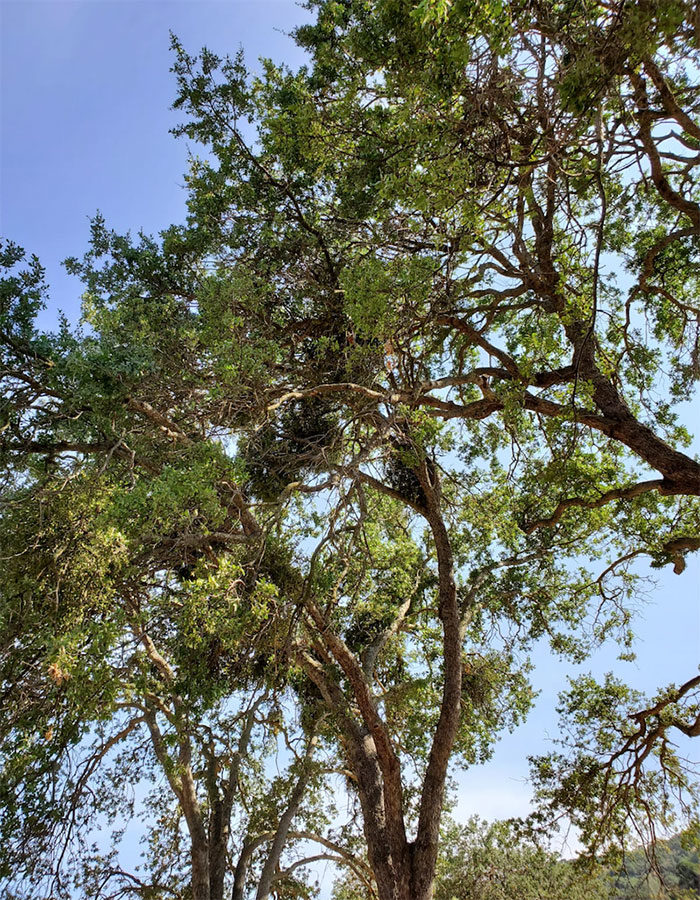 You might be wondering how mistletoe spreads. We can thank our little feathered friends for that. Mistletoe produces small berries of various colors. Birds love eating these vibrant berries; thanks to droppings and berry remnants left on birds after feasting, this parasite can spread from one tree to the next.
If you have mistletoe on your property, the first way to control the spread is to cut it out. If you catch it early, this technique is much easier than the alternatives, although you'll have to be vigilant since the buds can often hide within the branches. If you have a large patch of mistletoe, you may need to cut the branch back, keeping the cut as minimal as possible so as not to disrupt the tree. Although cutting a branch isn't always ideal, it can be a great benefit to your tree's longevity. Our mesquites had several very large mistletoe plants, which we had to cut out. They were very tangled in there after years of neglect (from the previous owners, we promise!), but I can report that the trees are much happier now.
Although you may not be inclined to do any kissing under your mistletoe, the key is to keep it under control. Keep a close watch on the plants that you know are likely targets, and if you start to see mistletoe popping up, don't be afraid to do a bit of trimming to ensure your trees are happy for years to come.
Sheila Schultz and Laurel Startzel are a mother-daughter duo who founded Denver Dirty Girls Container Gardening while living in Denver, Colorado and have continued their business since moving to Tucson, Arizona.