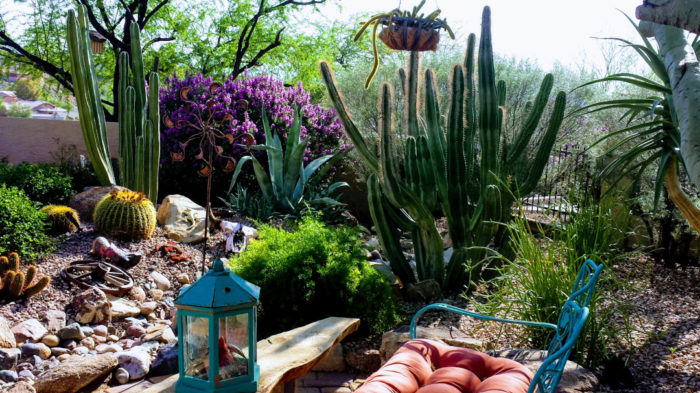 Today's photos are from the Sonoran Desert garden of Alan and Melissa Grosso in Fountain Hills, Arizona. Fountain Hills is a very picturesque town, with rolling hills dotted with the iconic Saguaro cacti (Carnegiea gigantea), and is known for its world-famous fountain. Located northeast of Scottsdale, this beautiful town is surrounded by the McDowell Mountain Range, which includes the mesmerizing Red Mountain, or Firerock, and the stunning Four Peaks of the Mazatzal Mountains.
The Sonoran Desert, which has a subtropical climate, is the most complex desert in North America. Compared to the other types of desert regions, it has great diversity in geological structures as well as the number and types of plants and animals. Additionally, it receives rainfall bi-seasonally—during winter and also in late summer. This is one of the reasons why we have such diverse flora and fauna. For the flora, aside from the beautiful and splendid sculptural cacti and succulents that come in so many different forms, sizes, and shapes, we have a variety of flowering plants as well, including shrubs, trees, palms, and vines that love the climate, making it easy to mix and match colors and architecture of the garden and surrounding space.
The pictures below were taken at different seasons of the year. In the Sonoran Desert we have five different seasons: winter, spring, dry summer, wet summer, and fall.
In the backyard, mesquite (Prosopis) and Acacia trees provide the ceiling and walls for the garden as well as a perch for a visiting great horned owl. In their shade grows a Hercules tree aloe (Aloe 'Hercules', Zones 9–11).
In the backyard, aloes, agaves, and cacti appreciate the light shade from the intense desert sun.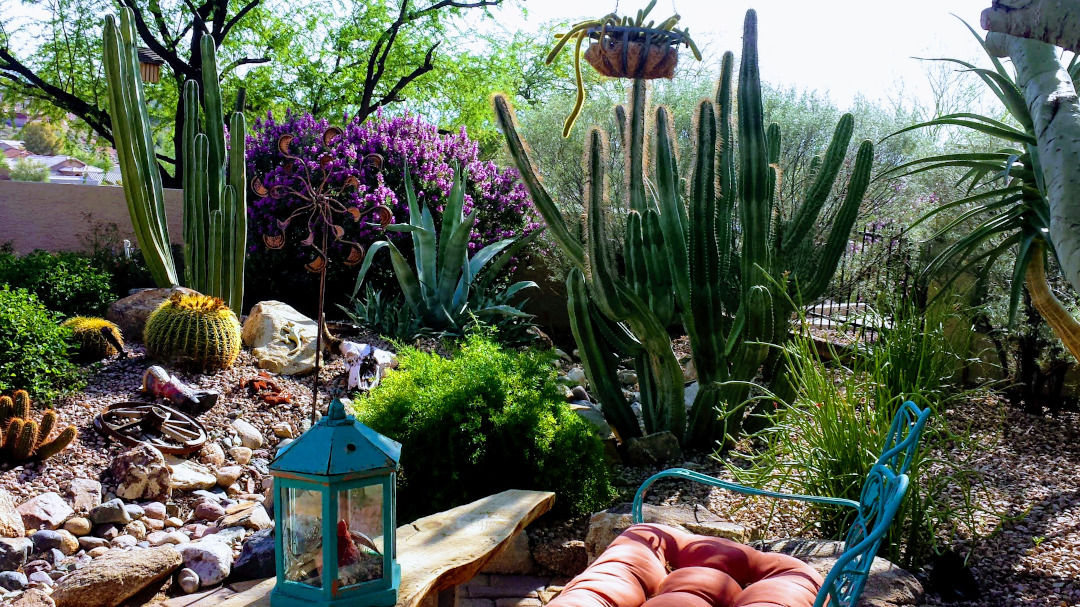 In the corner side yard, dominant plants include golden barrel cactus (Echinocactus grusonii, Zones 8–10), Mexican fence post cactus (Pachycereus marginatus, Zones 9–11), senita, or whiskers, cactus (Lophocoreus schottii, Zones 9–11), and Agave americana (Zones 8–10).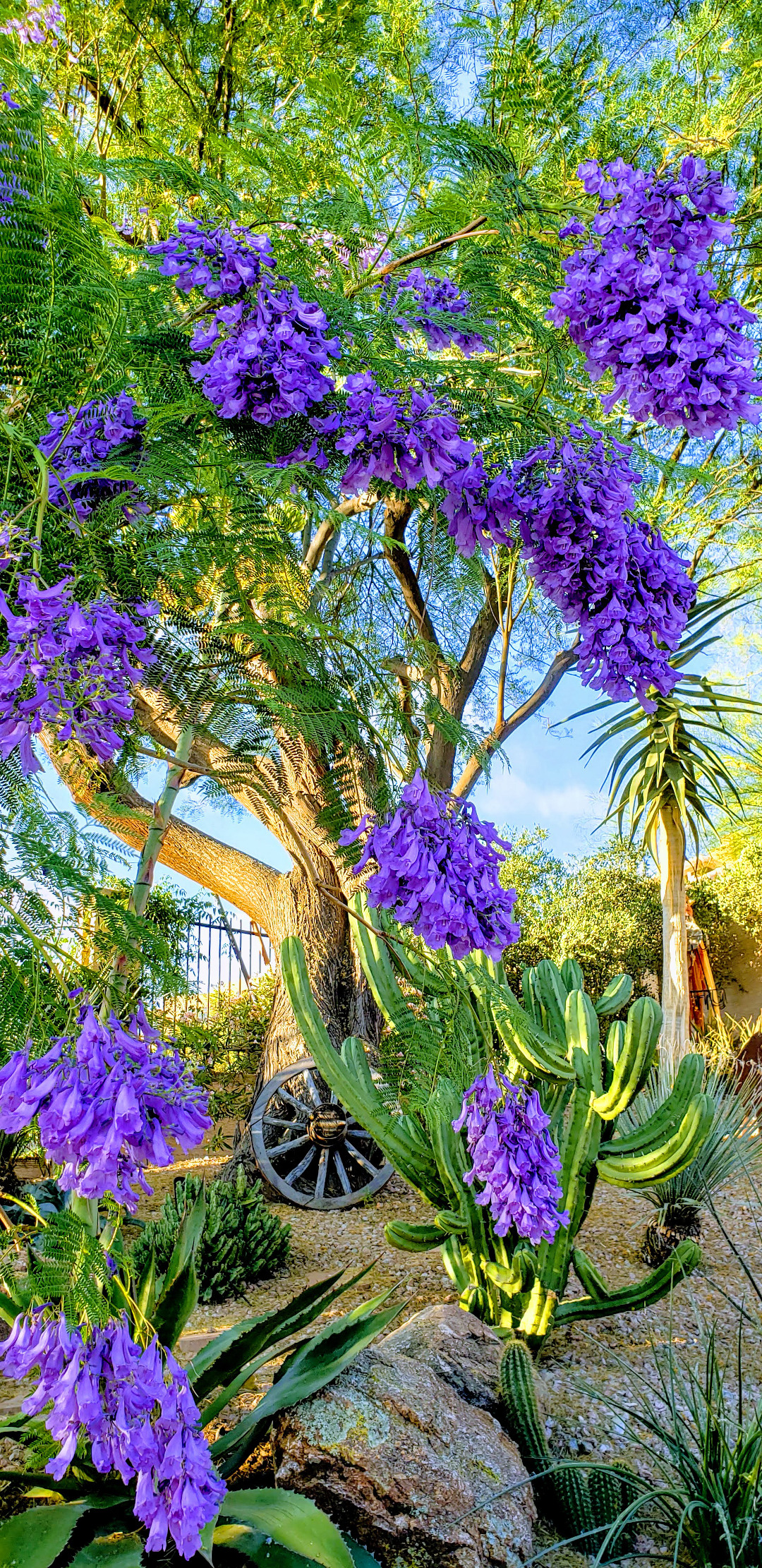 Blue flowers of a jacaranda tree (Jacaranda mimosifolia, Zones 10–11).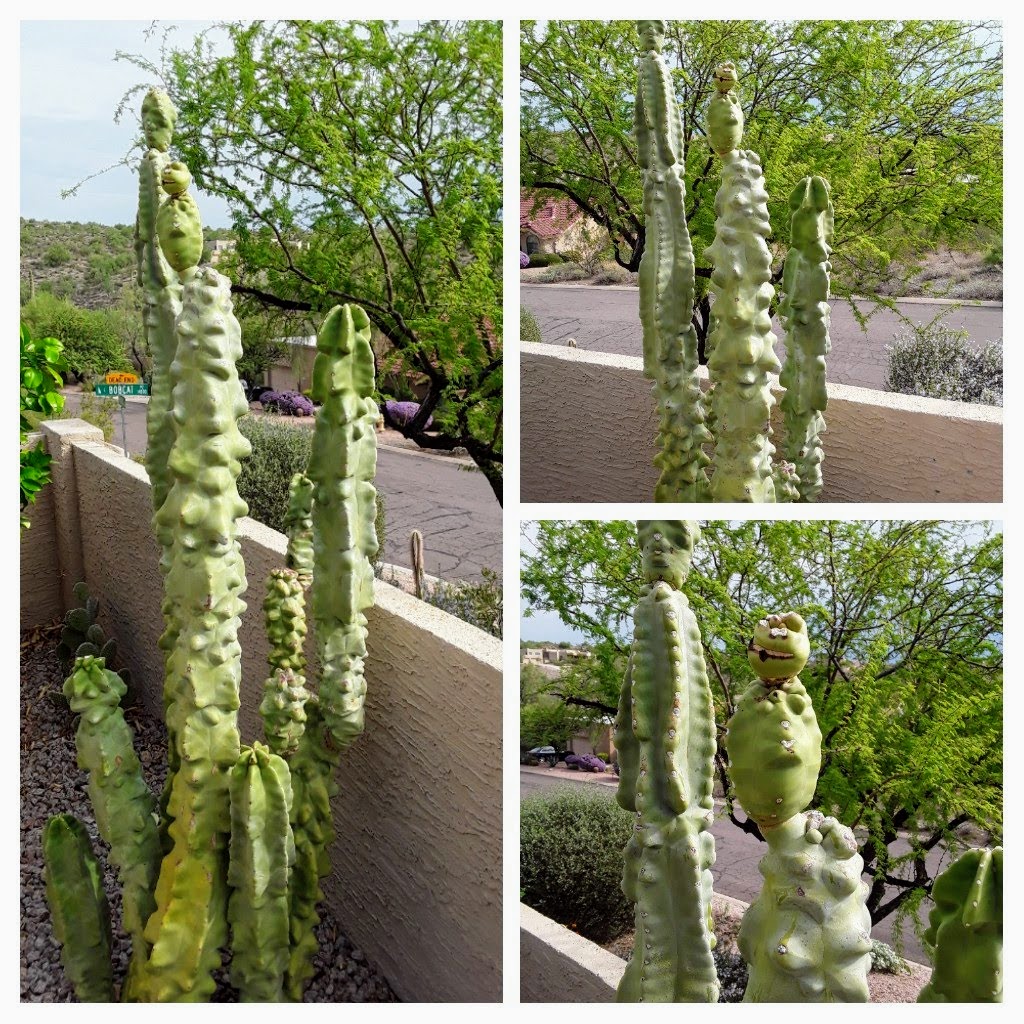 Note the way this totem pole cactus (Pachycereus schottii 'Monstrosus', Zones 9–11) looks like it has faces/heads on top of one another.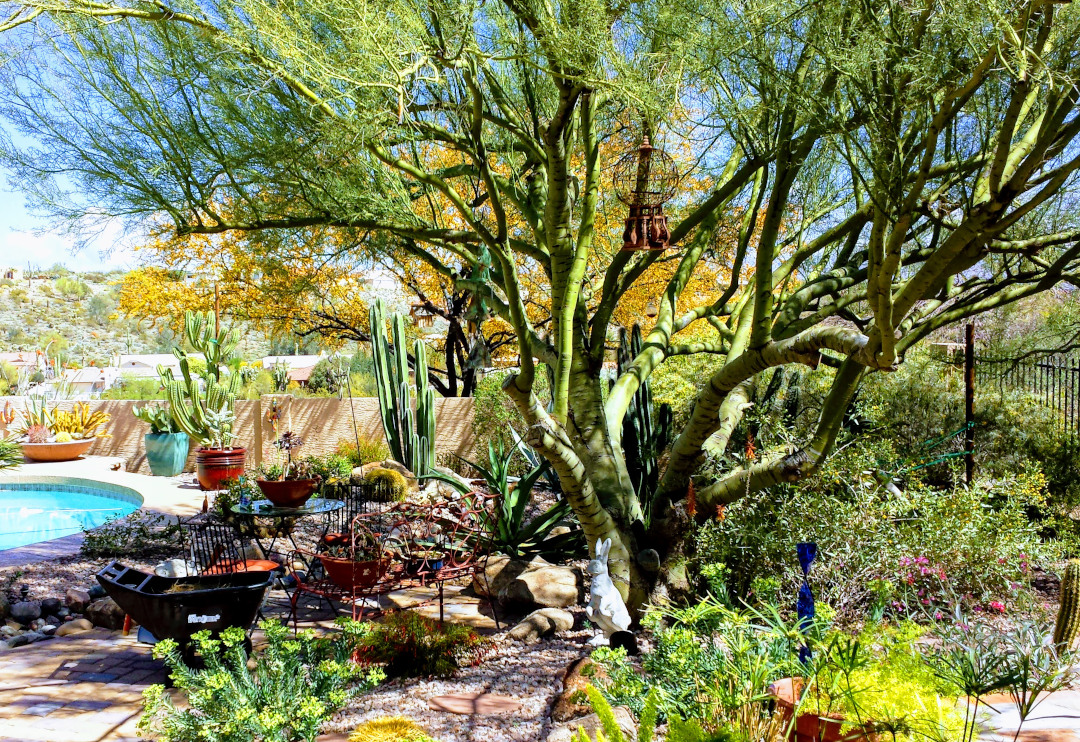 In the corner side yard, facing the pool, a palo verde tree (Parkinsonia florida, Zones 8–11) with a beautiful green trunk and spreading branches dominates and gives a little shade.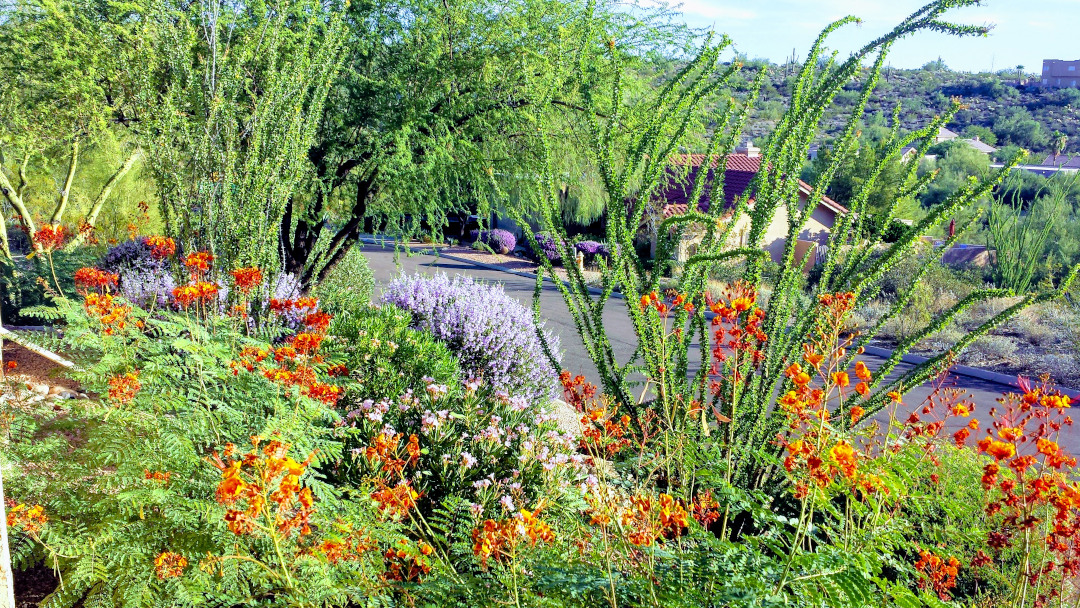 Arizona bird of paradise (Caesalpinia pulcherima, Zones 8–11) with masses of fiery flowers.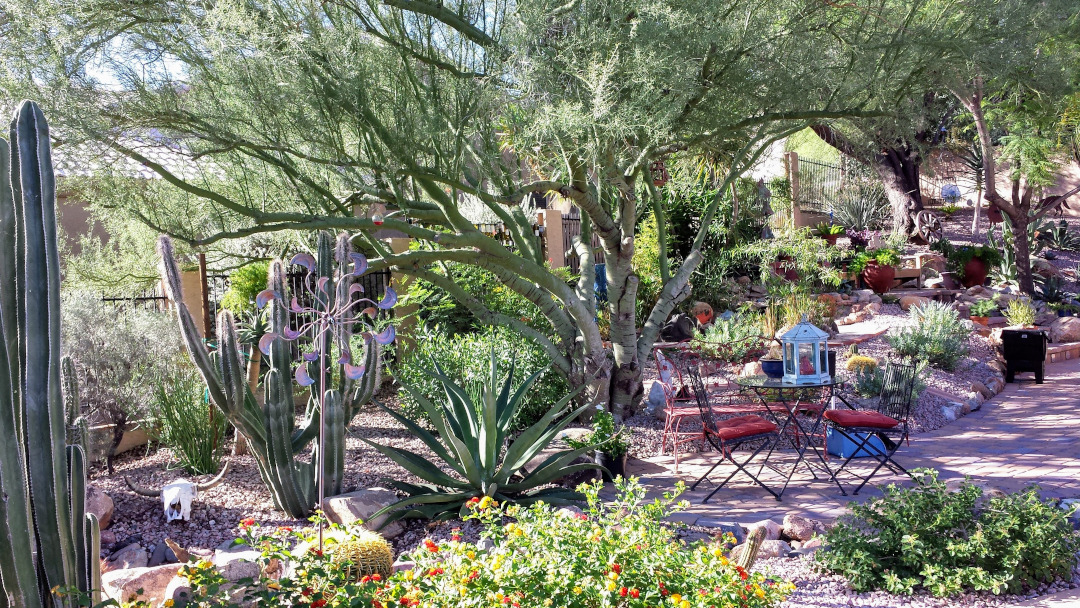 This photo of the side yard under the palo verde tree shows that a desert garden doesn't need to be full and vibrant.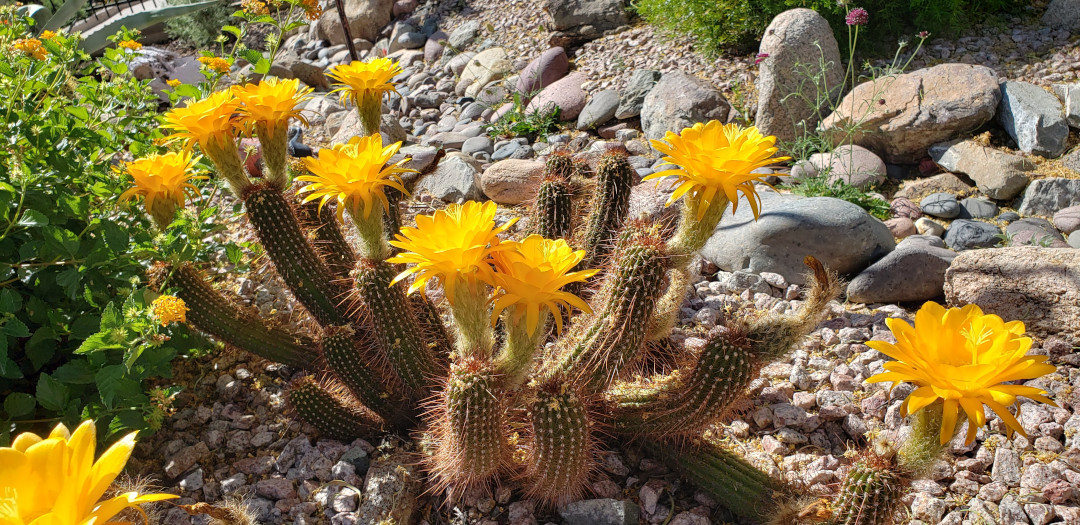 Blooming Echinopsis cactus near the pool.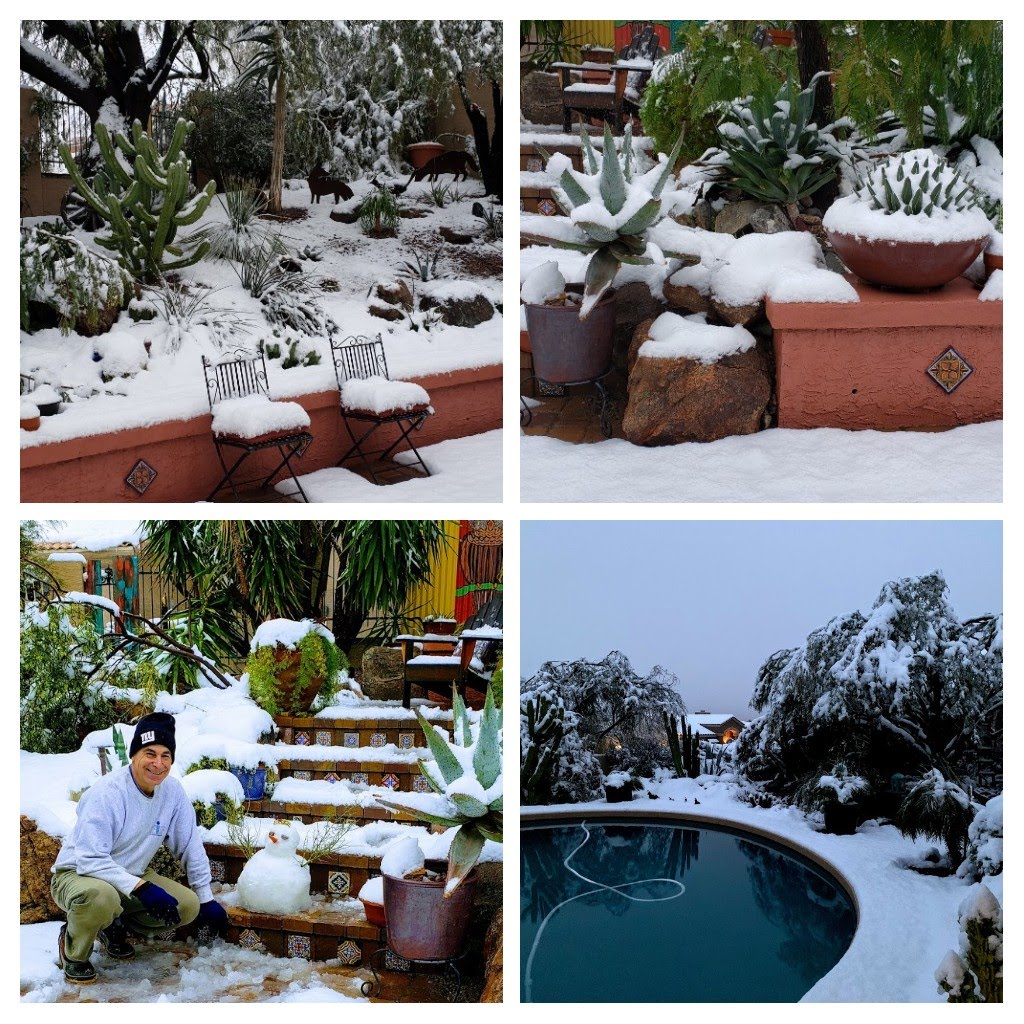 Winter in Fountain Hills sometimes includes snow!
Have a garden you'd like to share?
Have photos to share? We'd love to see your garden, a particular collection of plants you love, or a wonderful garden you had the chance to visit!
To submit, send 5-10 photos to [email protected] along with some information about the plants in the pictures and where you took the photos. We'd love to hear where you are located, how long you've been gardening, successes you are proud of, failures you learned from, hopes for the future, favorite plants, or funny stories from your garden.
If you want to send photos in separate emails to the GPOD email box that is just fine.
Have a mobile phone? Tag your photos on Facebook, Instagram or Twitter with #FineGardening!
You don't have to be a professional garden photographer – check out our garden photography tips!
Do you receive the GPOD by email yet? Sign up here.