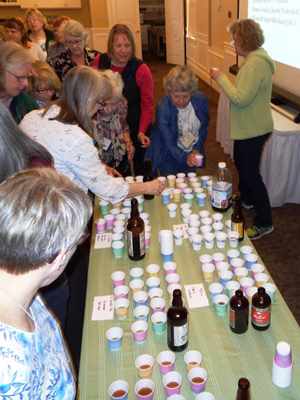 Herb enthusiasts in Michigan had the chance to celebrate the Herb of the Year while raising money for a good cause at the Michigan Herb Associates conference this spring. Attendees helped raise $3000 for Michigan 4-H Children's Gardens with a silent auction and herbal plant sale. 
The theme of this year's event was "Every Plant is a Teacher" and hops, the International Herb Association's Herb of the Year, had a starring role at the conference. Guest speakers talked about hops as an important ingredient for brewing beer, ideas for decorating with hops, and growing and using medicinal herbs.
A highlight of the 31st annual conference was the beer tasting. Following MSU associate professor Norm Lownds' presentation on aromatic herbs for brewing beer, attendees had the chance to put their new knowledge to the test — the taste test. Seven different Michigan-made craft beers were on hand to sample and compare the different flavors. 
Lownds is also the curator of the Michigan 4-H Children's Gardens. The Department of Horticulture at Michigan State University donated the herbs for the plant sale.
Another popular hops-themed event was the "Hopping around Locally" tour of area restaurants. Herb lovers had the opportunity to experience how chefs are using craft beers in new and different ways.
Seven herb associations received special recognition for excellence in sharing herbal knowledge through local programming. The associations include:
University of Michigan Matthaei Botanical Gardens and Nichols Arboretum Evening Herb Study Group, Ann Arbor
Olde Thyme Herb Society of Bay County, Bay City
Herb Society of America, Southern Michigan Unit, Bloomfield Hills
Wexford County Herb Society, Cadillac
Midwest Michigan Herb Association, Clarksville
Village Herb Associates at Greenfield Village, Dearborn
Shoreline Herbarist, Gowen
Michigan area vegetable and herb gardeners can learn more about the Michigan Herb Associates and plan ahead for next year's conference.