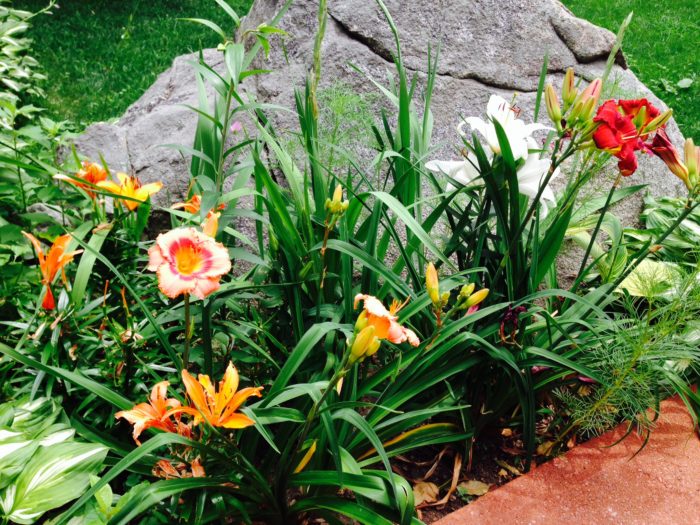 Today's photos are from Margarita Paounova, who says, "My name is Margarita, 48 years old, born in Bulgaria and came to USA 20 years ago. I live in Randolph, Massachusetts. After looking at hundreds of houses and searching for a bank-owned or foreclosure house, in 2011 we bought our dream house.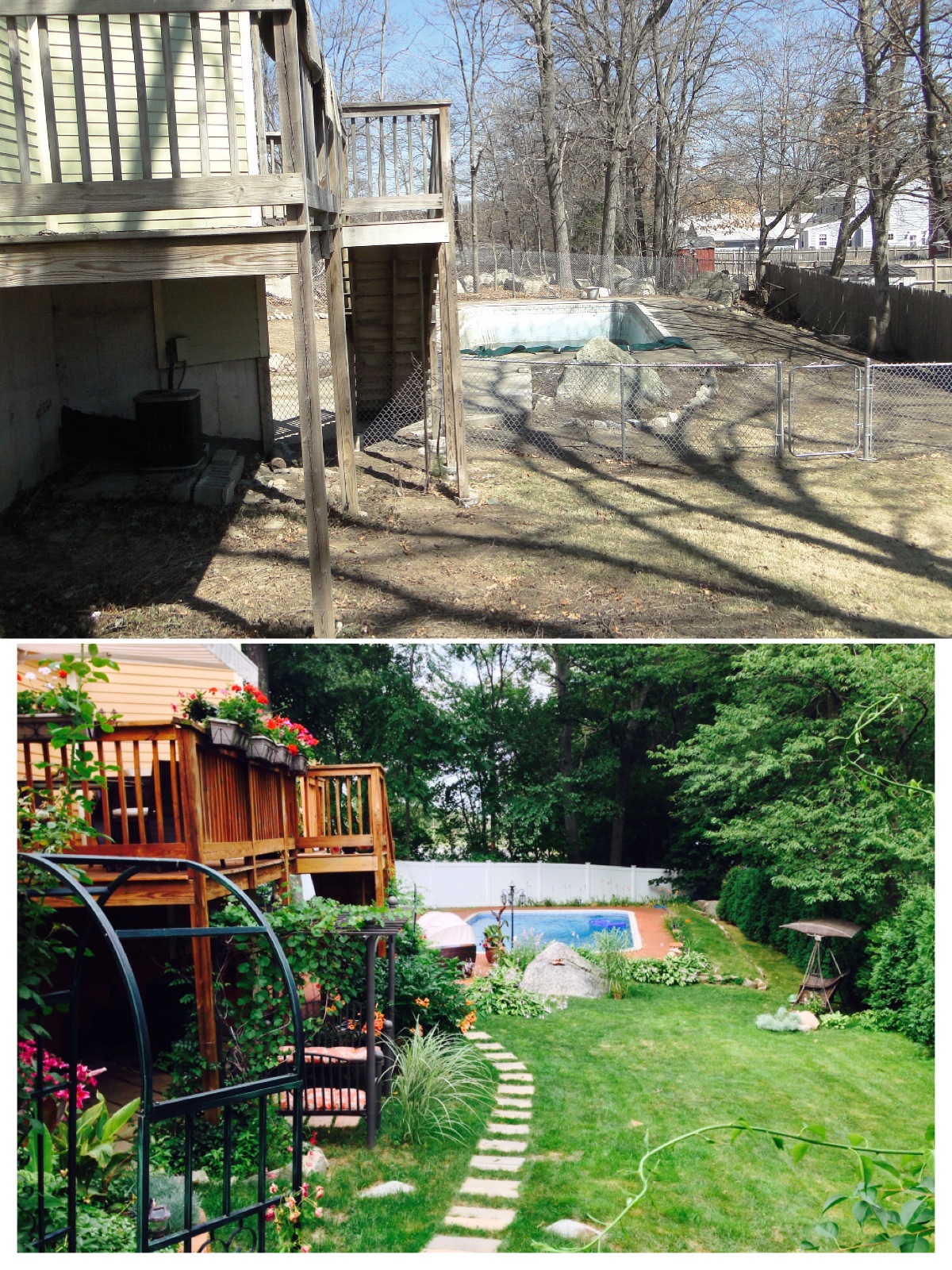 All I wanted was a house which is 20-40 years old with enough land so I can have gardens. I was raised in a small village in Bulgaria (Eastern Europe), my grandma had beautiful gardens and I guess that's how I got the love for plants, but after that I was living in apartments and had houseplants, all I wanted was gardens. As you can see from the pictures, there was no landscaping at all, it was dirt and weeds, but I had the land and my dream. My husband has a restaurant and he is working everyday 16 hours, my son is 22 years old going to college and having his own business, at the same time we couldn't afford landscaping company, or any other professional help, so it was all in my hands. I didn't have any landscaping experience, so I start reading and searching the Internet and educating myself.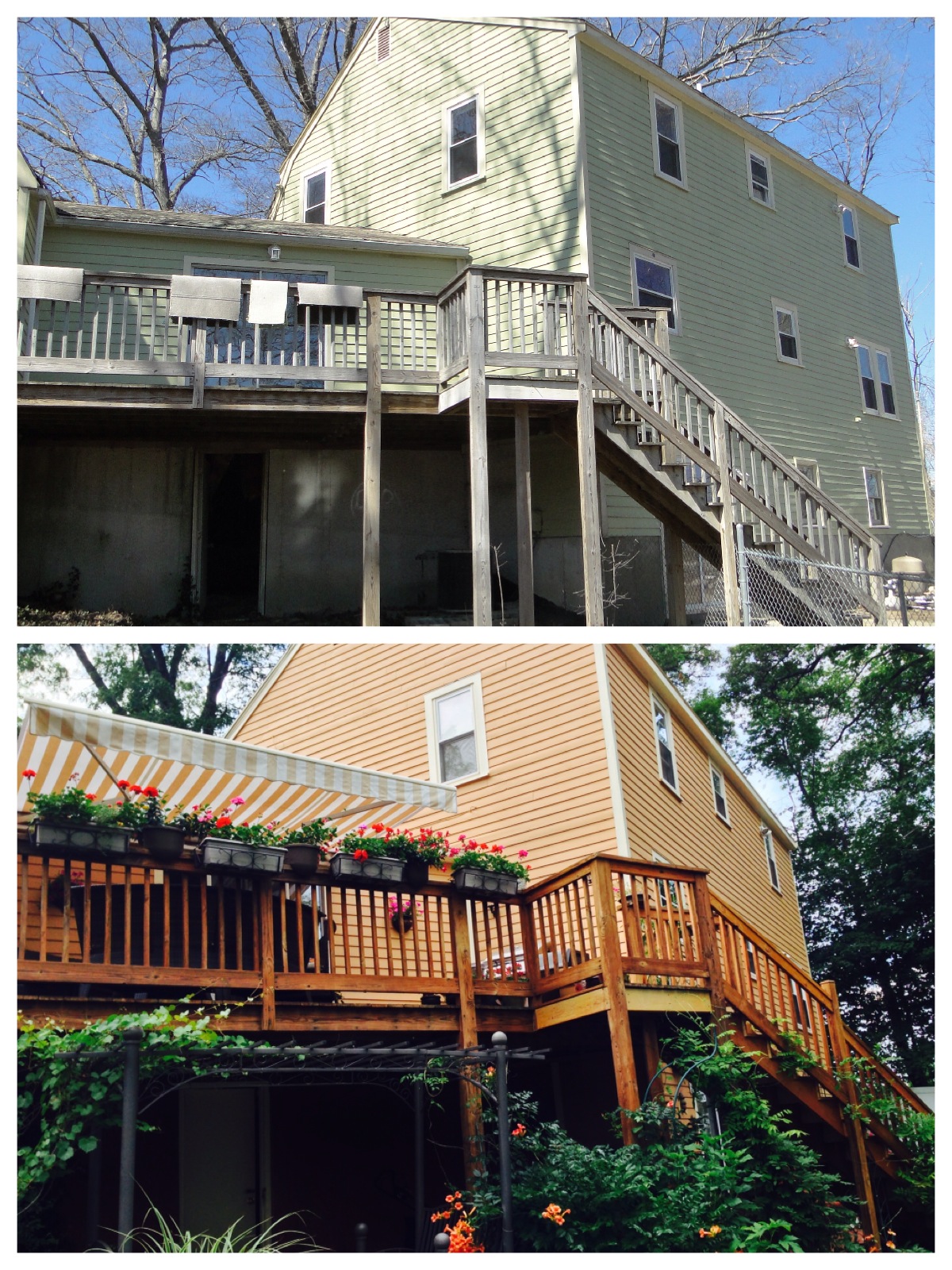 First I need privacy, so I bought from a local nursery 20 Thuja evergreen trees (which was my most expensive investment). When they delivered them, my son and husband dig the holes and we planted them. A fence company installed the white fence, a pool company changed the pool liner and filled it wit water. My dad did the edging around the grass with pavers and fixed the cement stairs, my husband made stairs for one of the grass terraces and this was all the help I had, everything else was done by my two hands.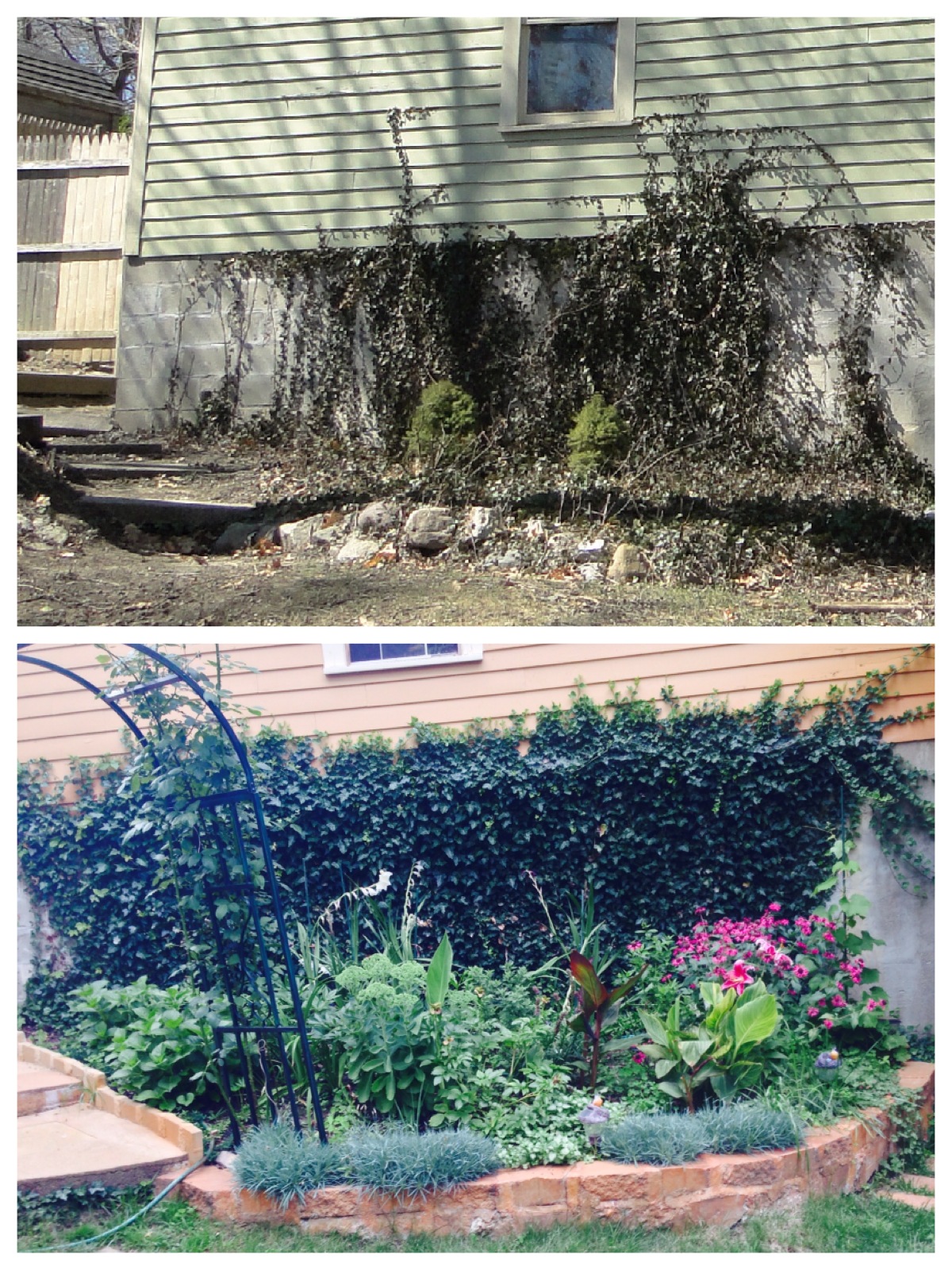 First year I was leveling and terracing the sloping land, digging piles of big stones which I used later for terrace walls and decoration, seeding with grass, but then the grass needed water, sprinkle system was not an option because it's too expensive, so I did my own sprinkle system, by connecting small hoses with sprinklers, then bought water timers and I had a sprinkle system.
So after 4 months hard labor I had a little green. Unfortunately on 28th of August 2011 hurricane Irene hit us and 4 big oak trees fall down in our yard, the result – holes in the roof, deck was gone, metal fence gone, grass and my first flowers gone, etc., so I have to start all over again.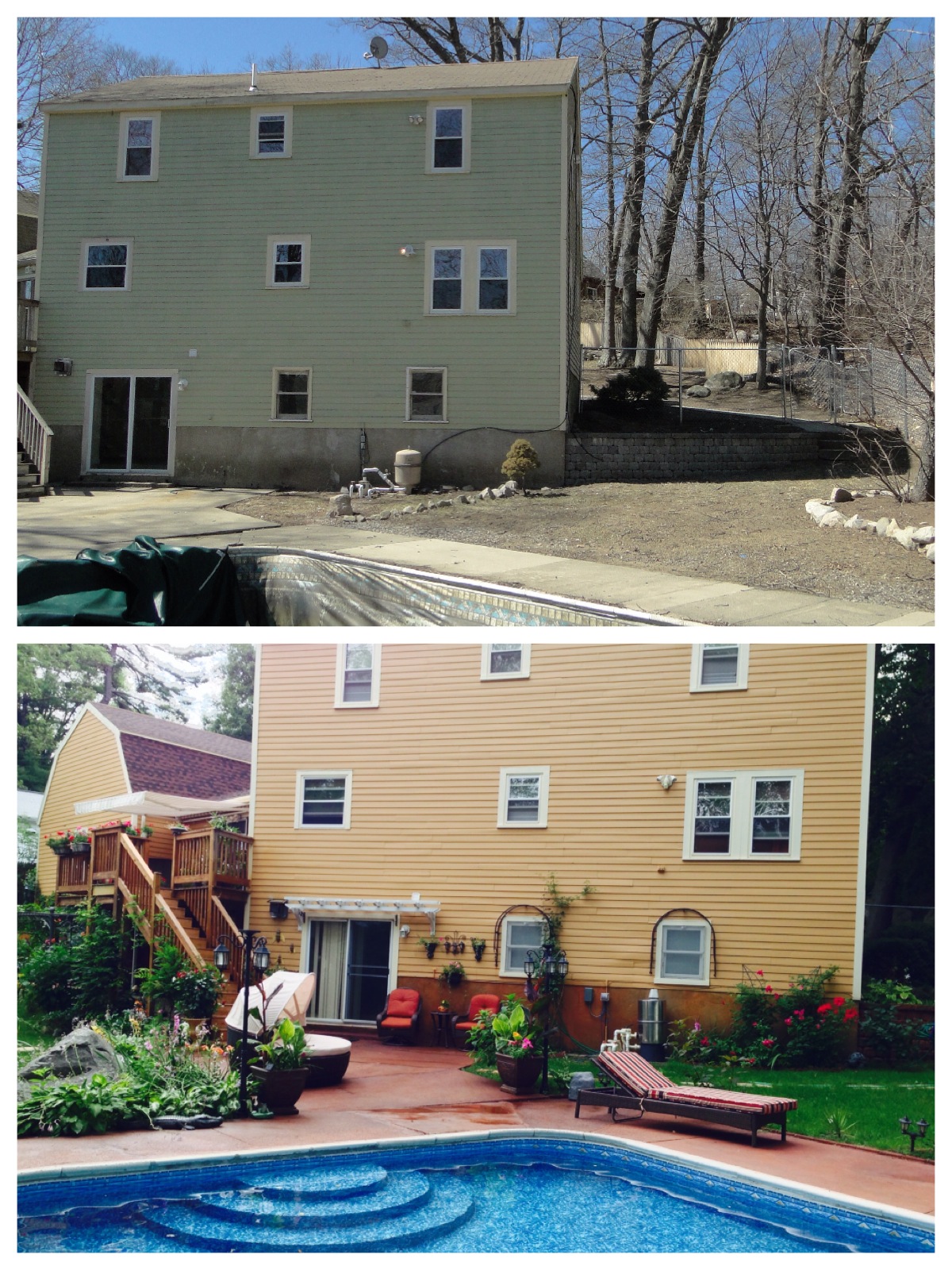 I had to level the land again, seed the grass, etc. After all this I did some paving, by buying the tiles from Home Depot, sometime I have to run to HD 4 times a day, because my car is small, and the tiles are heavy.
The biggest challenge for me was working with mortar. The cement around the pool was dull, with cracks and chipped edges, so I have to fill the cracks, make it even, power-washed it, than spray with cement color and at the end seal it. The deck was looking old – power-washed it and than stain it. All the outdoor furniture bought from the internet, assembled it and with the help of my husband and son installed it.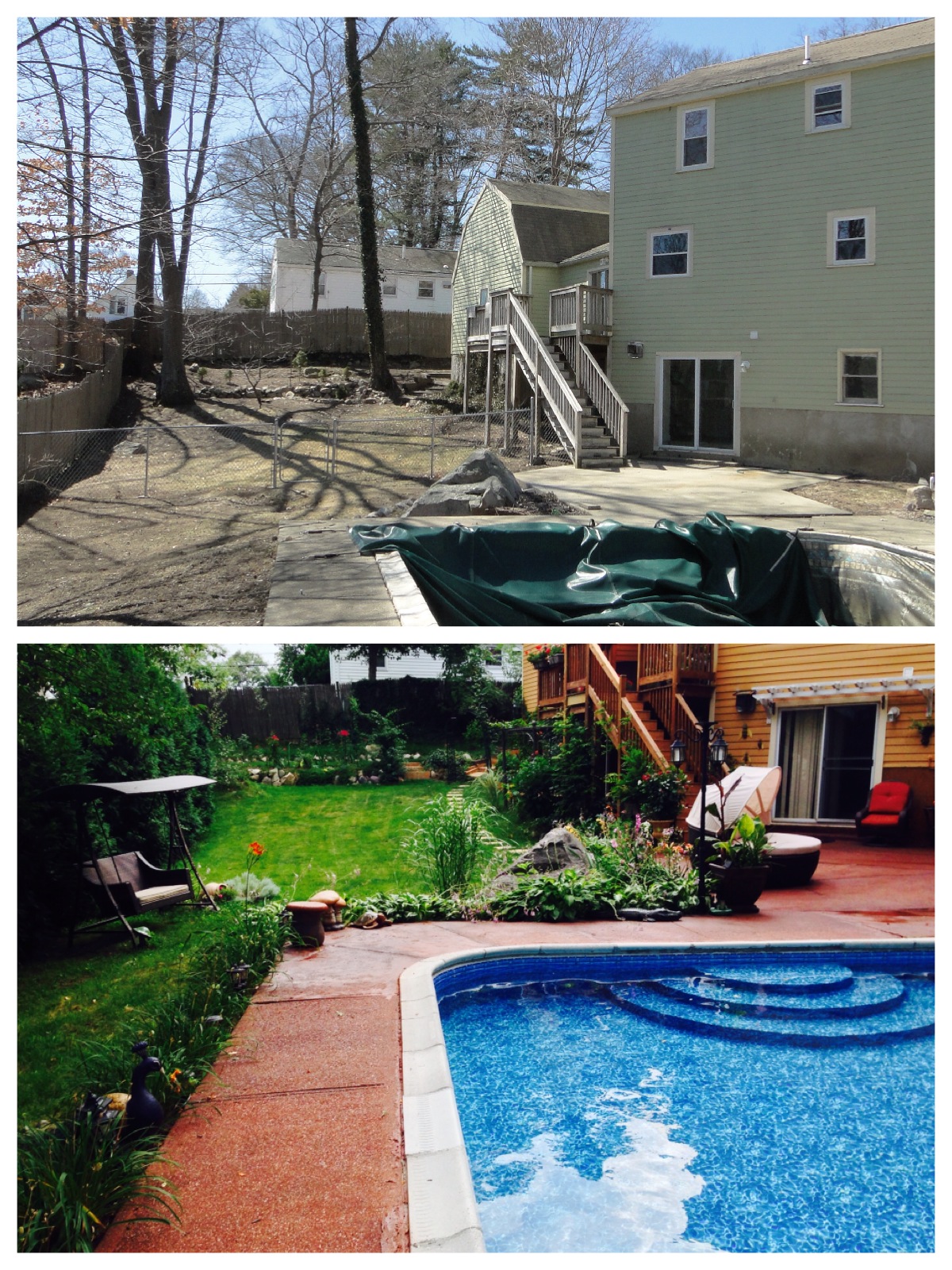 The ugliest space was the one around and under the deck , The arbor with the two benches, change it a lot, in addition with trumpet tree, grape vines, wisteria, hibiscus. Now I am having my coffee there enjoying the fIower blooms. My favorite spot is around the big rock, where i planted hostas and lilies."
Margarita, this is so inspiring!! The amount of work you did is staggering. It's so nice now. Thanks so much for sharing it with us!
Keep sending in photos of your gardens, everyone!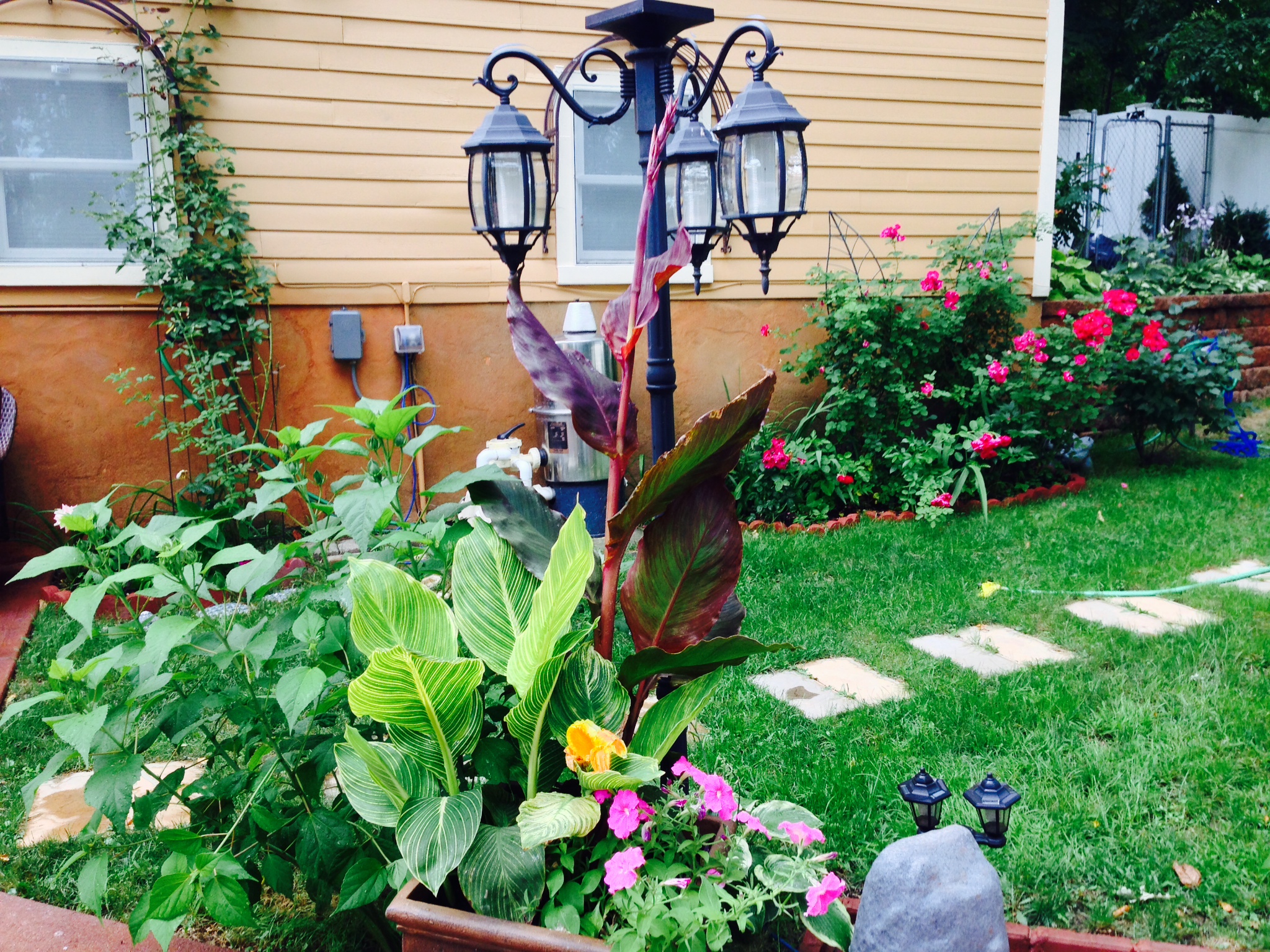 Want us to feature YOUR garden, or a garden you've recently visited, in the Garden Photo of the Day? CLICK HERE!
Want to see every post ever published? CLICK HERE!
Want to search the GPOD by STATE? CLICK HERE!
And last but not least, Check out the GPOD Pinterest page, where you can browse all the post in categories…fun! CLICK HERE!