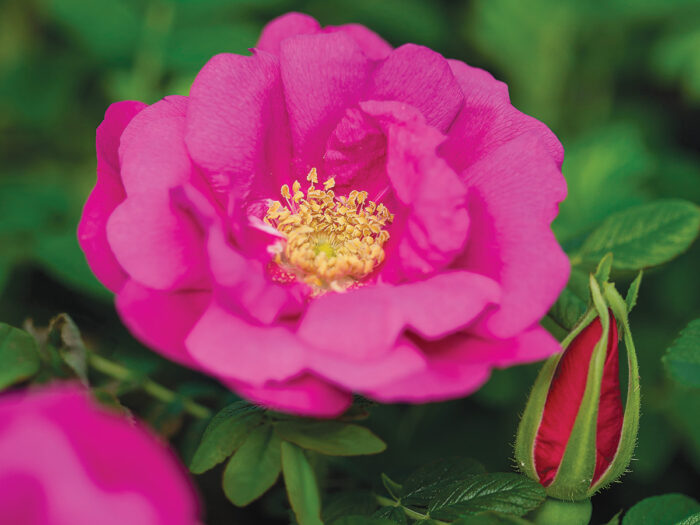 In the spring of 2017, I was sent four plants of an unnamed rugosa rose for trialing at the University of Tennessee Gardens in Jackson. They were planted in unamended soil, watered in, mulched, and left to the mercy of Mother Nature. By summer's end they had already begun to make an impression on me with their beautiful disease-free foliage and lovely fragrant flowers. After the second year, I knew we were going to be friends.
In 2019 my new friends were given the name Lotty's Love®. This rugosa rose was developed in the Twin Cities area of Minnesota by nursery inspector turned rosarian Chuck Bock. "Lotty's Love" is a reference to his wife, Charlotte, whose nickname was Lotty.
Lotty's Love® has semi-double magenta pink flowers that are 4 inches across and emit a delightful, sweet, spicy, cinnamon-like fragrance. Flowering begins with a big show in early summer and continues with a steady but more subdued display until frost. The flowers are a favorite of bees and other pollinators. Deadheading is not required; however, the removal of spent flowers will encourage more abundant blooming. Blossoms that are left untouched become attractive orange hips, which are not only a delight for birds but also can be used to make jams and jellies.
The Latin word rugosa means "wrinkled" and refers to the leaves. The deep green glossy leaves of Lotty's Love® are heavily veined, giving them a beautiful texture. The attractive foliage is enough to make this rugosa rose landscape-worthy even when not in bloom.
Rugosa roses are known for their cold hardiness, drought tolerance, and disease resistance, and Lotty's Love® is no exception. Without supplemental water and with no sign of disease in hot, humid Tennessee, our trial plants averaged 5 feet tall and 8 feet wide at the end of their fourth year—well beyond the 3½-foot-tall by 4-foot-wide dimensions noted by the breeder.
Lotty's Love® works well in borders, as a specimen, and as hedging. Unlike many other roses, rugosas prefer not to be heavily pruned. These roses handle drought very well, and they tolerate poor soil, sandy soil, clay soil, and salt. If you are searching for a rose that thrives with virtually no attention, I highly recommend Lotty's Love®.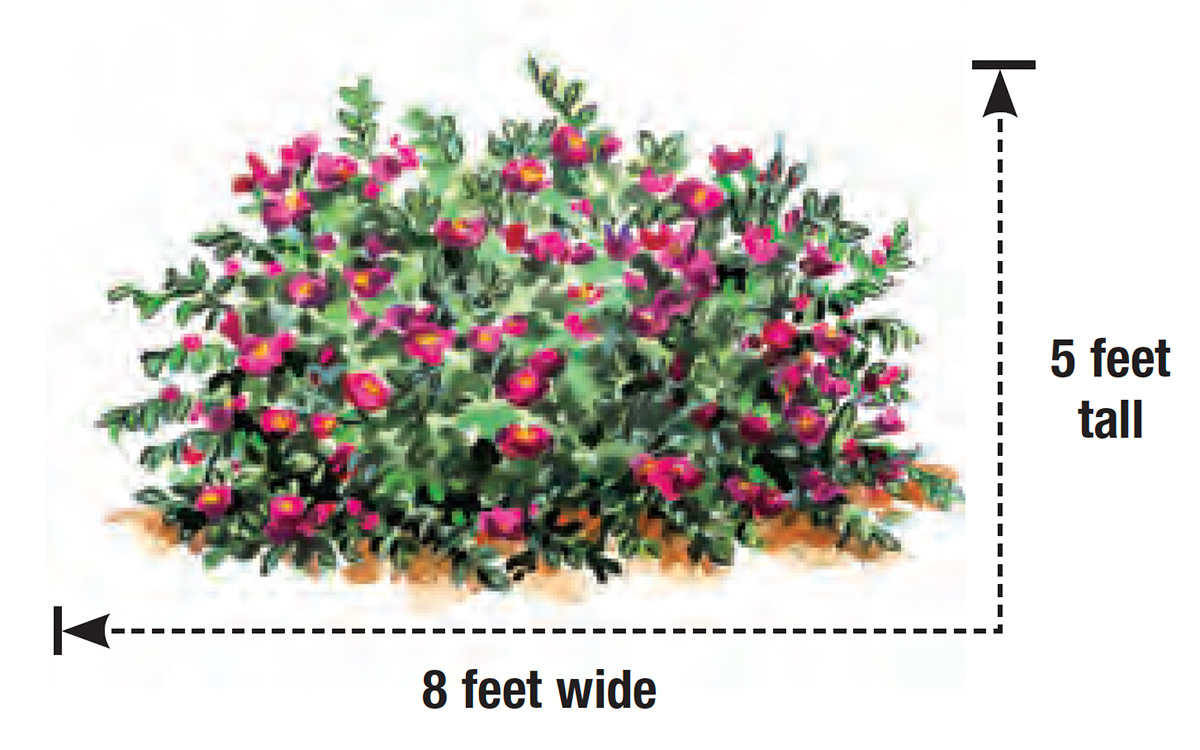 Lotty's Love® rugosa rose
Rosa rugosa* 'Boc Rogosnif'
Zones: 3–10
Conditions: Full sun; rich, moist, well-drained soil
Native range: Eastern Russia, northern China, Korea, Japan
---
*Invasive alert: Rugosa rose (Rosa rugosa)
This plant is considered invasive in CT, ME, NH, and NJ.
Please visit invasiveplantatlas.org for more information.
---
Jason Reeves has been putting plants to the test at the University of Tennessee in Jackson since 2002 and can be followed on Facebook at Jason Reeves – in the garden.
Illustration: Elara Tanguy
Sources