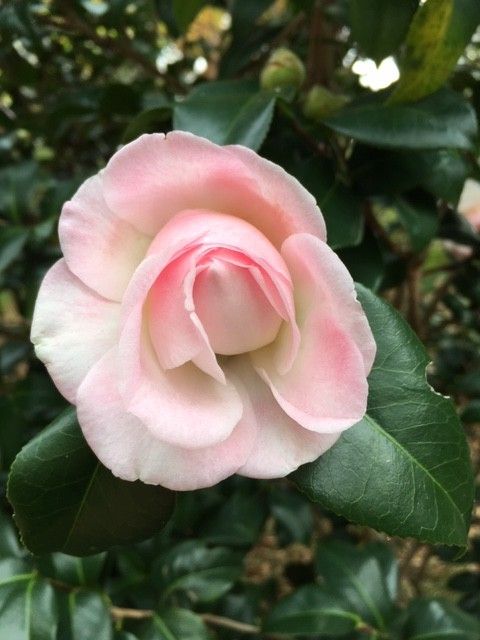 Recently, I had a taste of the sweet, sunny South–left Maryland in 23-degree weather and arrived in New Orleans to 60 degrees with leaves still on the trees and many plants in bloom. Headed for a favorite garden spot to visit: Longue Vue Gardens. Enjoy the sunshine in these garden photos even if it is cold where you are!
Although the house is beautifully decorated for the holidays, we gardeners headed out to be in the gardens for most of the day. It always surprises me that huge palm trees live there year round, sharing space with huge old pines and the magnificent, massive, old live oaks (Quercus virginiana). Those trees are so big they heave the sidewalks in all of the neighborhoods. I am thankful and admire that the city park system there respects and allows these gorgeous trees to do their thing–they don't cut them much–even around the power lines. These elder trees are indeed part of the magic of NOLA. so look down and watch your footing because the walkways are uneven and cracked.
The Herb Society of America helps to maintain the walled garden at Longue Vue and if you are a member of HSA admission is free. When you check in at the gift shop, you will receive a self-guided garden tour map and be notified of when the house tour begins. Be sure to visit the fancy restroom in the Playhouse and view all of the photos on the walls.
Since we walked to the gardens, we entered down Pine Drive, which was planted with pine trees in 1942–the air is refreshing and you sort of feel like you've entered a rural spot that is not within city limits. The Oak Allee lined with southern live oaks, also planted in 1942 is an impressive entrance to the estate. There is a showy display of white amaryllis and bright red cyclamen in pots at the entrance to the Main House. There were many plants, herbs, annuals, perennials and shrubs still in bloom throughout the gardens. Athough the formal boxwood parterres and knot gardens are well kept and handsome to view, I prefer the less kept gardens.
The Walled Garden built in 1936 was originally a Kitchen Garden as well as a Victory Garden during WWII. I know that the New Orleans Unit of the HSA volunteers in this garden, because I have seen them working there. There are many herbs in this space, however there are also vegetables and trellises so it appears to be a kitchen garden. I like the enclosed feeling of it and there are comfortable benches for just sitting and being.
Next to the Walled Garden is the Wild Garden, which was a collaborative effort by three women, Edith Stern, Ellen Biddle Shipman and Caroline Dormon, built in 1939. Caroline Dormon was a revered naturalist from Louisiana, who helped establish many native plants in this garden. There is a huge collection of iris, a wildflower walk and a camellia walk. There were gorgeous winter-blooming camellias showing off their blooms in shades of deep pink, light pink and white right now! Their foliage as well as the magnolias are so shiny it looks like someone took a cloth and buffed them. There were still a number of salvias in the sage collection there in flower–red, purples, white and even orange. And a few roses were still gaily flowering.
From there we walled to the Lucy C. Roussel Discovery Garden, however I will tell you about it in the next blog, because I can only post 12 photos per blog and there are so many lovely shots to show you–and that is a fun spot! All this to say is–if you are going to New Orleans, don't miss this garden–make it a destination! I hope you folks who live in the Big Easy know just how easy you have it–with mild temperatures and flowering plants year round–maybe that is why y'all are so friendly!