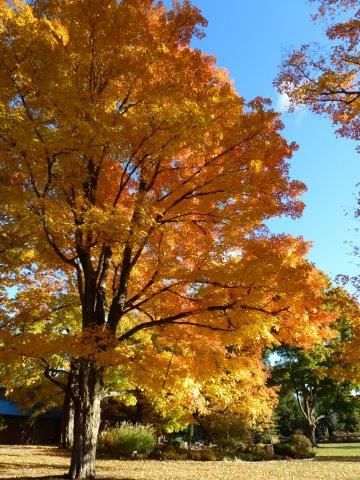 Recently, I traveled to New England to give two presentations for the New England Unit of the Herb Society of America https://www.neuhsa.org/ for their daylong symposium "Let's Drink to That!". Lucky me! Not only did I have lots of fun with the herb members there, with a continental-style breakfast spread, herbal lunch and beverage tastings, and inspiring programs–I was dazzled by the fall foliage.
Thanks to the HSA units who host these events where one can find excellent educational, not to mention entertaining, programs, gatherings of like-minded individuals where one meets old and new friends, shares good food and libations, visits with vendors and silent auctions to procure herbal items, and let us not forget, there are always gardens to view! I visited The Gardens at Elm Bank, home of the Massachusetts Horticulture Society, and Tower Hill Botanic Garden. Since I can only post 12 photos per blog, I'm going to highlight Elm Bank here and Tower Hill in the next one.
The following description is from the website https://massbotanicgardens.org/massachusetts-horticultural-society/ Massachusetts Horticultural Society is located on the 36-acre Cheney Estate in Dover/Wellesley, MA, which is listed on the National Register of Historic Places. Founded in 1829, the mission is to encourage the science and practice of horticulture and to develop the public's enjoyment, appreciation, and understanding of plants and the environment.The Gardens at Elm Bank consist of historic (Olmsted Brothers) and contemporary gardens for people of all backgrounds to enjoy and to learn how plants and landscape design are an integral part of everyday life. There are twelve gardens on the property, including Weezie's Children's Garden, a magical place for children to explore, the Bressingham Garden designed by noted English Nurseryman, Adrian Bloom, and the Italianate Garden designed by the Olmsted Brothers and the Herb Garden is maintained by the NEUHSA.
The day of the event was brisk, though the sun was shining bright making those gold, orange and red-tinted sugar maples dance in the breeze. I actually stole away from the hubbub of preparation indoors and went outside with my yoga mat and did sun salutes in the garden, which was quite invigorating both mentally and physically. Although frost had visited the gardens causing some dead and brown plants, nevertheless, there is quite a bit going on there with hardier herbs, flowers and shrubs still showing off. Critters and birds were busy eating berries and gathering nuts.
Of course, I love an herb garden, however I think my favorite garden at Elm Bank is Weezie's Children's Garden. I felt like a kid on both visits there, wanting to sit at the tea party table, climb in the treehouse and teepee and over the rocks, crawl through the log/earth berm and follow the many inviting, little side pathways through the gardens. I've always been attracted to kids' gardens and this one has many delightful, yet simple features necessary to a successful children's garden. Most important, the space is accessible to kids without a lot of NO signs; it invites kids to play rather than tell them no climbing, keep off the wall or grass, etc.
Here's another garden to put on your to-see list. You might even bump into an Herb Society volunteer, gardener, or friend and fellow herb lover, John Forti, who is the Director of Horticulture there now (https://www.jforti.com/). The everchanging gardens are open from 8 am until dusk, May 1 to Columbus Day. Although, the earth is going into a restful winter stage, don't forget to look for their Gardener's Fair and Herb Plant Sale in the Spring.