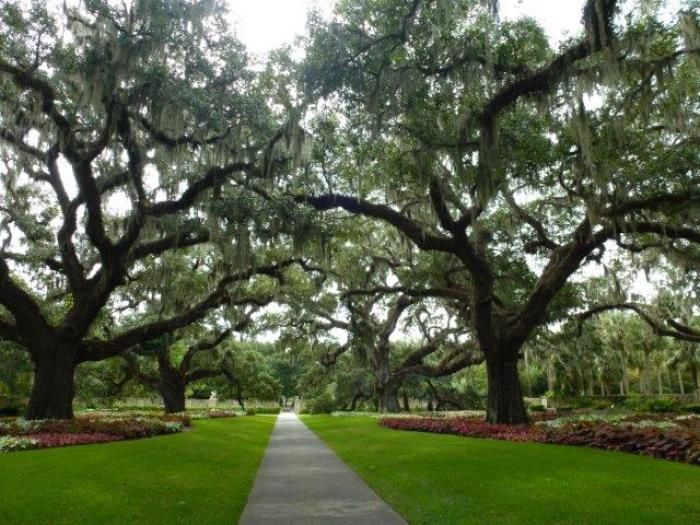 Just back from a short family vacation in Pawley's Island, South Carolina. While there, besides enjoying local produce and eating my fill of grits (in every way possible) and fried green tomatoes, I made a return visit to Brookgreen Gardens. If you are ever going to South Carolina, or just passing through, make this garden a stop on your list of places to visit. Besides wonderful gardens and ancient live oak trees, fountains and vistas, there are trails, a native animal collection, children's garden, pollinator garden, a labyrinth, a small butterfly house, gift shop and cafe–and an incredibly amazing sculpture collection. https://www.brookgreen.org. The web site offers history, maps of the garden, events and more.
The Live Oak Allee is truly breath-taking featuring Quercus virginiana, which are over 200 years old. They are naturally hung with Spanish moss (Tillandsia usneoides), which is a symbiotic epiphyte, which takes nourishment from the air rather than the soil. The gardeners have underplanted the live oaks with over 60,000 caladium bulbs in various pastel shades, which appear as a veritable sea of many-hued leaves.
And oh I musn't forget the sculptures, throughout the gardens, not to mention the collections indoors. In all my years of visiting museums, I must admit, I have never seen quite such an array of sculpture–some enormous and some small–made from bronze to marble, clay and wood. The collection is so vast and impressive, it is a bit overwhelming to take it all in.
Brookgreen's Lowcountry History and Wildlife Preserve covers thousands of acres, full of the native plants and animals of the South Carolina Lowcountry. There are all sorts of tours and walks throughout the gardens, as well as a Lowcountry Trail for hiking and an overland vehicle which takes you deep into the Preserve. In addition, the great rice plantations from the 1800s can be viewed from a boat excursion. There is a Chartres Labyrinth down along the river–a serene and lovely spot–for meditating and walking the .4 miles of labyrint paths.
This is a garden to put on your must-see list.