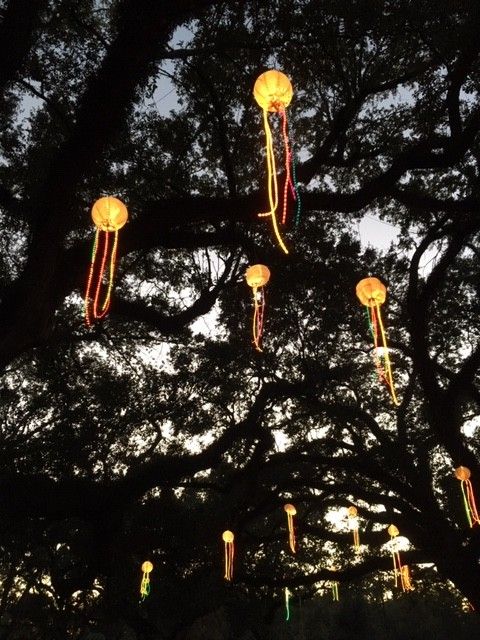 Can't let my recent visit to the Big Easy go by without reporting about two really fun places for kids (both young and old)–if you live there–don't miss these gardens. If you are a visitor or wannabe, put these on your must-do list.
I love visiting children's gardens. We are fortunate to have many of them spread out across the nation. I always look for them when I am off visiting a new place; mostly they are at arboretums and botanical gardens, however I have found great ones at universities and even community gardens.
The Lucy C. Roussel Discovery Garden at Longue View Garden was built in 1998. This interactive garden was designed for children of all ages–it has a Secret Garden, raised beds with herbs, vegetables and flowers, colorful sculptures, places to sit for parents, friendly and informative signage and lots of hands-on activities. Kids need to be able to touch and feel plants, smell and even taste them (with adult supervision).
There is a giant fence covered with hanging watering cans so kids can be helpful and water thirsty plants, however they can also get wet and physical. There is a large, cleared, sandy area with shovels and wagons and building blocks for building; an empty space with rakes for raking leaves or sand and a big sandpit with trowels and buckets. This is a place for kids to play, create and burn energy. Check website for special events www.LongueVue.com.
While the discovery garden is a daytime place, the seasonal display Celebration in the Oaks which is located at NOLA City Park is a nightime, holiday light festival. It is open now from until January 1, 2019–check the website for hours and special events–of course it starts around dusk. https://neworleanscitypark.com/celebration-in-the-oaks
"City Park's famous oaks are swathed in hundreds of thousands of twinkling lights and breathtaking light displays are scattered throughout 25 acres of the Park, including the Botanical Garden, Storyland, and Carousel Gardens Amusement Park."
It takes seven fulltime staff members eight months to get the lights ready for this annual fundraiser. Bundle up for walking around and viewing this dazzling light show. There is also a section with rides and lots of noise, which we avoided.

We took the streetcar to City Park, so it was a bit of a walk to the Celebration light show, however there were all sorts of light displays throughout the park. I especially liked the lights located on the water because of the reflections, which made them doubly impressive.
Downtown NOLA the streets are festooned and brightly lit–all of the huge palm tree trunks are wrapped in lights–which is pretty spectacular also.
Y'all get outside, wherever you might be and celebrate the season!