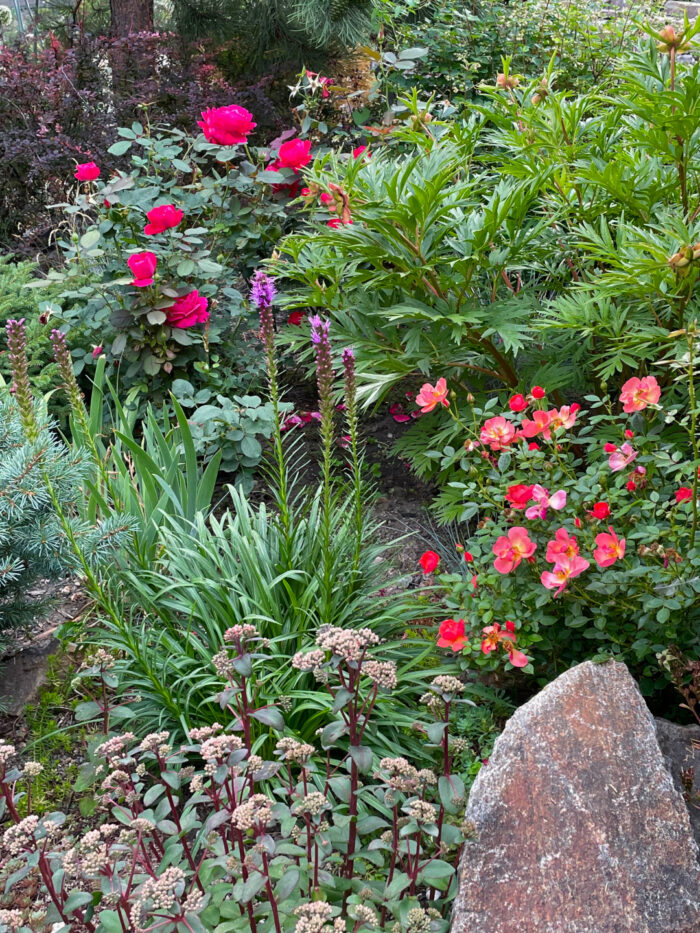 We're visiting with Linda Grey-Martin today.
Hello from Calgary, Alberta.
Our climate is officially Zone 4a, although many Zone 5 plants survive in my garden.
Calgary is close to the mountains, and we encounter quickly changing temperatures and weather patterns in all seasons, a challenge for gardeners.
That being said, there are a lot of great gardens in this part of the country, with an active Calgary Horticultural Society (established in 1908). We are always up for a challenge.
Now to my garden. The front yard is sloped, 50 feet wide, and about 75 feet deep. The house is at the top of the hill, originating from a setback concept as part of a "garden suburb" plan established for the neighborhood in the early 1900s. The focus was to give a parklike appearance from both the street and the homes.
The front south-facing garden was completely redone 10 years ago, after a major house renovation. With the exception of four large trees, all plant material was removed from the garden, and we brought in rich garden loam and a few tons of rock. The rock was placed at the top of the slope to maintain the soil and create moisture pockets for the plants. We did have a professional drawing done to get us started, but what remains of all those ideas is the patch of lawn in the middle.
I don't follow any rules. I mix things up if I like the way it looks. It's my garden. I started with color and texture, which includes a balance of deciduous and coniferous trees and shrubs. For added color through the season I also have peonies (11 varieties), roses (7 varieties) and hydrangeas (6 varieties). Various grasses give movement to the garden, and six types of larch provide additional interest in the fall. Combined with a very large variety of perennials, the garden never lacks color.
My weakness is that I always like to change things and move plants. I have now limited that process, and it is amazing how things grow if you just let them get established.
A true garden is never done; it is always evolving. Plants seed where you don't want them, weeds pop up everywhere, and unfortunately some plants don't return in the spring, but I consider that one an opportunity!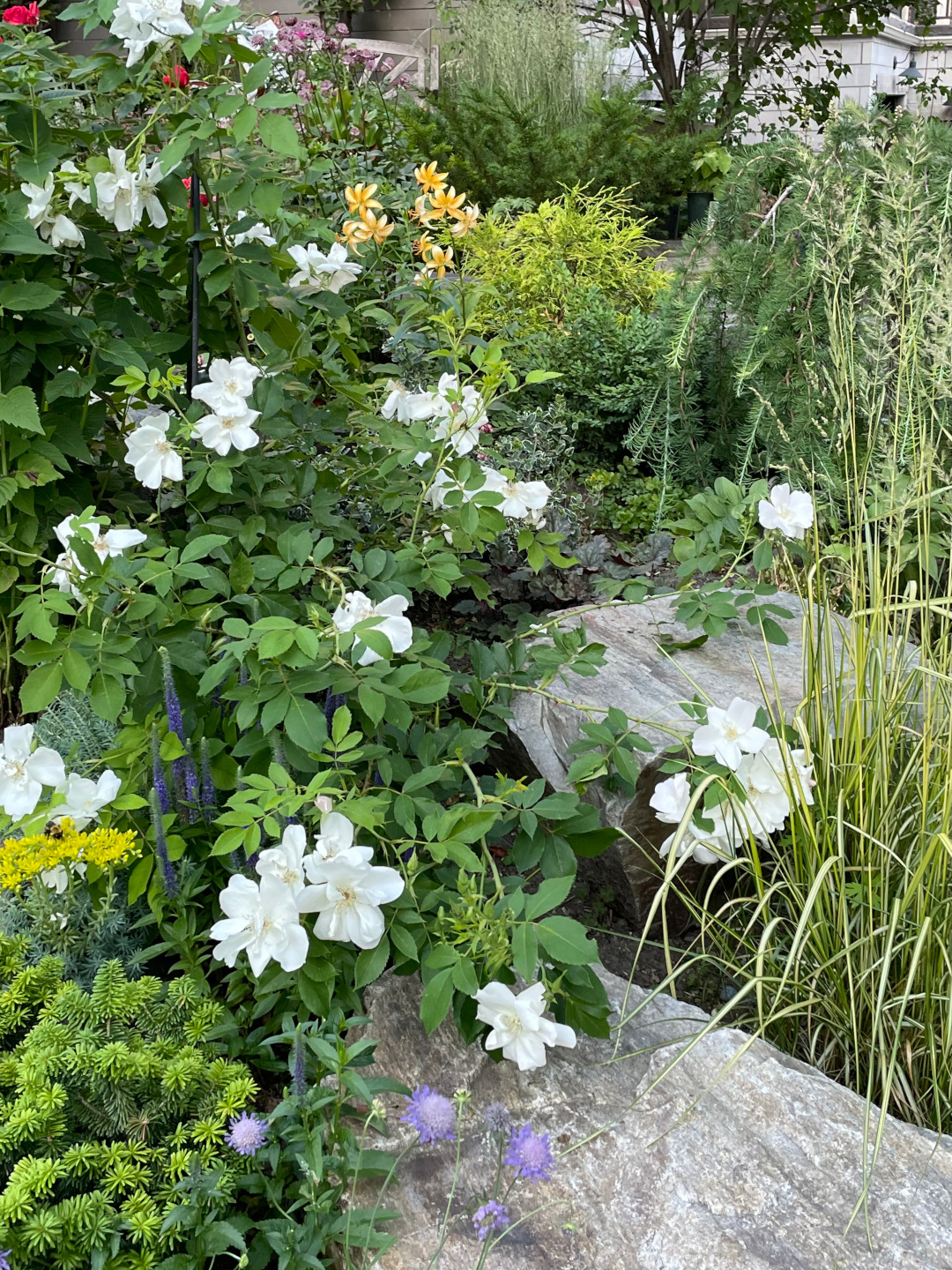 A dense network of plants fills the spaces around the rock in the front garden with color.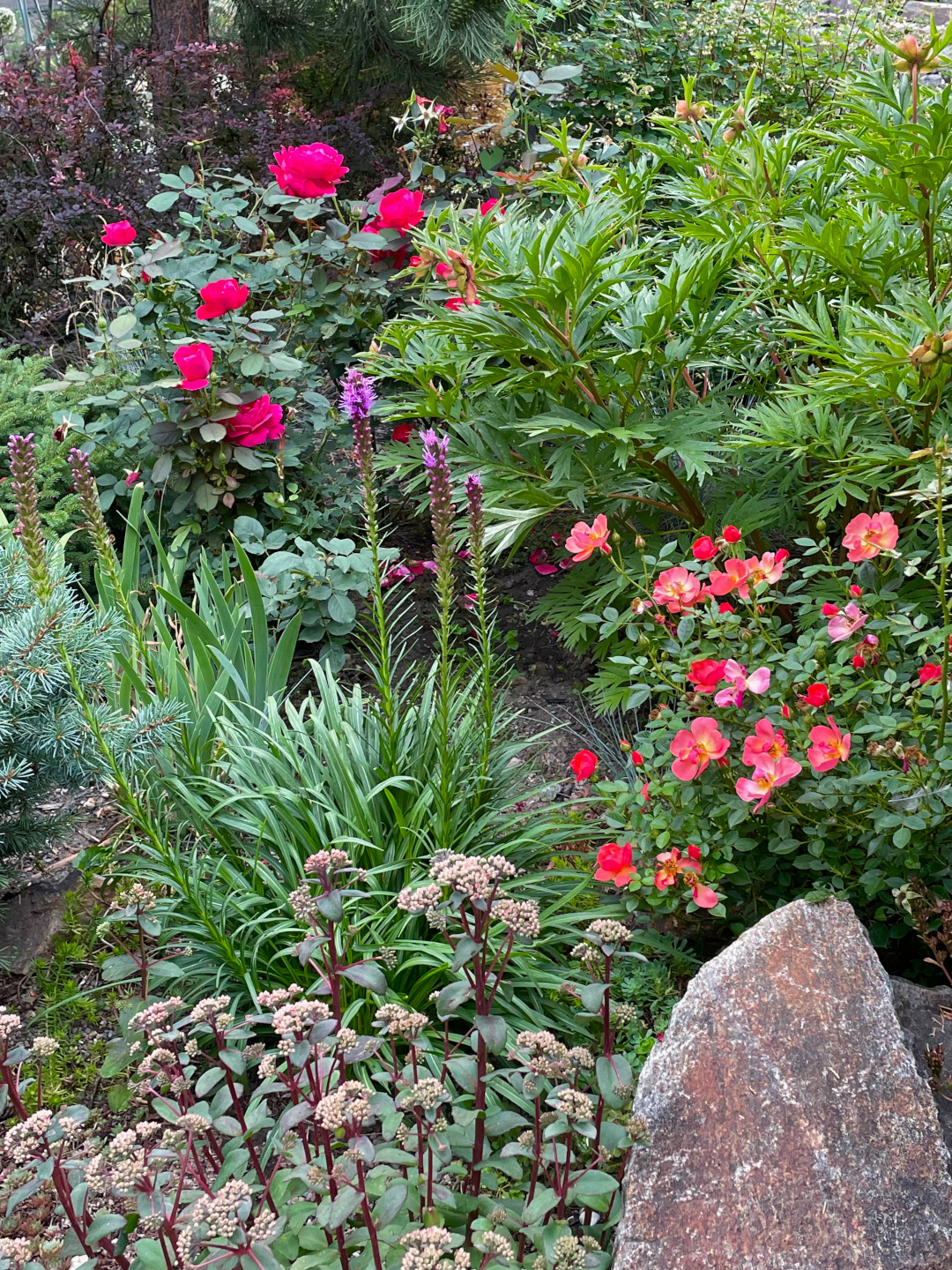 Two different rose varieties (Rosa hybrids, hardiness varies by cultivar) bring color. Between them, a peony (Paeonia hybrid, Zones 4–8) has beautiful foliage even after the flowers have faded.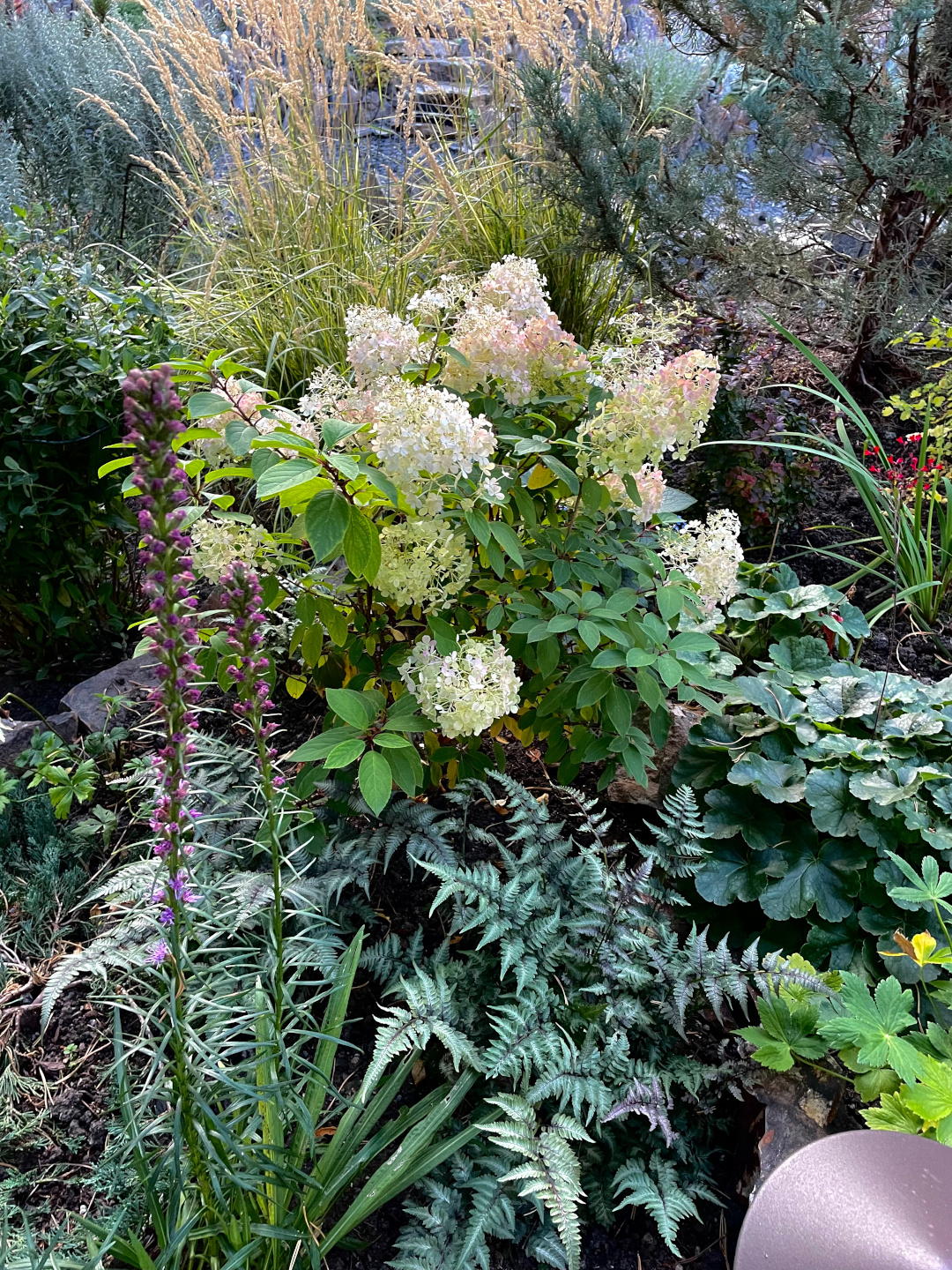 Hydrangea paniculata (Zones 3–8) blooms are surrounded by beautiful and varied foliage. In front is a Japanese painted fern (Athyrium niponicum var. pictum, Zones 4–9) with silver-and-red-patterned leaves.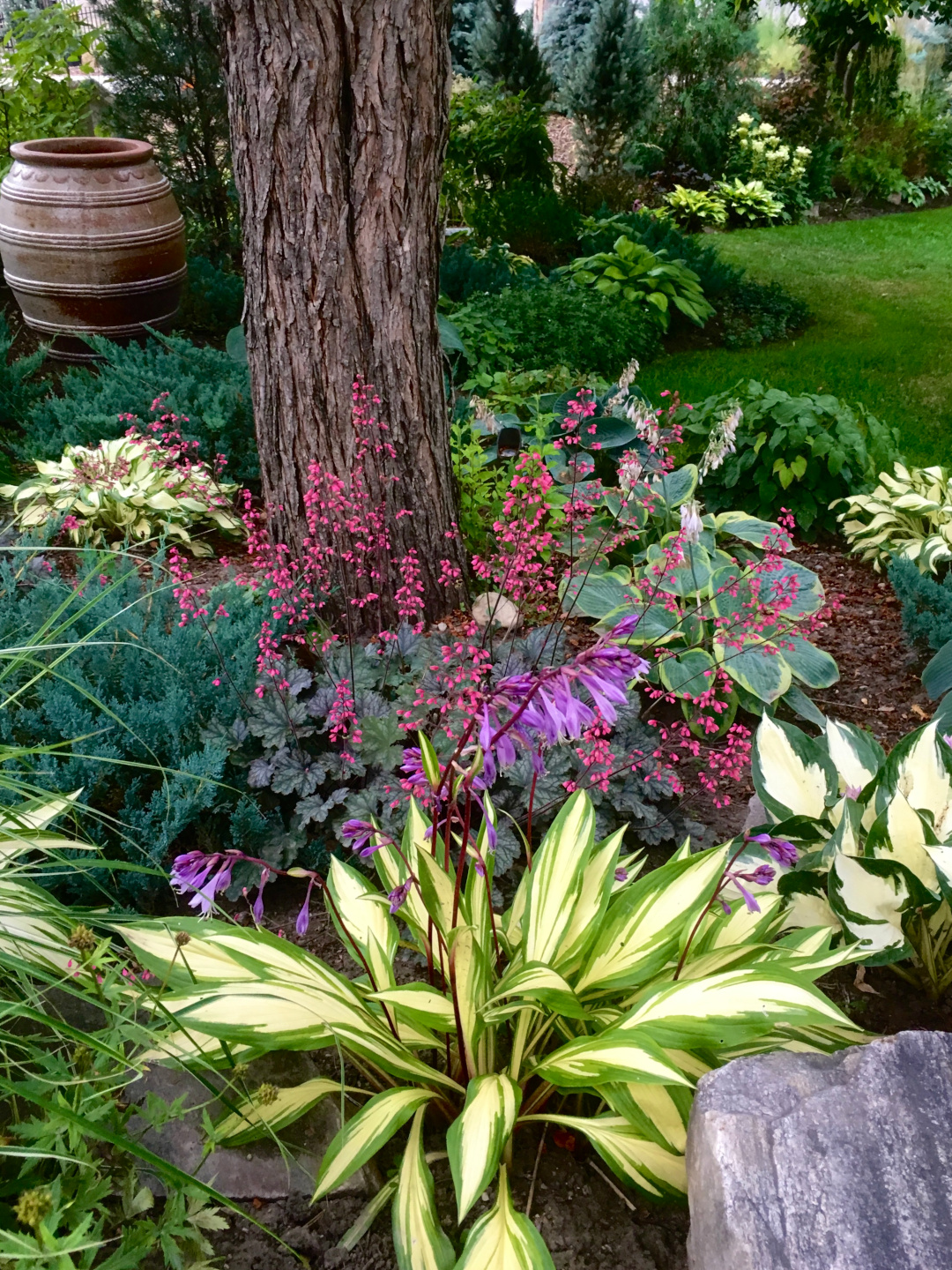 In the shade of a tree, hostas (Hosta hybrids, Zones 4–8) dominate, and behind a heuchera (Heuchera hybrid, Zones 4–8) is in bloom. Most modern heucheras are bred primarily for their foliage color, but there are varieties that have beautiful flowers as well.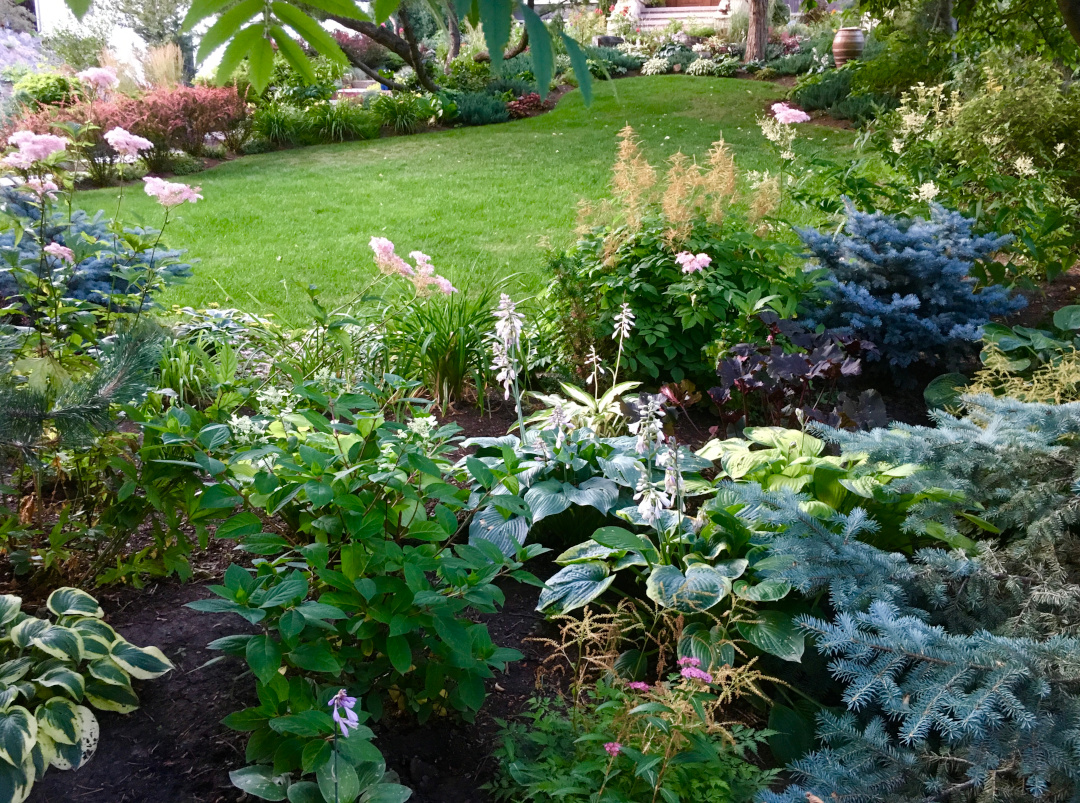 Freely mixing perennials with shrubs gives a wonderful range of colors and textures to the garden and ensures there are beautiful things to look at in every season.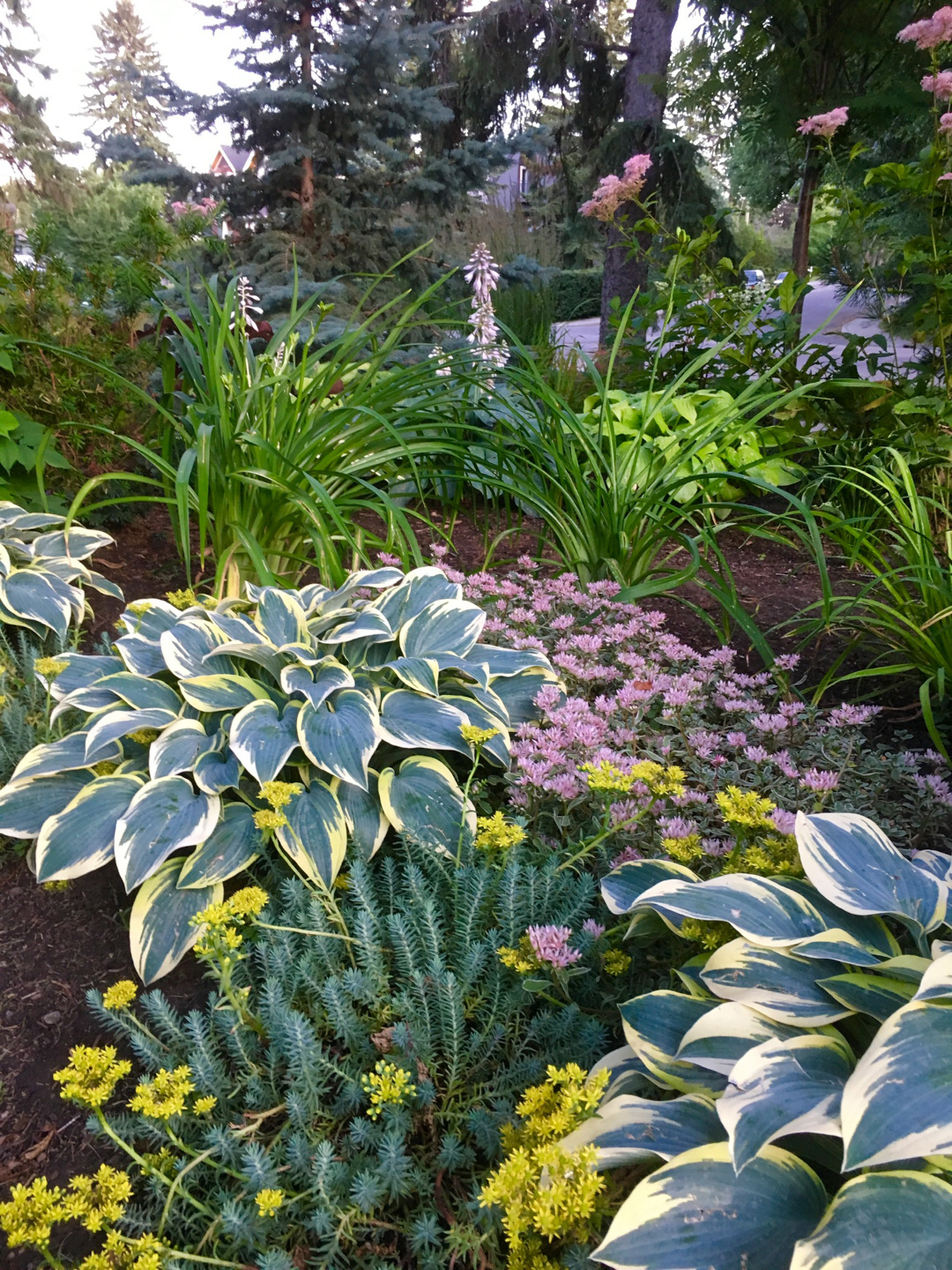 Hostas grow in a wide range of climates, but they grow particularly large and lush in colder areas.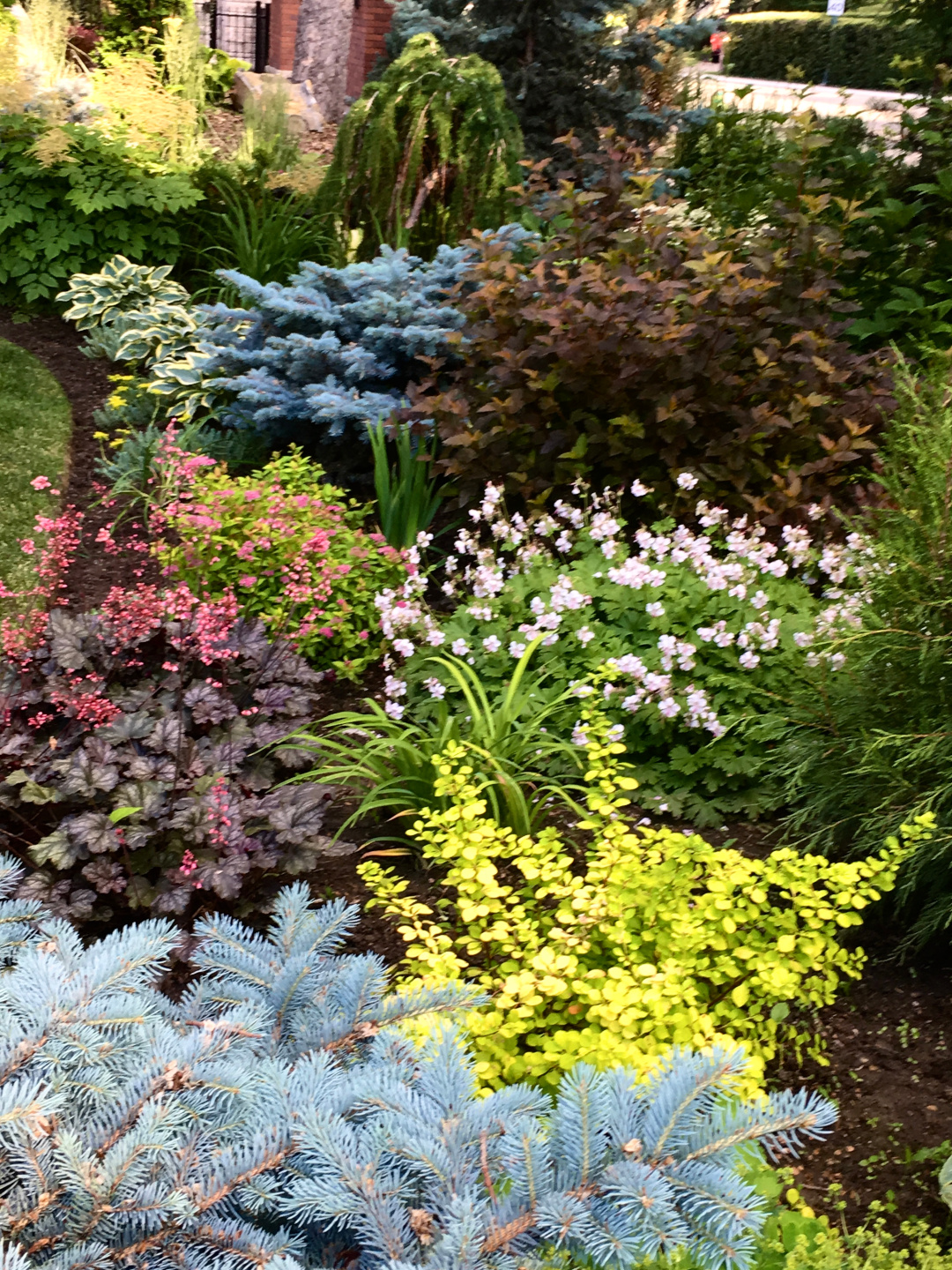 Shrubs are the backbone of this planting, augmented by perennials here and there.
Have a garden you'd like to share?
Have photos to share? We'd love to see your garden, a particular collection of plants you love, or a wonderful garden you had the chance to visit!
To submit, send 5-10 photos to [email protected] along with some information about the plants in the pictures and where you took the photos. We'd love to hear where you are located, how long you've been gardening, successes you are proud of, failures you learned from, hopes for the future, favorite plants, or funny stories from your garden.
Have a mobile phone? Tag your photos on Facebook, Instagram or Twitter with #FineGardening!
Do you receive the GPOD by email yet? Sign up here.