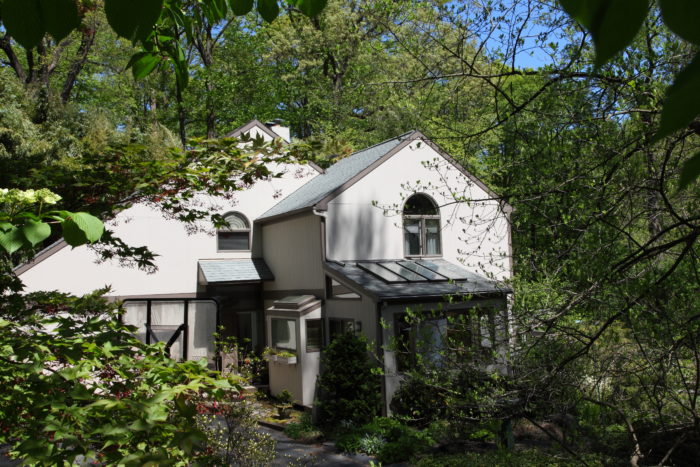 Today's photos are from Joyce Laubach. She says, "I'm so excited to share my garden photos from our home in Wayne, Pennsylvania, in Zone 5. Our house sits on a 3/4-acre interior lot in a very naturalized wooded setting. Especially from spring through fall, the foliage creates the sense we are in our own secluded forest nook. These photos were taken last spring. We definitely took some garden hits over the last brutal winter, and the bloom progression has been slower this Spring. But fortunately, things are starting to look lovely again.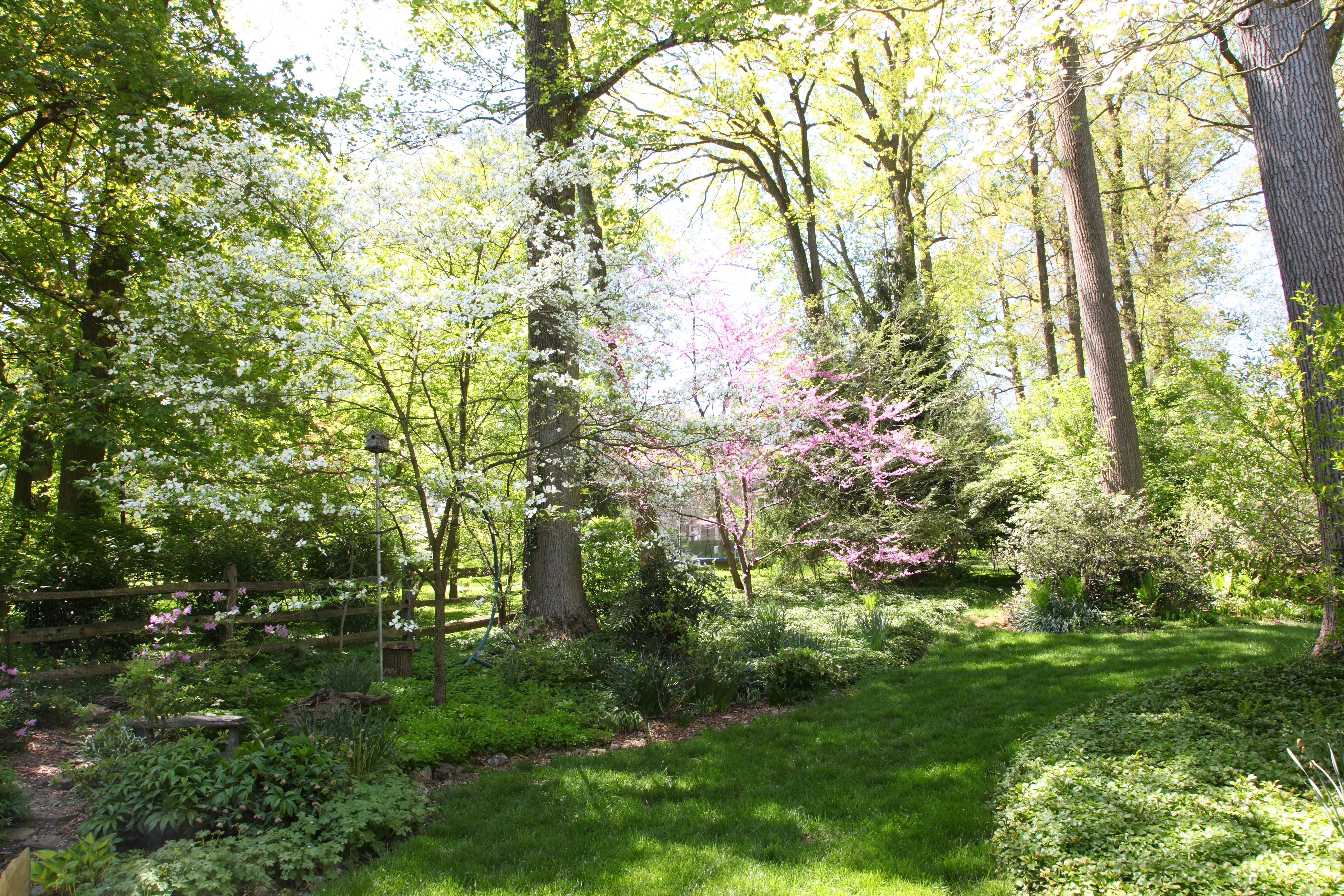 "One hazard of our setting is that it is a deer haven, so over time, I have concentrated on deer-resistant plants. Most of whatever hosta you see in these photos has been removed, along with most of my daylilies. The battle was just too difficult, and when even Liquid Fence stopped being effective, I knew I was losing the battle.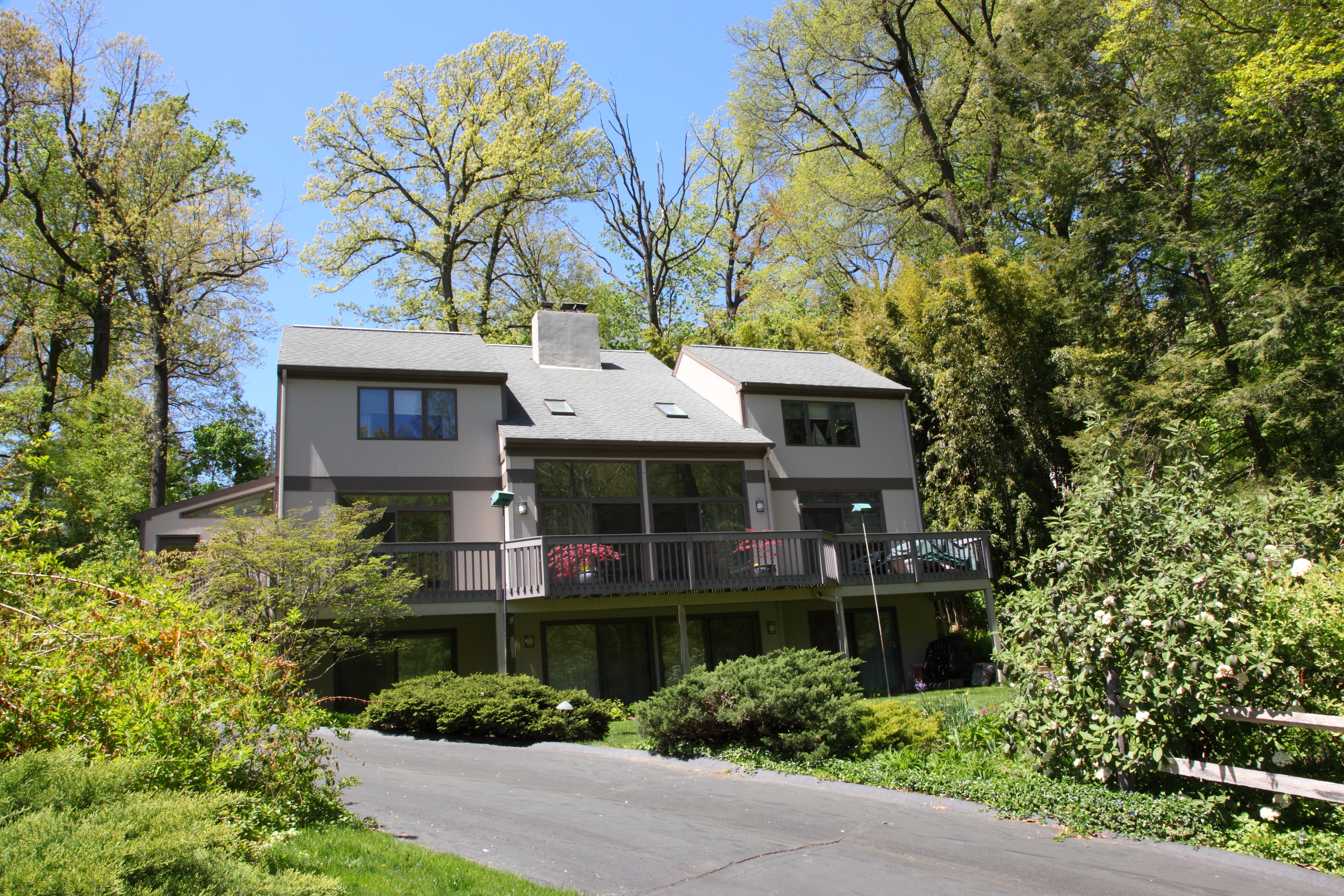 "Fortunately, there are many plants that are both shade loving and deer resistant that have flourished. I also concentrate on natives as much as possible. One big exception – there is a large stand of bamboo on our north side that we've managed to control, and we enjoy the screening it provides.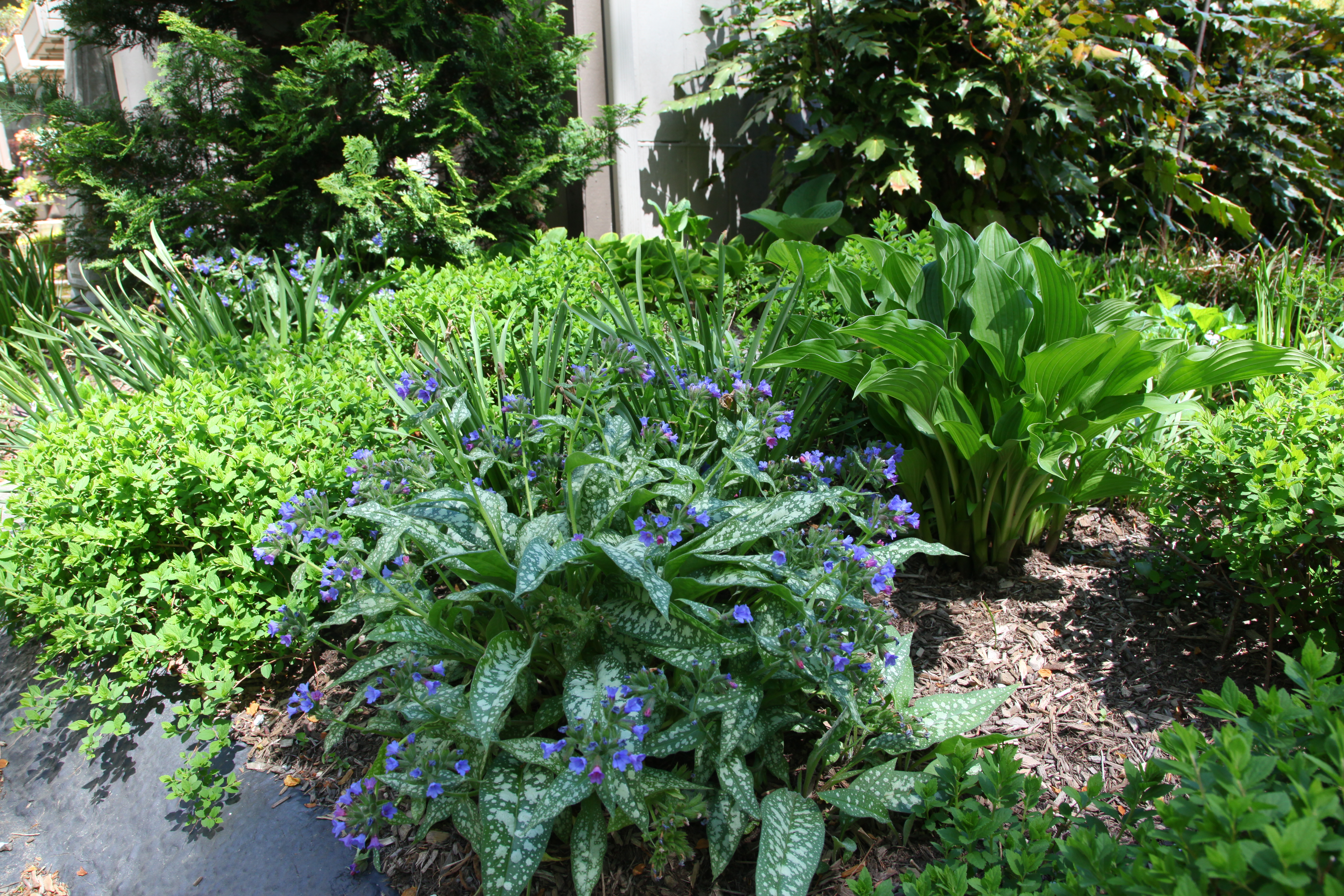 "As viewed in these photos, we have native dogwood and redbud. The airy pink shrubs are 'Corsage' azaleas. Ferns abound. The one fern close-up shows ostrich fern in full frond, with the fiddleheads of cinnamon fern beginning to unfurl (and if you look really closely, you might spot Jasmine and her tiger from Aladdin – a found remnant showing this was a long ago play spot for my now-grown kids!).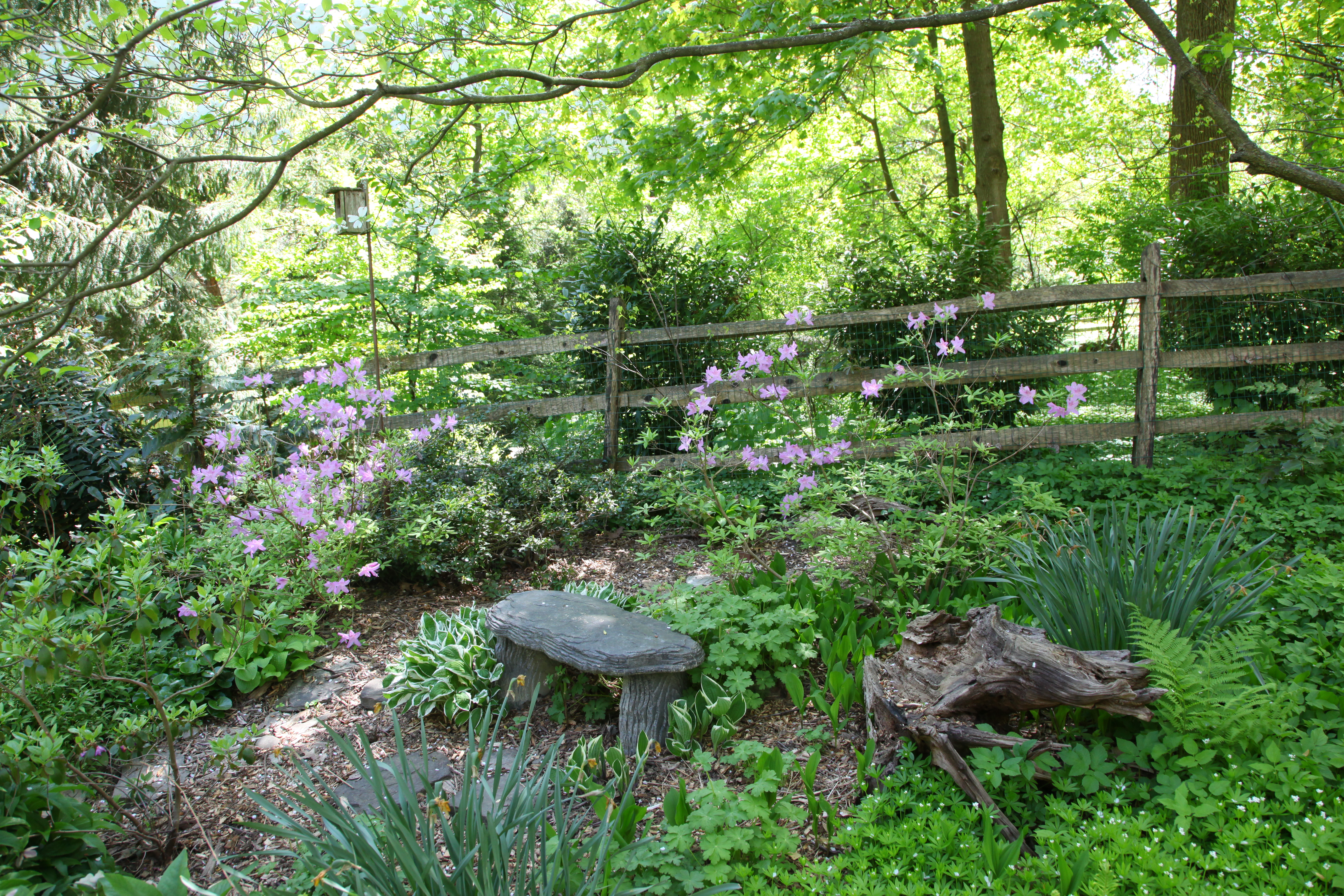 "There are multiple stone pathways and the occasional sculpture and natural tree branch for interest along the way, with a profusion of pulmonaria, hellebores, sweet woodruff, bigleaf hardy geranium, a few primroses, Arum Italica, epimediums, and euphorbias. Hope you enjoy the view!"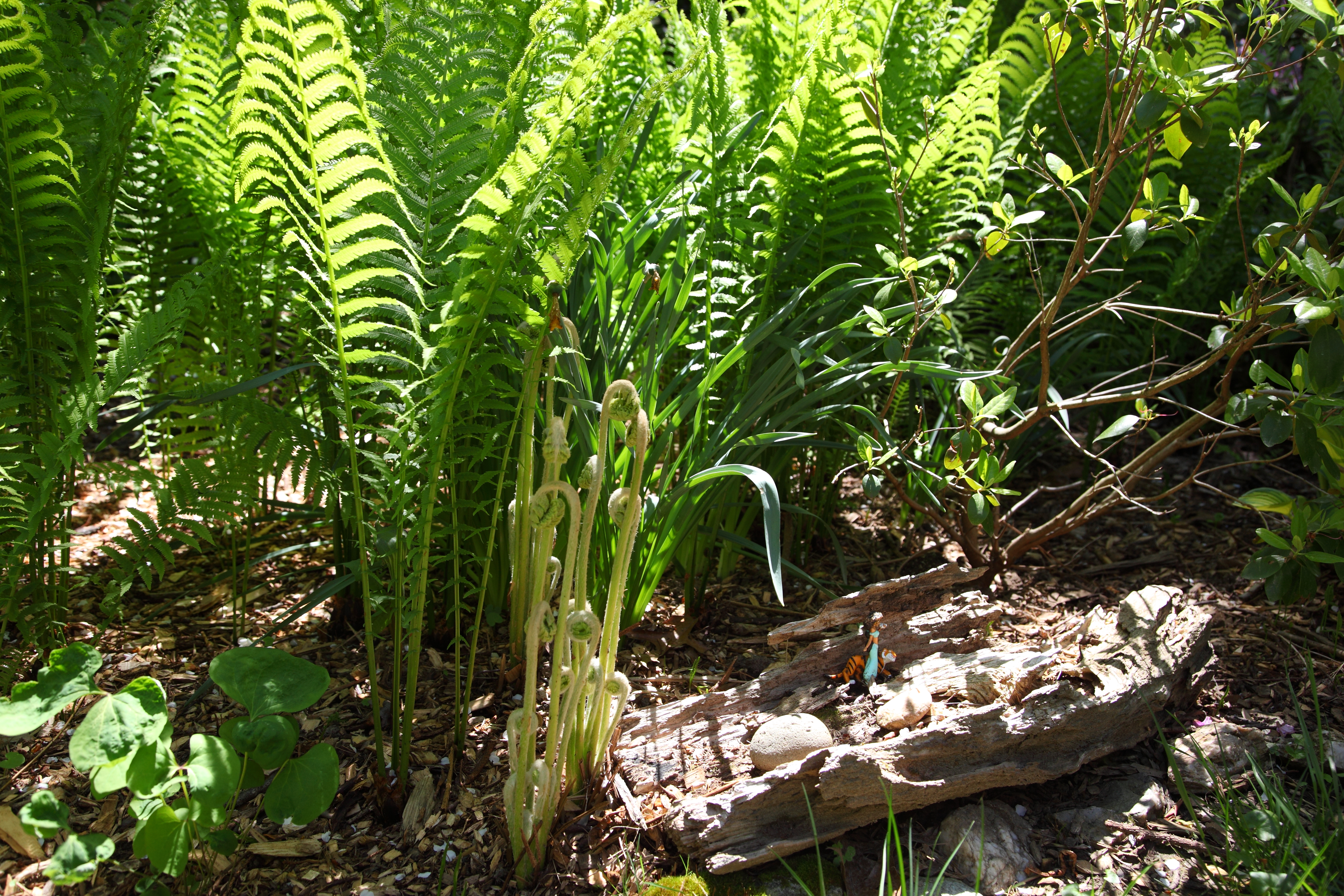 What a lush, cool, welcoming woodland garden, Joyce. Beautiful. Send more photos!