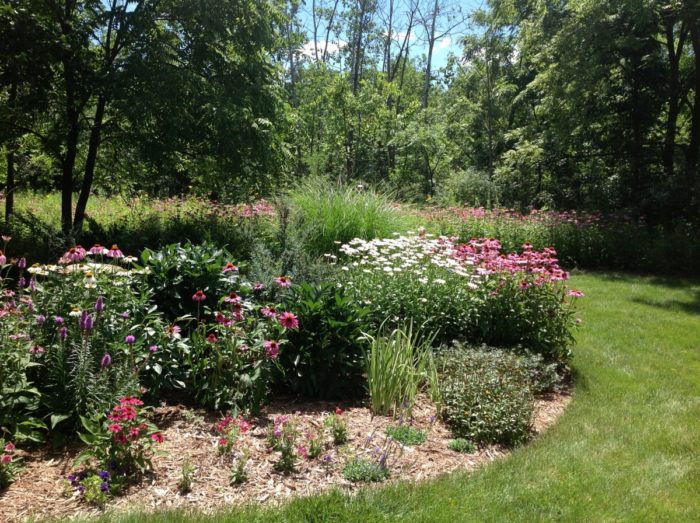 Today's photos are from Jane Sayed. She says, "The sun coming up through the frosty trees here in Ann Arbor, Michigan, inspired me to step out and take some photos. I love to look out at the grasses in the winter. That made me think of how the garden looked last summer, so I hunted for a couple of contrast pictures of the garden in summer and winter.
"The final photo is of my gardening nemesis here. We live in a subdivision with a lot of surrounding land between the houses and have a large deer population. Not only have they been snacking on the junipers, but they jumped the fence protecting the plantings next to the front of our house and ate the leaves off all the holly bushes! I know from past experience that they will grow back, but it is a sad sight!"
I love seeing photos of the beds in both summer and winter from the same angles, Jane! You've got some seriously hard-working, classic plants in your garden, and they're beautiful. I keep reminding myself to add more coneflowers, shasta daisies, and astilbes to my garden, but then I get distracted by all the new stuff in the nursery that turn out to be duds…. Thanks for the reminder, and hang in there with those deer.
It's almost SPRING, people! I know you're going through your photos from last year, planning what you'll do differently this year. Send some of those photos in to me! [email protected]
Want to search the GPOD by STATE? CLICK HERE!
Want us to feature YOUR garden in the Garden Photo of the Day? CLICK HERE!
Want to see every post ever published? CLICK HERE!
**Check out the GPOD Pinterest page! CLICK HERE!**