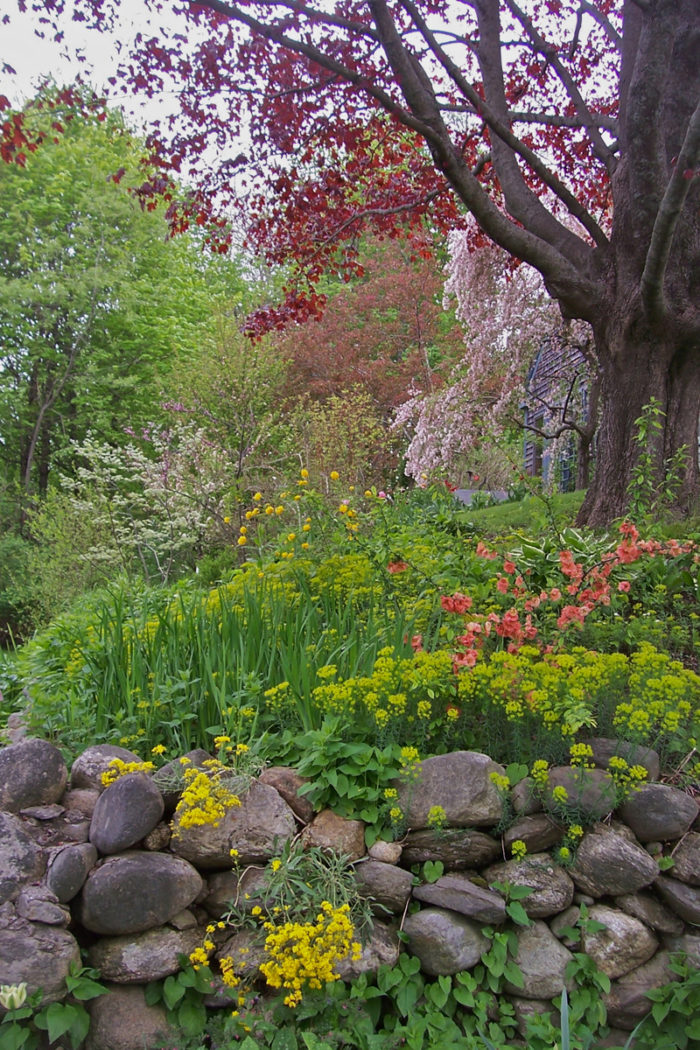 Happy Friday, GPODers! We visited Jane Donelon's garden in Maine back in February (refresh your memory HERE), and back then, we only got a tiny glimpse of what her garden looks like in summer amidst a bunch of photos if it under snow–which was great. But today she's showing us more of what's under the snow! Keep in mind that Jane sent me these photos and her words a couple of weeks ago, so don't get confused when she says it's almost June… 🙂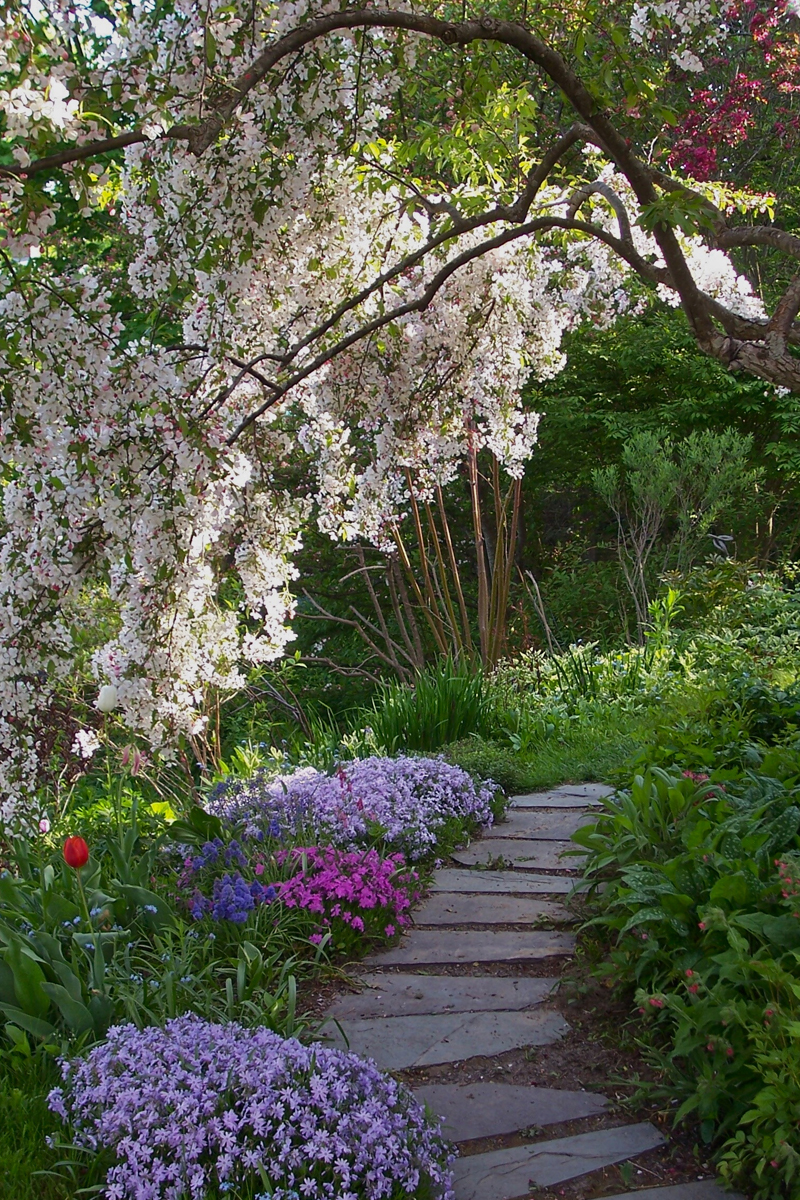 She says, "Our weather in Maine continues to be chilly and windy, slowing growth but allowing us to savor the special beauty of the spring garden. I've still a few tulips blooming and it's almost June. These photos are of my garden in May. Sorry I don't know the exact species-especially of some of the crabapple trees–30 yrs. ago I wasn't as interested in knowing all the details as I am today.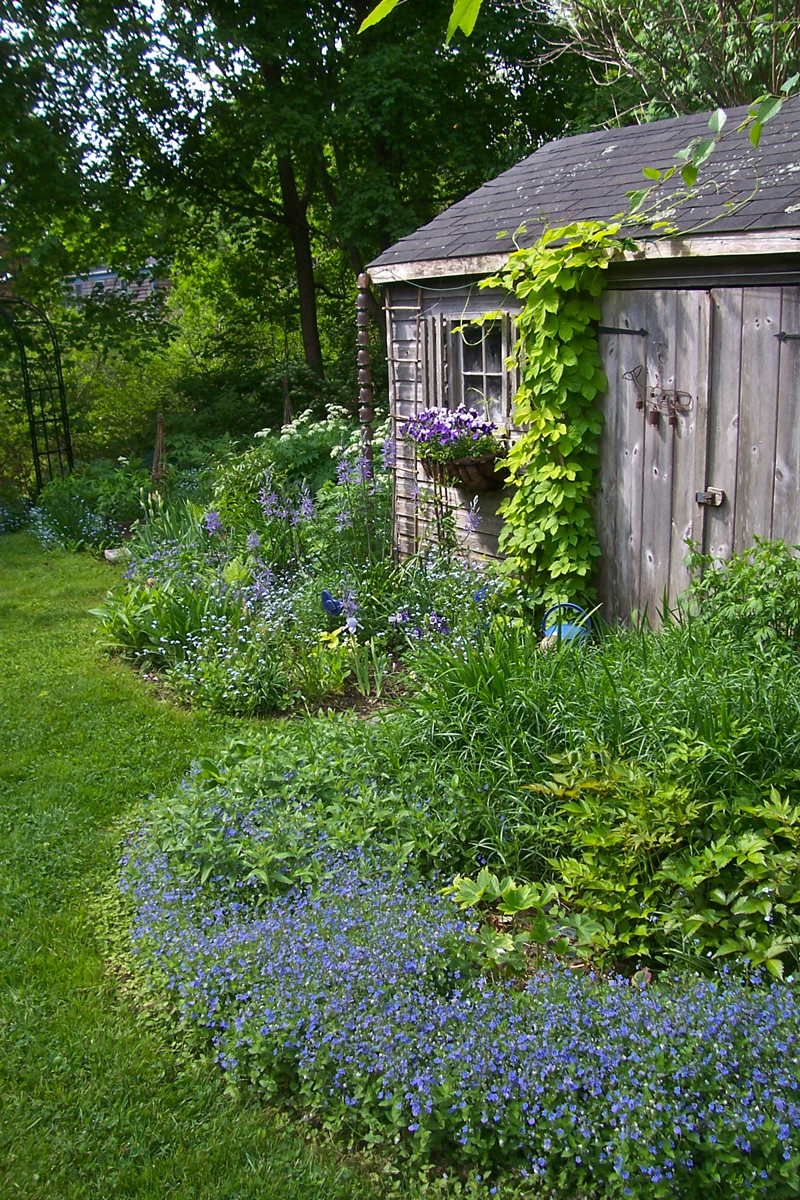 "Along the stone wall you will see baskets of gold draping below double peach Quince 'Cameo' and kerria with double gold flowers. Lime spurge runs wild here–with some supervision and several variegated hostas they light up the shade. A redbud and several different crabapples flower in the distance. Above, an old 'Crimson King' maple towers with beautiful bark and foliage.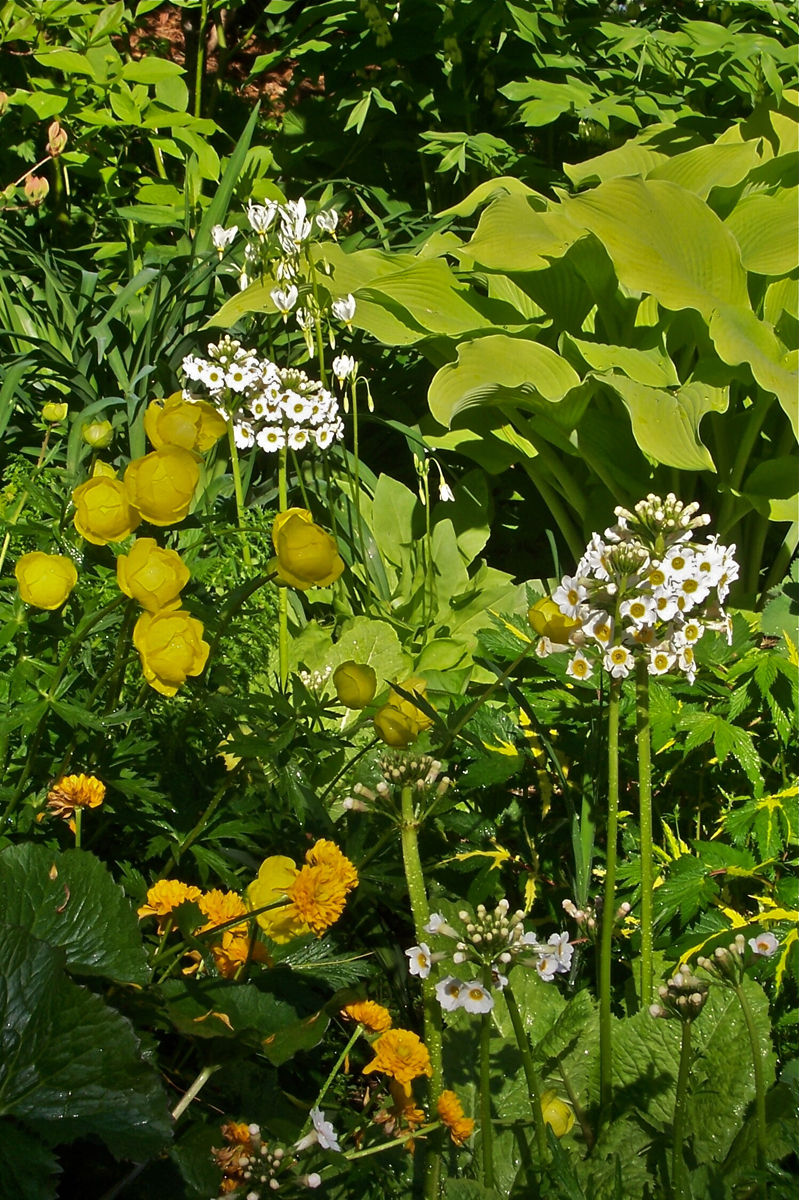 "Walking beneath a weeping crabapple in full bloom in the south side garden, one passes creeping phlox, grape hyacinths, tulips, and Pulmonaria 'Rubra' bordering the slate path. The garden shed in the back (no longer buried in snow!) is surrounded by blue camassia, colombine, Jacob's ladder, and forget-me-nots, with pansies in the window box. White sweet Cicely blooms in the herb garden beside the shed. To the right, edging the bog, is blue creeping veronica, another lovely looking ground cover that requires very close supervision, like the spurge along the stone wall!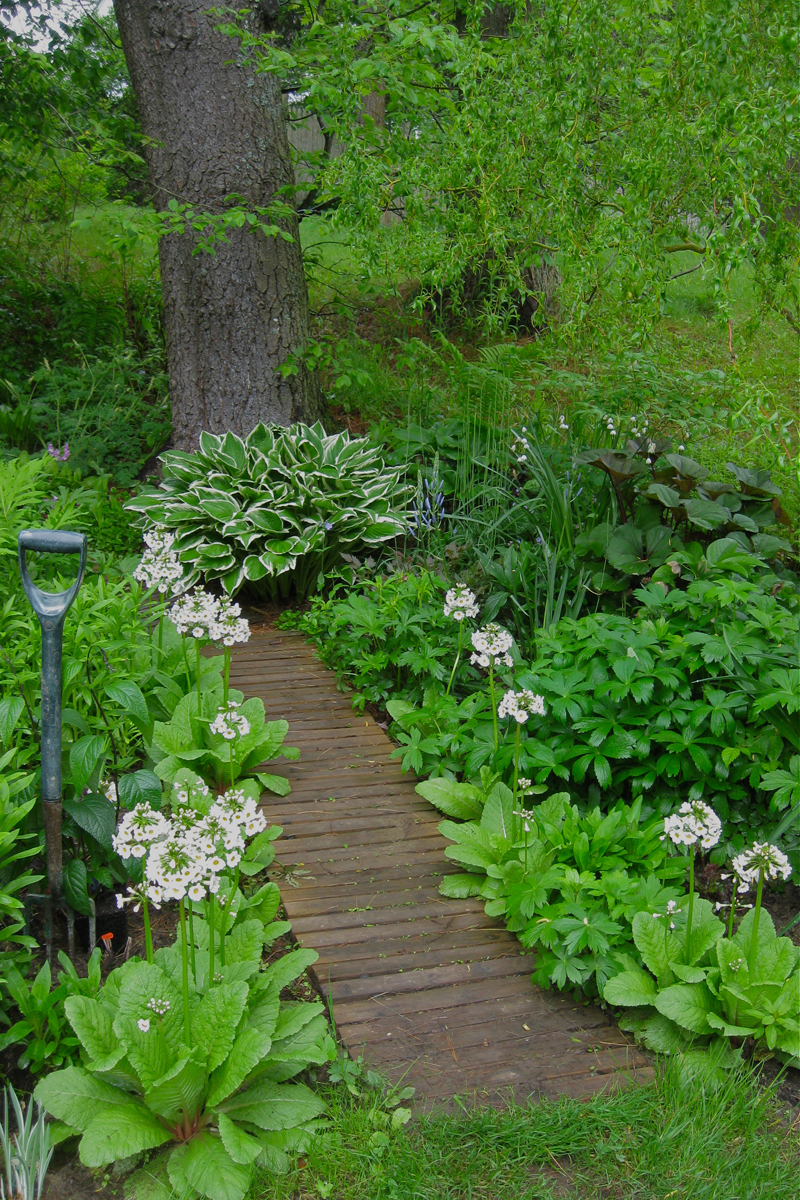 "The gold section of the bog shows trollius, Fillipendula 'Aurea' and 'Variegata', white candelabra primula, white shooting star, Hosta 'Sun Power', and a double gold marsh marigold. More white candelabra primul and a variegated hosta line the wooden walkway to a giant white pine. To the right is a curly willow and a few camassia and leucojum in bloom; astrantia and ligularia leaves show. The wine- and white-checkered bells of Fritillaria meagris were blooming earlier with the tiny leucojum bells, a light green hellebore, shiny ligularia leaves with deep red undersides, and assorted lime ferns.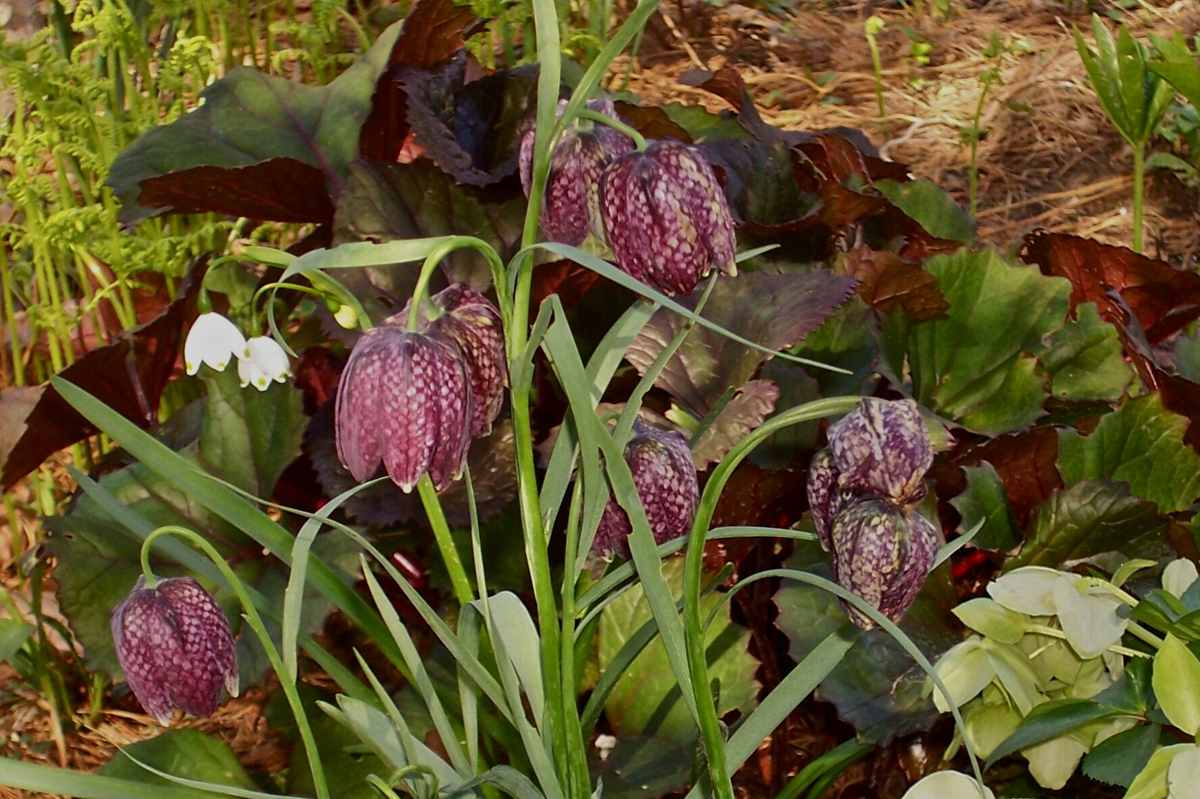 "In the wildflower garden Epimedium 'Lilafee' with dainty purple flowers and leaves is joined by forget-me-nots and a pale pink Japanese primrose. And finally, along the woodland path, Solomon's seal frames one of my favorites: lavender Glaucidium palmatum with maple-like leaves. Behind is blue lungwort and white corydalis blooming beneath long-gone-by bloodroot. Soon this spring scene will finally be changing–the temperature for the next few days is predicted to be in the 80's!" Lovely, Jane! Give us another update soon!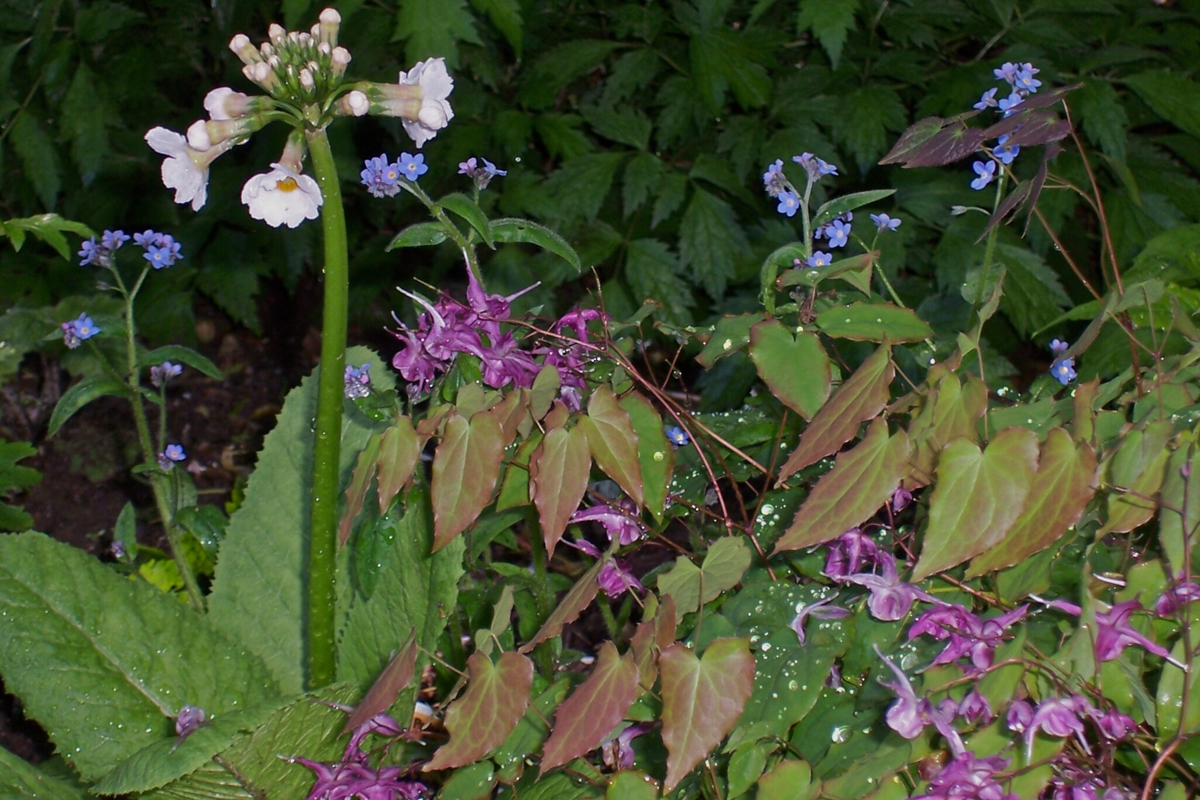 ***I'm getting so many great submissions, but I can always use more! Dig out your cameras, take a big long walk around your garden, and SEND ME PHOTOS! I love having more than I could possibly process to choose from. Thanks!!***
***One more thing…..have you always wondered what your fellow GPODers are like in person? Never thought you'd get a chance to meet them? Check this out…. While the GPOD isn't officially a taunton forum, it's close enough, and I wanted to extend the invite. Anybody at all interested? I'd be willing to search for some gardens to tour…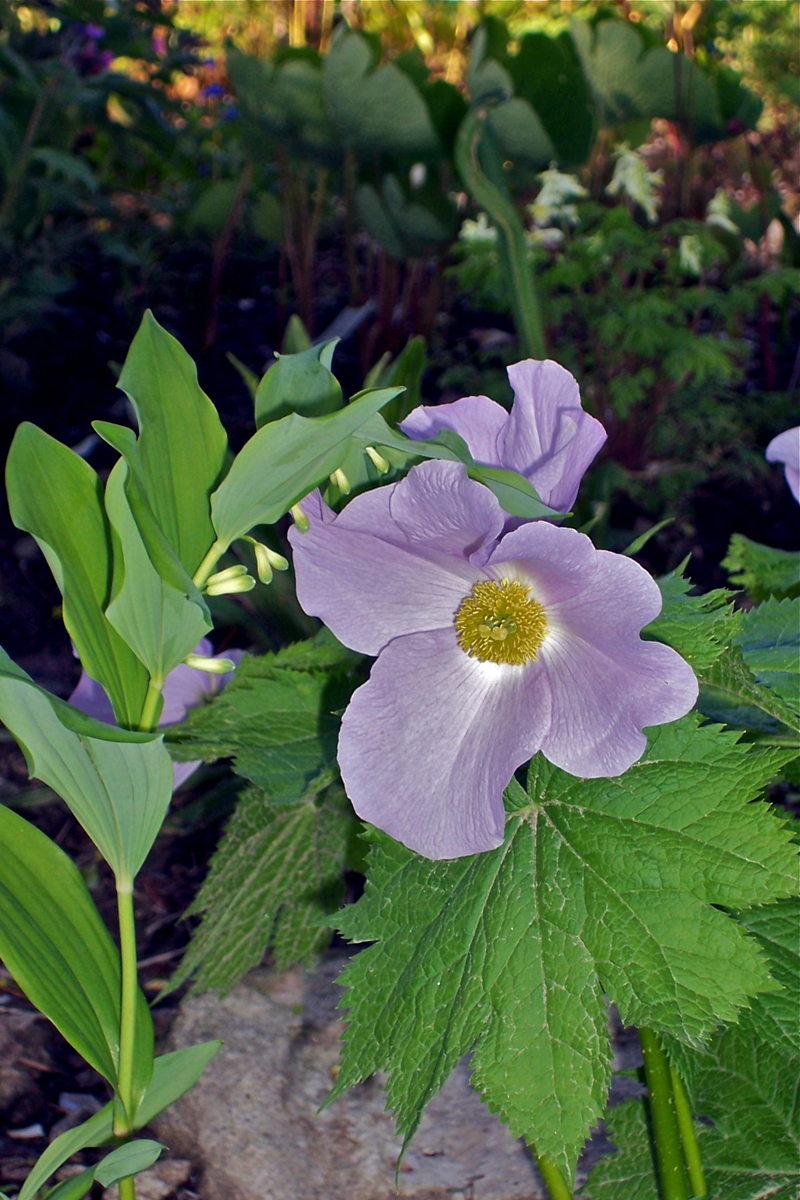 Want us to feature YOUR garden in the Garden Photo of the Day? CLICK HERE!
Want to see every post ever published? CLICK HERE!
Want to search the GPOD by STATE? CLICK HERE!
Check out the GPOD Pinterest page! CLICK HERE!