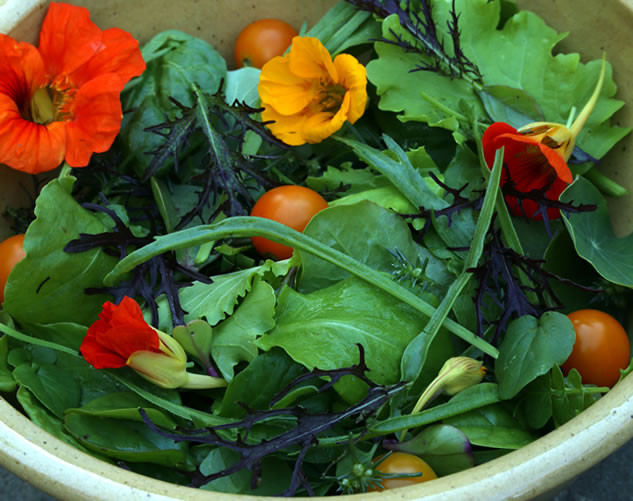 In the April issue of Fine Gardening, Ira Wallace shared some of her favorite out-of-the-ordinary greens in her article "Beyond the Basic Greens." As a follow-up, we asked her for the recipe for her favorite dressing. Here's what she said:
"I often make what we call 'Green Dressing.' The recipe varies with what is available. It is basically a vinaigrette with egg or tahini to help keep extra greens or herbs emulsified. The quantities vary, but here is a version you can try. Cheers, Ira."
Ira's Green Dressing
1/4 cup chopped scallions or onions
2–4 Tbsp. finely chopped parsley
1–2 cloves garlic, peeled and minced
2 Tbsp. chopped chives or garlic chives
2 Tbsp. tahini, or 1 fresh egg or 1 chopped hard-boiled egg
1 Tbsp. honey or sugar
1/2 tsp. salt
1/3 cup vinegar
2/3 cup olive oil
1/2 cup chopped seasonal greens or herbs, arugula, spinach, cilantro, or basil (optional — for a richer green color and flavor)
Place all ingredients in a blender, and process briefly on high speed. Serve immediately, or store refrigerated in a closed jar. The tahini or egg helps keep the dressing from separating in storage.