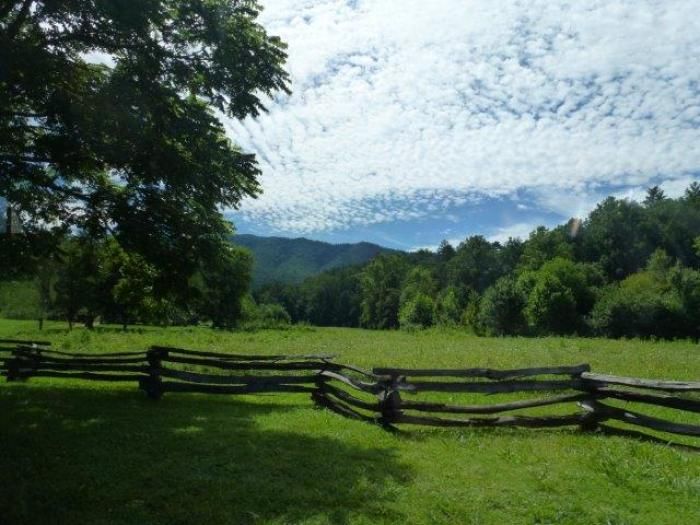 Although my last post was on the Kitchen Garden at UT, https://utgardens.tennessee.edu/ I can't quite leave out a few other sights and gardens in Tennessee–here are some other worthwhile places to see.
During my recent visit to Tennessee, everyday, when I awoke and looked out at the Great Smoky Mountains, there was a mist across the tops of the mountains–almost like smoke–so I wonder how they got their name. We were on the quiet side of the Smokies, away from the tourist cities of Gatlinburg and Pigeon Forge. We herbal types in the IHA try to get away from it all and choose places to stay in natural settings with windows that open, with trees and walking paths around. So the Highland Manor Inn in Townsend was a good spot for us and we were able to take field trips to Knoxville and Cades Cove, which were fairly close by… and of course the scenery en route was terrific.
Besides the UT Gardens, we also visited the Knoxville Botanic Garden and Arboretum, where we got to spend some time in the shade of some gorgeous big trees and even a bamboo grove. It used to be a nursery owned by the Howell family. It is hard to believe that the grounds there are tended by only three gardeners. So many gardens nowadays have to depend on grants and donations and volunteers. These old gardens have wonderful old stone walls and round buildings surrounded by old, woody, flowering shrubs. There is also a new garden at KBGA–an Outdoor Exploration Classroom with raised beds full of herbs and vegetable, flowers and native crops–which was in full sun. https://www.knoxgarden.org/
We had a morning bus tour with a very well-informed guide and storyteller who told us all about Caves Cove, which is an historic village, where Europeans first settled in 1819. We rode through the mountains and saw cabins, barns, churches, beautiful woods, stands of wildflowers and native plants and learned the history of the area.
We didn't get to see any bears, although we did experience a "bearjam" which is a traffic jam on narrow roads, were folks pull over to see or photograph a bear… we just saw the rustling of some large shrubs. We did pass by fields of Monarda fistulosa, wildflowers like wild orchids, self-heal (Prunella), agrimony, mountain mint (Pycnanthemum) and an amazing pine forest where large, wild, bright orange chanterelles were popping up through the carpeted, dried needle floor. 
Our bus dropped us off at the Great Smoky Mountain Heritage Center, where we took a tour with another great tourguide through the museum and historic village. There we saw Cherokee artifacts, baskets and pottery, the inside of a typical cabin, one-room schoolhouse, garden tools and farm implements, traveling doctor's bag and more. Outside we walked around the gardens and little village with cabins, outhouses, cantilever barn, smokehouse, church, sawmill, blacksmith shop,  wheelwright and even an underground still. www.gsmheritagecenter.org
We had a wonderful time in the Great Smokies and I hope to return there again.
Each year, the IHA gives the Otto Richter Memorial Award to a professional in the field of herbs. www.iherb.org This year's recipient was Doug Elliott, who is an author, naturalist, herbalist, basketmaker, musician and a delightful storyteller. We were highly entertained by Doug's stories, as well as his one-man-band; lemme tell you… this man can spin a yarn… and he is a hoot. Doug lives in North Carolina, so he didn't have too far to travel. He has written 4 books: Wild Roots; Woods Lore; Crawdads, Doodlebugs and Creasy Greens; and Wild Woods Wisdom: Encounters in the Natural Worldand has 8 CDs and a DVD. Check out his website to find out more about him, purchase his books or music and view his calendar–if he is going to be in your area–be sure to go see him! https://www.dougelliott.com/ Congrats Doug!