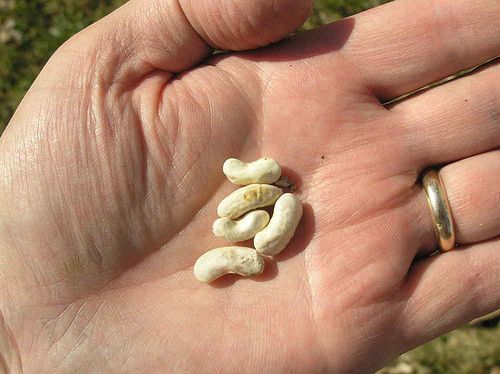 If you're a vegetable gardener, you'll be compelled to share your bounty with others. If you also happen to be a seed-saver of open-pollinated or heirloom varieties, then it'll can feel like your duty! You can share your vegetables with friends, co-workers, neighbors, and most certainly your family.
You'll find that many people aren't growing heirlooms or open-pollinated veggies simply because they haven't been introduced to them. Here are five great opportunities to share your seeds with others:
Over-the-fence: If you haven't collected your own seed, then share some that you've purchased (surely you over-bought). If you've started seeds indoors, bring some seedlings to friends, family, co-workers, church members, community gardens, and neighbors as surprise gifts. Seeds and seedlings make a perfect end-of-the-year teacher gift. A great addition to this is if you can bring the vegetable itself for them to taste. This is a none-too-subtle approach that works so well it's almost cheating.
Simple teaching: Offer to teach a one-time gardening lesson to the Girl or Boy Scouts, a 4-H club, community center, or home-schooled children. Simple teaching can be taken further by offering to teach a 4-H gardening project with your local club. 4-Hers not only learn during the course of the project but they also show their goods at the local county fairs as well as put on demonstrations. This ends up reaching a much larger number of prospective heirloom gardeners.
Host a seed party: Heirloom seeds are a great excuse to throw a party. Specifically, a seed exchange party. Invite every gardener you know to your home on a warm day and serve scrumptious food (preferably garden-type finger foods) and drinks. Have them bring seeds that they've collected or purchased, and everyone goes home with a garden of different varieties. You can take this concept a step further and have gardening guests bring extra seeds. Then invite people who don't garden (yet) to the party. Add to your invitation list your neighbors, church group, Bunco group, book club, and co-workers. Everyone knows that the way to lure people into a new idea is to stuff them with delicious appetizers. It's an invitation they won't be able to resist.
Join a seed exchange: Seed exchanges are clubs where seeds-savers have a chance to meet other seed-savers. These clubs have individuals listed and which seeds they save so that members can trade seed varieties among themselves. Most of these organizations have a strong sense of saving endangered heirlooms and other open-pollinated vegetable and fruit varieties. Look for national organizations such as the Seed Saver's Exchange, as well as local ones.
Can't find a local seed exchange club in your area? It just might be time to start your own.