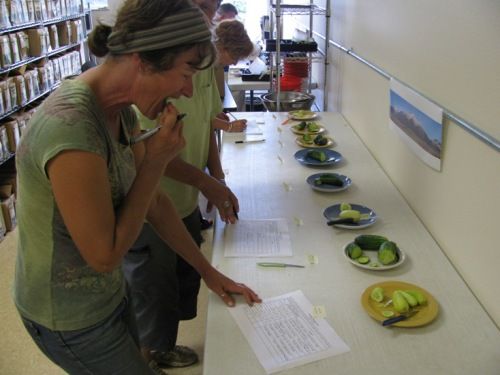 Welcome to Seed Savers Idol, where seeds are given a chance to showcase their good looks and talents. This competition is open to the thousands of seeds residing in Seed Savers collection, and the competition is stiff, as only the Top 20 will move on. The prize? Nationwide exposure in the 2010 Seed Savers seed catalog ensuring the longevity of your seed variety's population.
Okay, maybe this is a bit dramatic, but only a little. Many varieties are endangered, and offering them for sale in the catalog could turn them into best sellers. What happens to a best selling heirloom seed you wonder? Well, other seed companies will start to sell that seed (imagine a famous heirloom like the Brandywine tomato). And the more seed companies that carry heirloom variety seeds, the better we seed savers sleep at night knowing seeds will be grown and saved by gardeners across the country.
Need proof? Take the charismatic watermelon variety Moon & Stars (Van Doren Strain). At one time very few seed companies offered this heirloom (two in the U.S. in 1987). As the watermelon became more popular, seven companies offered it in 1991. Twelve in 1994. At last count, 47 companies offered this watermelon in 2004.
Some of this years' Top 20 include the Black Valentine Bean, Bumble Bee Bean, Kenearly Yellow Bean, Sultan's Golden Crescent Bean, and Mortgage Lifter (Halladay's) tomato. And yes, we hope they become very popular.
With thousands of varieties to choose from in the collection, figuring out which varieties we will sell in our catalog is no easy task.
One way that we pick seeds for the catalog is by using trial gardens. Trial gardens are what they sound like—gardens where we "try out" a certain species by growing them in the garden. This past season one of our trial gardens was for cucumbers. When we have a trial for a certain species, we grow out all the varieties we have in our collection, in this case over 200 cucumbers.
For the catalog, we look for varieties that gardeners might like to grow. We assess all of the cukes by looking at characteristics such as days to maturity, disease resistance, and growth habits (are they vining or bush?). Taste testing is a favorite staff event. The competition is fierce, but using this data we compile a "Top Ten" list of our favorite varieties. We then start bulking up on seed on these varieties so that we can offer them in a future catalog.
For the collection, Seed Savers also used the cucumber trials to get to know, and better understand, the collection. Staff Horticulturists took descriptions of each plant during various stages of its life cycle, using around 70 different descriptors to identify them.
So, congratulations Tours Squash and the Purple Pickling Eggplant, and those other 2010 selectees. All of you seeds have big work to do. Now, go out and make us proud by becoming famous.