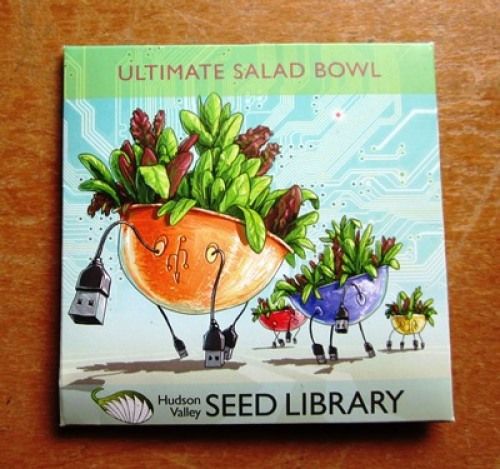 I know I'm not the only gardener to fall for a vegetable just by looking at its picture or reading its delicious catalog description. 
There have been many times when I've been disappointed when the image on the packet and the vegetable in the garden don't match.
But with the Ultimate Salad Bowl, I'm happy to say the image on the packet and the salad in the bowl are identical.
Hudson Valley Seed Library sells some of its seed in beautifully designed, one-of-a-kind Art Packs. Each packet is designed by a talented artist, and each packet is colorful and whimsical. 
That's precisely the reason why I fell for the packet of Ultimate Salad Bowl seeds. The artist, Yann Mabille, used the USB acronym and attached plugs to the dancing salad bowls on the packet.
The planting instructions encourage gardeners to "unplug" and get out into the garden. The mix of greens is guaranteed to "fill you more fully than any electronic feed."
In a tribute to the artist and to the seeds themselves, I planted my Ultimate Salad Bowl in a container that looked like one on the front of the seed packet.
The packet contained 500 seeds that included colorful lettuces, mustards, herbs, arugula, radicchio and brassicas like tatsoi and mizuna. I simply sprinkled part of the packet over the top of the soil in my round container and covered them with a thin 1/4-inch layer of soil.
If you have a larger garden bed, you can also sow seeds in rows and thin the mix by harvesting some of the young plants.
It took less than two months and I was able to snip away at the tender USB for a different kind of tossed salad.
The greens are the cut-and-come-again kind, so this big bowl will make many salads before it's done. 
In early fall, about two weeks before the first frost, I plan to replant the remaining seeds for another harvest of ultimate greens.