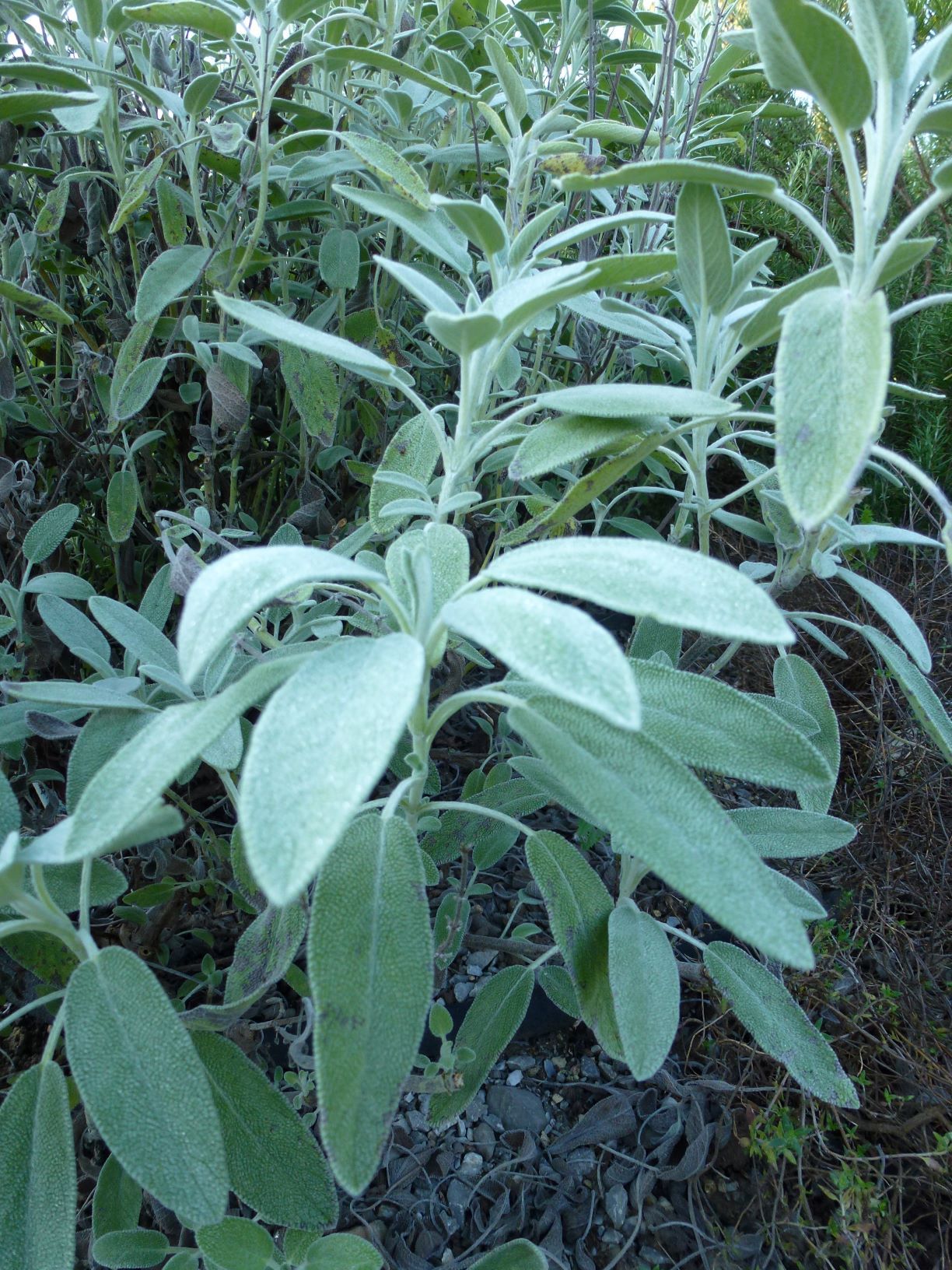 The robust, perennial, woody-stemmed herbs are what I use most during fall and winter. They lend themselves to the seasonal foods. Read below which herbs will complement our Thanksgiving feast; we always receive lots of compliments for these traditional family favorites.
I suppose I could give you a hint and hum the tune to "Parsley, Sage, Rosemary and Thyme" here, which are some of my most used cold-weather herbs. All of them are perennials except for parsley, which is a biennial that I grow like an annual. Right now, even though we have had freezing temps, it is still bright green under the floating row cover and hopefully will last through the holidays.
My sage and thyme have been harvested and dried, however I left some still standing, which I will harvest fresh for Thanksgiving. The rosemary plants in pots have been moved into the greenhouse because these tender perennials do not survive the winters in my zone 7 garden. Likewise, my three bay trees are in pots in the greenhouse.
Winter savory is a favorite herb of mine, so I cut it back and have dried all that I could harvest; I hit this plant hard, keeping it cut back throughout the season since it is my favorite herb with beans and I eat beans at least three or four times a week. It has also been made into vinegar, along with tarragon and anise hyssop–they are my three favorite vinegar infusions with perennial herbs.
The essence of annuals like basil, cilantro, dill and nasturtiums, and perennials such as mint, lemon balm and lemon verbena have been captured in aromatic herbal pastes and butters which will add brightness to the winter kitchen. The savory annuals will be added to soups, stews, sauces, pasta and grain dishes and casseroles. The fragrant mint and lemon herb butters and pastes will flavor many baked goods from cookies, cakes and crumbles to muffins, scones and bread.
For our Thanksgiving celebration, those favored, full-flavored herbs will be featured. And my family participates in the preparation and brings some potluck dishes.
Of course, fresh sage will be used in the dressing (a side dish baked in the oven) or stuffing (if it's baked in the bird). We are vegetarians so our stuffing is made from sage-baked cornbread combined with celery, onions, garlic, mushrooms, pecans and dried cherries with sage leaves, with veggie stock, a splash of Port or Marsala and a bit of cream.
I also make a nut and lentil loaf seasoned with savory, fresh parsley, garlic and just a bit of thyme and chile peppers. And a wicked good mushroom gravy with garlic and thyme. The gravy is used on cousin Sharsie's garlic mashed potatoes (and even preferred by the turkey eaters than the turkey gravy). Mom and my sister Donny will bake the turkey, make the gravy and the traditional stuffing with a homemade, dried, poultry/stuffing blend of herbs.
I love sauerkraut with this meal–it is a tradtional part of Thanksgiving for me. If I am using cooked kraut, I season it with with sauteed onions in butter and then add white wine, juniper berries and caraway seed. Since I have been fermenting my own sauerkraut for some time now–we usually have two kinds; the fermented kraut is served cool room temperature since I do not want to heat it and kill the probiotics. My preferred recipe combines half cabbage with half shredded kale, leeks, with some caraway, smoked paprika, applewood-smoked seaweed, chile pepper and garlic.

I have not yet decided on the green veggie this year, though it will be probably be seasonal Brussels sprouts, broccoli or kale, steamed or oven-roasted. The table would not be complete without some tart and sweet fresh cranberry relish. My mother-in-law, Marguerite Sargent, used to grind her cranberries and whole naval oranges through a meat grinder and added sugar. I've taken on the tradition, however I pulse mine in the food processor and use pure maple syrup instead of sugar and toss in a handful of fresh or dried orange mint.
Aunt Janet usually brings dessert–the traditional pumpkin and pecan pies–which I like to adorn with my fresh whipped cream that is lightly sweetened with maple syrup and vanilla bean paste.
If it sounds like a feast–well it is! I am thankful and count my blessings for family and friends, and a garden to harvest good food and herbs from. Happy Thanksgiving to you and yours!