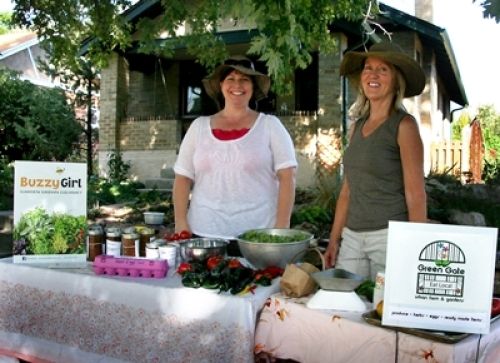 Gardeners in Denver can now sell their homegrown fruits, vegetables and herbs from their front yards thanks to a new ordinance. In late summer 2014, Denver City Council approved an amendment to the Denver Zoning Code that lets gardeners apply for a permit to sell fresh uncut fruits and vegetables, herbs, dried spices, and even eggs.
The Fresh Produce and Cottage Food Sales Home Occupation permit expands the scope of the 2012 Colorado Cottage Foods Act. This act allows residents in city-approved areas to sell their home-prepared products like jams, jellies, honey, teas, and baked goods that don't require refrigeration.
Starting an urban farm isn't new, but being able to sell your home-grown fruits and vegetables is a creative approach to increasing neighborhood access to fresh produce. Only a few other cities in Colorado allow for the sale of home-grown produce within residential areas. Nationally, other cities have amended their zoning codes, too. These cities include Portland, Seattle, Philadelphia, San Francisco, Cleveland and Kansas City.
One Denver gardener started taking advantage of the new rules immediately. Debra Neeley of Green Gate Gardens sold a dozen eggs to a neighbor boy who showed up at her door the day after home sales became legal. 
Since then, there's been a constant stream of people who are ready to buy whatever Debra has for sale.
Her backyard urban farm covers about 6400 square feet and every square inch is devoted to producing fresh food. Together with her husband, she took up all the turf and planted edible landscaping with fruit trees and berry bushes. In addition to her eight hens, she has a bee hive and a greenhouse for three-season growing.
Because her garden was one of the first to take advantage of the new home-sales rules, Denver's Mayor Michael Hancock, city council members and media representatives toured the garden.
"It's not about making a ton of money for me," she says. "It's about growing community and helping influence others in the neighborhood to grow their own, too. I want to be able to show them they can do this. There's nothing more local than growing in the neighborhood."
In addition to the eggs from her hens, Debra sells organically-grown grapes, peaches, apples, figs, potatoes, berries, tomatoes, peppers, kale, spinach, collards, broccoli, cabbage, beets, carrots and herbs. In the fall she adds pumpkins to the mix.
This gardening season she plans on increasing the amount of fresh produce she grows and is considering a "pick and pay" system to make selling more efficient.