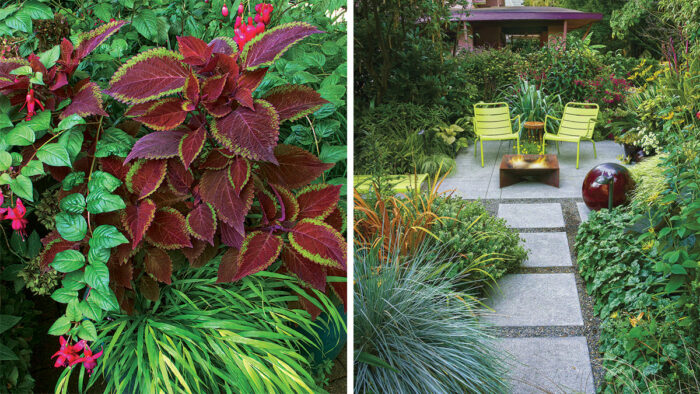 I love plants, all kinds of plants, crammed in with a long succession of fabulous foliage and blooming combinations in strong, bold colors. I also love strong design stories with clean, bold, modern lines. But I live in a 1919 Colonial Revival home on a small city lot in Portland, Oregon, and I make and collect glass art that needs its space in the garden, too. In a small space, intensely planted beds can quickly turn into a visually tiring, muddled mess. What is an obsessed gardener to do?
After almost 25 years of experimenting, I've discovered that the exuberant plantings more common in a cottage-style garden can balance—rather than clash with—a contemporary hardscape. The result is a small garden packed with abundance, drama, and multi season interest.
---

The Best of Both Worlds
Clean, straight lines make a design strong but can make a space feel cold and sterile. Abundant plantings, which can be chaotic on their own, make everything feel better.
1. The straight path leads your eye directly to a pair of chartreuse chairs, but interesting plantings slow your place.
2. Hedges emphasize the straight-line motif and provide structure to plant-packed beds.
3. After enjoying the intricate plantings and combinations, the openness of the patio brings a sense of awe at the end of the journey.
---
Clean lines unify the chaos
As a plant lover, I want my garden to be filled with exuberant, layered plantings. But the eye quickly tires and the brain gets overloaded by overstuffed borders. To provide balance, I add the strong, clean lines I find satisfying with raised steel edging. Substantial, 2-foot-square concrete pavers set in our native basalt gravel emphasize the lines, and they repeat throughout the garden in paths and patios to create a sense of continuity.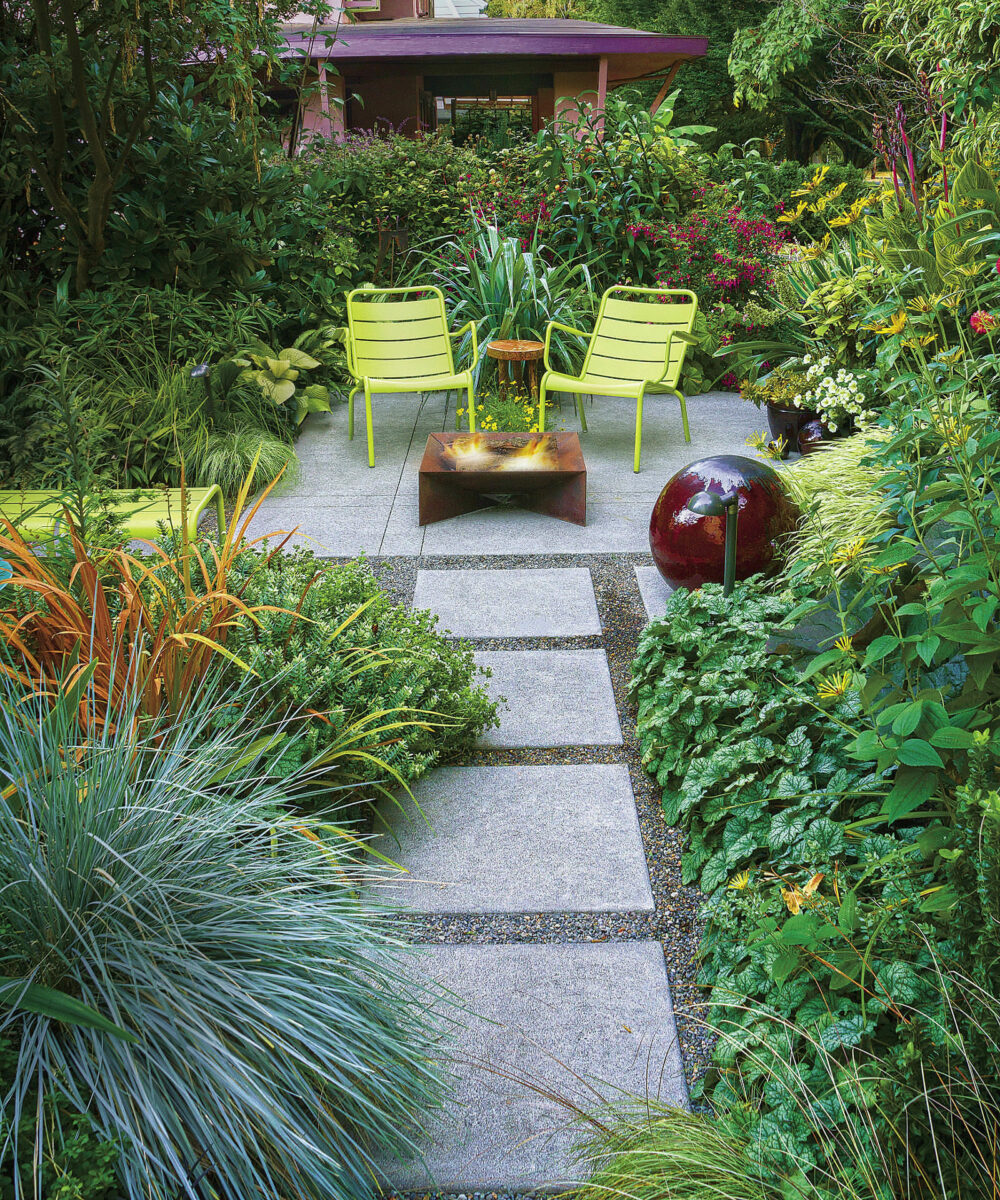 It can feel like wasted space in a small plant lover's garden to use boring stalwarts such as hedging. But the use of short sections of tightly clipped, fairly low evergreen hedges can serve as a harmonizing element. They help divide the garden into manageable rooms, provide winter interest, form the restful backdrops to plant combinations, and block unwanted views. When set into the middle of a large border, they can create a sculptural element and provide cover and leaning space for tall, leggy perennials. In my part-shade garden, 'Green Spire' euonymus (Euonymus japonicus 'Green Spire', Zones 6–9) and 'Helmond's Pillar' barberry (Berberis thunbergii* 'Helmond's Pillar', Zones 4–8) both perform well as hedges with one shearing each year.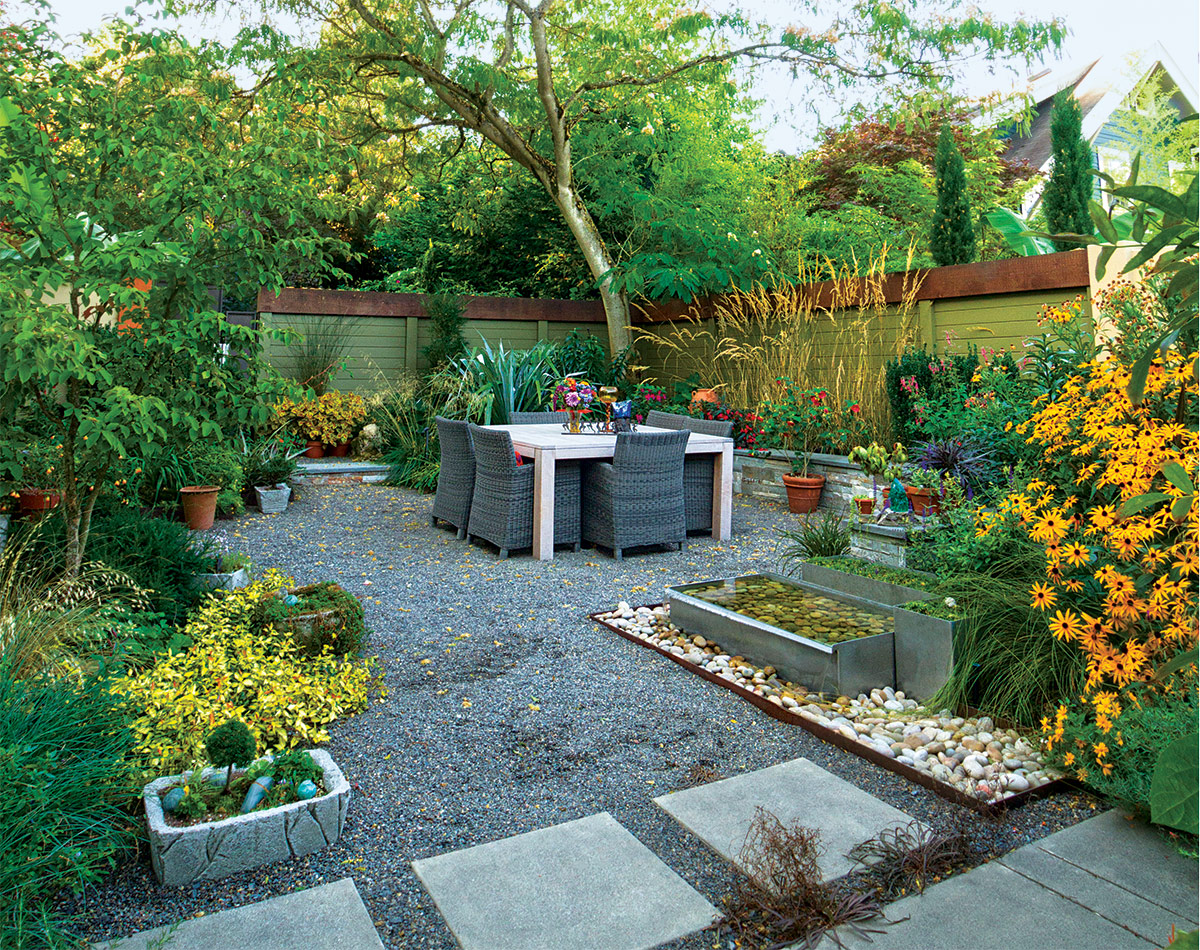 Behind our house, I replaced our formerly grassy backyard with a gravel dining courtyard that provides a sense of spaciousness and calm among overflowing beds. A rectangular, stainless-steel fountain is sited for year-round enjoyment from our breakfast room, and a curved stone seating wall doubles as display space for the inevitable collection of tender treasures. The square motif is repeated in the teak table and the concrete pavers placed in the gravel.
Let a color story guide your design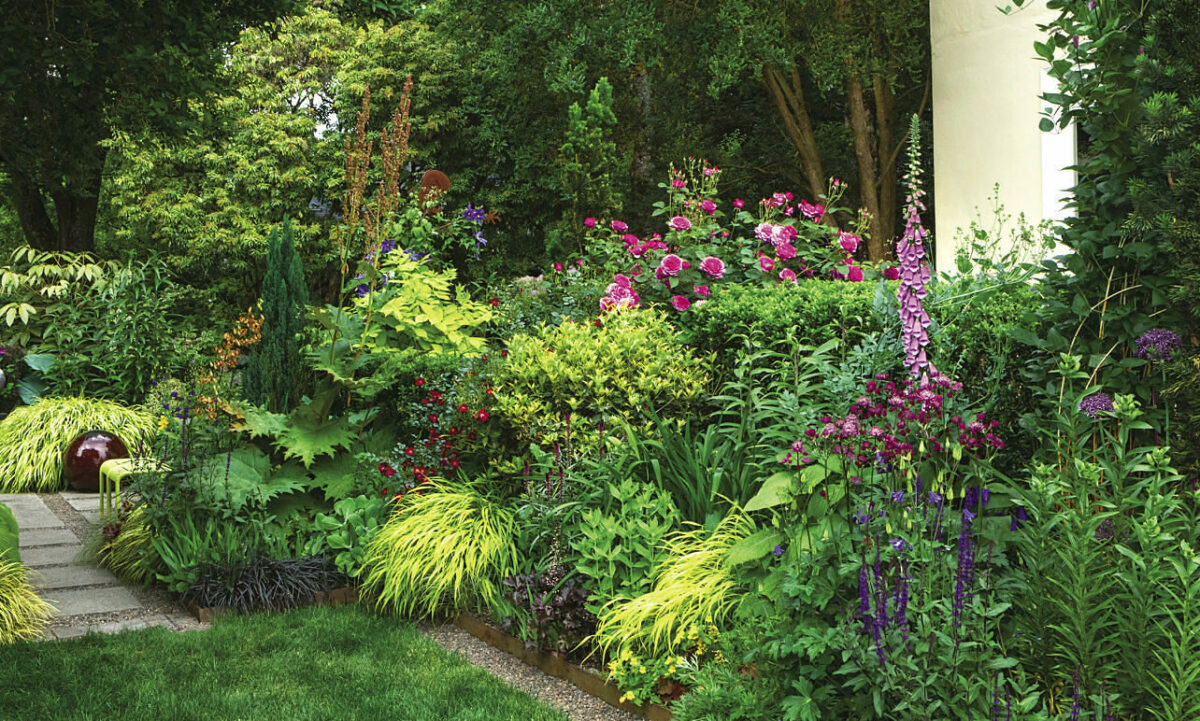 I use the notion of a "color story" to think about how to plant my beds and pots. A color story normally involves the selection of three or four colors and their various hues and tints. I select rich colors as the primary theme elements, one color to serve as a "brightener," and one as a "softener." For instance, fuchsia, orange, and purple can be brightened with amber or gold and softened with cream (which is a diluted variation of gold). Ideally, the colors in a story are reflected in foliage, bark, buds, flowers and seed heads.
Long-lasting color stories in my garden begin with foliage: many shades and textures of green generously interspersed with chartreuse, yellow, bronze, burgundy, and black. My flower-color preferences run to bold gem tones. Pastels need not apply, though I do soften things a bit with creams and pale yellows.
Each room has a color story, which helps when plant lust is urging me to buy everything in sight at the plant sale. I think of an area as a series of small vignettes, three or four plants that should look good together at some point in the growing season. Repeating the same foliage plants or foliage color between vignettes within a shared sightline links the groups.
Put big plants and pots to work in a small garden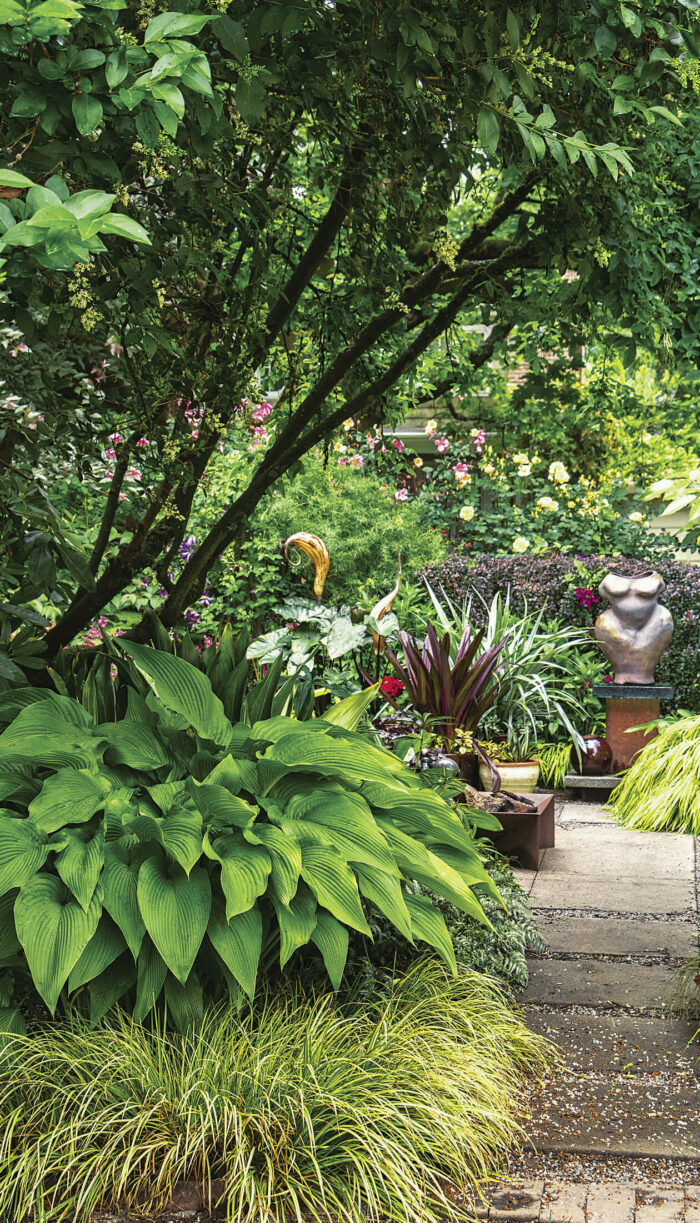 Many people with small gardens are afraid that anything large won't work in their space. But don't be afraid! Large-leaved specimen plants and substantial pots provide balance and scale against the multitude of individual plants that every plant-a-holic acquires.
In a busy planting plan, one really big-leaved specimen can serve as a bold anchor plant and a place to rest the eye among the many competing beauties. Corners and transition points are ideal locations for big-leaved plants, which are also perfect for separating two color stories. Like hedges, large plants can be placed in the middle of a border for structure and drama.
In a shady corner, I use 'Big Boy' hosta (Hosta 'Big Boy', Zones 3–8), a giant, very large-leaved green hosta, as an anchor, and I underplant it with a skirt of 'Ogon' sweet flag (Acorus gramineus 'Ogon', Zones 5–9). In a sunnier location, ornamental rhubarb (Rheum palmatum, Zones 5–8) spreads her 2- to 3-foot jagged, hand-shaped leaves and produces 8-foot flower stalks that tower over the garden in early summer.
Large hostas are very long lived and showy in pots as well. 'Sum and Substance' hosta (Hosta 'Sum and Substance', Zones 3–8) has lived without repotting in the same large container for at least 15 years, reaching monumental proportions with an annual handful of slow-release granular fertilizer. Two large pots of 'Gold Standard' hosta (Hosta 'Gold Standard', Zones 3–8) frame my front entrance, providing height and drama.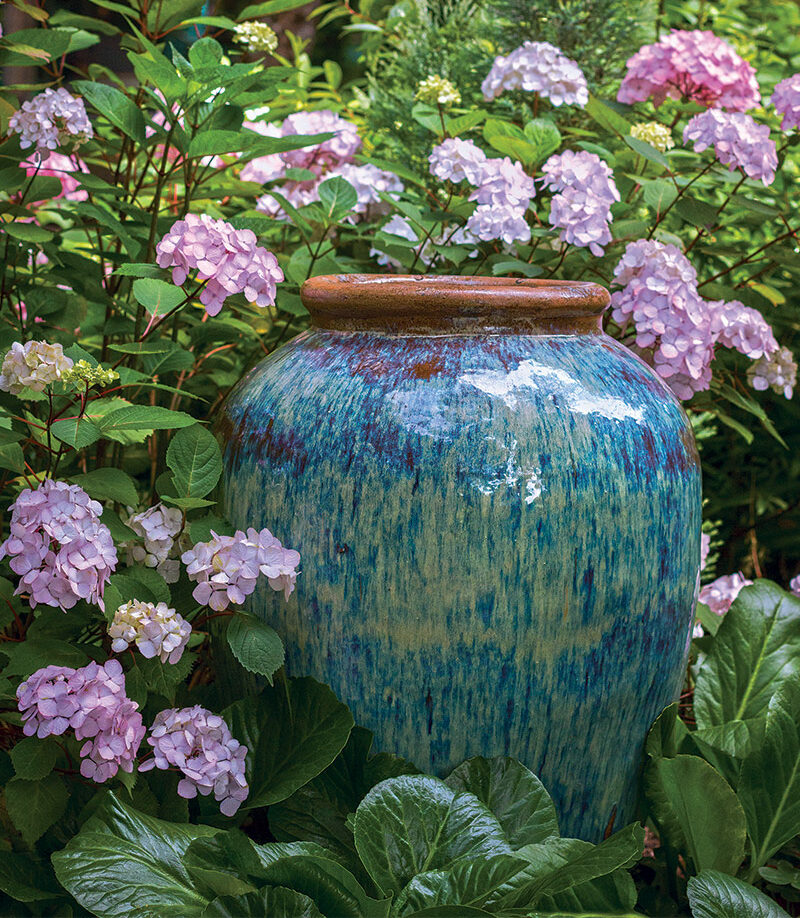 I also place large empty decorative glazed pots in beds as a handy design trick for creating an instant focal point or for improving a place in the garden where nothing will grow. Big pots—especially if you find them on sale—are a relatively cost-effective way to bring drama and scale to a small or busy garden. Use one at a transition point like a corner, at the end of a sightline, or even as a pleasant discovery along an otherwise-quiet path.
My garden allows me to indulge my competing obsessions with bold, riotous plantings and neat lines and strong design. Thoughtful use of color, small, crisp hedges, a repeated selection of hardscape materials, and big-leaved plants all serve to contain and frame the chaos and to showcase the natural beauty of the many plants I love.
---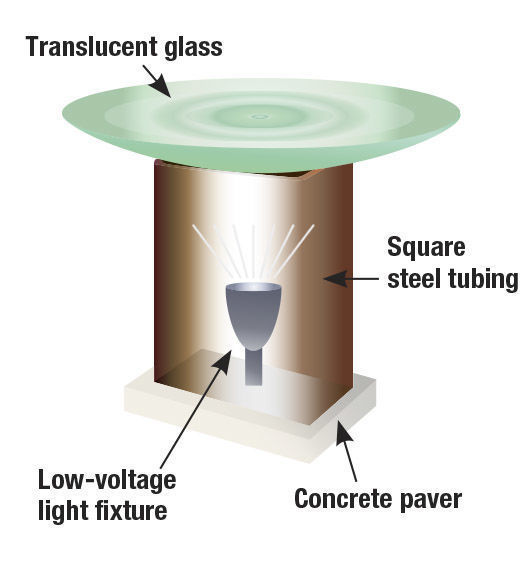 Details Matter
Like many passionate gardeners, I have lots of pots filled with long-term treasures and fleeting annual combinations. To add design coherence, I limit the pots in each section of the garden to a single color. I use turquoise pots to brighten my shady front garden, chocolate-brown glazed pots for the annuals in the driveway, and terra cotta pots to complement the stone and gravel dining courtyard.
Additional punctuation is provided by the plinths that display art in my garden. All are constructed of rusted square steel tubing, which echoes the steel edging. By setting the plinths on 24-inch concrete pavers and topping them with square slabs of translucent glass (photo, below) the square is again repeated as a harmonizing motif. As an added touch, each plinth is lit from within using inexpensive, low-voltage fixtures from the local building center (illustration).
As a final unifying detail, I sprinkle orbs made of concrete, ceramic or metal liberally through out the garden. The ball form complements the symmetry of the repeating squares, and the round lines help relieve the severity of the straight lines created by steel and concrete.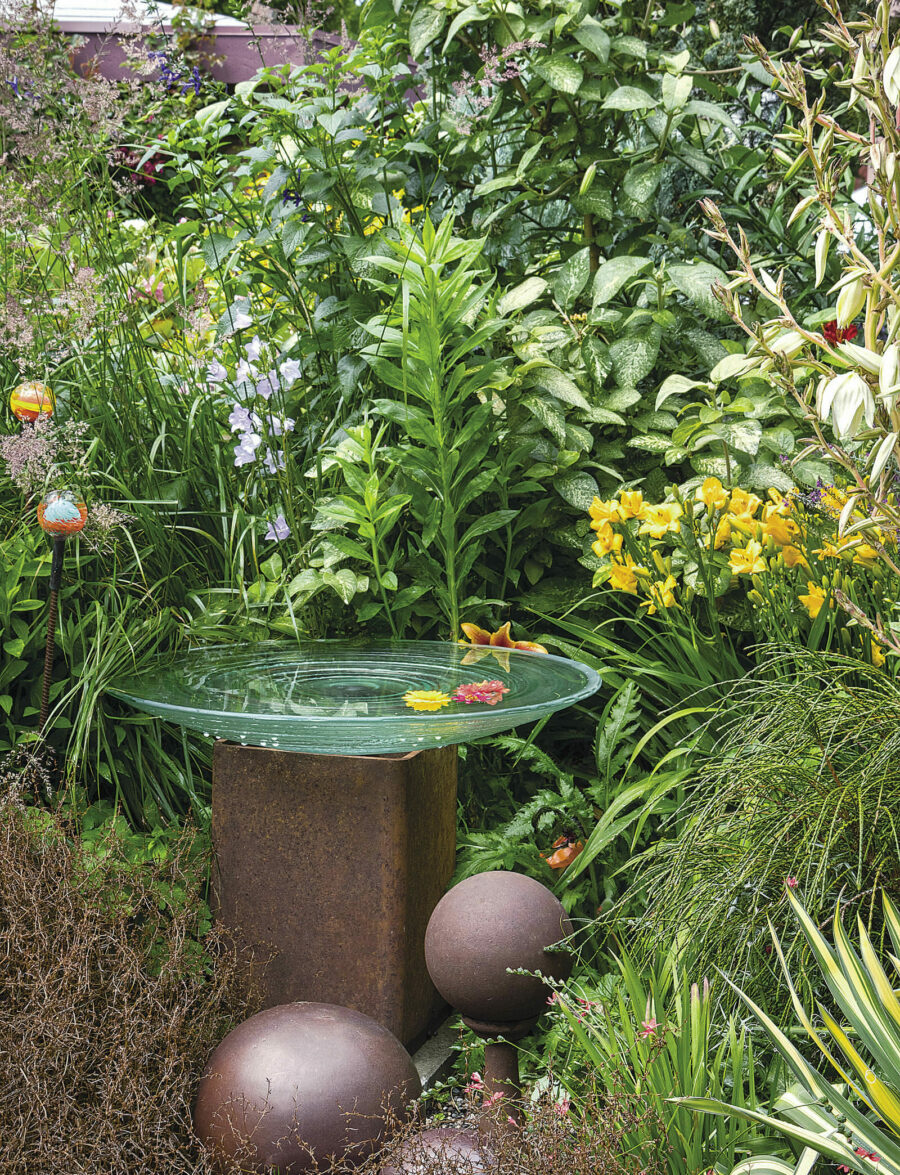 ---
Linda Ernst owns Dancing Ladies Garden & Glass in Portland, Oregon.
Photos: Doreen Wynja. Illustrations: Conor Kovatch