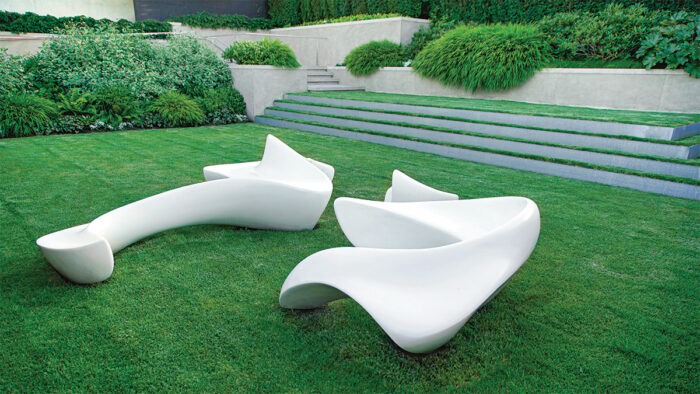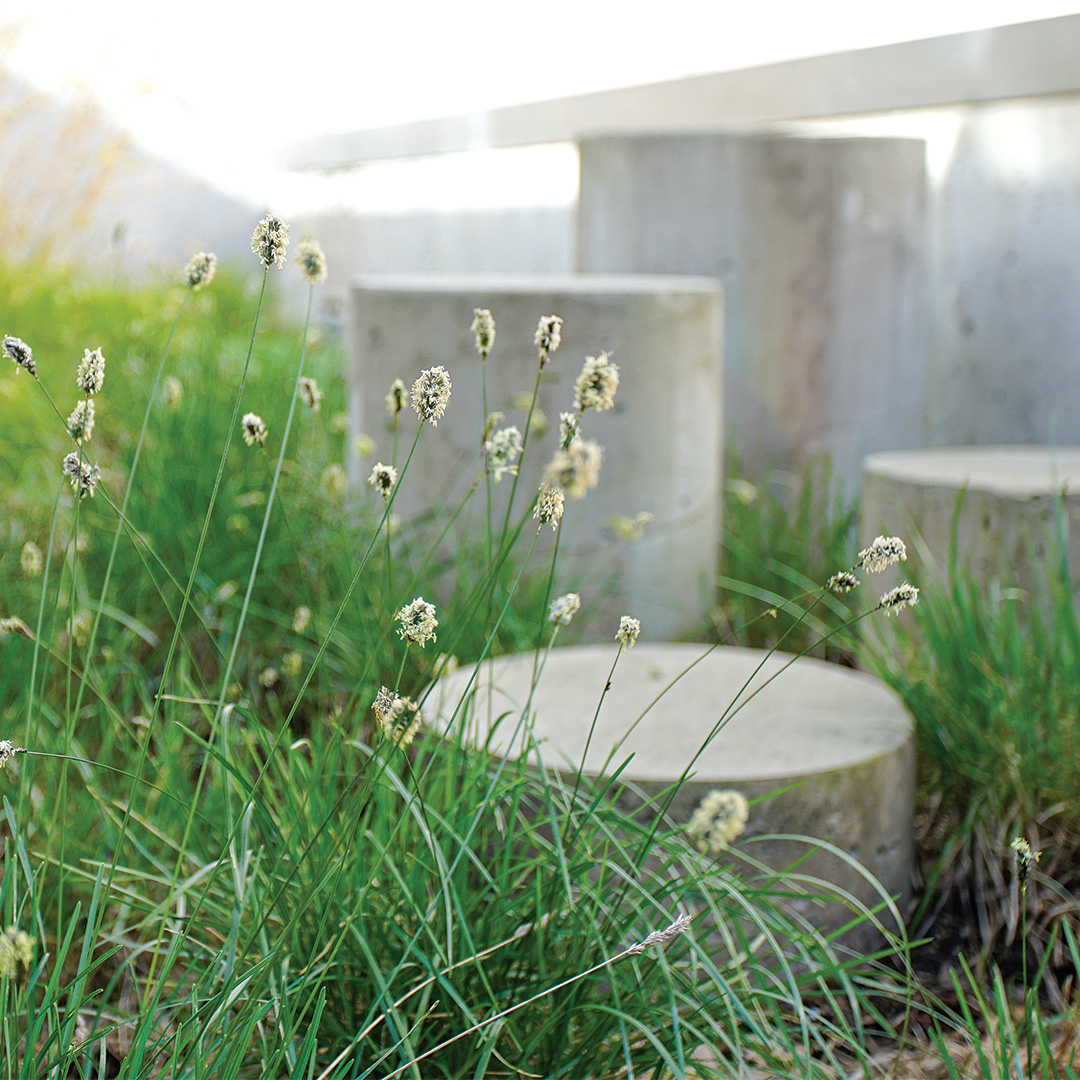 As gardeners, we love, trust, and believe in plants—often to a fault. We don't easily relinquish funds or space for hardscape. The thrill of buying and finding a spot for "just one more plant" usually outweighs any dedication to sticking to our original design intentions. But this approach often leads to a garden that is confused at best and barely legible at worst. On the other hand, the typical sleek lines and organization of a modern garden say it all in one look—and say it loud and clear. I believe that any plant-driven garden can benefit from a bit of modern-garden clarity. Incorporating elements of modernity into your space can help do three things: organize the overall layout, bring order to the plant palette, and inspire amazing focal points. Three gardens that I recently collaborated on are perfect examples of how a contemporary mindset can help bring a garden to an enthralling level.
[ Modern Space 1 ]

Clean lines reign supreme in this ultramodern garden, which takes its overall layout cues from the contemporary main residence.

[ Modern Space 2 ]

When the plants are multi­faceted and overflowing, a rigid hardscape material like concrete—used playfully—can help bring some order to the scene.

[ Modern Space 3 ]

In properties with limited space, you need to make every moment count. In this narrow expanse, a unique tiled patio was elevated above the surroundings to help it stick out, in a good way.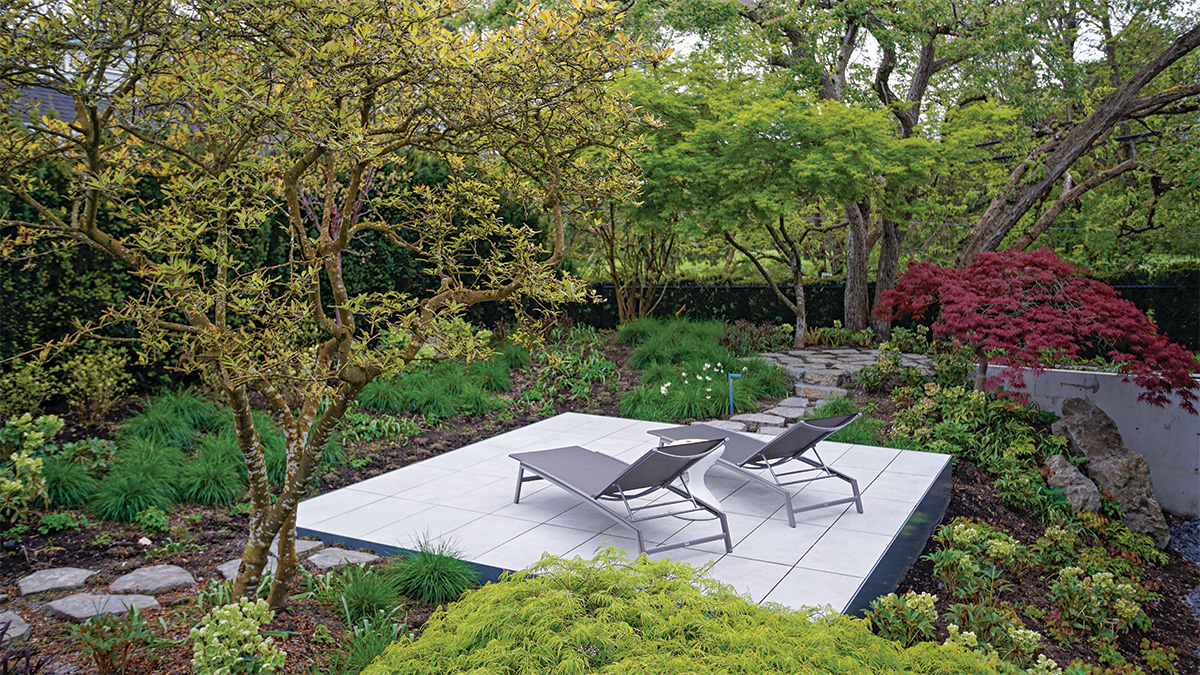 A strong outline provides order and clarity year-round
Designed to be read in a single glance while one is perched on the home's upper decks, this landscape still has plenty of nuance up close. Its success comes from the unapologetic simplicity of the garden layout—straight lines, right angles, and symmetry. Yet it is still home to a surprising diversity of plants. When you have such an assertive simplicity in outline, it brings legibility to more-raucous mixed plantings. This is a key lesson for the plant collectors among us.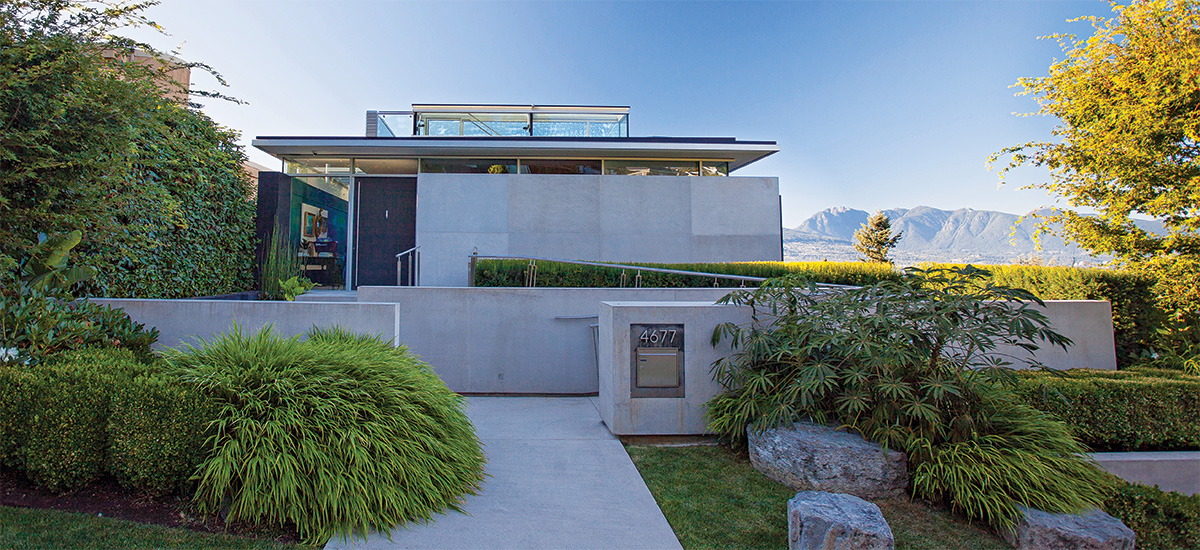 The starting point of this particular design was obvious: the contemporary house. It dictated how to draw, offset, and connect a handful of lines that now define the garden layout. To deal with a drop in elevation, some of the sight lines were mimicked in galvanized aluminum and now serve as a unique focal point—the grass staircase. While this is an over-the-top example, simply emphasizing the lines of your overall plan through different elements such as stairs, pathways, or even retaining walls can go a long way in defining your garden. Repeating that symmetry also helps impart continuous clarity.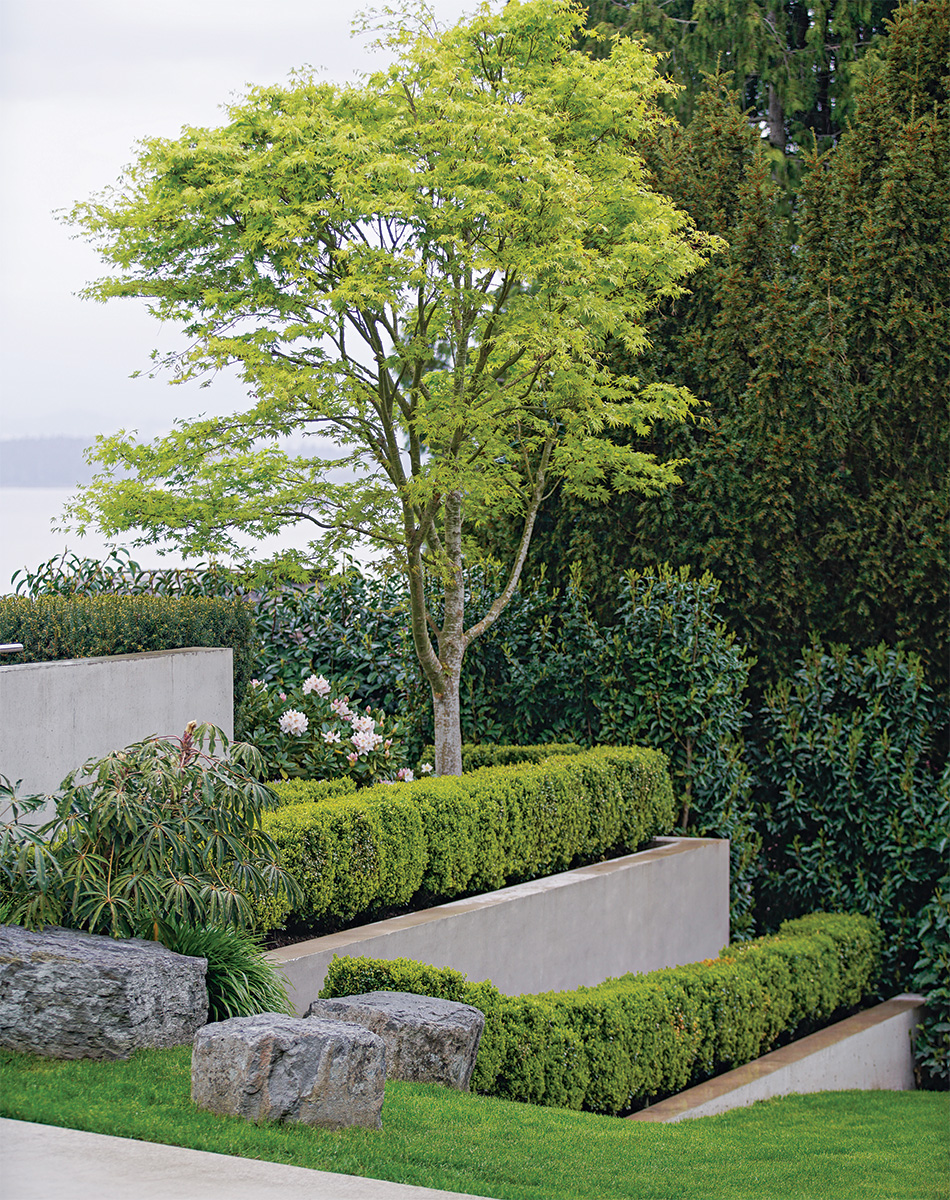 With the defined layout in place, plants were added liberally. First were the crisp hedges of various heights, which create vertical planes, overlapping each other. They provide privacy and offer a firm, evergreen backdrop. Low, steadfast evergreens such as skimmia (Skimmia japonica and cvs., Zones 6–8), rhododendron (Rhododendron spp. and cvs., Zones 3–8), and yew (Taxus spp. and cvs., Zones 4–8) are repeated throughout. These workhorses cover about half of the planting areas. Against and among these rich shades of green are touches of white, which play off a sculpture by a local artist. This modern focal point is firmly anchored on the main lawn, and you'll see its white tone echoed in the blooms of early daffodils and the foliage of variegated redtwig dogwood (Cornus alba 'Elegantissima', Zones 3–7).
The front yard offered chances for some extra plant indulgence. The formal pond flanking the entrance walkway was widened enough toward its end to ­allow for a cubic planter to be partially submerged. An ever-changing arrangement of seasonal plants here becomes the center of attraction, softening the otherwise concrete-heavy formality of the entryway. You'll also find a large window well here, sloping down to a small ornamental pool that was turned into a lush, leafy ravine. No matter the season, the hardscape is never fully ­obscured; hence, it delivers a clean, structuring contrast to the lush vegetation.
---
Modern Space 1: At a glance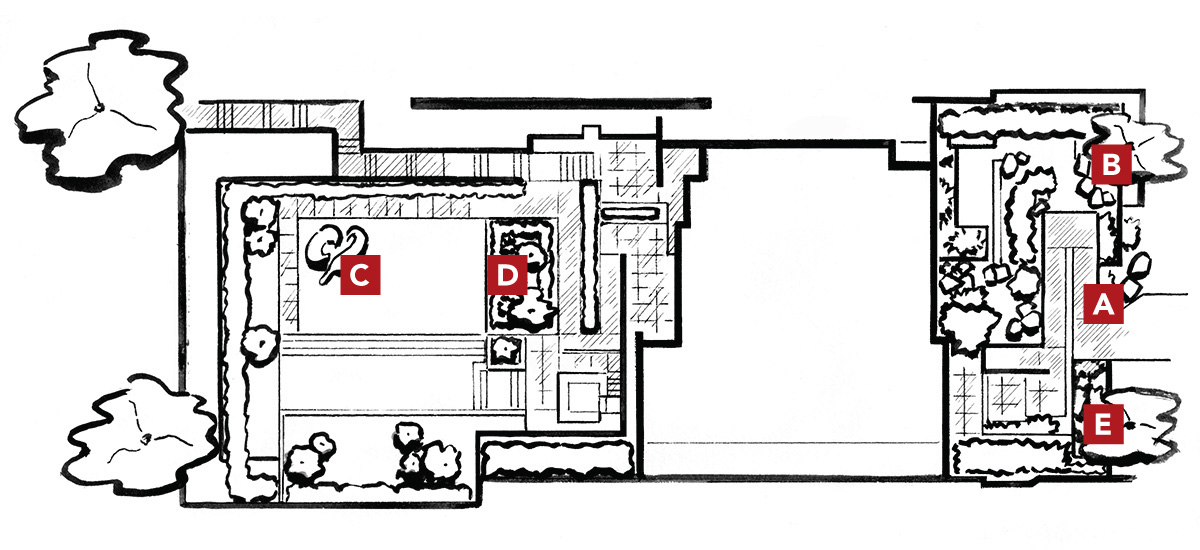 Size: 9,000 square feet
Conditions: Mostly partial shade; moist, well-drained soil
Challenge: A sloping property that needed privacy without obstructing the view

Specific elements that organized the space layout
Overall layout built entirely of straight lines, right angles, and symmetry
Layers of hedges enclosing the landscape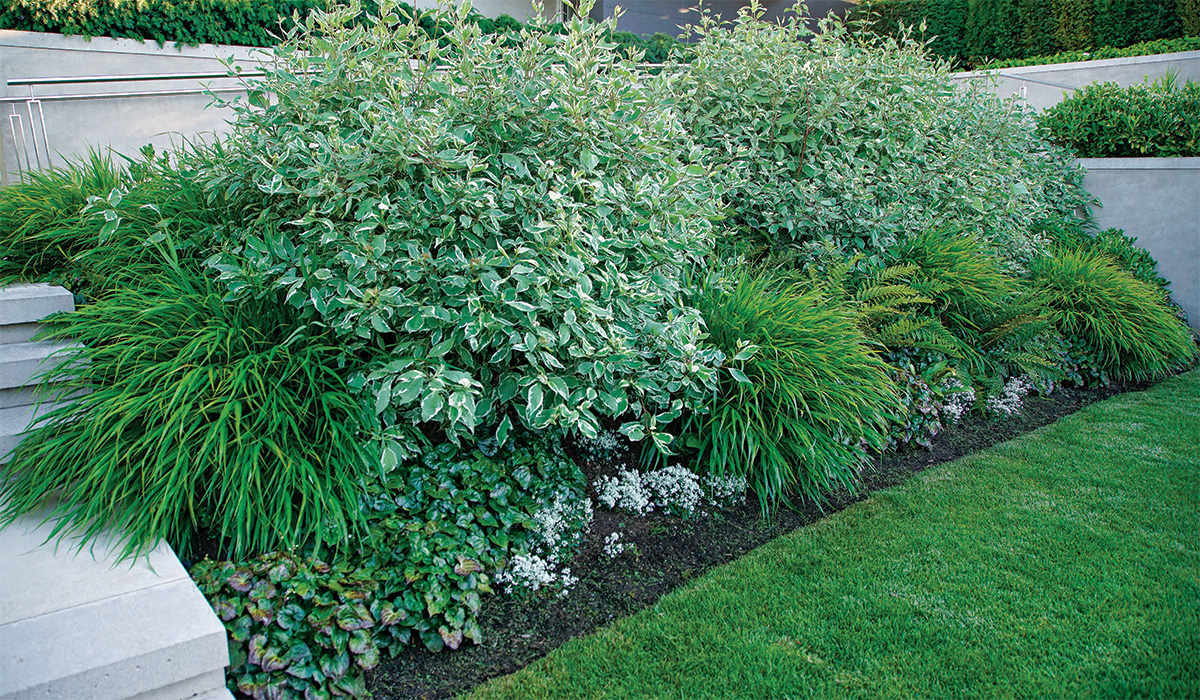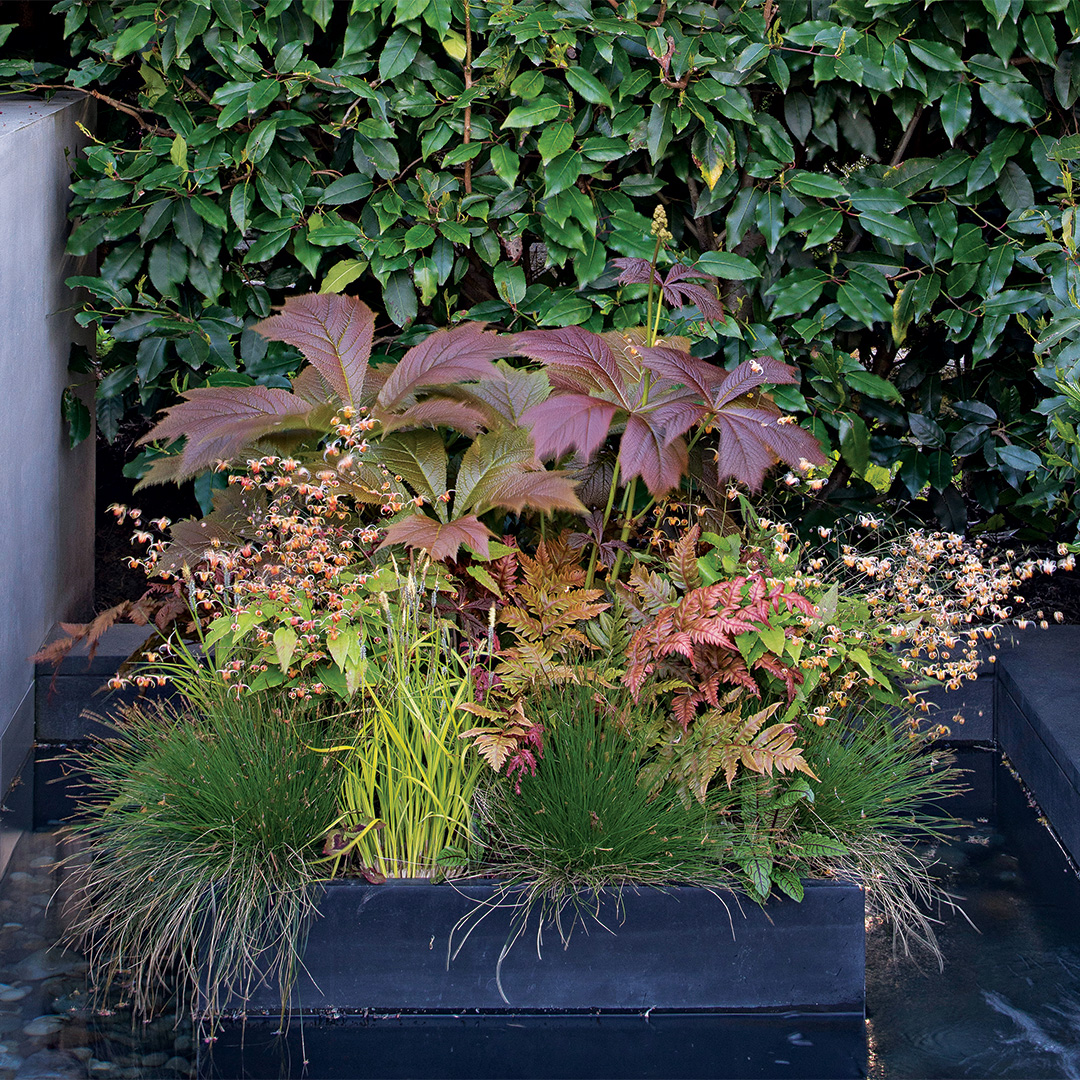 How order was brought to the plant palette
Repeated textural evergreens (perennials, trees, and shrubs)
Color restraint
Eye-catching focal points
Sculpture by Marie Khouri on main lawn
Floating planter in entryway pond
---
If the softscape is busy, the hardscape should be more restrained
Seated on a gentle slope, this house is enveloped in an expansive and ever-changing meadow. Its austere concrete hardscape has a potent, grounding effect on the wild, multicolored plantings, however.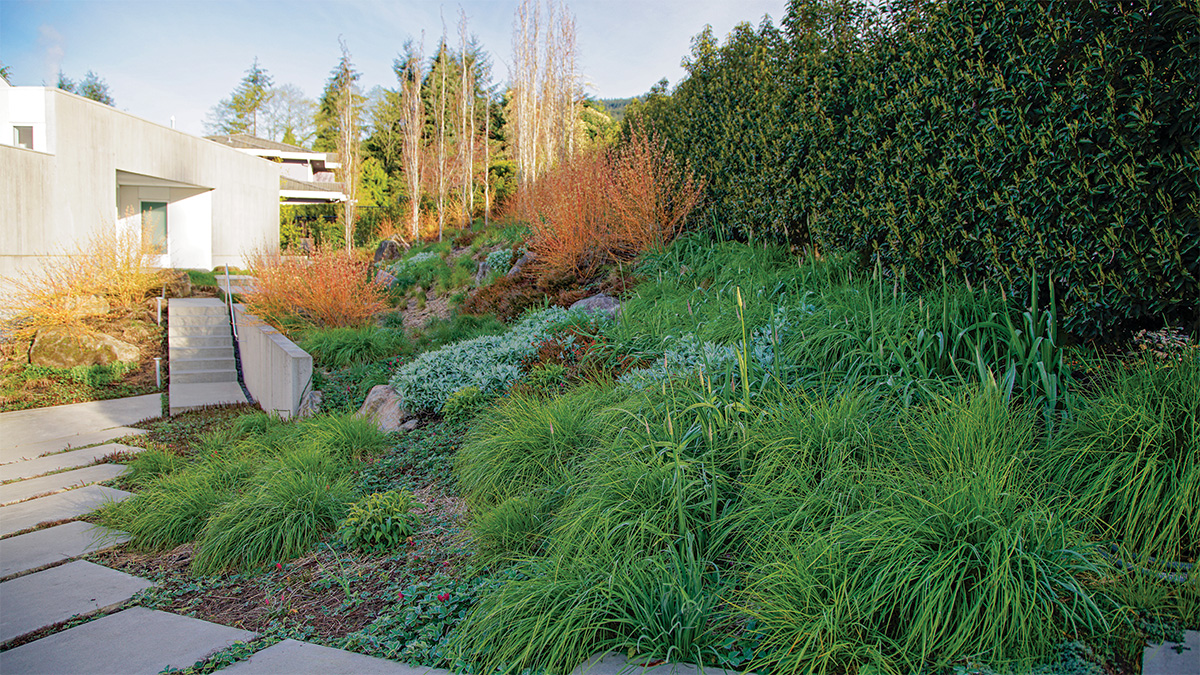 Laurels, poplars, and dogwoods play a large role, both defining the space and encouraging a specific visual flow year-round. Even with spaces that are meant to be plant heavy, such as this one, a group of structural plants should always be focused on first. Here the tall, evergreen perimeter of Portugal laurel hedges (Prunus lusitanicus, Zones 6–9) drastically accentuates the natural grade change and wisely keeps the eye from venturing away. A grove of columnar Swedish aspens (Populus tremula 'Erecta', Zones 2–6) caps the upper corner of the sloped front yard, beckoning garden visitors with a stately yet melodious presence. Finally, puddles of 'Midwinter Fire' redtwig dogwood (Cornus sanguinea 'Midwinter Fire', Zones 5–7) help frame and soften this composition, as they loosely direct you toward the main door of the residence.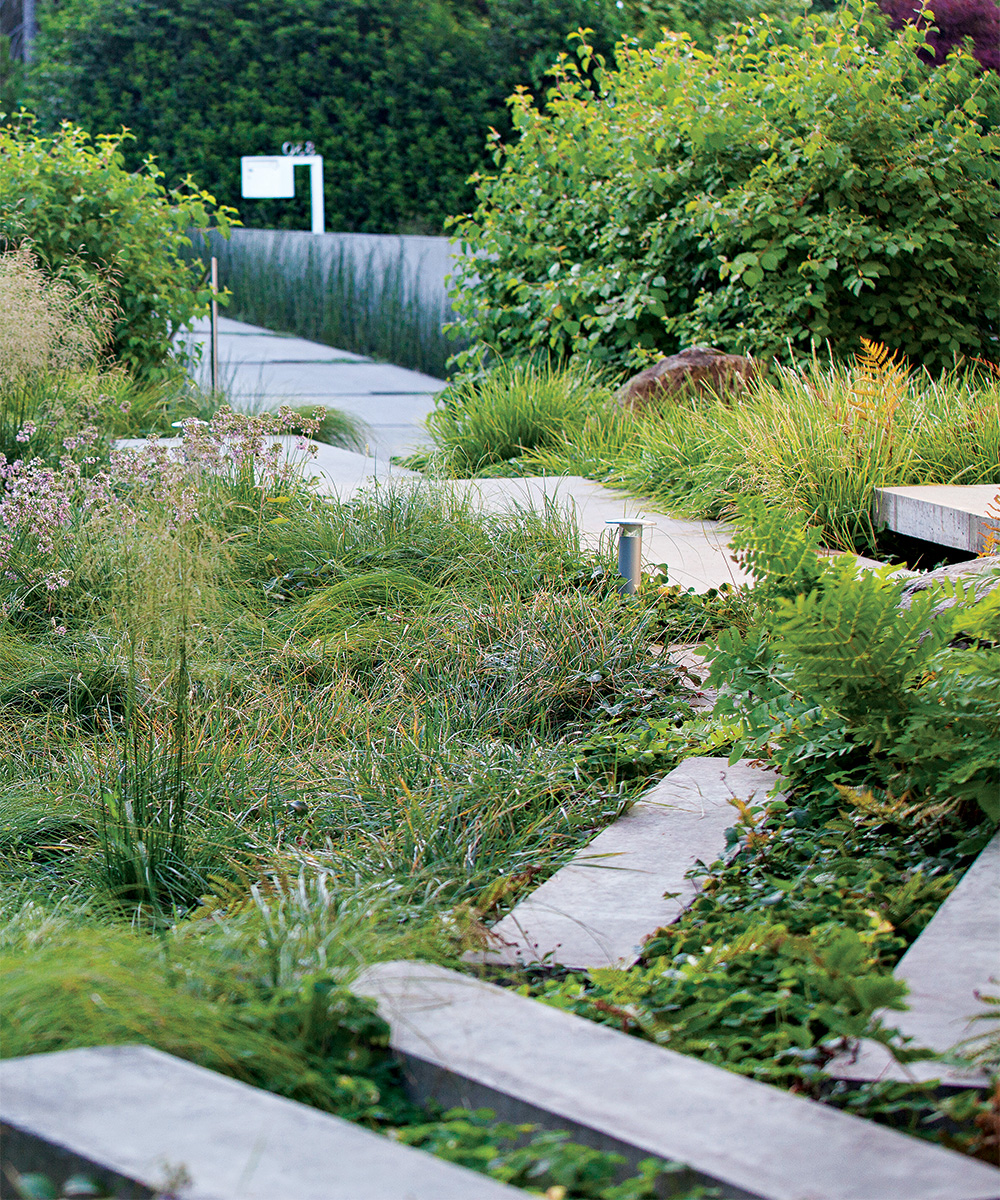 Another primary focus of any design lies in its hardscape materials. In many modern gardens, you will see repetition of a single material—in this case concrete. That ensures an overall cohesiveness throughout the property. The raw concrete of this minimalist house is carried out far into the garden, where it first forms solid, rectilinear walkways but then takes a lighter, playful appearance as it ventures farther away. Here you'll find the concrete shaped into long bars, matchstick pavers, and columns of various heights.
Always rising a few inches above the surrounding grade, the concrete pavers in particular are magical. They offer urbanites a perfect interface with these wild and at times unruly plantings. Elevating the hardscape plane just above that of its surroundings is a modern design trick that can be repeated in many ways in myriad garden styles. Let the plants fight it out below while you safely stand just above the fray, unsoiled and dry, observing the plants just being plants.
---
Modern Space 2: At a glance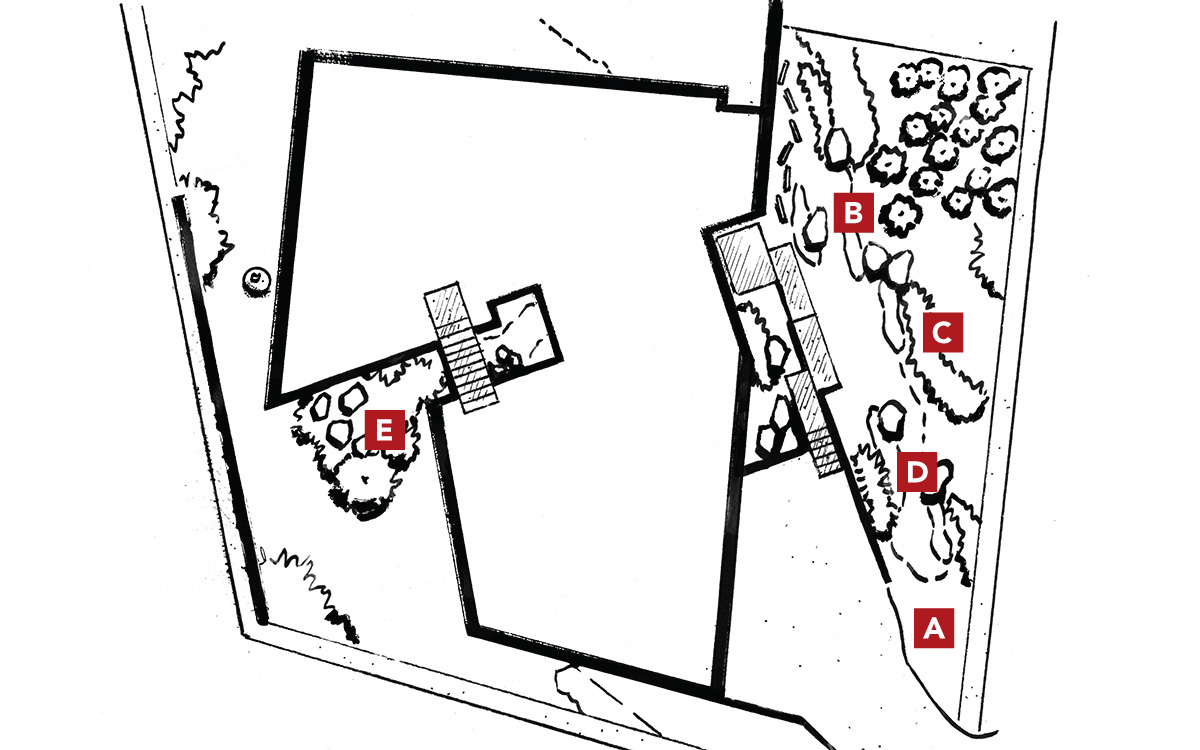 Size: 21,000 square feet
Conditions: Full sun; lean, well-drained soil
Challenge: A property with several grade changes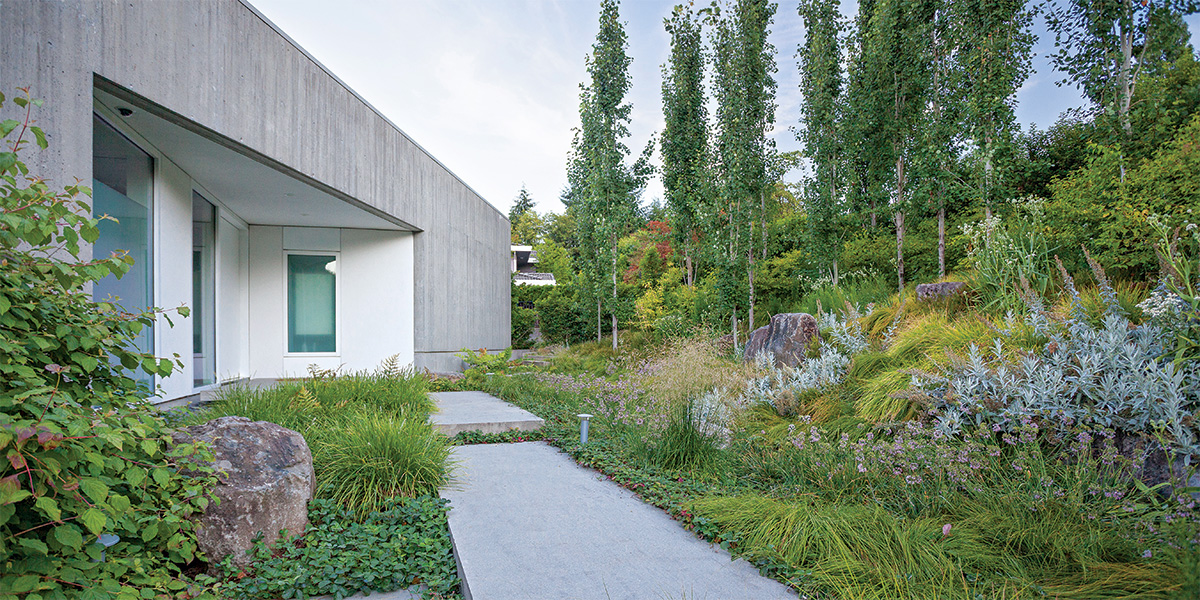 Specific elements that organized the space layout
Hedges that encompass property
Limited material palette for hardscape (concrete) but repeated throughout in different ways
How order was brought to the plant palette
Rhythmically repeated puddles of dogwood
Repeated drifts of heaths (Erica spp. and cvs., Zones 5–7)
Eye-catching focal points
Grove of aspens
Concrete rounds and matchsticks
---
In smaller spaces, every detail should be dynamic
When a garden is smaller in scale, it becomes all the more important that ­every square inch of it is energetic; a modern ­design approach can help ensure that happens. This space was a long and narrow lot sandwiched between a newly renovated house and a skinny yew hedge. While you can't take in the entire space without walking its full length, you can quickly see an unmistakable pattern in the planting. A garden that has a certain rhythm to the plant layout soothes the mind and leads to a more pleasing experience.
Here, three hefty pine trees (Pinus cv., Zones 2–9), as well as a series of elegantly upright 'Avondale' Chinese redbuds (Cercis chinensis 'Avondale', Zones 6–9) rhythmically flank the garden. Wherever you stand, the pines and redbuds tie the ­entire layout together neatly; they tower above the fray and allow the eye to hopscotch its way along the entire property. The remaining plantings are a refined mix of mostly grasses, extending a certain repetitive, diaphanous quality throughout and thus allowing the eye to travel farther. This sea of texture pulls the eye toward the central, custom metal water feature. Depending on the time of year, it can be hard to perceive the fountain through the veil of vegetation, but the elevated stone-and-concrete pathway, quite modern in appear­ance, provides a clear sight line to the focal point no matter the season. The linear pathways also lend an order to the overall space, clearly distinguishing where your eyes—and feet—should travel.
Around the corner and into the backyard, past an impressive mature hawthorn (Crataegus monogyna, Zones 3–8), full sun shines onto a central tiled patio, which seems to float in a sea of grasses and ground covers. This boxed platform provides a reassuring destination to the wanderer despite the fullness and the dense green surroundings. Its geometric design ­allows it to stand out from the limited plant palette, which can also be said of all the other geometric elements in this space.
---
Modern Space 3: At a glance
Size: 13,000 square feet
Conditions: Full sun to full shade; moist, well-drained soil
Challenge: A yard with various conditions and a narrow overall space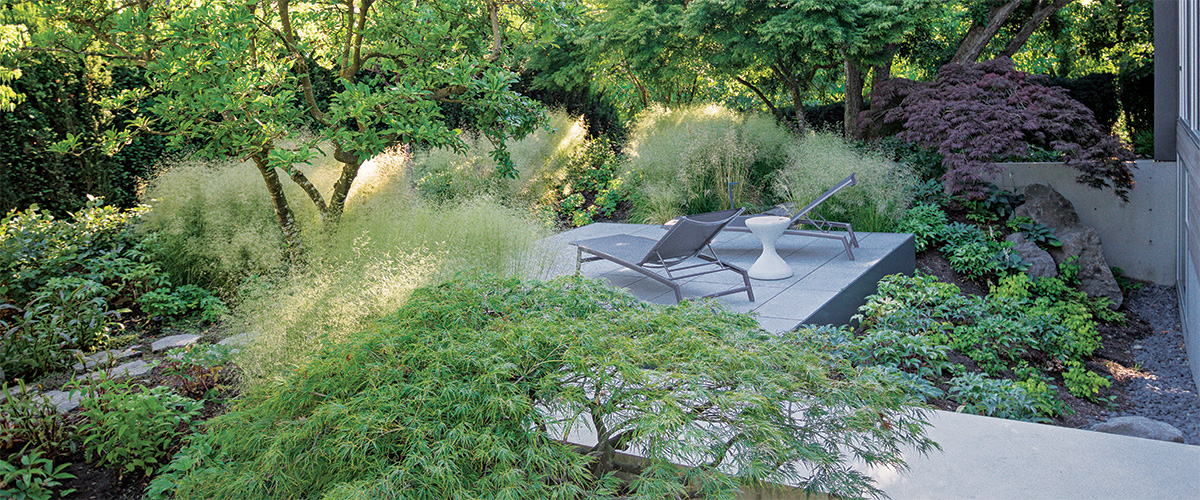 Specific elements that organized the space layout
Elevated concrete-and-stone pathway
Yew hedge parallel to house, enclosing entire space neatly
How order was brought to the plant palette
Pine trees and redbuds repeated rhythmically
Repetition of multiple types of ornamental grasses
Eye-catching focal points
Metal water feature
Tiled patio
---
Dave Demers is the owner and principle designer at CYAN Horticulture in Vancouver, British Columbia.
Photos: Joshua McCullough
Illustrations: Elara Tanguy