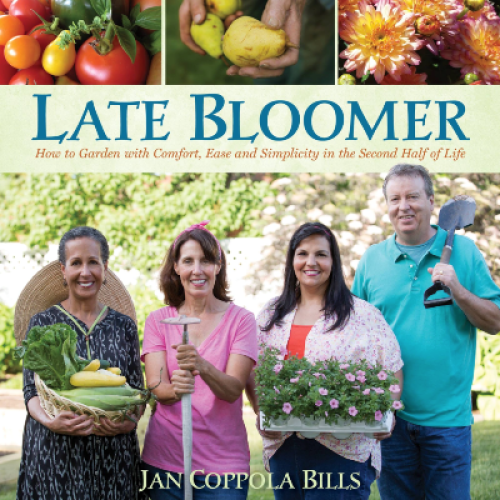 Have you ever heard the saying, "Old gardeners never die, they just go to seed"? 
It doesn't have to be that way, according to Jan Coppola Bills in her new gardening book called Late Bloomer: How to Garden with Comfort, Ease and Simplicity in the Second Half of Life (St. Lynn's Press, 2016). Bills believes "seedy" gardeners need to simply rethink their approach to the garden as they age.
While there's a wave of young gardeners planting their first gardens, the majority of today's gardeners are around 45-plus. Baby Boomers may still be passionate about gardening, but bad backs, aging knees, and a desire to make life simpler can get in the way of a once consuming hobby.
Late Bloomer is a small book, but it has a big message: Garden for the pure joy of it. "It's about maintaining a happy, healthful connection with the soil, without the toil."
Some of the lessons Bills teaches is to plant only what a gardener can comfortably tend, to put the right plant in the right place, to make the most of small spaces, and to deal with weeds simply and effectively.
Her down-to-earth tips are so smart, they could help gardeners of any age get more enjoyment from their gardening experience. Instead of working toward perfection, Bills says "a garden is where hope is restored and relaxation is practiced." 
The chapter called "Veggies, Fruit and Herbs" is all about making it easier to grow fresh produce. Her edible gardening practices include adding organic soil, planting, watering and harvesting. The key is to plant the right-size edible garden (for you).
The author includes a list of the easiest vegetables to grow from bell peppers to tomatoes, some basic planting rules, ideas for combining edibles with ornamentals to make the most of limited space, and her favorite herbs for cooking and good health.
Chapter 13 sums up the Late Bloomer garden philosophy in two words: Perfectly Imperfect.
"I hope you can let go of the pressure to conform or produce, or be perfect, and find your own hardiness zone in life, your place of balance and harmony."
(St. Lynn's Press provided a complimentary copy of Late Bloomer for this review; opinions are always my own.)