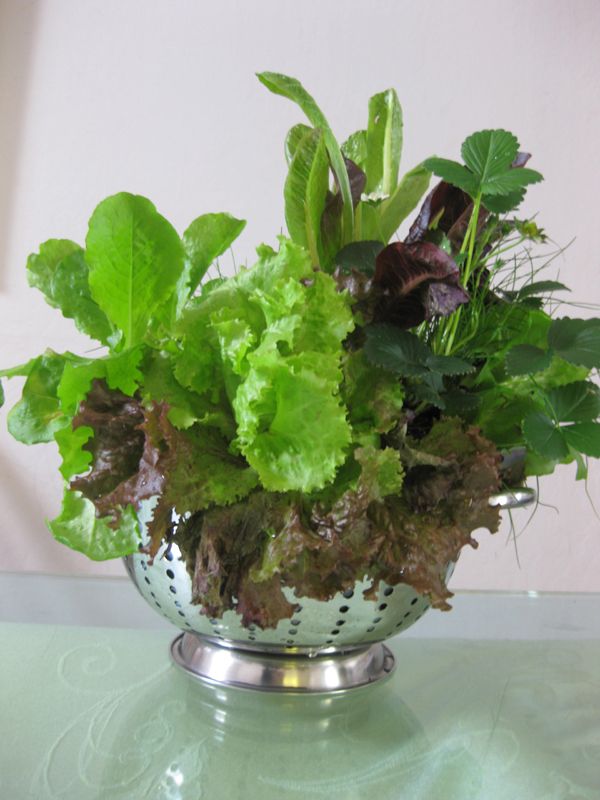 In holidays past, you're sure to have been on the receiving end of fresh jams and jellies from a friend or relative's garden. If you're the gardener, then you've probably been on the giving end.
While jams and jellies are some of the best homemade (and delicious) tokens of affection, I wanted to share some other homemade garden goods that aren't always so common — but are just as lovely. They're also some of the simplest homemade garden crafts you'll ever put together.
1. Plant a Kitchen Colander ~ Living vegetables are a welcome sight to those of us that wait for the warmth of spring to arrive so we can get out there and garden! Well, some veggies happen to love cool weather and lettuce is always a good bet for a kitchen window garden in the winter.
I love to find a new or antique colander and then plant it with lettuce and a couple of pansies, too. It's a beautiful and edible presentation. Here's how to plant a kitchen colander. 
2. Braided Garlic ~ Don't overlook homegrown garlic. It makes a wonderful culinary gift when ten to twenty (softneck variety) heads are braided and finished off with a colorful festive ribbon. Braided garlic heads make the perfect holiday party hostess gift, as well. Check this video out on how to braid garlic heads.
3. Bathtub Tea Bags ~ Tea bags for the bath look charming, smell heavenly, and feel like a luxury. Tucked inside little pouches are herbs, milk power, salts, or flowers ready to warm and soothe busy holiday bodies.You'll find many recipes and tea bags online, here's a simple recipe to get you started.
4. Seeds with Homemade Seed Envelopes ~ Are you a seed saver? Sharing them for Christmas is a most wonderful, yet inexpensive garden gifts! Your collected seeds tucked inside handcrafted envelopes makes the most charming (and useful) gifts that you can give.
Literally the gift that keeps on giving. Seasoned gardeners will be thrilled and budding gardeners will have the start to their first garden. The paper envelopes here, here, here, and the tubes here should get your creative juices flowing.
5. Herb Infused Oils & Vinegars ~ Both herbal infused vinegar and oil have endless recipe possibilities. Herb blends can include rosemary, tarragon, sage, parsley, cilantro, thyme, lemon balm, basil, chervil, bay, fennel, dill leaves, mint, savory, marjoram, hot pepper and garlic. *Whether these items are fresh or dried will depend on whether you're making an oil or vinegar.
There are some differences between making vinegars and oils (oil doesn't keep as long), so be sure to read up on individual recipes. Here's how to make an herb infused vinegar and how to make herb infused oils.  
6. Herbal Sugars ~ Lavender, mint, vanilla beans, lemon verbena, sage, cinnamon, and scented geranium leaves will make plain old table sugar a special treat for baked goods, fruit, and in tea. Here's how to make infused sugars.
7. Vanilla Bean Extract ~Pure vanilla bean extract is one of the easiest homemade gifts to create and it makes a beautiful and special gift. The key is to find the most interesting or beautifully shaped bottles that you can find. Here's how to make your own pure vanilla bean extract.
8. Herbal Hand and Body Scrub ~ Here's more sugar and herb goodness with the herbal hand and body scrubs. The gardeners on your list will especially appreciate this garden gift. Two of my favorites are this lemon and rosemary scrub and this lavender mint scrub.