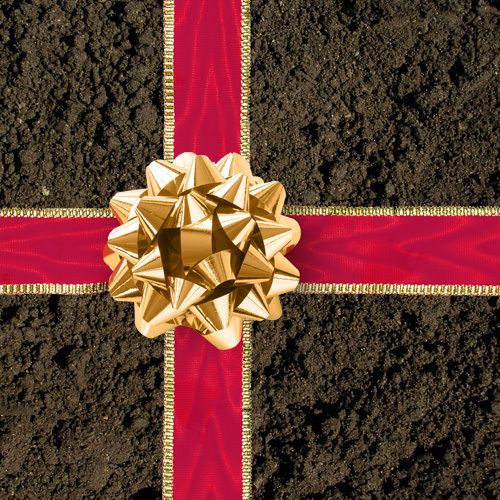 Well, here we are again gardening friends, it's the holiday season. If you're like me, you've been working very hard at your garden most of the year and you're ready to do some celebrating and resting. Depending on where you live, I imagine your Fall garden is either in full swing or has succumbed to early winter storms or other calamities.
Nonetheless, the year is winding down and the holiday shopping season has already started (is it just me, or did the Christmas stuff come out when the Halloween stuff did?). If you have a gardener on your shopping list, or you need to start dropping hints to family and friends, I would like to offer the following suggestions to get you started.
Melnor 4-Piece Garden Hose Quick Connect Kit
This is one of those accessories I wish I knew about years ago. If you regularly switch between watering attachments (hand-held, sprinklers, drip systems, etc.), this will save you a lot of time. How, you ask? With the quick connect kit attached, you do not have to turn off the water every time you change attachments. You can actually change attachments while the hose system is fully pressurized! It may only save you a few minutes a week, but those minutes will add up.
https://www.melnor.com
Fiskars Big Grip Multi-Purpose Planting Tool
I call this my gardening Rambo knife, as it is such an intense and effective tool. From their website, "Four tools in one. Slices through sod, digs out dandelions, carves through bags of soil, transports and transplants. The big grip is sturdy and comfortable, giving you rapier-like control. The heat-treated blade is sturdy enough to withstand a beating. It's the first tool out of the shed and the last to be put away for the next battle."
https://www.fiskars.com
Dramm Heavy-Duty Brass Fine Fogg-It Nozzle
Tired of blasting the planting mix out of your transplant's containers every time you need to water them? Then use what professional nurseries use and mist them instead. The Fogg-It Nozzle mists delicate seedlings with three jets which create a conical spray pattern. It's available in 4 different discharge/flow rates and is made of solid brass.
https://www.dramm.com
Moleskine Gardening Journal
While your digital camera captures an instant snapshot of how your garden looks at a certain time, taking notes in a small paper journal is also helpful in remembering things for future seasons. This well-constructed journal has 5 sections to put in pertinent information. It also has information on plants and hardiness zones. A log for plant care records, empty grid pages for designing, adhesive labels, and notes make this a worthy garden assistant.
https://www.moleskine.com
VTC Singing Blue Jay – Plant Pal Soil Moisture Meter
Need to know when it's time to water your plants? Let a bird tell you! Yep, that's correct. This unique tool measures soil moisture and "sings" when your plants need water. It features an automatic light sensor, so it won't be singing at night. It's hand painted and includes a replaceable battery.
https://www.amazon.com
Eddie Bauer Ragg Wool Socks
I don't know about you, but if my feet are cold, I'm cold. On those (rare) days when it really gets cold down here in North Texas, you can bet I'll be doubling-up on the socks. For you gardening folks in colder climates, this is probably a no-brainer. These Ragg Wool style socks will keep your feet extra warm.
https://www.eddiebauer.com
Garden Tool Maintenance Kit by Sneeboer Garden Tools
Take care of your wonderful and hard-working garden tools with this attractive maintenance kit. The kit includes a wire brush with brass bristles for scrubbing off excess dirt, a sharpening stone, a bottle of Linseed Oil to keep wood parts from drying out, an applicator cloth, and a can to store the rag in. Your garden tools will thank you!
https://www.gardentoolcompany.com
Crabtree & Evelyn Gardeners Ultra-Moisturising Hand Therapy
Treat your hard-working hands with some therapy. The shea butter rich formula soothes, conditions and restores softness to work-roughened hands. It has a fresh green clover, lavender, sage, rosemary and thyme fragrance. Available in a 50ml or 100ml tube, or a convenient 250g pump.
https://www.crabtree-evelyn.com
Dirt Couture Leopard Hose Clothes
I'm quite serious folks. Your garden hose can now make a fashion statement! Hose Clothes are a like a Snuggie for your garden hose. The Hose Clothes cover slips onto hoses up to 5/8-inches in diameter and is available in a 25-foot or 50-foot length. Whether it's a tropical blue pattern, the pineapple green pattern, or the awesome leopard pattern, your landscape will look fabulous!
https://www.dirtcouture.com
Ball Canning Discovery Kit
From their website, "The Ball Canning Discovery Kit provides an easy and affordable way to start canning in just three simple steps. This kit is designed to demystify the home canning process and make fresh preserving accessible, for even the most novice canner. Whether a person has limited kitchen space or looks to preserve a handful of fresh produce from the farmer's market, the kit offers a beginner's approach to small-batch canning."
https://www.freshpreserving.com
Gardener's Supply Brushed Stainless Steel Compost Pail
If you're like me, you practice "triage" composting. That is, most of the material you're composting doesn't go directly into the compost pile. Instead, it is gathered in a temporary container in the kitchen until it is filled up, and then dumped out in the pile. This one gallon stainless steel compost pail is a good and attractive option for this task. The stainless steel won't take on the odors or colors of food scraps. It cleans easily and is dishwasher-safe.
https://www.gardeners.com
Sloggers Classic Garden Clogs
These garden clogs are comfortable, soft and flexible, and built to last many seasons. They're easy to take off and put on. You can get 'em dirty and wash them right off. Available in blue, green or red.
https://www.sloggers.com

Zazzle iCompost T-Shirt
In homage to Steve Jobs, I present to you, another "i—", um… item. This heavyweight, comfortable and loose fitting t-shirt may become one of your favorite gardening fan shirts. Made from pre-shrunk 100% cotton, it wears well and displays your passion for composting.
https://www.zazzle.com
Sagaform Kids Gardening Tool Set
We can't forget the next generation of green thumbs, now can we? From their website, "Let your kids help out with the gardening when you gear them up with our Kid's Gardening Tool Set. They love digging in the dirt, planting seeds, watering the soil and watching their creations come to life. The Kid's Gardening Tool Set includes all the essential kid-sized tools your child will need to work along with you in the backyard. The kit includes: 3 tools of metal and wood and a nylon case. Comes gift boxed."
https://www.wrapables.com

Broll 5 Gallon Bucket Cart
This cart helps you transport a 5 gallon bucket with ease. Part dolly and part wheelbarrow, it only weighs 11 pounds but is capable of carrying 70 pounds of liquid, soil, tools and whatever else you can think of. Large 14″ never-flat wheels allow you to transport your materials over nearly any terrain without spilling the contents. The really cool part? It allows you to tilt and pour without removing the bucket.
https://www.brolltools.com/
Happy shopping!