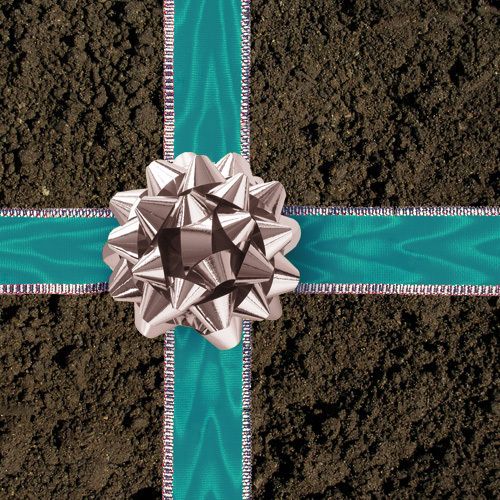 Well, here we are again my dirty-nailed friends, the holiday season is upon us. If you're like me, you've been working very hard at your garden most of the year and you're ready for a break as the year winds down. If you have a gardener on your shopping list, or you need to start dropping hints to family and friends, I would like to offer the following suggestions to get you started.
Summerweight Garden Fabric
Defending veggies against pests has always been one of my biggest ongoing challenges as a gardener. While treating individual plants can be effective, I've learned that simply putting up a "shield" is very effective. This shield is usually made of tulle or some other kind of fabric. Gardener's Supply garden cover fabric effectively screens out Japanese beetles, potato beetles, cabbage worms, leaf miners, carrot flies and most vine borers. It also provides frost protection down to 28° F.
AcuRite Digital Indoor/Outdoor Thermometer
Since fall is about to turn into winter, having an accurate reading of the outdoor temperature is critical when putting out future transplants. The AcuRite Digital Indoor/Outdoor Thermometer that I've used for a couple of years has been great. It features precise temperature readings and an easy-to-read LCD screen. It displays the current indoor or outdoor temperature with daily high and low information. The best part, however is its sensor. The outdoor sensor has wireless technology, so I can have it in my cold frame or greenhouse, while being able to read the temperature from inside the house. Very cool.
Black & Decker 7.2V Lithium Drill/Driver
The latest addition to my gardening tool belt is (another) drill. There are times where the project I'm working on doesn't require the power and force of a contractor-grade 18-volt drill. This is where the Black & Decker 7.2V drill comes in. It's smaller and much lighter, yet still powerful. It features a lithium ion battery that can hold a charge up to 18 months, a keyless chuck for quick bit changes, and a mid-handle design for balance, comfort and control.
https://www.blackanddecker.com
Arrow Fastener T50 Staple and Nail Gun
The Arrow Fastener Staple and Nail Gun has been my "go-to" staple gun for years. I use it primarily for securing garden fabric to my raised beds and garden structures. It's easy and comfortable to use, and doesn't require squeezing. The staple gun shoots 6 types of T50 staples and 7 types of PowerShot staples with a 9/16-inch drive. The chamber mechanism allows for easy loading.
Orbit Aluminum Female Hose Mender
What do you do when your garden hose breaks or has a leak at one of the ends? Replace it, right? Wrong. If you've invested in a good quality hose, repairing it will be cheaper and will extend its life. The Orbit Aluminum Hose Mender replaces the female (or male) end of the hose. The stainless steal clamp secures the connecter. Now, if I can only make it totally kink-free!
Hula Hoe
For some reason, I've never been a fan of the regular hoe for weeding and other tasks. It wasn't until I discovered the Hula Hoe (also called a stirrup hoe or scuffle hoe) that my weeding became far more productive and easier. How is it different you ask? The steel blade skims right below the soil surface, slicing through weed roots while leaving the soil in place. The famous "hula wiggle" is by design, and allows the blade to have a little play in it. Cutting on both the backward and forward strokes makes this tool very effective.
Write In The Rain Garden Notebook
Wouldn't you know it! You were taking some notes in the garden and it started to rain. Not a problem with the Write in the Rain waterproof garden notebook. This notebook is designed to not only withstand the wear and tear of outdoor use, but to do it even when it's raining and the paper is wet. If you're a gardener, it is useful for taking notes on the setup of your garden, or to keep track of watering times and plant growth. From their website, "The beauty of this notebook is that it is perfect for travel and remains undaunted by weather conditions. If it is raining, snowing, or there are temperatures of extreme cold or heat, this notebook will prevail." The 128 page book also includes a rugged carrying case and an all weather tactical black clicker pen. This pen is awesome, as it can write on wet paper, and can be used in temperatures from -30 to 250 degrees Fahrenheit.
https://www.cleanairgardening.com
Rubbermaid Roughneck Storage Bins
For my seed-starting and worm composting projects, the Rubbermaid Roughneck storage bins have become my favorite. These sturdy containers can withstand harsh temperatures that go from hot to cold. The Roughneck containers are made with a durable polyethylene material for a lifetime of durability and strength. They also feature built-in handles for secure carrying, securely-snapping lids, a 10-year warranty, and are tough enough to stack. While I prefer them in gray and black, they are also available in seasonal colors.
bubba 20oz Travel Mug Classic Black
I've mentioned this before, and it never gets old in repeating – hydrate, hydrate, hydrate. Dehydration knows no seasonal boundaries. Accompanying me to my garden for refreshment is my 20 oz bubba travel mug. The mug features a dual-walled polyurethane exterior and interior with foam insulation (BPA free) to keep cold beverages cold and hot beverages hot for hours. The tapered base allows it to fit in most car cup holders.
Repel Lemon Eucalyptus Insect Repellent Pump Spray
During much of the year when they are active, mosquitos see me as a "bite-buffet". I have tried to move to all-natural repellents, and the Repel Lemon Eucalyptus Insect Repellent has been an effective choice. The active ingredient is derived from the leaves of the Eucalyptus citriodora tree, and is designed to repel mosquitoes for up to 6 hours. It's DEET-free and smells great.
Badger Sore Muscle Rub – Original
Doing garden work, unfortunately, can come with a price – sore muscles. If you don't like the usual "sports rub", give the Badger Sore Muscle Rub a try. This balm gently warms and stimulates circulation to help keep muscles and joints loose before and after exercise. Cayenne pepper and ginger gently soothe and relax tight, sore muscles. It's USDA certified organic and it smells great.
Plow & Hearth Pitchfork Side Table
Need a place in your garden to set your favorite beverage? How about using a pitchfork. From their website, "We've taken the classic pitchfork and transformed it into a fantastic, functional side table that celebrates vintage country style." To use it, you just "stake" the table right into the ground. The table features all-weather hardwood with powder coated metal accents, and is a great accent for any space.
Sophie Conran Potting Scoop
Although I usually use a garden trowel to scoop seed starting mixes, potting soil, compost, etc., I'm finding that a scoop is a better tool. The Sophie Conran Potting Scoop is lightweight, beautifully crafted and perfectly balanced for the female hand. Its best design feature are the enclosed sides that contain the material in place as you transfer it to a pot or planter. Its stainless-steel finish resists rust and corrosion, and the tool is angled for easy scooping.
https://www.williams-sonoma.com
Fiskars FiberComp® Soil Scoop
Another option for digging and transporting scoops of soil is the Fiskars FiberComp® Soil Scoop. From their website, "Our FiberComp® Soil Scoop is lightweight for easy handling and ultra-durable for lasting value. It features an oversized scoop to help you get more done faster, a one-piece design that will never loosen or bend and a handle hang hole for convenient storage. The rust-proof FiberComp® construction is lightweight yet still stronger than steel."
Dorcy Weather Resistant LED Flashlight
Getting pest damage on your plants? One way to combat this is to look at your plants at night. Some bugs feed in the dark to avoid being eaten from being spotted in daylight. So grab your flashlight of choice and start hunting. The Dorcy weather resistant LED flashlight is great for such tasks. Nine super bright 5-millimeter LED bulbs provide an intense beam of light. The flashlight also features a sturdy, durable construction, weather-resistant design, a 1-year warranty, and comes in assorted colors.
Caren Gardener's Hand Treatment
I've already suggested an option for sore gardening muscles, but what about your hands? They usually take the brunt of the work.  Perfect for the gardener or landscaper, Caren Gardener's Hand Treatment moisturizes, heals and protects your hands from exposure to dirt, oil, fertilizer, without the greasy or oily feel or residue.
Good luck and happy shopping!