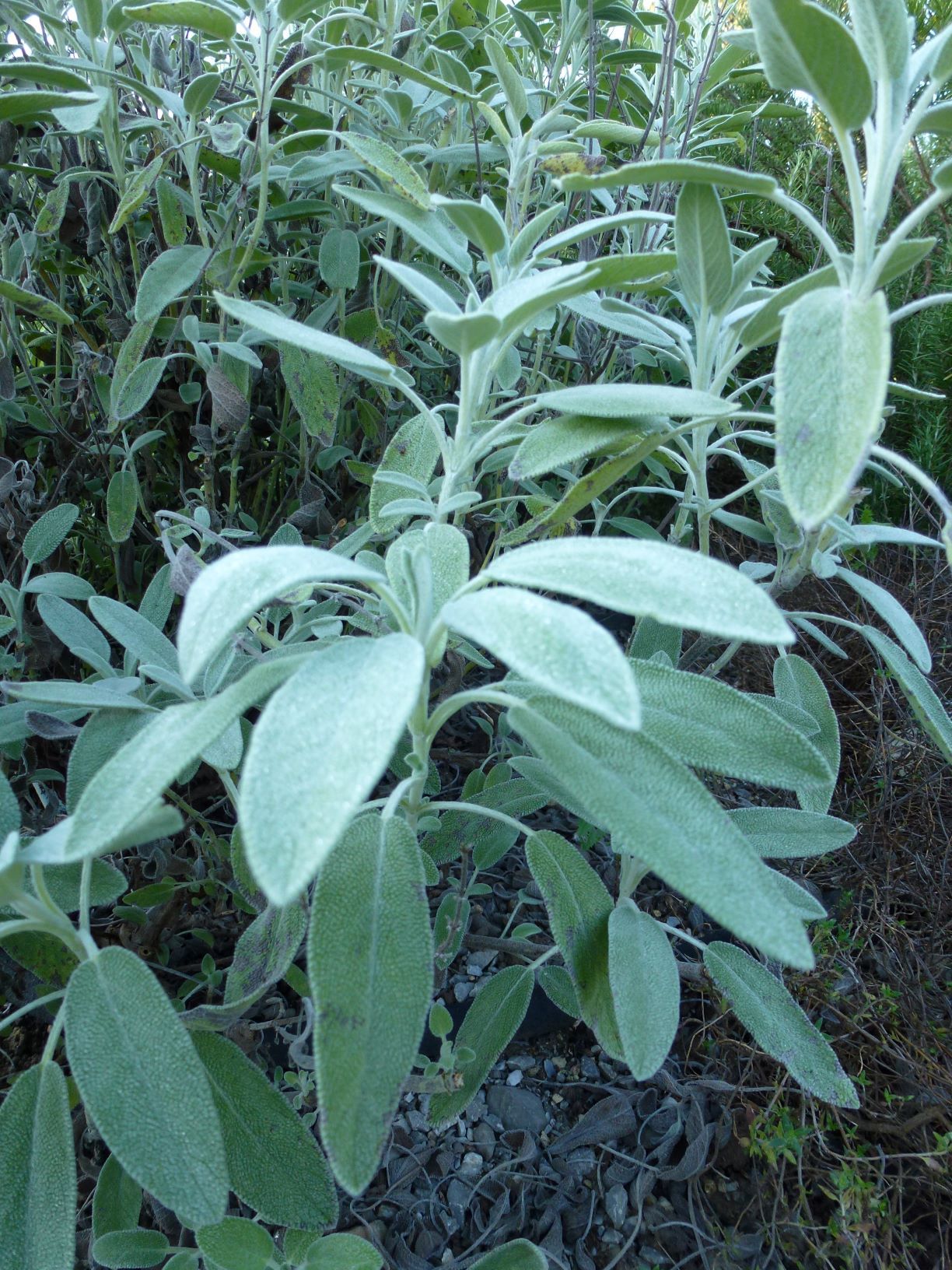 If you haven't decided on a dressing recipe for your Thanksgiving dinner–this is what I'm making this Thursday–it is a bit different from the norm and downright tasty! Fresh herbs make all the difference and sage is the featured herb for Thanksgiving dinners across the country! However if you do not have access to them, dried herbs can be used in place of fresh.
The musky, slighty camphorous flavor of sage (Salvia officinalis) is sometimes a bit too resinous, bitter or pungent for some palates. I love its robustness with rich, fatty or sweet dishes–it works well with rich foods–lending an earthiness, and pleasant flavor combinations. Besides, its antioxidant properties will help digest the big feast.
I recently had a discussion with some Southern cooks–they call it stuffing down South–my family always called it dressing. I was informed that it is stuffing when you put it in the bird and it is dressing when cooked in a dish and served alongside. Makes sense… it is good whatever you call it!
Cornbread Dressing with Sage and Pecans
I don't really measure when I make this recipe–I just sort of mix it all together–so it varies a bit. I do make a pan of cornbread from scratch to use and use about half of it–then we have leftover cornbread to accompany the meal or eat the next day. Sometimes, I use half olive oil and half butter to saute the veggies; often I add some paprika, smoked paprika, umami mushroom powder or tamari soy sauce for added flavor. I also like to add a good handful of coarse chopped dried cherries or cranberries. The half-and-half can be eliminated–use more stock or white wine.
4 tablespoons unsalted butter
1 medium onion, diced medium
2 large celery ribs, diced medium
8 or 10 shiitake mushrooms, stems removed and sliced or torn into pieces
About 1 1/2 cups very dry cornbread, crumbled
About 1 1/2 cups very dry whole wheat bread cubes
10 to 12 fresh sage leaves, chopped or 1 generous teaspoon dried crumbled sage
2 or 3 fresh thyme sprigs, leaves stemmed and chopped, or generous 1/2 teaspoon dried crumbled thyme
1 rosemary sprig, leaves chopped fine or 1/2 teaspoon dried crumbled rosemary, optional
2/3 cup pecans, lightly toasted, and chopped coarse
1 small apple, cored and chopped medium
Salt and freshly ground pepper
About 1/3 to 1/2 cup half-and-half cream
About 1/2 cup vegetable or mushroom stock
Couple tablespoons dry Sherry or Marsala wine, optional
Melt the butter over low heat. Cook the onion and celery with the mushrooms in the butter for about 7 minutes. Remove to a large bowl.
Add the cornbread and whole wheat bread to the cooked vegetables. Stir in the herbs, pecans, and apple. Season with salt and pepper. Combine the mixture thoroughly with the half- and-half and stock; add the Sherry or Marsala, if desired. The stuffing should be somewhat moist. Taste for seasoning, adding more salt, pepper, or herbs as necessary. Transfer the dressing into a buttered casserole dish.
Preheat the oven to 375 degrees F. Bake the dressing for about 35 minutes until hot through and crisp on top. If need be, cover the dressing with foil if it is getting to brown or crisp or dried out. Pour a little more stock overall if necessary. The dressing can be kept covered in a warm oven; remove the foil toward the end to let the top crisp.