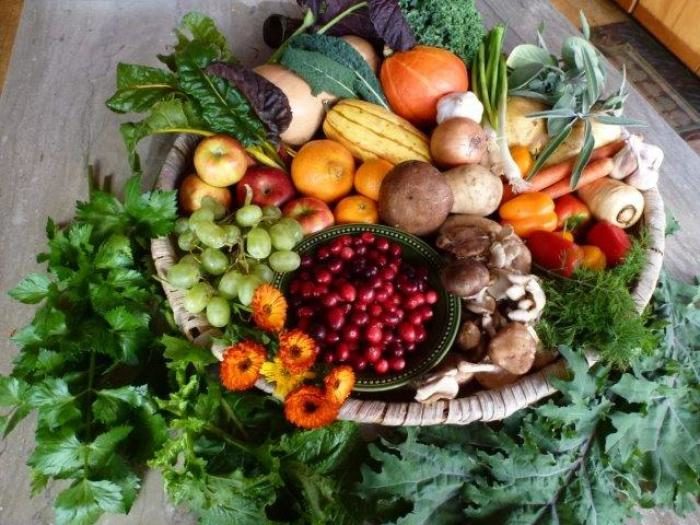 The cold weather is upon us and it makes all of us want to move indoors, turn inwards, and eat hearty warming winter foods. It is also a time of feasting with friends and family celebrating holidays from Thanksgiving to winter solstice, Hanukkah, Kwanzaa, Christmas, New Year's and more. Hopefully you have gathered, or are planning too, the late garden bounty before it is zapped by the frost or freezing weather. Look for root vegetables, winter squash and pumpkins, brassicas, dark leafy greens, nuts, apples, pears, persimmons, and cranberries at your local farmers' markets and roadside stands-they can be purchased now and if stored in cool conditions-you can eat these hardy vegetables, fruits and nuts through the cold weather into spring. I store my winter veggies and fruits in a cold room in my basement; a cool garage or even a crisper drawer in the fridge will work also.
Root vegetables, as well as squash, and pumpkins, are a part of my winter repertoire for soups, stews, gratins, side dishes, salads, and desserts. My favorite way to prepare any of these vegetables is simply roasted with a bit of olive oil, salt and freshly ground pepper in the oven. This method of cooking showcases their simple, delectable, earthy sweetness. Once roasted, they can be eaten as is, or made into wonderful soups, purees, salads, not to mention used in bread, biscuit, scone and cake batters, pie fillings and puddings or flans.
Now is the time to look for freshly dug potatoes, sweet potatoes, turnips, parsnips, carrots, beets, rutabagas, and celery root and fall-harvested winter squash and pumpkins. Vegetables should be firm to the touch with no dark or soft spots. Leafy greens like kale, chard, dandelion, cress, collards, beet or turnip greens, spinach should be crisp and vibrant-not limp or wilted –these should be stored in the fridge and used as soon as possible. Seasonal fruits like pears and apples, if firm and free of blemishes, will keep in cold storage for a few months. Cranberries will hold in the crisper drawer of the fridge for a few weeks; freeze for longer storage.
Once you have gathered your bounty, plan your holiday menus with all of the trimmings. The following dishes, otherwise known as the fixings, are tried and true favorites at my family gatherings-this is what will be on our Thanksgiving table along with the turkey that my sister is cooking and the pies which family members are baking:
Roasted Garlic and Mashed Potatoes
Veggie Nut Loaf
Mushroom Gravy
Sauerkraut with Onions
Cornbread Stuffing with Dried Cherries and Pecans
Wilted Winter Greens
Oven-Roasted Winter Squash
Marguerite's Cranberry Orange Relish
These side dishes are perfect accompaniments to a roast turkey or goose-you can stuff either with the Cornbread Stuffing, or bake it in a dish separately. Any of these accompaniments would be delicious with baked ham, roast beef or pot roast, or for the vegetarians in your family, we always include a Savory Nut Loaf that can be sliced like a meatloaf and served with the delectable Mushroom Gravy (even the most passionate turkey eaters in our family go for the mushroom gravy over the turkey gravy, hands down!) I will post the Mushroom Gravy and my mother-in-law's Cranberry Relish since these are two essential dishes for our traditional table-there would be a rebellion if these were missing!
Wishing you and yours a Happy Thanksgiving!