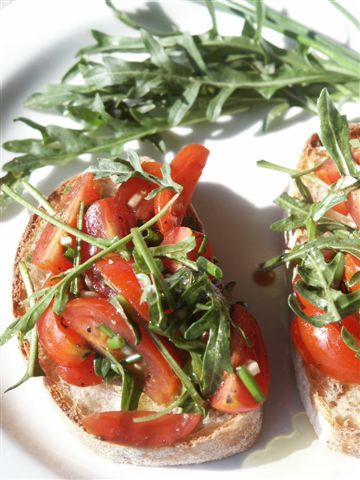 Ingredients:
1 pint cherry or pear shaped tomatoes, quartered lengthwise and halved crosswise
About 4 tablespoons olive oil
1 tablespoon balsamic vinegar
1 clove garlic, minced
2 tablespoons chopped chives, common or garlic
Salt
Freshly ground pepper
1 long baguette or 4 long rolls, about 6 to 8-inches each
1 or 2 cloves garlic, peeled
2 cups washed arugula, chopped coarse if leaves are large
3/4 to 1 cup grated mozzarella cheese, optional
Serves 4 or 8
A winning summertime combination—arugula and tomatoes—on toasted garlic bread is the perfect way to start a meal. For small appetizers you can slice the baguette into rounds. Instructions are given for preparing a larger, rustic sort of appetizer, allowing one per person. If you serve these as a main course for lunch, allow two per person.
Imported olives make a nice accompaniment. This recipe is excerpted from The Greens Book by Susan Belsinger and Carolyn Dille, Interweave Press, 1995.
Combine the tomatoes in a bowl with 2 tablespoons of the olive oil, the balsamic vinegar, the minced garlic, and chives. Salt and pepper generously and toss well.
Meanwhile, cut the baguette into 4 pieces, about 6 to 8-inches in length. Slice the baguette or the rolls in half lengthwise and place them on a baking sheet. Toast them in a 400-degree oven for about 10 minutes, turning them once. While the bread is toasting, add the arugula to the tomatoes and toss well.
Remove the toast from the oven when it is crusty on both sides and firmly rub the cut sides with a clove of garlic. Brush the cut sides with the remaining olive oil. If you are using the mozzarella, scatter it evenly over the toasted garlic bread and place under the broiler for about 2 minutes, until it just melts. Spoon the tomato and arugula mixture evenly over the baguettes, and drizzle a little of the marinade juices over all. Serve immediately.