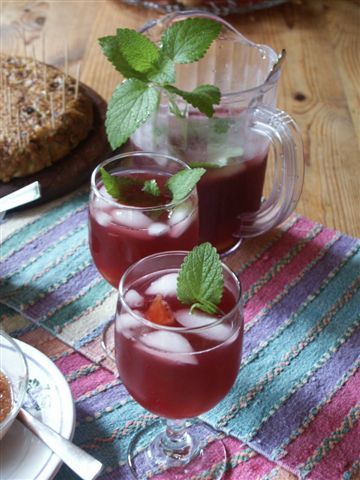 Gather your herbal bounty to make mouthwatering herb syrups that can be used in cooling cocktails or drizzled over summer fruits or shortcakes. These scrumptious flavor-packed syrups can be refrigerated to have on hand or they can be frozen so that you can enjoy them year round!
It's summertime and the living is easy. After a long hot day at work, in the garden, playing sports, or on the beach, most of us look forward to relaxing with a cool libation. I like to create recipes which combine just-picked herbs with fresh fruit, fruit juices, or even vegetable juices, to make delicious and unusual beverages, and often add liqueurs and distilled spirits to make inspired cocktails. Some are classic cocktails with herbs added to heighten their flavor, while others are inventions or concoctions from years of enjoying libations while watching the sun go down at the beach or in the backyard garden.
Sharing a cocktail before a meal is not only a great way to unwind, but it is a long-standing social practice, whether it is for a fundraiser, a celebratory occasion, or just boat drinks in the cockpit or the back porch. My personal taste tends toward clear spirits mixed with summer fruits, on the rocks or frozen, served in an appropriate glass, which might be the in-thing like a fancy martini glass for a cosmo or a half-pint mason jar for a rum punch. Most cocktails can be made without the alcohol and still make for a lovely libation. These herbal drinks lend themselves to smooth sipping, so kick back, put your feet up, whether you're on the veranda, patio, deck, tailgate, picnic blanket, lawn or beach chair, and enjoy the refreshment.
Warning: These cocktails are smooth and go down easy–do take care not to over-imbibe. You are libel for the amount of libations your guests drink.
Below is a recipe for a simple syrup flavored with herbs of your choice (this recipe is excerpted from Not Just Desserts–Sweet Herbal Recipes, which I published in 2006). Once you have made one of these, you will make many more; the fun is the creating and using of them. For instance, I make lemon balm syrup and use it in a cosmopolitan to make a 'Lemonbalmolitan' and it is also wonderful in real or mock sangria. I like bay syrup in my piña colada and mint syrup in my mojito. I also combine many of these syrups with an equal amount of sparkling water and serve them on the rocks for a refreshing natural soda. They are also wonderful on fruit salad, drizzled on ice cream, or over cake, pancakes or waffles; you will think of all sorts of ways to use them.

Herb Syrups
Herb syrups are wonderful flavor essences that can be added to beverages, as well as fruits and desserts. These syrups are designed for beverages; they are lightly sweet, but not overwhelmingly so. My favorite herbs for drinks are: bay, basil, lemon herbs, mint, orange mint and the citrus-scented geraniums.
Makes a generous 2 cups
2 cups water
1 cup sugar
About 8 to 10 herb sprigs (4 to 5-inches long) or a large handful of leaves
To make an herb syrup, combine the water and sugar in a small saucepan, place over moderate heat and bring to a boil. Add the herb leaves, cover, remove from heat and let stand for at least 30 minutes. Remove the leaves and squeeze them into the syrup to extract their flavor.
Once cooled to room temperature, refrigerate. (If you are in a hurry, sit the hot pan of syrup in an ice bath to cool it quickly). This syrup can be made ahead and kept in the refrigerator for a week to 10 days. Be sure to label, because all of the syrups sort of look alike.
If you want to keep the syrups for a long period of time, pour them into jars or bottles leaving at least an inch of headspace, place on the lid or cap, and label. We freeze them for up to one year. Remove from freezer the night before using and allow to thaw, or place the bottle in a bowl of warm (not hot) water to thaw more quickly.
Fresh Herbs to use for Syrups:
Amounts of herbs and herb flowers used will vary and depend on the flavor of each individual herb, the list below is for sprigs about 4 or 5 inches long.
Anise hyssop: 6 to 8 sprigs with flowers, or a handful of flowers
Basil: 6 to 8 sprigs of anise, cinnamon, green, or lemon basil
Bay: 10 to 12 leaves
Lavender: 10 flower spikes or 1 tablespoon flowers
Lemon balm, lemon thyme, or lemon verbena: 8 to 10 sprigs
Mint: 10 to 12 sprigs of orange mint, peppermint, or spearmint
Rosemary: 5 or 6 sprigs
Sage: 4 common sage sprigs; 6 fruit-scented or pineapple sage sprigs
Scented geraniums: 12 to 15 leaves
Tarragon or Mexican tarragon: 6 to 8 sprigs
Vanilla: 1 bean, halved and split lengthwise
Herb seeds: about 1 tablespoon bruised anise, coriander, or fennel seeds (slightly green are best)
Syrup Recipes:
Exotic Ginger Syrup with Lemon Herbs
Bay Syrup
This is one of my favorite syrups. It won First Place this year at the International Herb Symposium as the best in the Herbal Syrup/Elixir category.
While my herbs are plentiful and in season, I make lots of syrups and freeze them in canning jars, leaving a good 1-inch headspace (they expand when frozen). Simply thaw and use as needed; be sure to label the jars since they all look alike when frozen.