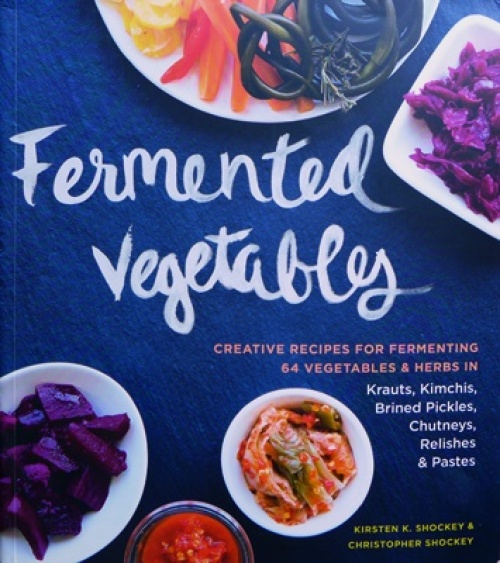 While most vegetable gardeners spend the cold-weather months daydreaming over the colorful images in seed catalogs, I have another suggestion. Spend some time looking over the mouthwatering images in Fermented Vegetables.
This beautiful book will inspire you to plant more cabbage in your garden this year.
Fermented Vegetables (Storey Publishing, 2014), by Oregon fermentistas Kirsten K. Shockey and Christopher Shockey, is an immersive experience in the age-old method of using salt to preserve vegetables. If you've never tried fermenting anything, the couple's mantra will serve you well: "Submerge in brine and all will be fine."
The book's subtitle gives readers an idea of what they'll find in the almost 400 pages packed with information, instruction and ideas. "Creative recipes for fermenting 64 vegetables and herbs in krauts, kimchis, brined pickles, chutneys, relishes and pastes." 
Because the authors are fermentation experts, they discuss the benefits of fermenting home-grown fruits, vegetables and herbs. Fermented foods are a probiotic for the diet, they help aid digestion, and they support the immune system.
But fermentation also increases the vitamins and minerals in vegetables and makes it easier for the body to absorb the nutrients. An added bonus is that vegetable gardeners can ferment the fresh produce as its harvested to enjoy at a later time – "the ultimate convenience food."
Don't worry if sauerkraut isn't your thing. Fermented Vegetables proves you can ferment practically anything you grow in your garden. Try fermenting herbs (basil, cilantro, parsley), leafy greens (chard), and fruits (apples). You can even ferment rhubarb, sweet potatoes and winter (and summer) squash.
The book covers fermentation fundamentals, the basic equipment you'll need and how to get started. I especially enjoyed the interesting profiles of other folks who have a passion for fermenting their produce. 
One of the nicest features of Fermented Vegetables is called "On the Plate." This section provides ideas for how to eat the fruits (vegetables and herbs) of fermenting for breakfast, lunch, dinner, snacks and even dessert. The Northwest Gingered Carrot Cake uses 3 cups of homemade carrot kraut.
There's even a chapter on mixing up some happy hour "crocktails." The jalapeno shots are an ingenious way to use the brine from my batch of fermented hot peppers.
Whether you've resolved to eat healthier this year, eat more vegetarian meals or waste less food from the garden, Fermented Vegetables will help you stay on track.
(Storey Publishing provided a copy of Fermented Vegetables for this review. As always, opinions are my own.)