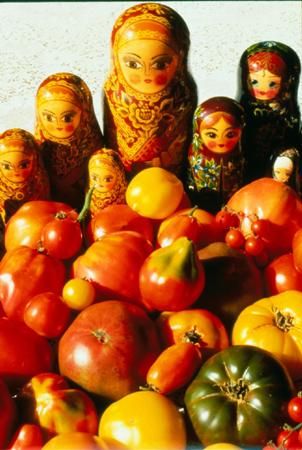 It's all in the family.
Every year we compile an annual Yearbook – a book of over 13,000 heirloom varieties made available for exchange, by and among, Seed Savers Exchange members. The 2010 Yearbook is also available online as an added benefit of membership.
The Yearbook is the "exchange" part of Seed Savers Exchange. It is where seeds that have been handed down from generation to generation are distributed by members. And many of those family heirlooms bear the names of people near and dear to us; Grandma Brown's Bean, Uncle Charlie's Giant Italian Pear, Aunt Swarlo's Polish Plum and, of course, Grandpa Ott's Morning Glory – one of the two seed varieties that gave rise to Seed Savers Exchange in 1975.
Our Listed Members save seeds because they know that the tastes and textures of heirlooms are unrivaled by hybrids; they know that replanting saved seeds is the most affordable way to garden; they know that growing rare and endangered heirloom seeds helps maintain plant diversity; and they know that seeds grown in a certain region for decades may have adapted to weather and soil conditions, as well as acquired tolerance to diseases or pests.
And they know that exchanging seeds is another way to pass on memories, knowledge and traditions that have been kept for generations within a family. Sharing and exchanging these seeds allows members to ensure that their beloved seeds do not become extinct.
The Seed Savers 2010 Yearbook is all about keeping that grand tradition alive. We challenge you to adopt at least one of the following:

Grandpa's Minnesota Hardy Cherry Tomato
Grandpa Admire's Lettuce
Grandpa Charlie Tomato
Grandpa Ludolph German Tomato
Grandpa Willie Tomato
Grandpa's Bean
Grandpa's Cock's Plume Tomato
Grandpa's Home Pepper
Grandpa's Minnesota Tomato
Grandpa Achor's Potato Onion
Grandfather Ashlock Tomato
Grandfather Barnini's Oxheart Tomato
Grandma Glady's Yellow Belgian Tomato
Grandma Baker's Tomato
Grandma Brown's Bean
Grandma Dalton's Yellow Pole Bean
Grandma Featherston Six Week Bean
Grandma Freida's Tomato
Grandma Glady's Belgian Tomato
Grandma Greuel's Crabapple
Grandma Josie Tomato
Grandma Mary's Tomato
Grandma Nellie Chernoff's Yellow Mushroom Bean
Grandma Nespeca's Bean
Grandma Oliver's Green Tomato
Grandma Pfeifer Winter Onion
Grandma Storrt's Speckled Lima
Grandma Turck's Swirl Pole Bean
Grandma Turner's Bean
Grandma Vadas' Onion
Grandma Viney's Yellow And Pink Tomato
Grandma Walker Bean
Aunt Ada's Italian Bean
Aunt Amelia Lima Bean
Aunt Anna Tomato
Aunt Astrida's Latvian Oxheart Tomato
Aunt Ginny's Orange Tomato
Aunt Ginny's Purple Tomato
Aunt Katherine's Bean
Aunt Lou's Underground Railroad Tomato
Aunt Lucy Apple
Aunt Madge's Tomato
Aunt Mary's Sweet Corn
Aunt Molly's Ground Cherry
Aunt Ruby's German Green Tomato
Aunt Swarlo's Polish Plum Tomato
Aunt Swarlo's Red Currant Tomato
Aunt Medge's Cherry Tomato
Uncle Walt's, Vermont Pole Cranberry Bean
Uncle Don's White Tomato
Uncle Blaine's Pink Beef Tomato
Uncle Charlie's Giant Italian Pear Tomato
Uncle David's Dakota Dessert Squash
Uncle E Muskmelon
Uncle Ike's Big Red Tomato
Uncle Leon's Bean
Uncle Mark Bagby's Tomato
Uncle Mart's Oxheart Tomato
Uncle Steve's Italian Pole Bean
Uncle Steve's Oxheart Tomato
Uncle Stevie Tomato