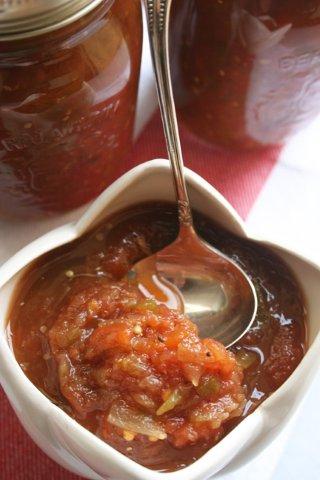 Ingredients:
Makes: 18 cups (3-1/2 L)
16 cups (4 L) skinned, seeded, chopped paste tomatoes and their juices (10 lb/5 kg, about 38 tomatoes)
8 large onions, chopped
5 red bell peppers, chopped
4 stalks celery, chopped
1/4 chopped apple
2 cups (500 mL) white wine vinegar
1 cup (250 mL) granulated sugar
1 cup (250 mL) lightly packed brown sugar
3 tbsp (45 mL) salt
1 tbsp (15 mL) whole mustard seeds, crushed
1-1/2 tsp (7 mL) ground cinnamon
1 tsp (5 mL) ground cloves
1/2 tsp (2 mL) ground ginger
pinch chili powder, or to taste
Growing up in Sutton Ontario on Lake Simcoe in the 1960's, my husband, Gary McLaughlin experienced what can only be described as an idyllic childhood. Summers in, on and about the lake; winters playing ice hockey or snowmobiling next to open water on the lake; living in the family home built by great grandfather Martin McLaughlin on the river leading to the lake; and the luxury of extended family close-by…these were the simple pleasures for the first years of his life. And one of his earliest memories is of the large vegetable garden tended by his aunt Ruth and uncle Keith Dunn, who lived 2 streets over, not far from the fairgrounds. Like many families in those days, especially the lucky ones with land, the Dunns filled their pantry with preserves and canned fruits and vegetables.
Ruth's daughters, Darla and Jane still live in and around Sutton and both remember the rituals of the garden especially summer and fall canning. Gary loved his aunt Ruth's Chili Sauce and when I started on this book, Darla took out her mother's recipe box and dictated this recipe from her mother's hand. The 'recipe' was just a list of ingredients and who knows where it originated, but Ruth made dozens of pint jars every fall and if you were lucky, you got one to cherish.
I tried to remain true to the original recipe, so I only made changes that bring the recipe in line with the style in this book. Gary tells me that he thinks my chili is identical to the one he remembers from his youth. Hard to go wrong with a time-tested original. If you like your chili sauce with some heat, add fresh or dried hot cayenne pepper (crushed or chopped) or hot sauce to taste.
1. In a Maslin pan or canning kettle, combine tomatoes, onions, peppers, celery, vinegar, granulated and brown sugar, salt and mustard seeds. Bring to a boil over high heat, stirring constantly. Reduce heat and boil gently, stirring occasionally for 1-1/2 hours until sauce begins to thicken. Add cinnamon, cloves, ginger and chili powder. Boil gently, stirring frequently for about 30 minutes, or until thickened and sauce begins to mound on a spoon.
2. Meanwhile, heat 9 1-pint (2 cup/500 mL) jars in boiling water and scald the lids, lifter, funnel and tongs.
3. Fill hot jars, leaving a 1/2-inch (1 cm) headspace. Run a thin nonmetallic utensil around the inside of the jar to allow air to escape. Add more hot chili if necessary, to leave a 1/2-inch (1 cm) headspace. Wipe rims, top with flat lids and screw on metal rings. Return jars to the hot water bath, topping up with hot water if necessary. Bring to a full rolling boil and process jars for 20 minutes.
4. Remove canner lid and wait 5 minutes before removing jars to a towel or rack to cool completely. Check seals, label and store in a cool place for up to 1 year.
Use: Homemade chili sauce complements eggs any style and bacon or sausage meats like no other condiment. I especially like to have a pint on hand for the one or two occasions when we serve a huge country breakfast to guests who have come out from the city for the weekend. Nothing communicates the simple country pleasures like the first meal of the day cooked in cast iron skillets and grills, over a wood stove. If you get beyond breakfast, this heritage chili sauce also tops meatloaf and lends the hint of cinnamon and spice to skillet dinners and roast beef or chicken at Sunday dinners.