Today's photos are from Gwen Chance in southeast Kansas. She says, "I started gardening in 1990 with a few day lilies around a tree and then in 1999 I got serious about it.
"In 1999 the guys in my family (two boys and husband) built the arbor. My youngest son Dustin designed it and they built it together. Having the structure helped me focus on building a garden around it. Then in 2002-2003 Dustin designed and built the little garden shed in his spare time so I would have somewhere to store tools, etc. Of course, that called for more gardens!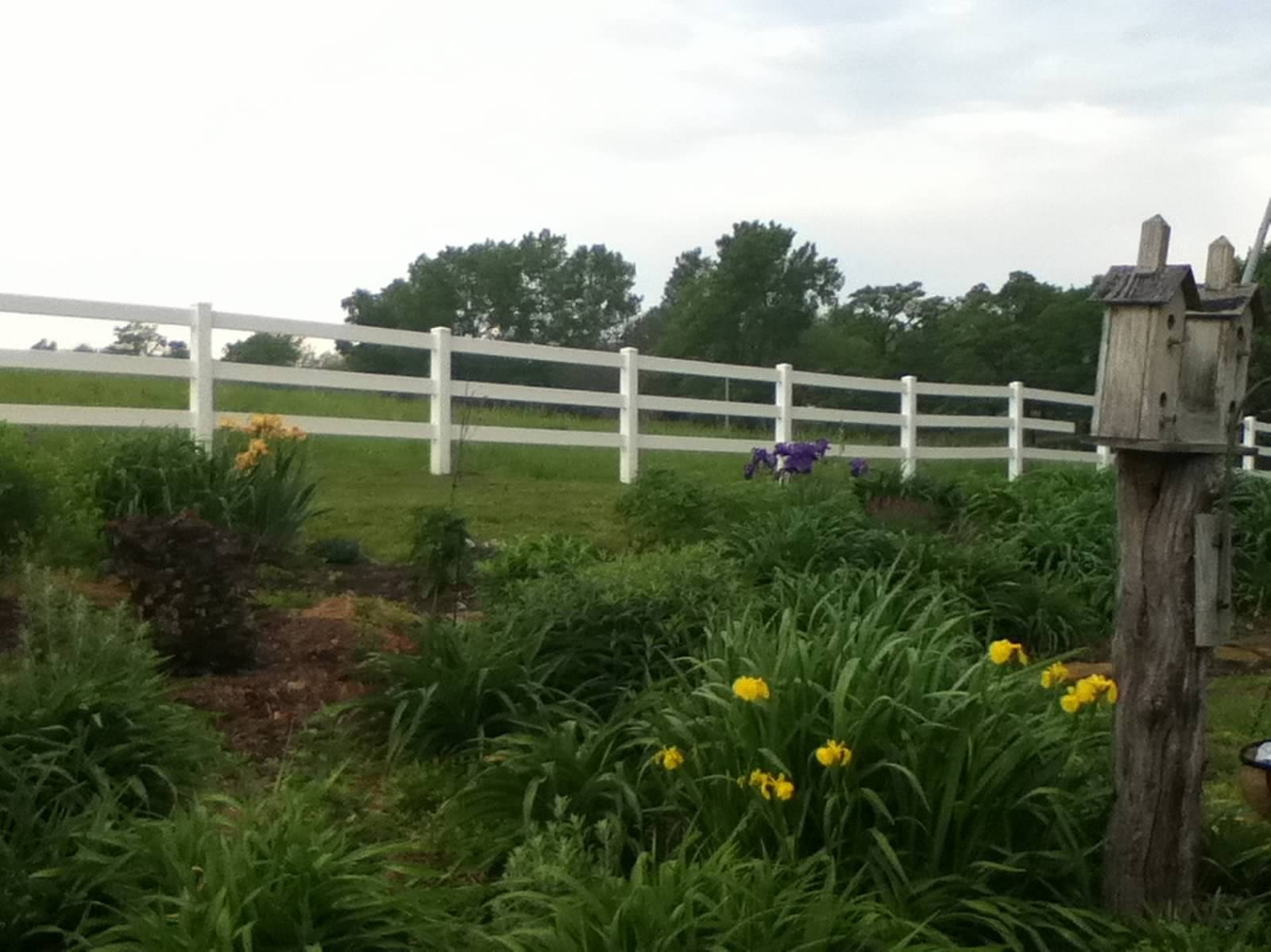 "I have peonies, irises, bee balms, hostas, oakleaf hydrangas, and around 125 different varities of dayliles, along with some annuals. When I run out of room I just move the rock edge out more and make a little more room for my new plant. I also have around 30 containers and hanging baskets that I fill each spring with annuals.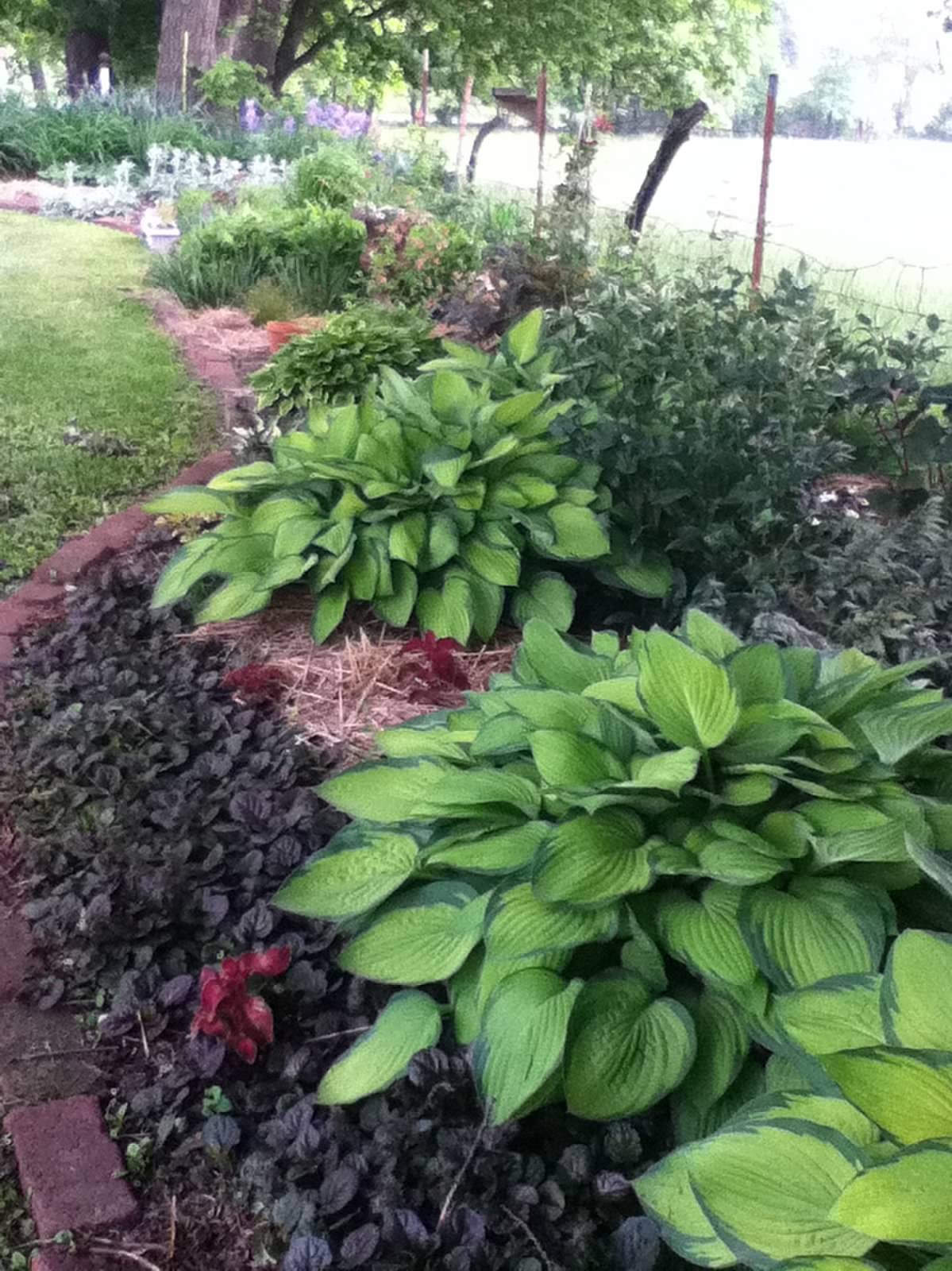 "The summer of 2003 Dustin (age 27) was killed in an automobile accident. He did not have the shed completely finished so my other son, Brent, and my husband finished the shed. I now have a garden around the shed in memory of Dustin. The garden has been a healing place for me and I spend many, many hours there.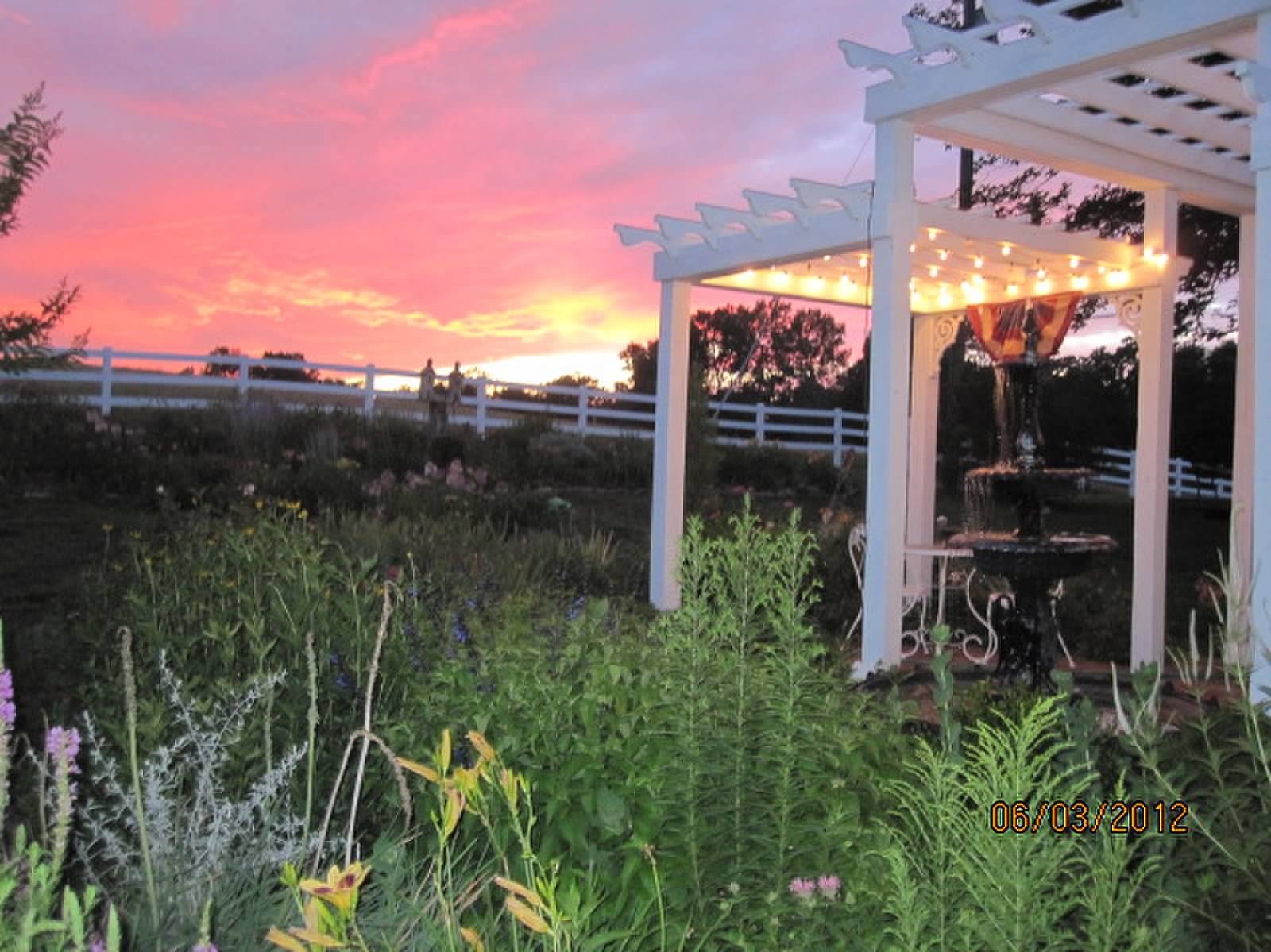 "Our summers are hot and sometimes dry so my dad, who owns the land next to mine, helped us put in a buried line from the pond and we hooked up a small pump which is how I water my garden. My dream would be to have an irrigation system (instead of watering by hand) so I could water my whole garden with the pond water. I mostly fertilize with composted leaves and manure from my friend's and my dad's farm.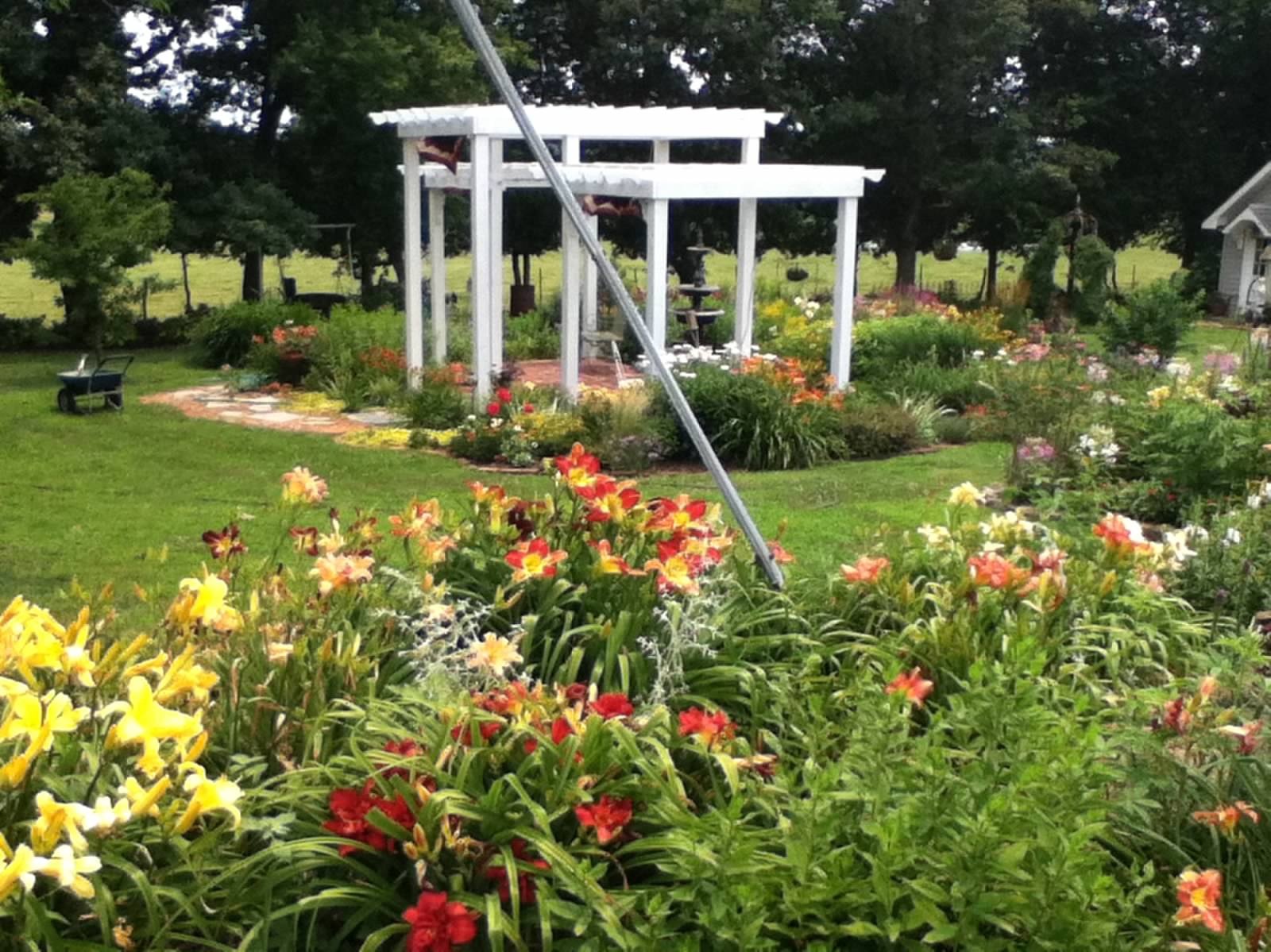 "One of my favorite things to do is visit botanical gardens in different states and to stop along the way at garden centers. I have been known to even bring a new plant home sitting between my feet in the front seat! My husband just shakes his head."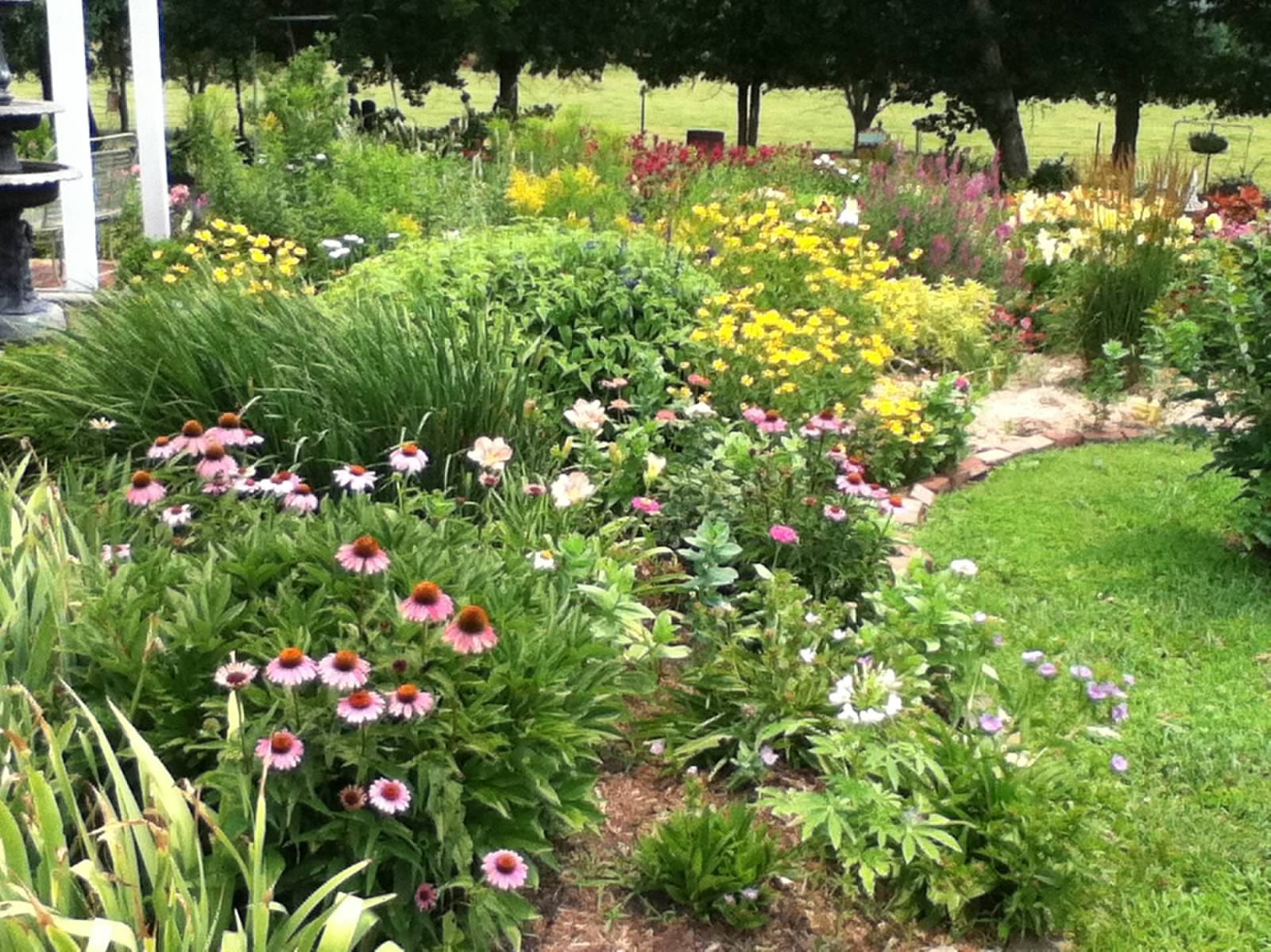 Both the arbor and the shed are wonderful, Gwen, and I love all your daylilies. Dustin's garden is a fine tribute. It's lovely. That sunset–wow! ***Want to see more gardens in Kansas? Click HERE.***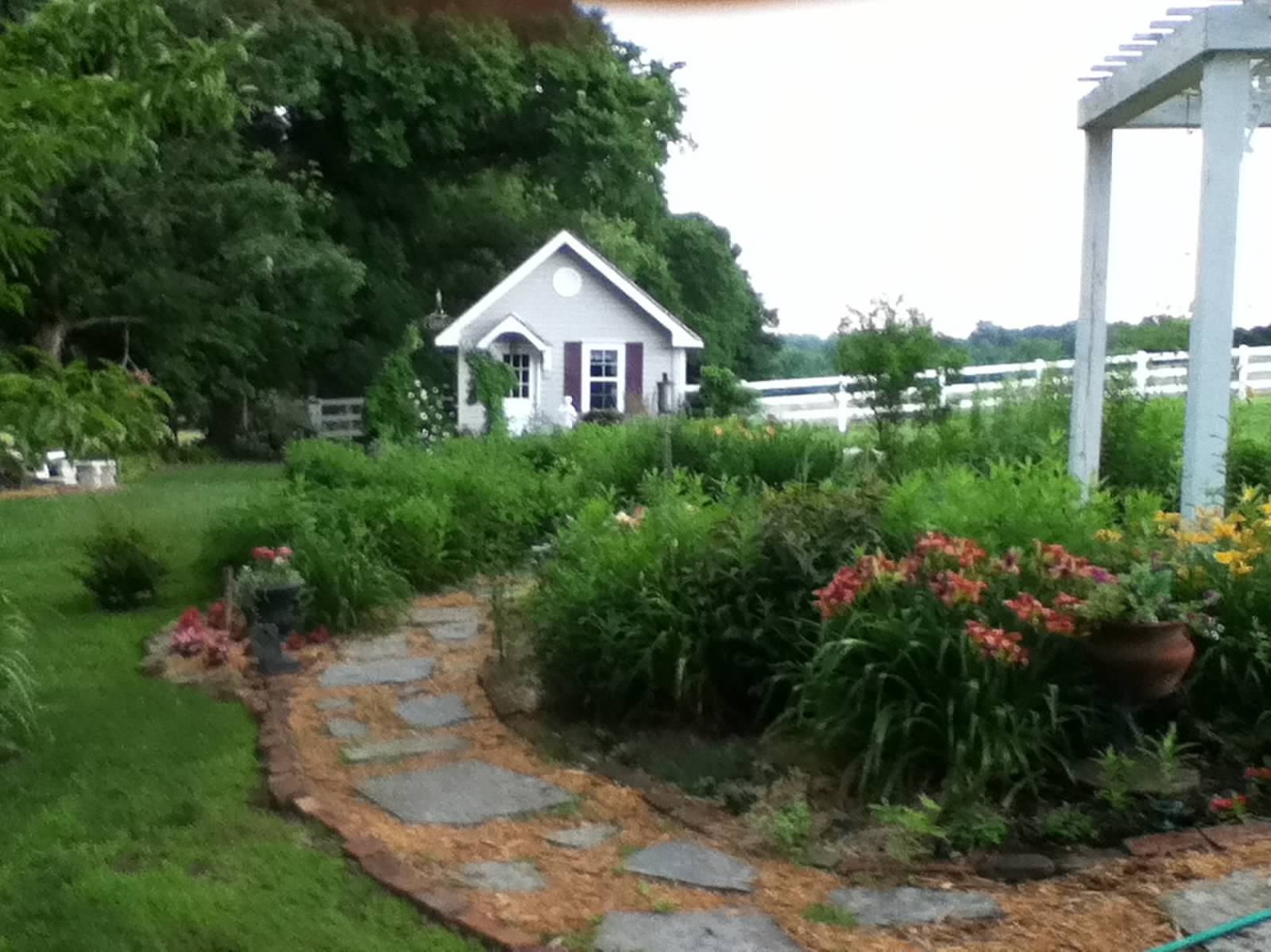 ****Tell us your garden story…. Email me at [email protected]. Thanks! ****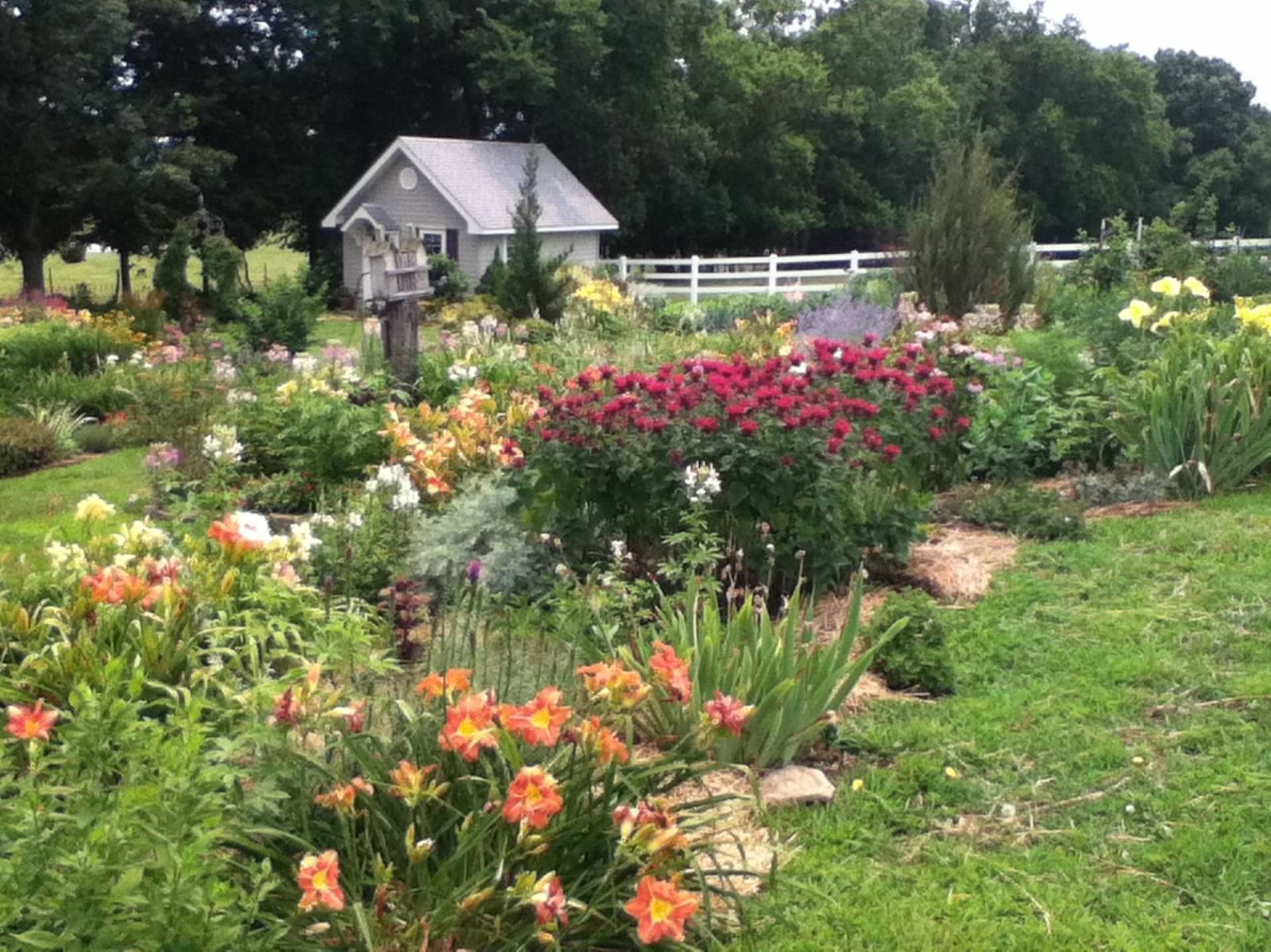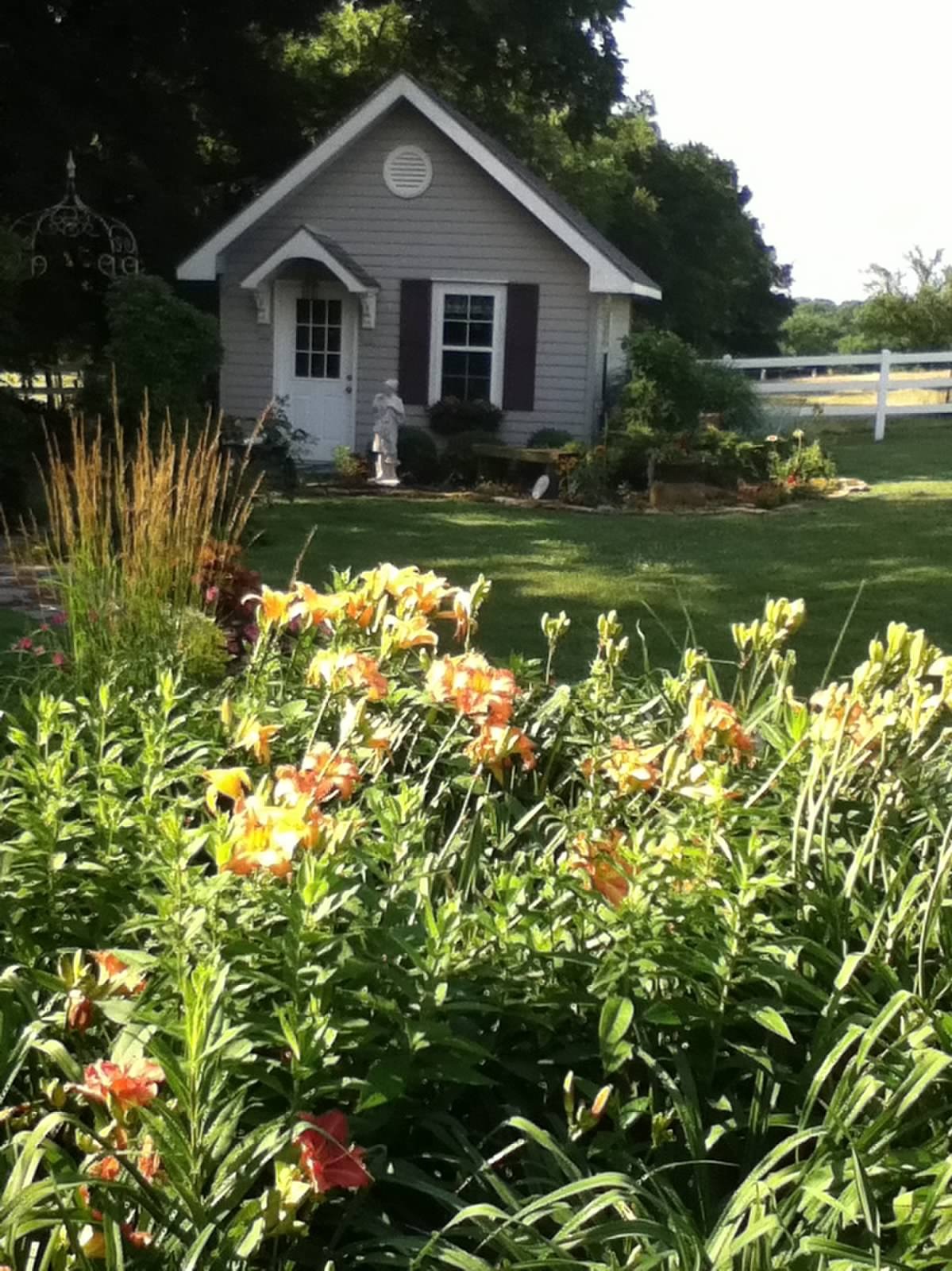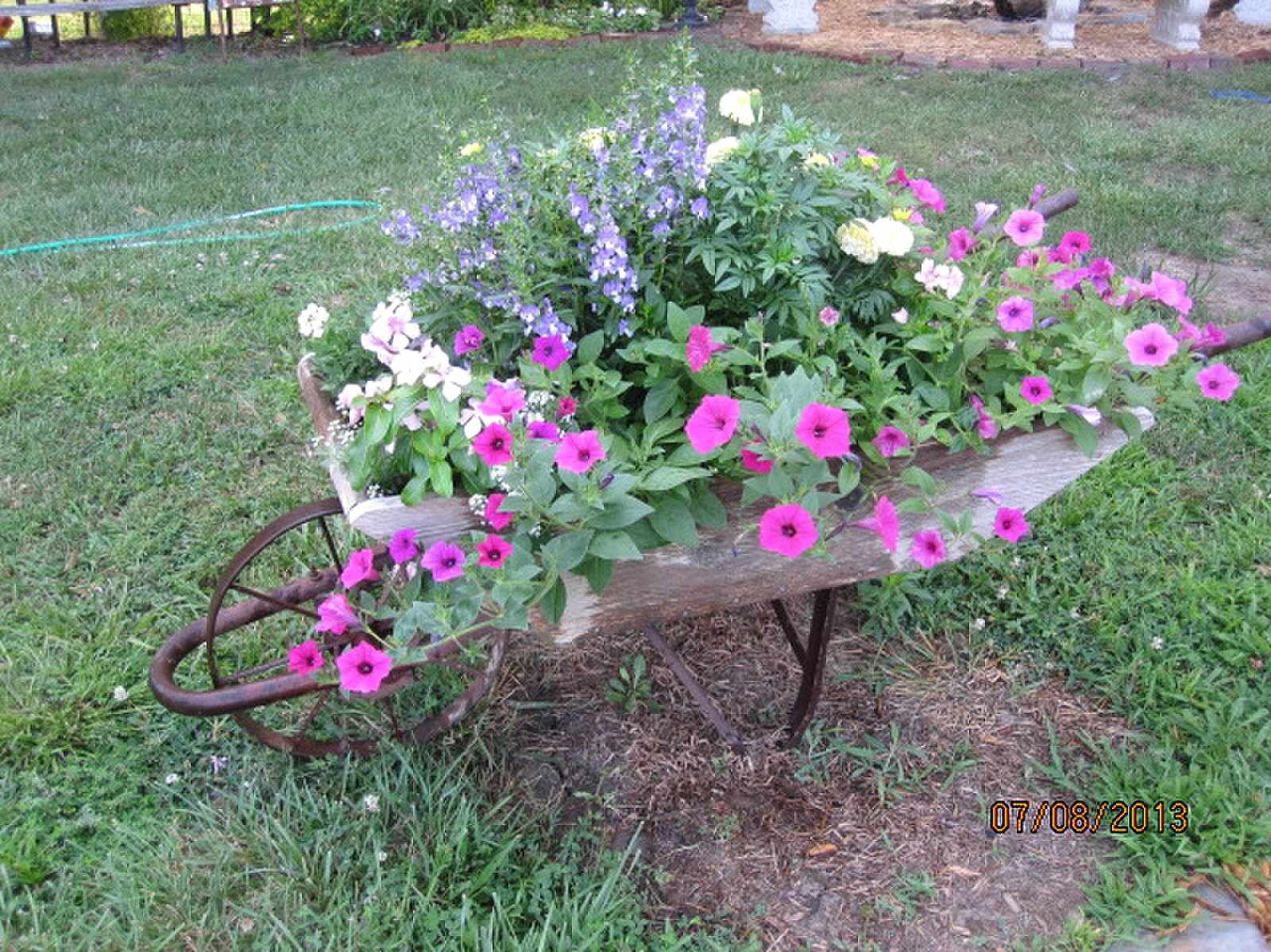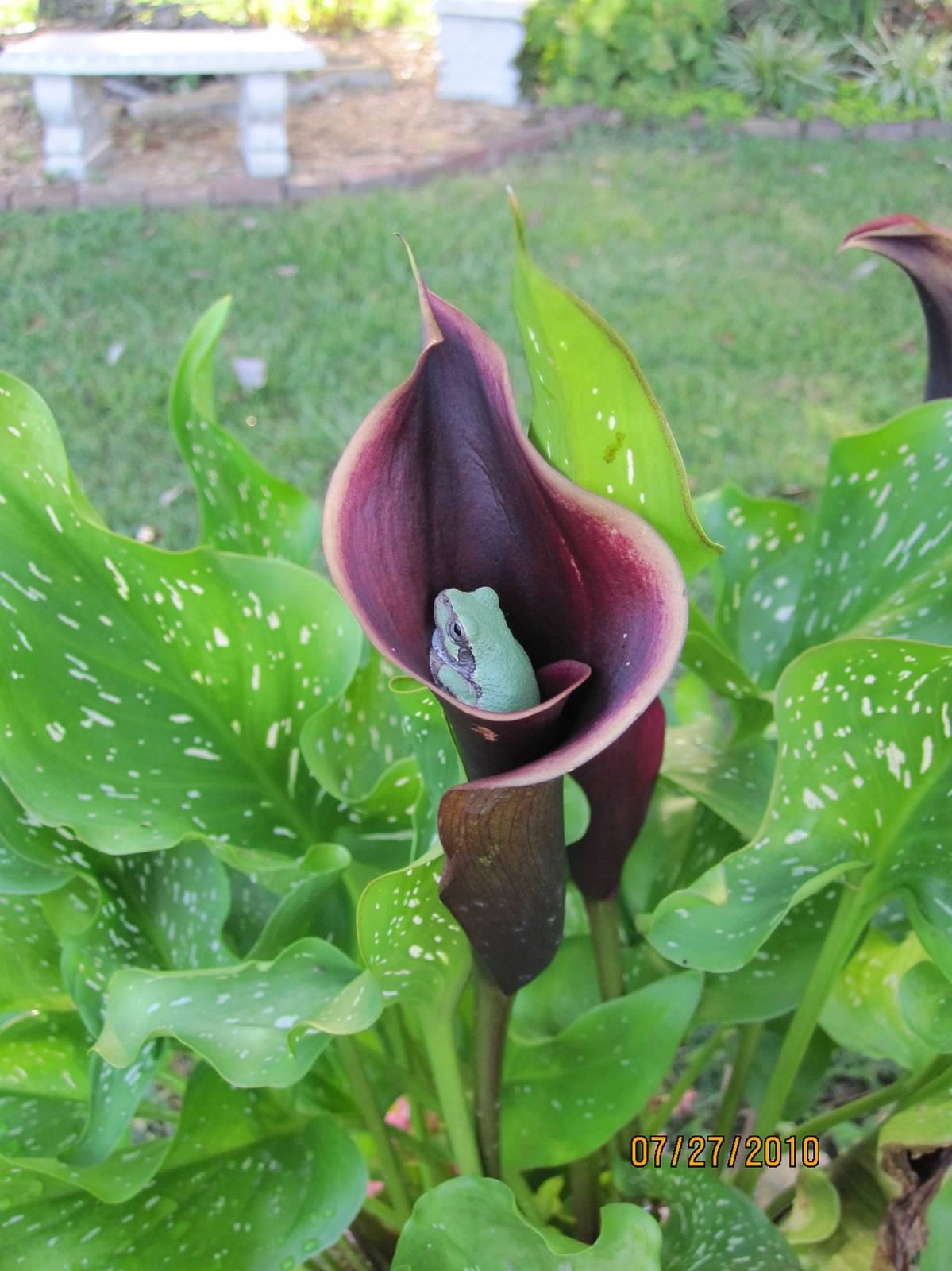 Want us to feature YOUR garden in the Garden Photo of the Day? CLICK HERE!
Want to see every post ever published? CLICK HERE!
Want to search the GPOD by STATE? CLICK HERE!
Check out the GPOD Pinterest page! CLICK HERE!