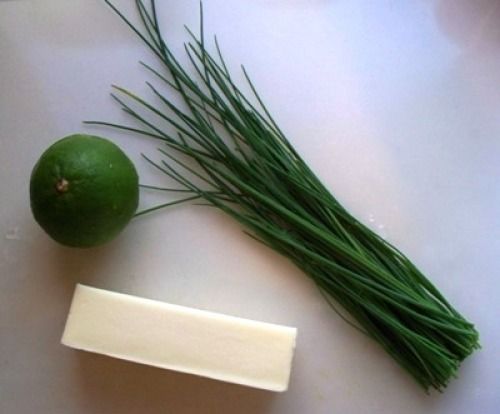 Why can't all the herbs I grow be as dependable as the little container of chives that sits on my patio?
Even before spring has sprung, these chives help make those last days of winter bearable. Their attractive purple blossoms are the first flowers to bloom and give me hope that summer is on its way.
Then, after I've used most of the leaves and flowers in summer salads and other delicious dishes, I cut them to within an inch of their lives and sit back to watch the leaves regrow. And grow again.
The newest harvest of tender chives were clipped, washed, snipped and mixed into a dish of butter to create a recipe I used as a topping for just about anything I could get my hands on. I spread the chive butter on fish filets before grilling, buttered roasted corn-on-the-cob, and mixed it in with garden-fresh steamed vegetables. It can also be used to scramble eggs, spread on toasted rolls, or top meats before baking.
This recipe for chive butter takes less than 10 minutes to make, from first snip to last stir.
Chive butter
Ingredients
1 stick (1/2 cup) softened butter
4 tablespoons fresh chives, snipped
1 Tablespoon fresh lime juice
1/4 teaspoon sea salt
1/8 teaspoon black pepper, freshly ground
1/2 to 1 teaspoon garlic, finely minced (optional)
Instructions
Use scissors to snip the chives into small pieces of similar size.
Cream the snipped chives into the softened butter.
Add the lime juice and mix until well blended.
Sprinkle with salt and pepper, mix together.
Add minced garlic, if desired, and mix well.
The butter will keep in the refrigerator for a week if stored in a small, covered container. It can also be rolled into a log, wrapped in plastic wrap or waxed paper and stored in the freezer to use in small batches when needed.