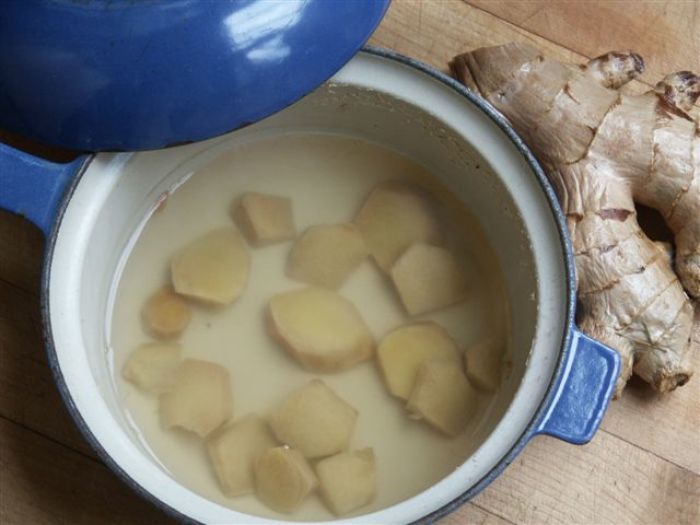 Ingredients:
4 cups water
7 to 8-inch piece ginger root, peeled and cut into 'coins' (about 2 cups)
2 cups raw, organic sugar
1/2 vanilla bean, split lengthwise
1/2 lime or lemon, sliced; sometimes I use just the zest
Handful of fresh lemon verbena, lemon basil, or lemon balm leaves, optional
This syrup is warming and stimulating and very good for a sore throat, cold, or flu. It is delicious stirred into tea, mixed with lemonade or with other juices to make a fruit punch, tossed with fruit salad, and drizzled over pancakes, waffles, or ice cream. The lemon herbs are optional; however I use them whenever I can add them fresh since they add a subtle yet delightful lemon-sweet bouquet.
The syrup makes an exceptional homemade ginger ale; just fill a glass partway with ice, then add ginger syrup to halfway and top off the other half with sparkling water, stir, and enjoy.
If you add a shot of dark rum and a wedge of lime, you'll have a delightful libation that I call a 'Humdinger Rum Zinger'!
Just in: This syrup won First Place in the Best Syrup or Elixir category at the 2009 International Herb Symposium!
Makes about 4 cups
To make this herb syrup, the ginger root must be decocted first. Put the water in a small saucepan, place over moderate heat, and bring to a boil. Add the ginger coins and vanilla bean, reduce heat, and simmer gently for about 20 minutes. Stir the sugar into to dissolve it, add the lime or lemon and the lemon herbs, cover and let stand for least 30 minutes, or until room temperature.
Once cooled to room temperature, strain, and refrigerate. (If you are in a hurry, sit the hot pan of syrup in an ice bath to cool it quickly). This syrup can be made ahead and kept in the refrigerator for a week to 10 days. Be sure to label, because different syrups look alike. Store for up to a year in the freezer (be sure to leave at least 1-inch headspace in the jar or container).
More reading
Herbal Libations: Ideas for Herbal Cocktails and Herbal Syrups