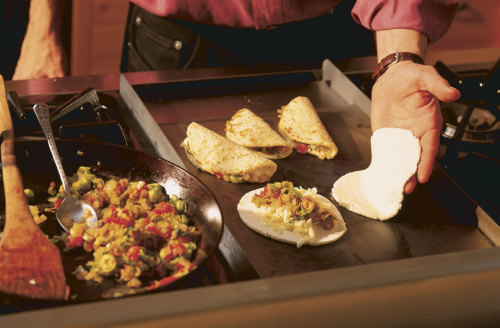 Ingredients:
1-3/4 cups masa harina mixed with 1 cup plus 2 Tbs. hot water
2 cups (about 8 oz.) shredded Mexican Chihuahua cheese or melting cheese like Monterey Jack
Stewed squash blossom filling (see link below)
About 1 cup salsa
Makes 12 quesadillas, serving 4 to 6
Cut two squares of medium-heavy plastic—you can use a ziplock freezer bag—to cover the plates of your tortilla press. After mixing the masa harina with water, let the dough stand, covered with plastic wrap, for 30 min. If necessary, knead a few drops more water into the masa to give it the consistency of a soft cookie dough, then roll it into 12 balls. Cover with plastic wrap. Divide the cheese into 12 equal portions and cover with plastic wrap.
Turn on the oven to the lowest setting. Heat a large griddle or heavy skillet over medium heat. Use the tortilla press to flatten the dough balls, one by one, between the sheets of plastic to a 5-in. circle. Peel off the top sheet, then flip the uncovered side of the tortilla onto your hand (the top of the tortilla should align with your index finger, and fingers should be slightly spread to give support). Carefully peel off the plastic, then, with a gentle, swift motion, lay the tortilla on the hot griddle.
Evenly sprinkle on a portion of cheese, leaving a 1⁄2-in. border all around so cheese doesn't run out onto the griddle. Spoon a heaping tablespoon of squash blossom filling down the center. When the tortilla comes free from the griddle (in about 20 seconds), use a spatula to fold the tortilla in half, and gently press the edges together, more or less sealing them. Move the quesadilla to the side to continue baking as you begin the next one.
Continue making and folding quesadillas, letting them bake on the griddle until crisp and nicely browned (the masa on the inside will still be a little soft), 2 or 3 min. in all. Keep finished quesadillas warm on a baking pan in the oven. When all are made, serve them on a warm platter along with salsa.
Recipe by Rick Bayless
April 1998
from issue #14