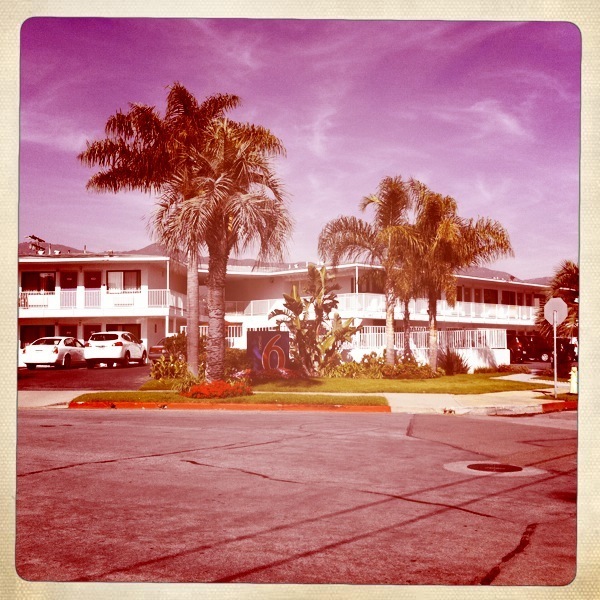 Last time I posted here, I spilled the beans regarding all the green and not-so-green options for Christmas trees. So I thought it might be a good idea to forge ahead with an idea for a gift to put under the tree for the garden lover in your life. No, you can't dig holes and plant bulbs with it, but you can make some magical moments when you combine a new iPhone with the hippest photography app on the planet.
I saw my first Hipstamatic image a couple of years ago, posted at a Flickr page for aficionados. The image that caught my eye was a fairly mundane composition – the exterior of a 1930s era office building. But it looked like someone had dug it out of an old shoebox in the attic: grainy, tired colors, and lighting irregularities that gave it a dreamy feeling.
To my delight, I found out that Hipstamatic is an app created for iPhones, and for $1.99, I thought I'd splurge. (Biff the Wonder Spaniel can go a day without a rawhide chew.)
Hipstamatic is photo enhancement software that digitally simulates different types of lenses, films, and flashes to create an almost endless array of sometimes hauntingly unpredictable effects. Launch the app and you'll see what appears to be an old pocket camera, complete with textured, matte black case, a small view window, and a big yellow button that triggers the shutter.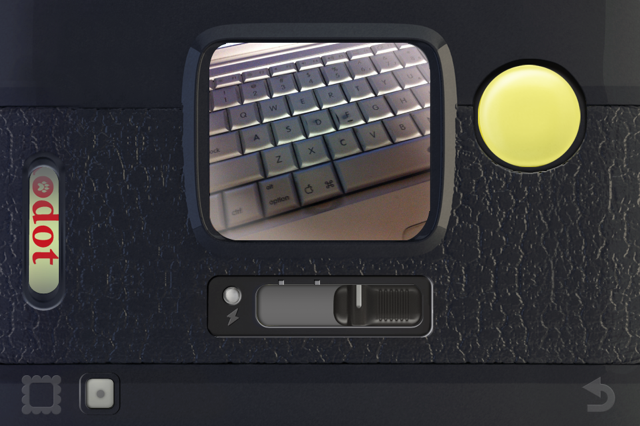 As soon as my download was complete, I immersed myself in all its features. But it wasn't until I snapped this image of the already-otherworldly pond at Ganna Walska Lotusland's Aloe Garden that I fell under Hipstamatic's spell.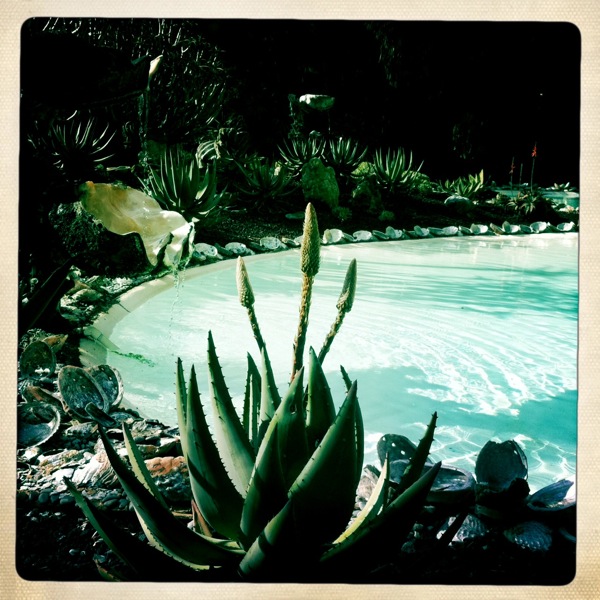 A friend commented that the water looked like David Hockney had painted it. The blacks in the background became dark and foreboding, and the foreground aloe loomed ominously. This was gonna be fun!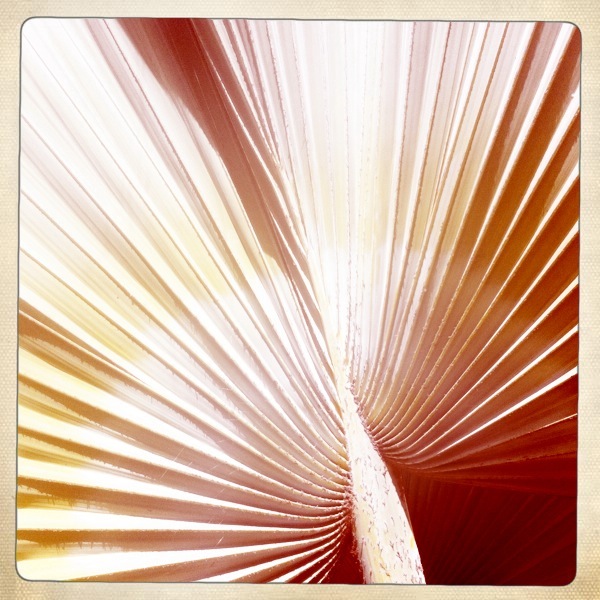 I'm nuts about how certain films wash out light colors while saturating others. The shot above is a client's front yard, planted with Mexican feather grass (it's invasive – I don't use it anymore), an already yellowish plant. The app pushes the golden tones over the edge, while deepening the sky and the drama of the composition.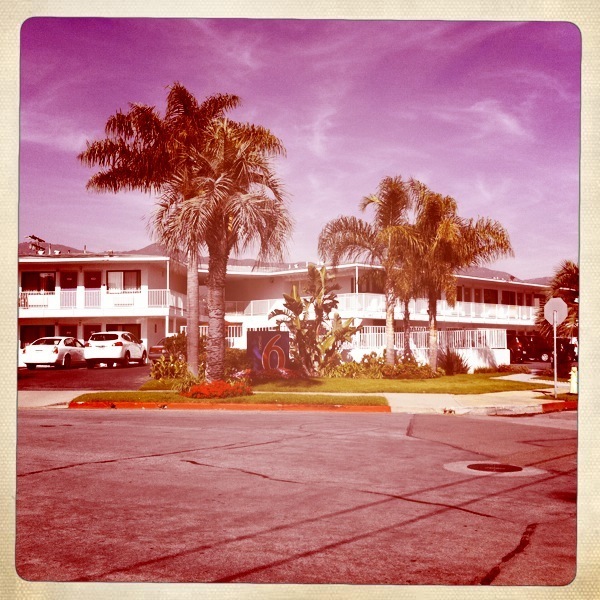 Recently, at my Edhat.com blog, I wrote about cool landscaping around local motels – the ones that treat visitors to a decidedly SoCal landscape experience. The original Motel 6 occupies a prominent corner in Santa Barbara's East Beach neighborhood. To give it a 1960s vintage look, I snapped this iconic vignette featuring softly waving queen palms, giant bird of paradise, and a puff of geraniums in the parkway. (Now if I could just find an app that makes the cars regress.)
Close-ups can be pretty trippy, as this in-your-frond palm tree picture attests. Crisp edges and bright highlights warm with a sepia wash.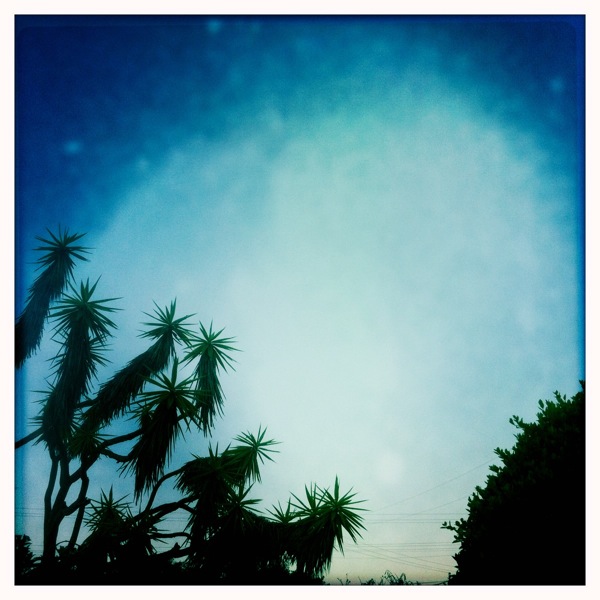 I like going abstract, silhouetting my neighbor's disheveled yuccas against what was a crisp, clear blue sky. Looks sorta like a super nova is about to consume this corner of the galaxy.1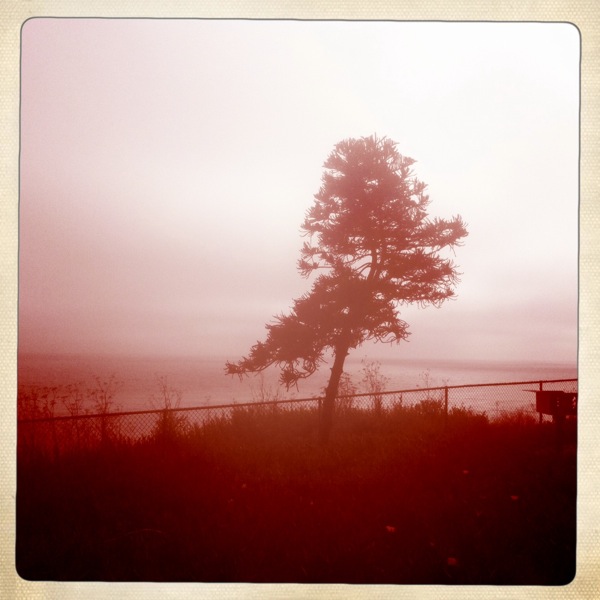 My first love in plants is bonsai, so when I spied this Japanesque-style Norfolk Island Pine on an already foggy late afternoon, I whipped out my camera. I take no credit for the graceful sweep of this tree's form, and I thank my iPhone for transforming it into an understated, stark stanza of visual poetry.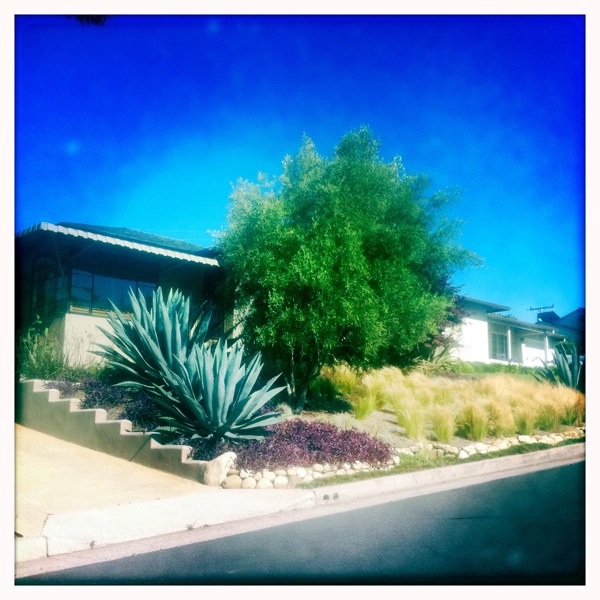 But Hipstamatic isn't only about creating enigmatic, restrained effects, as this lusciously bright Agave attenuata illustrates. In the real world (not Hipstamatic's parallel universe), there's a tinge of yellow-green underlying the surface of the leaves, but it really comes to life when the right combination of lense and film are employed.
Hipstamatic makes it easy to share images. With one click, you can link to e-mail, Facebook, Twitter, Tumbler, Flickr, or Facebook. You can wow your friends with your artistic prowess and give your garden a new look without getting a spec of loam lodged under your nails. I know it's made me very popular with my friends. Just look how happy they are!