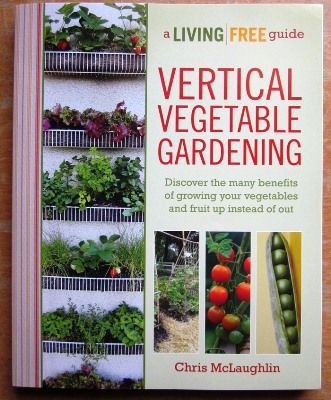 "Vertical Vegetable Gardening" is a Living Free Guide (Alpha Books, 2012) that adds to the body of creative ideas for using every square inch of gardening space. Chris McLaughlin, author of three gardening books and a contributing editor to VegetableGardener.com, has gleaned ideas from gardeners across the country for the best ways to grow vegetables vertically.
This user-friendly, how-to guide is organized into four parts that make it easy to find the information you need. While beginning gardeners may want to delve into The Basics: Soil and Seed, experienced gardeners might turn to the specific recommendations listed in Vegetables and Fruit that Enjoy Growing Up.
Surely everyone will enjoy thumbing through the pages to see some of the ingenious inventions that help with this space-saving gardening. Interesting ideas include growing vegetables in house-gutter hanging gardens, tri-level plant stands, sandwich-board A-frames, assorted trellises and the tipsy-looking terra cotta tower.
Illustrations or black and white photos accompany the instructions for building or assembling each structure. Many of the pictures were contributed by gardeners who have had success with their own vertical growing efforts.
Chris starts her book by building the case for vertical gardening. The top benefits include "less work, less weeding, fewer pests, less time, less money and more produce." By the time you've finished reading her book, you'll wonder why you haven't been gardening vertically all along.
The chapter on Creative Repurposing is sure to give gardeners ideas for ways to reuse old spice racks, shoe bags, buckets, feed bags and ladders as planters.
Chris has all the bases covered for good growing practices including organic pest control, common vegetable pests and the least-toxic pest controls.
For those who have always wanted to grow vertical fruit, Chapter 12 provides all the details for pruning fruit trees using the art form of espalier. Apple, pear, peach, apricot and nectarine trees can be trained to grow into specific shapes.
The extras or sidebars that Chris has sprinkled throughout the book highlight information that's especially helpful. "Good to Know" tips offer advice and food for thought; "Best Bets" are the best practices that have worked for other gardeners. "Downer" extras signal potential problems to keep in mind, so "you're not caught with your plants down."
 [The publisher provided a complimentary review copy of Vertical Vegetable Gardening.]