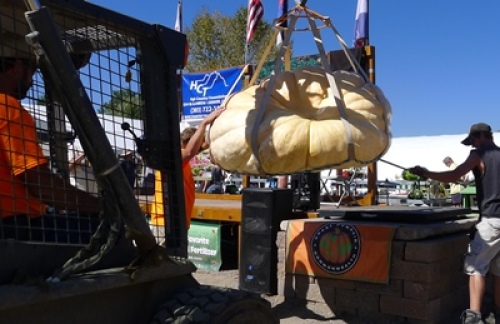 Today's giant pumpkin growers follow in the footsteps of a long line of growers who tried to wow their friends with pumpkins that weighed over 200 pounds.

With pumpkins these days weighing in at over 2000 pounds, those old farmers wouldn't believe how far the sport has come since the mid-1800s.
In those days, growers worked to grow big pumpkins with some success. But it wasn't until 1893 when Canadian gardener William Warnock took a 365-pound pumpkin to the Chicago World's Fair.
The record-setting pumpkin he transported to Chicago was no ordinary pumpkin. And this was no ordinary fair. Officially known as the World's Fair: Columbian Exposition, this extravaganza celebrated the 400th anniversary of Christopher Columbus landing in the New World. It was a once-in-a lifetime event, the grandest fair the world had ever seen.
The exposition lasted six months and drew more than 25 million visitors. People mortgaged their homes to raise money to travel to Chicago and spend a week or two touring the many palatial buildings and viewing millions of exhibits from around the globe.
It's unclear where Warnock exhibited his 365-pound pumpkin. It could've been in the Canadian exhibit hall, said to be the largest space given to any foreign country at the exposition. Or perhaps it was displayed in the Horticultural Building, which featured a center pavilion with a glass dome tall enough to accommodate full-size palm and bamboo trees. 
Warnock kept setting giant pumpkin records at other world's fairs and finally broke the 400-pound mark around 1903.
But it took more than 70 years for another grower to unseat that heavyweight. In 1980, an amateur seed breeder in Nova Scotia cracked the code and changed the world of giant pumpkin growing forever.
Inspired by the big pumpkins his father entered in local agricultural fairs, Howard Dill worked to develop a giant pumpkin, and he succeeded with a 459-pound monster. Ever since then, growers planting 'Dill's Atlantic Giant' seeds or Atlantic crosses have set giant pumpkin records that now top more than 2,000 pounds.
So, what's your goal for a giant pumpkin this season?