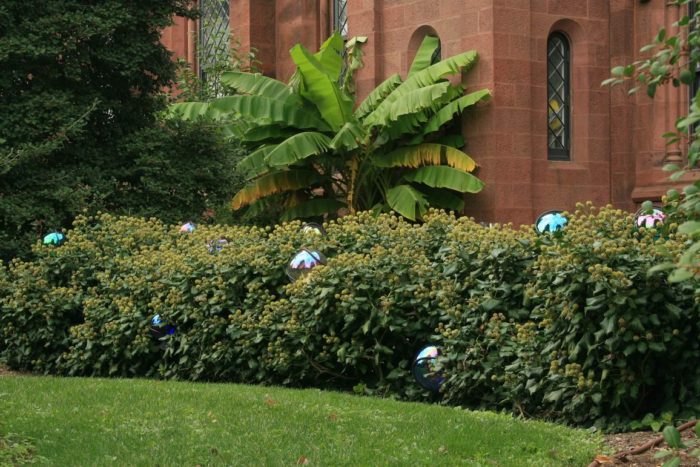 Some gardeners think that gazing balls are tacky. I tend to think it depends on the base you put it on (or not at all.) At the Enid A. Haupt Garden of the Smithsonian Institute in Washington, D.C., they've made gazing balls clever, intriguing, and whimsical by floating them amongst the foliage of a shrub border. To make gazing balls current and cool in your garden, you could nestle them base-free into a plant combo that picks up on the colors of the ball, make one a central feature in a container planting, or scatter a few on a lesser-traveled lawn.
Welcome to the Fine Gardening GARDEN PHOTO OF THE DAY blog! Every weekday we post a new photo of a great garden, a spectacular plant, a stunning plant combination, or any number of other subjects. Think of it as your morning jolt of green.
Sign up to get new posts delivered to your inbox each morning so you'll always remember to take a look, or subscribe to our RSS feed. We look forward to sharing our garden travels with you.
If you think you have a photo that we should share on the Garden Photo of the day, email us. Send hi-res images to [email protected] with GPOD in the subject line. We'll only respond if we plan to use your photo.