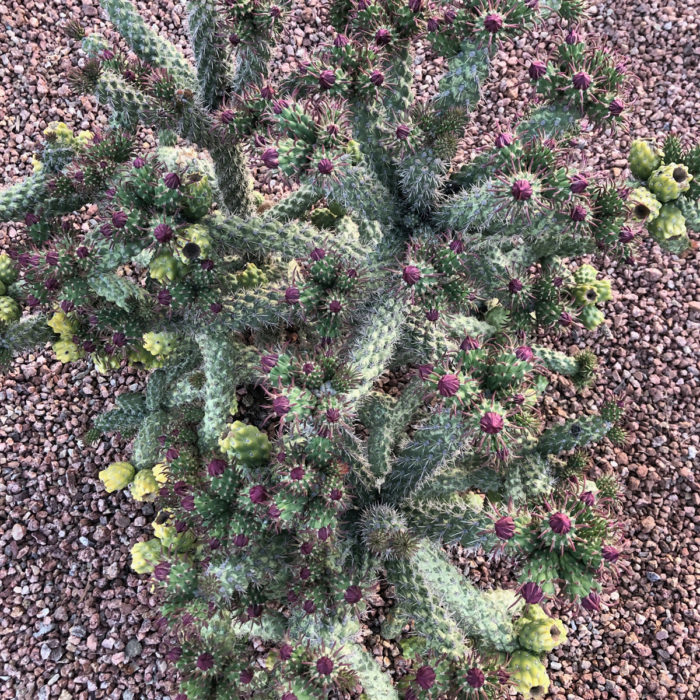 Now that we're more accustomed to living in the Southwest, we've been getting a little more experimental with cacti. We have recently started cooking with them—their fruit, that is! The Southwest is full of so many amazing cactus species, and we were extremely lucky to have inherited many fruiting cacti when we purchased our home. We'll chat about a few that are commonly found here and give you a bit more insight as to what you can do with those fruits as opposed to just letting them drop and wither away in the heat of the sun.
Cold-hardy prickly pear produces edible paddles and flavorful fruit
The first fruiting cacti that most people think of is the prickly pear cactus (Opuntia ficus-indica, Zones 4–10). If you haven't had a prickly pear margarita, you're missing out—trust us. The leaves (paddles) of all opuntia and their egg-shaped fruit (tuna) are edible. The paddles are better known as nopales, which is a staple food in Mexico. They have a great flavor, but they can be a bit slimy, which can take some by surprise. A wise person once said, "Just be sure to take the needles out first." The fruit varies in color and size depending on the variety, but the prickly pear tuna makes an amazing addition to margaritas. The color is unreal. The skin of the fruit is a dull red, but when you peel back the skin, you'll find saturated pink fruit. We recently cleaned the fruit off our prickly pear; we used a pair of metal tongs to remove it, which helped us (mostly) avoid glochids getting to our fingers and hands. With the harvested fruit we made homemade prickly pear syrup. This syrup can be used in beverages, drizzled on chicken or fish, or poured over sorbet. The possibilities are endless with this sweet treat.
Prolific cholla cacti produce flower buds that taste like fresh vegetables
Another group of very common fruiting cacti in our region is cholla (Cylindropuntia spp. and cvs., Zones 8–11). These beautiful, threatening-looking cacti produce buds as well as fruits, both of which are edible. Although I've never tried the buds, from what I understand they taste like a combination of artichoke and asparagus. Worth the wounds collecting them? Maybe! The fruit of the cholla is similar to that of the prickly pear and can also be made into syrups or jams. If you decide to brave the spines to pick some buds or fruit, stick to the staghorn cholla (Cylindropuntia versicolor, Zones 8–11), pencil or Christmas cholla (Cylindropuntia leptocaulis, Zones 6–11), or buckhorn cholla (Cylindropuntia acanthocarpa, Zones 5–11). We recommend not picking from the jumping cholla (Cylindropuntia fulgida, Zones 8–11). Ouch!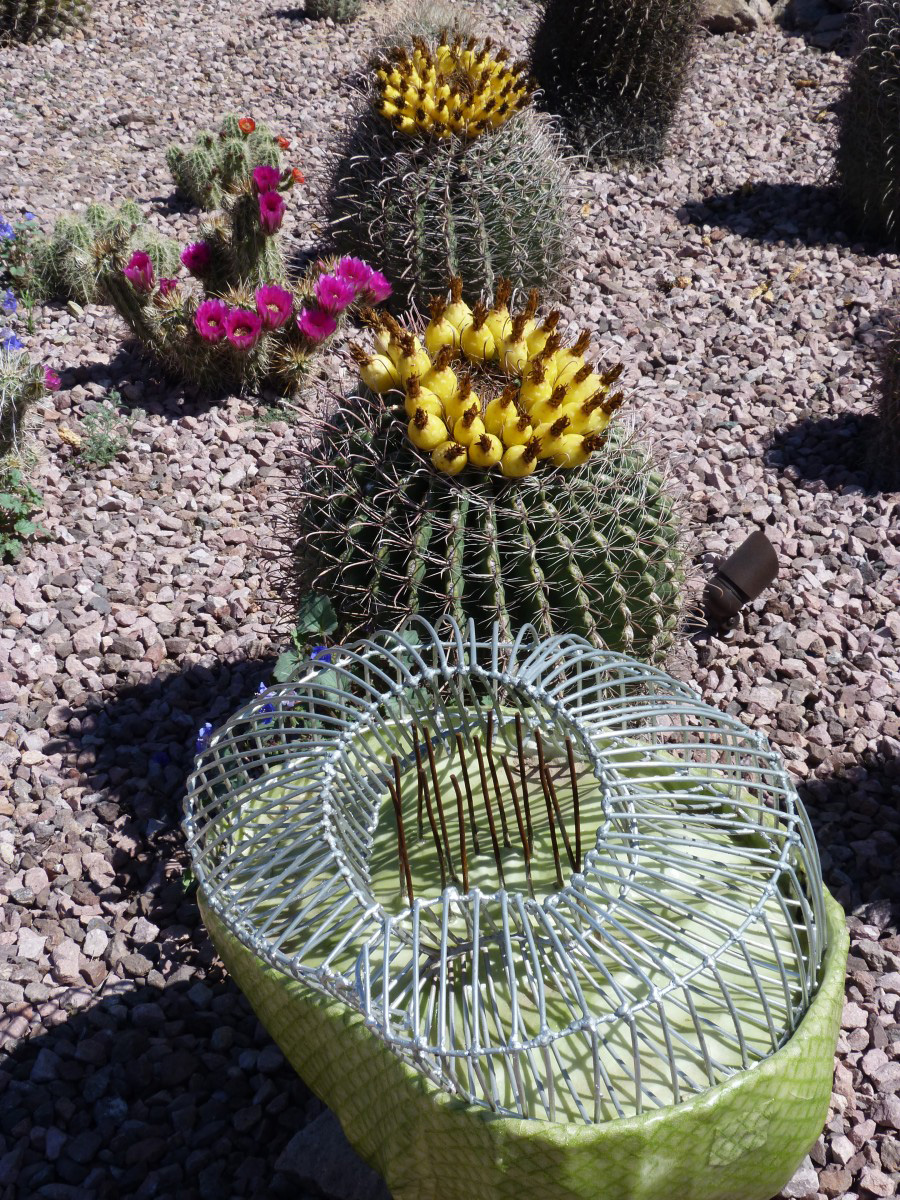 Barrel cacti add savory notes to a variety of dishes
We couldn't forget to mention the well-known barrel cactus (Echinocactus grusonii, Zones 9–11). Although the fruit is less sweet and a lot tougher than others, it's easy to pick and makes a great addition to chutneys, relish, and salsas. The small, pineapple-shaped fruits can be harvested between November and April. They are completely spine free—no glochids or spines to hassle with. Also, we have read about a chef who loves toasting the seeds from his barrel cactus fruit; apparently they produce a rich, nutty flavor.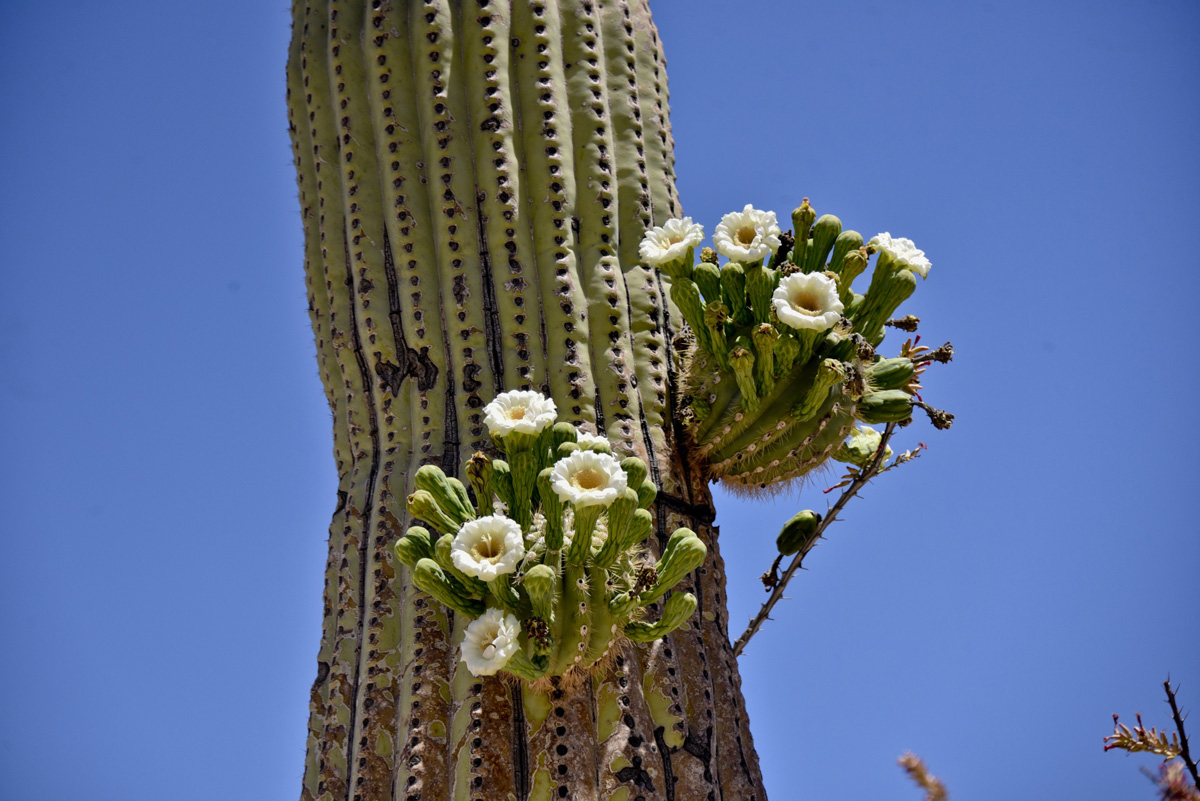 There are hundreds of fruiting cacti in the Southwest and around the world. We highly recommend getting more comfortable with them. Experiment with the flavors and textures. If you're lucky enough to have a night-blooming cereus (Hylocereus undatus, Zones 10–11), which produces the magnificent and delicious dragon fruit, or a saguaro (Saguaro spp. and cvs., Zones 8–11), which produces the bajaj fruit, take a stab at it. The internet is full of amazing recipes using these local and delectable ingredients. The other joy of cacti in the Southwest is that they need very little care once established. With just the water Mother Nature provides, they flourish under our intense heat and sun.
—Sheila Schultz and Laurel Startzel are a mother-daughter duo who founded Denver Dirty Girls Container Gardening while living in Denver and have continued their business since moving to Tucson, Arizona.