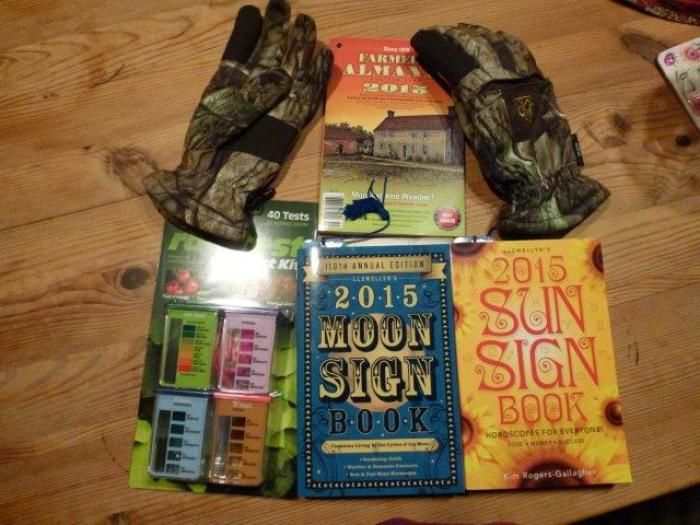 Happy New Year! Hope that you and yours enjoyed a jolly holiday and here's to a happy 2015!
This gardener must have been very good last year because she received an abundance of presents this holiday season. Here are a few items, which were on my wishlist which I believe most gardeners will appreciate/be glad to know about. A number of these things, I wish for each year…
Farmers' Almanac provides me with weather forecasts, best planting days, moon phases, day length, frost dates, astronomy, holidays, peak foliage, recipes, and much more.
LLewellyn Moon and Sun Sign books–I ask for these every year so I know the moon phases and best planting dates and the sun sign book informs me of my astrological aspects for the whole year, as well as monthly.
Each year there are at least a few books on my list. I was delighted when I opened the package and found Fermented Vegetables by Kirsten and Christopher Shockey. I've been fermenting sauerkraut, pickles and other vegetables as of late and can't wait to try some recipes from this book, which features 64 herbs and vegetables in krauts, kimchis, pickles, chutneys, releishes and pastes.
I've been waiting for friend and colleague, Jo Ann Gardner, to publish her latest book, Seeds of Transcendence: Understanding the Hebrew Bible Through Plants. I was so happy to receive a copy inscribed by her. She is a highly respected horticulturist and has spent years researching this subject–she loves history and lore about plants as much as I do. Holly Shimizu, past Executive Director of the U.S. Botanic Garden describes, "This is much more than a book about plants of the Hebrew Bible… I consider this both a great read as well as an excellent reference." I will review this once I have read it.
A bouquet of fragrant flowers is always a lovely choice for we gardening types, especially during the cold weather when we can't grow/pick our own. Giving and receiving forced bulbs allows us to watch the miracle of growing plants and reminds us of spring to come. Although we amend the garden soil every growing season, it is a good idea to check your soil's nutrient level, so a soil test kit is a good idea for any gardener.
Besides sturdy tools, we gardeners need sturdy work clothes–warm for the winter months–and built to last. Duluth makes great clothes for both women and men and I am dancing with joy in my new overalls from them. They have great reinforced pockets and the bib pocket zips so stuff doesn't fall out when you bend over and there is a velcroed pocket for cell phone. The best feature are the tabs for cuffs–so they can be rolled up and will stay put.
My new Carhartt jacket is lined and has a hood and is toasty warm–it is heavy duty, yet washable–and it is in a lovely shade of purple which is my favorite color. Of course, garden gloves are of utmost importance and this time of year I want lined ones for working outdoors and handling firewood. I like them to be soft and pliable, yet durable and to fit my hands, which are women's small. 
A girl like me enjoys creature comforts, so my stocking stuffers were most appreciated–I quite enjoy soaking my gardener's aching muscles in a good hot tub–with natural mineral salt soaks and bubble bath. Herbal salves for everything from dry skin and poison ivy to healing remedies are welcome and used gifts for this herbalist/gardener. Also, a good cuppa tea is a lovely treat and the Imperial Wedding tea by Mariage Freresis my favorite decadent splurge.
Since we gardeners spend a lot of time cooking with our garden bounty, we need proper tools for the kitchen. I've been needing an oven thermometer to check the lower temperatures when I am drying herbs and making yogurt. These new environment-friendly, sustainable sacks will be put to use rather than the thin, plastic, produce bags we use at the grocery store. The Victorix plastic knife sheath will be handy to transport my chef's knife to demos and lectures.
Last, though not least, are jars of canned goods, lovingly grown, harvested and prepared by my gardening friends and family and given as gifts. I've received salsa, chutney, relishes, sauerkraut, jams, jellies, sauces and more, and given in return my own homemade concoctions–this is truly a gardeners' food exchange at its best!
I am thankful and blessed with this abundance and wish you, my gardening friends, a happy, healthy, prosperous and herbal new year!