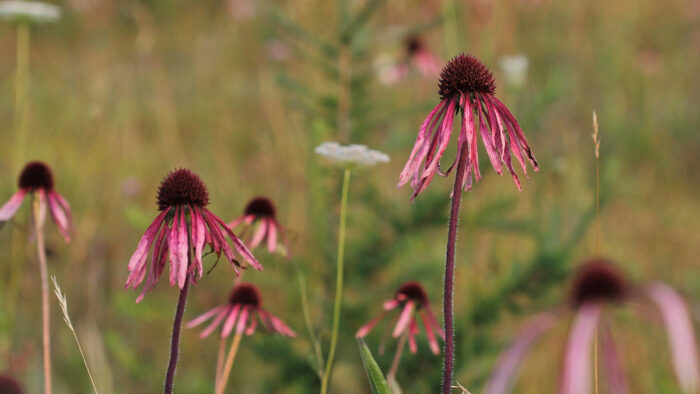 I know that I'm not the only gardener and designer with a wish list of plants. But I also have an ongoing list of "holy grail" plants that I'm on the hunt for after seeing them in a garden, a nursery, a magazine, online, or recommended by a friend or colleague. Once these beauties grab my attention, I become obsessed about acquiring them for my own garden and designs. (You may have seen previous posts about a few of my obsessions.)
To find my wish-list plants, I search random nurseries and obscure websites, and I talk to growers and plant collectors. I even sometimes purchase seed when I can find it. My list is never completely empty, just revamped and added to on a regular basis. Many of my former wish-list plants now live happily in my beds and borders.
Here are a few wish-list plants I thought fellow gardeners might want to check out. While I'm no longer on the hunt for all of them, I want to share them with you so that you may possibly add one or more to your wish list as well.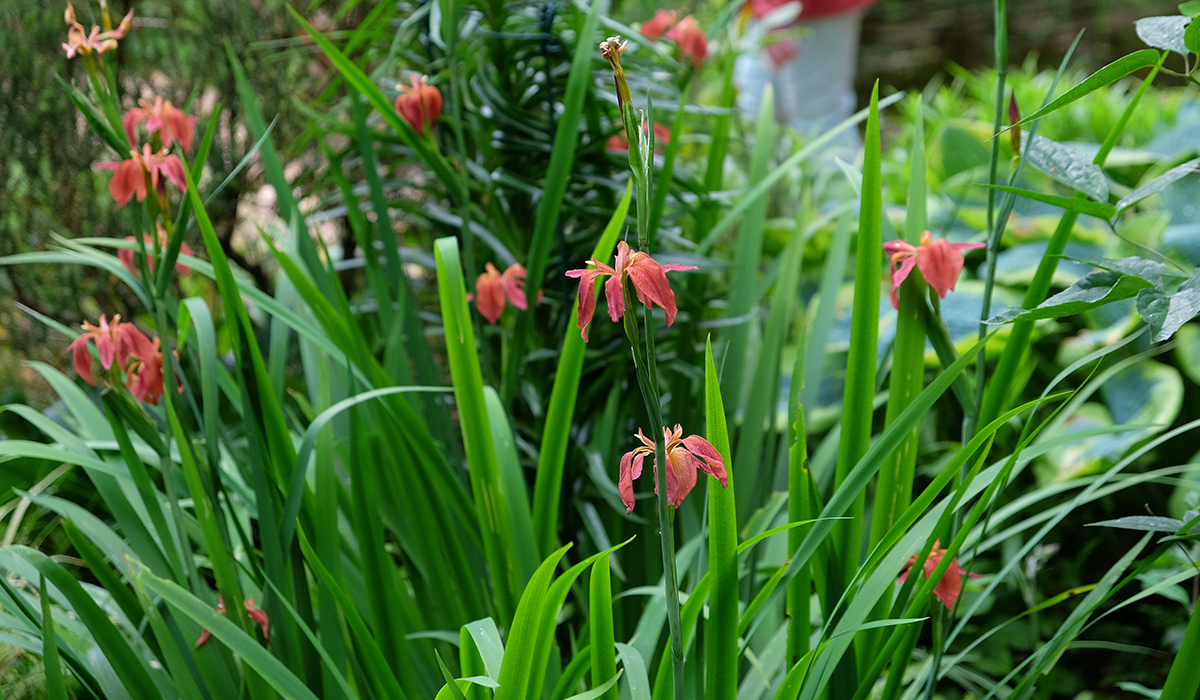 Copper iris is stunning with red blooms in spring
It was during an open garden tour when I first saw copper iris (Iris fulva, Zones 5–9) in mass at the edge of a pond. So dainty but with a hot copper-red flower color and bright green leaves, it caught my eye immediately. It is considered a Louisiana iris but is unlike any that I know of. It was a good-size clump, but the leaves and flowers seemed to wave in the wind. Luckily the owner was there to help me identify it, and that is when my search began.
Copper iris likes full sun to partial shade and wet soil, and it can be riparian. In late spring, showy copper, red, or orange drooping petals and spreading sepals make up the terminal flower of this otherwise typical iris. The flowering stem grows up to 3 feet tall above long, narrow, swordlike leaves that are bright green. This beautiful southern iris can be cultivated in moist wildflower gardens, supplying bees and butterflies with pollen and nectar. Copper iris can be semi-evergreen in the right growing conditions. It is available commercially, so it's out there somewhere for us home gardeners to find.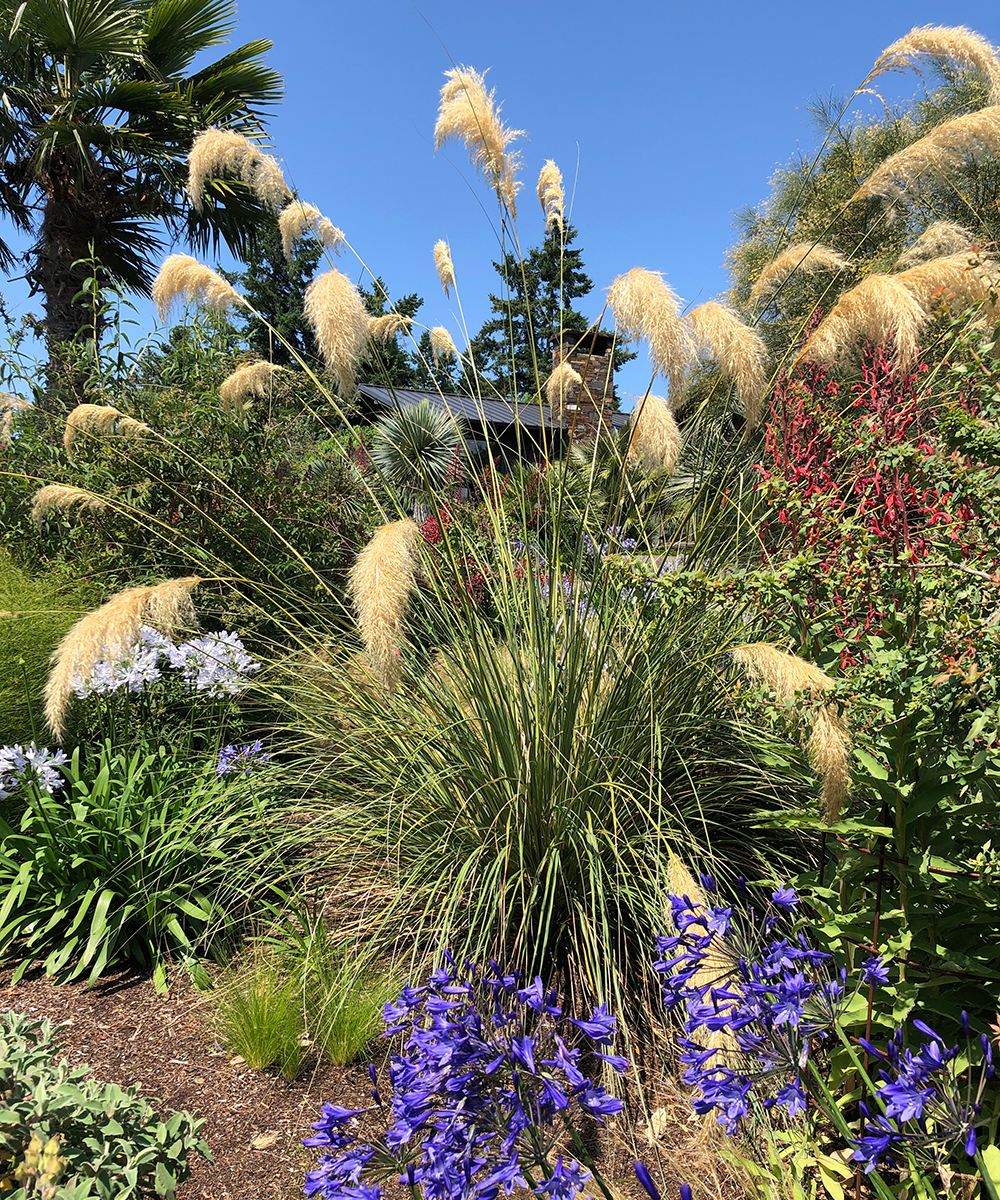 Toetoe grass an eye-catching ornamental for large-scale grass gardens
I spotted toetoe grass (Austroderia fulvida, syn. Cortaderia fulvida, Zones 7–9) almost right under my nose in a garden near where I live. This amazing grass forms a 7-foot-tall mound of broad arching leaves. A native to New Zealand, it is used there in conservation efforts. Drought tolerant and fairly well behaved (I know because I'm waiting for a seedling), it has good movement on a grand scale. The cream-colored flowers wave gracefully above the evergreen foliage in summer. A very versatile plant, growing in wet as well as dry areas, it's perfect for a large-scale grass garden or planted in mass.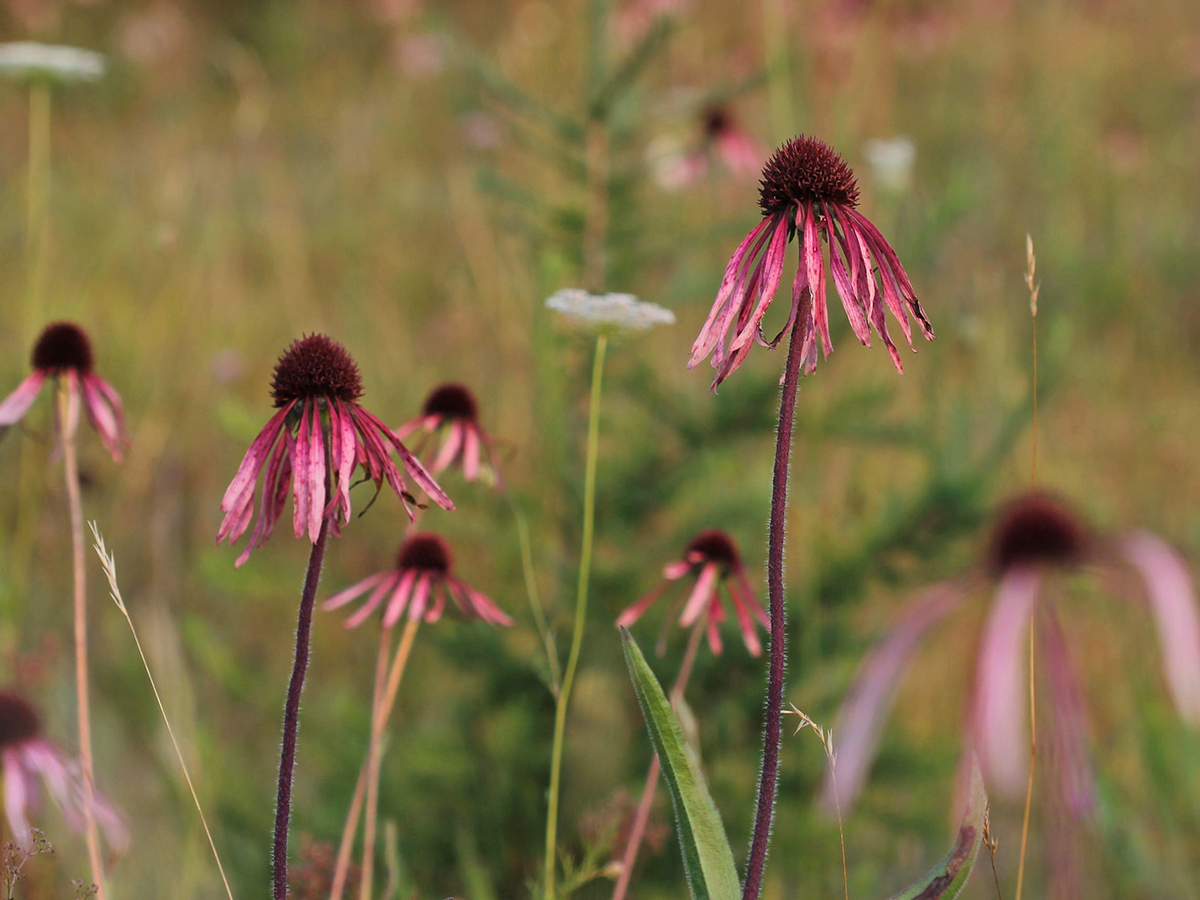 Pale coneflower offers unusual, subtle blooms in summer
Who doesn't love a well-grown coneflower (Echinacea spp. and cvs., Zones 3–10)? It can be stunning in any garden design style. Sometimes, however, I think cultivars can get a little over the top in color and form. If you agree, the more subtle and unusual flower form of pale coneflower (Echinacea pallida and cvs., Zones 4–10) might strike your fancy. A native as far north as Ontario, it is well suited to the Northwest temperature range. The pale lavender drooping petals on the flowers are held on stout stems 2 to 4 feet tall in summer. It does well in sweeps in wilder gardens with grasses, but it can be a bit rambunctious for some. A good selection for drought-tolerant landscapes, it will grow in any type of soil that is dry or moist, and it is easy to start from seed. It attracts bees and butterflies and can be used as a cut flower.
Ravenel's swamp rattlesnake master has a long, odd common name but awesome flower
Last but not least is this very cool lavender flowering Eryngium species, Ravenel's swamp rattlesnake master (Eryngium aquaticum var. ravenelii, syn. Eryngium ravenelii, Zones 4–9). Unlike your typical sea holly (Eryngium spp. and cvs., Zones 2–9), it has tiny flowers (about the size of a thumbnail) that are more visible than the leaves. Upright and impressive on its own or at the front of a mixed border, it likes full sun and starts blooming in late summer. A native of the Southeast, it grows to about 30 inches tall. You might think this perennial needs dry soil, but it actually thrives in wetlands. It can be a real stunner in a Pacific Northwest garden.
Even if these plants don't make it onto your wish list, they're fun to look at. Best wishes on your search for your "holy grail" plants!
—Susan Calhoun is the owner of Plantswoman Design in Bainbridge Island, Washington.