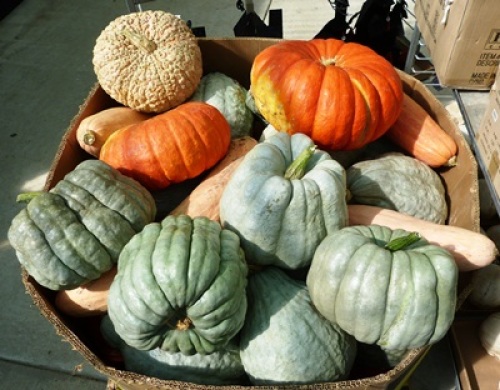 The glossy magazines that crowd my mailbox this time of year are filled with creative decorating ideas for fall. I've seen bright orange pumpkins carved into conventional Jack-o-lanterns, pumpkins with intricate faces carved into the skin and painted pumpkins enhanced with stripes, zigzags and decals.
But some heirloom varieties of winter squash (Cucurbita maxima) are so beautiful they don't need adornment at all. The best part of using winter squash for decorations is they'll keep through the season and then they can be used in all kinds of warming recipes.
Here are three different varieties of winter squash that are sure to add interest to your autumn decorating. If you're unable to locate these at your favorite garden center, farmers' market or country farmstand, plan to grow them in your garden next season. Seeds are available from a number of seed retailers (online and in catalogs).
'Galeux 'd'Eysines' is a French heirloom that grows to between 10-20 pounds. Sugar in the skin causes the lacy pattern of warts that cover the peach-colored skin. The flesh is bright orange and is usually cooked into sauces or soups.
Another French heirloom is 'Rouge vif d'Etampes' named for its vivid red color. This pumpkin is sometimes called the Cinderella pumpkin because of its starring role as a coach in the fairy tale. Like other pumpkins, this one can be used as filling for pies.
The squash with the most unusual color is called 'Australian Blue' or 'Queensland Blue'. This heirloom arrived in the U.S. around 1932 and is known for its round, slightly flattened shape that's deeply ribbed. These squash grow to over 20 pounds. Blue-green on the outside, the inside is bright orange and can be roasted or made into soup.
Do you have other winter squash recommendations for fall decorating? Please share them here.