As we convert our thirsty lawns to more California-friendly gardens, all sorts of wonderful things happen. What most often occurs is that a large, flat expanse that was watered with overhead sprinklers now becomes a series of outdoor rooms, or destinations, linked with pathways. Even when irrigation is installed, it is often necessary to water selectively as plants get established. And when new plants are added, we want to give them more water than surrounding mature plants. Additionally, if potted plants are placed throughout the garden, they often need to be watered by hand unless they have their own separate irrigation zones. With a lawn, it's easy enough to drag a hose to each perimeter bed, but without a lawn, you should think of where to site additional hose spigots so that you are not crushing your plants as you maneuver about.
If I have said it once, I have said it a hundred times: Garden hoses are the bane of my existence. They twist, they tangle, and they kink. I would make a fortune if I could invent the perfect hose. Until that time comes along, though, I will share with you a few of my favorites.
Expandable hoses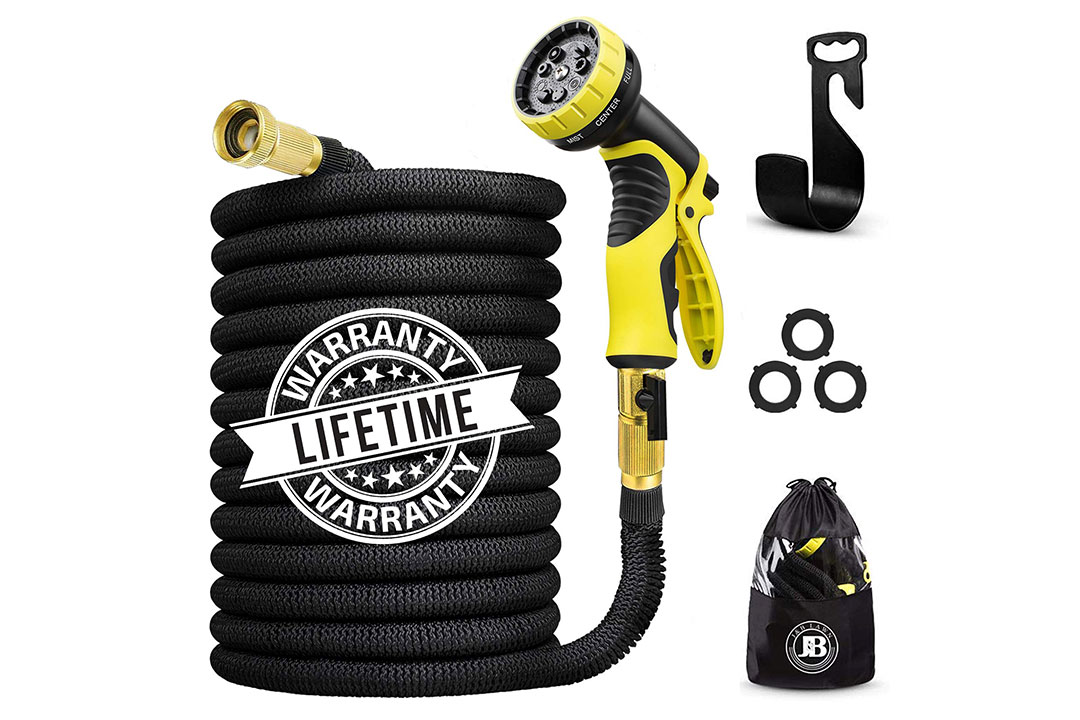 My absolute favorite type of hose is the expandable, or fireman's, hose. The J&B XPandaHose is a model that I have purchased many times in various lengths, both for myself and for my clients. Even though the technology on these has improved drastically since they first came on the market, I always keep a backup in the garage. Make sure you get one with brass, not plastic, fittings. To keep this hose in good shape, store it so that it is out of direct sunlight. If the location where you keep it is sunny, choose a container that will shield it.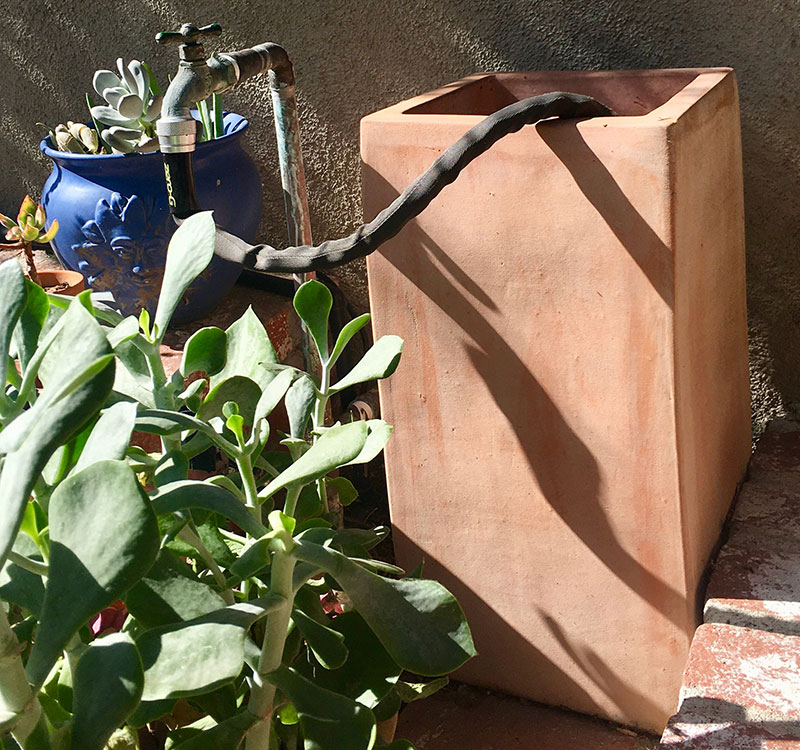 The number-one complaint I hear about this type of hose is that it is prone to bursting. When shopping, be sure the hose you're considering can take over 100 PSI. Be wary if the pressure rating is given in bars, which can be misleading. When out in the garden, try as much as possible to relieve the water pressure inside the hose in between waterings by turning off the water and allowing it to drain. Never leave the hose lying about with full pressure for any length of time. This is a good rule for all hoses. We once had a friend water some of our plants while we were on vacation, and he neglected to turn off the water when he was done. The hose burst, flooding both of our yards.
Coiled hoses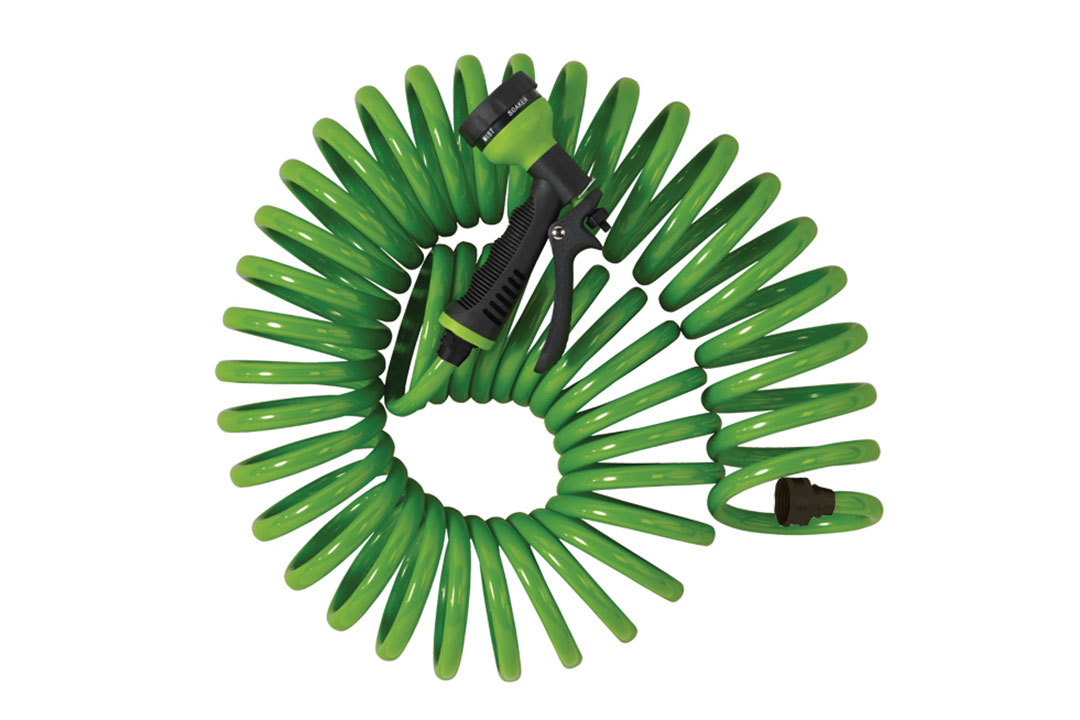 Edible gardens are becoming more and more popular everywhere. It makes life so much easier if you have a dedicated hose for this area. I like using coiled hoses for this purpose. They come in a variety of colors and lengths.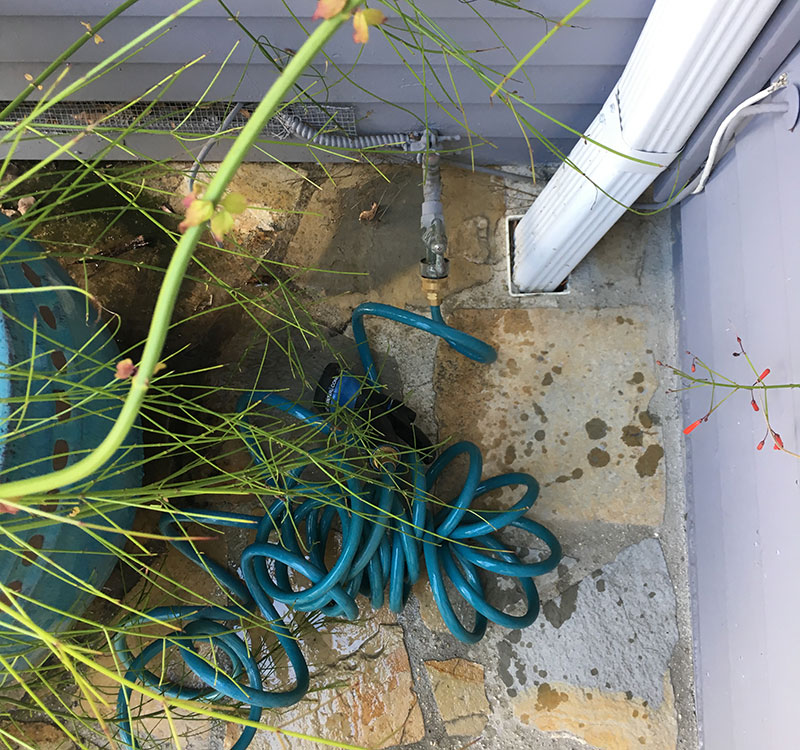 A minor fault with these is that they have a tendency to grab onto things—tomato cages, for instance. They are easily found in garden centers. Or you can find the Orbit Coil Garden Hose on Amazon.
Traditional hoses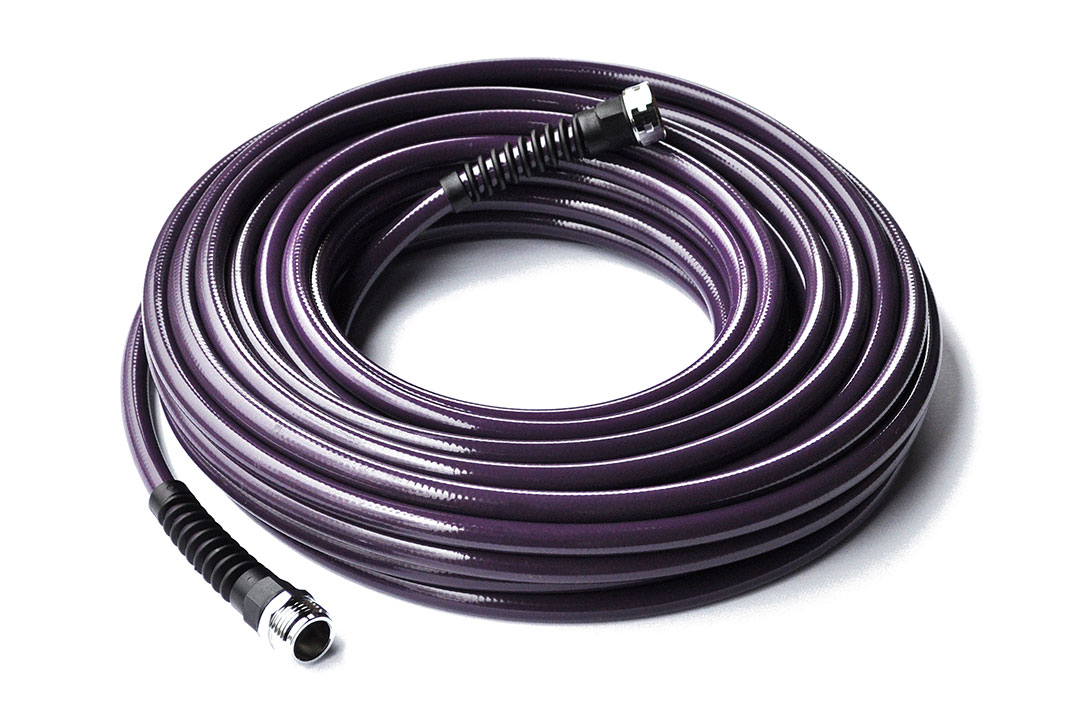 If I am going to buy a basic garden-variety hose, I at least try to find a fun-colored one. The Water Right 400 Series Polyurethane Hose comes in purple, red, brown, or green, and in four different lengths. If you do use a traditional hose, I always suggest using the lightest weight hose you can get away with. Especially if your hose is 100 feet long, the coiling and uncoiling can be gruesome on the shoulders and back.
One thing I can recommend when using a regular garden hose is to master the over/under technique of coiling up the hose. I learned this years ago from my landscape design instructor, but you can find instructions online. It takes some practice, but you will thank me afterward. The only problem you may run into is letting others use your hose. They will mess up your perfect storage technique every time.
Spray nozzles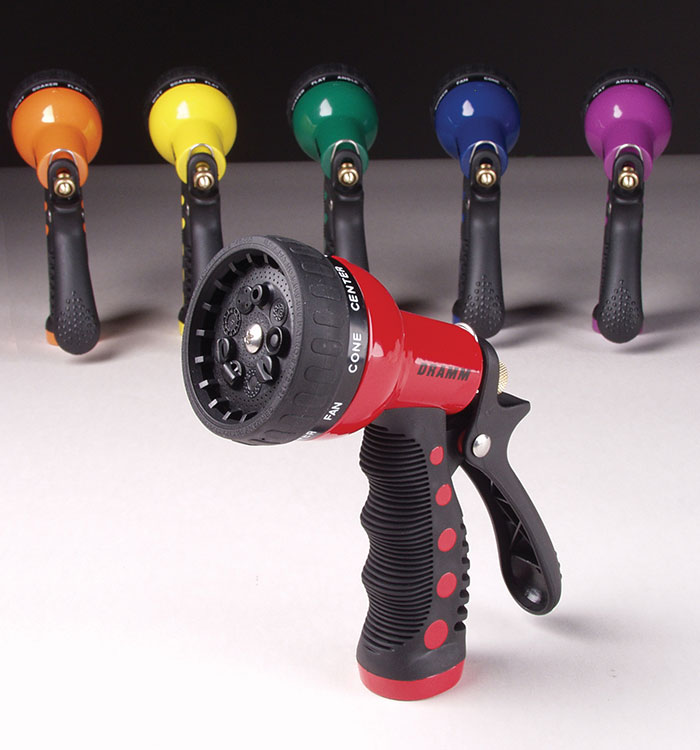 It is always a good idea to keep backup spray nozzles on hand. The DRAMM 9-Pattern Revolver Spray Nozzle has a choice of spray patterns. Since most spray nozzles are made mostly of plastic, I have found that even the most expensive will fail at some point. Most maintenance gardeners like to take the nozzle off and use their thumbs. This is rough on the thumb, especially if you have any arthritis at all. Also, it is critical in a garden where you are trying to not waste water to be able to stop the flow of water immediately without letting it run while you return back to the spigot.
For the ultimate in garden hose bling, go to gardenglory.com and see combinations of hoses, hose racks, and nozzles. This could be the perfect garden-warming present for your glamorous homeowner friend who has everything!
—Francesca Corra, APLD, is a nationally certified landscape designer and owner of Dirt Diva Designs in Studio City, California.